Minimalist Toner with 3% PHA: Review with Ingredient Analysis
As a skincare enthusiast, I keep switching from one product to another. In the last two months, I did not use anything but One Thing Propolis+Honey Extract. It not only worked as a mild toner but also as a skin-calmer. And, I loved it. I would come up with a review very soon.
Well! Everything was good until the season started changing. It is autumn now and winter is almost knocking at the door. Every year, during this time, my skin goes through a hell-heaven change. And, the same thing happened this year as well.
All of a sudden, my skin started peel off. I could sense a strong burn as there were mild cracks on my cheek bones. When even Boroline could not repair the damage, I decided to tweak the skincare routine.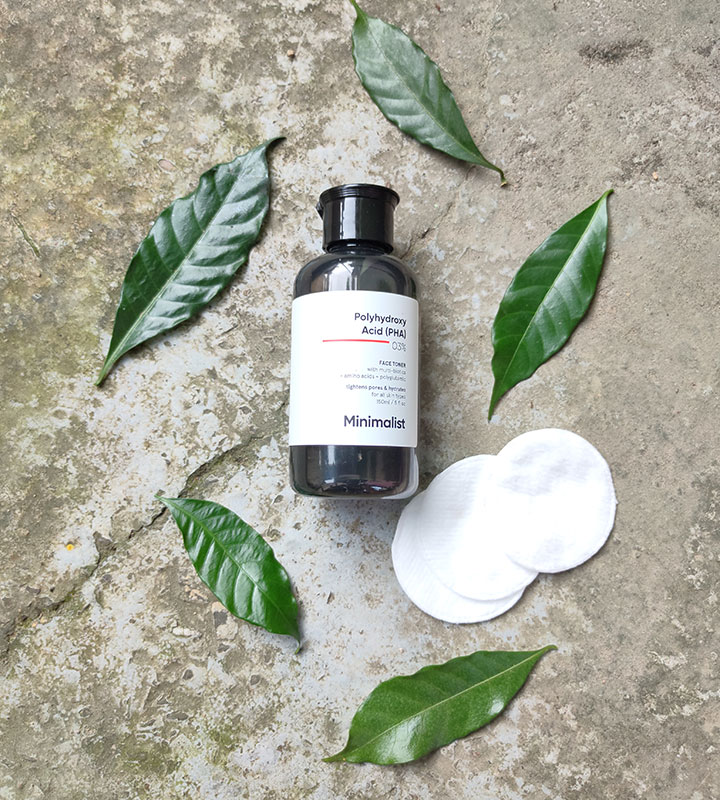 I made two simple changes while keeping my face wash in tact. Instead of Squalane Oil, I bought Rosehip Oil to use as the hydrator. Rosehip oil is a bit thicker and I find it amazing during winter.
For skin toner, I could have easily chosen COSRX AHA BHA Toner as it is really effective for winter. But, this time, I was looking for something budget-friendly. This facial toner from Minimalist had always been on my wishlist. So, I purchased it without having any second thought.
It's been one week already that I am using it. How is it? Did Minimalist Polyhydroxy Acid (PHA) 3% Toner heal my cracked skin? How effective are the ingredients? Let's find out all the answers.
Table of Contents
Some Basic Information about Minimalist Toner with 3% PHA and Multi-Biotics
Price: INR 399 for 150ml
Shelf Life: 18 months from manufacturing date
Buy From: Amazon
What does the Brand Claim about Minimalist PHA 3% Toner?
A gentle formulation  that is pH balanced that helps to tighten the skin. It also exfoliated the skin and helps to improve the skin barrier function.
The light weight texture is perfect for ALL skin types. PHAs are called the next generation AHAs. These function not only as exfoliants but also as humectants.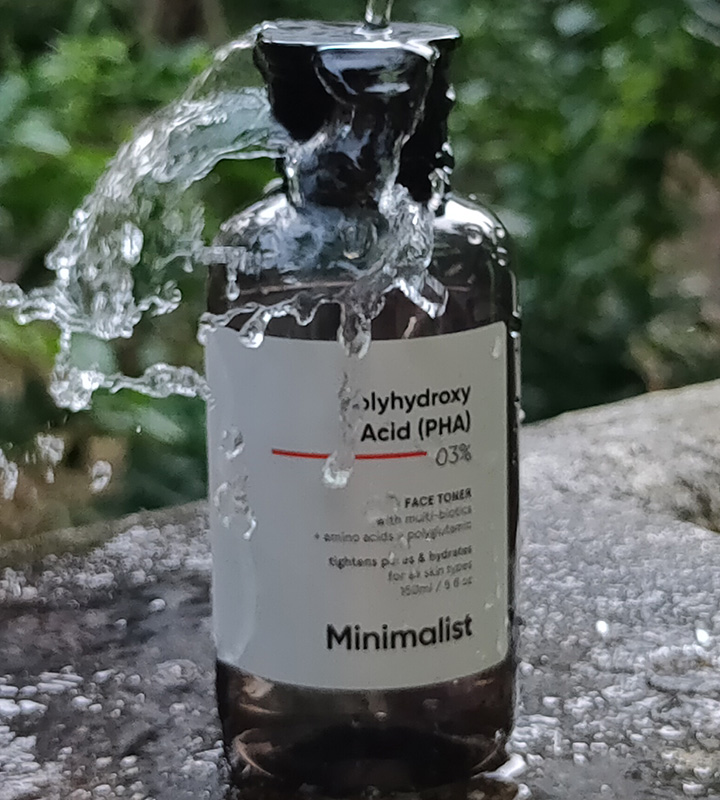 All the probiotics help to improve the skin barrier. And, last but not the least, all these ingredients have been procured from Jungbunzlauer, Switzerland and Prorenew Complex CLR has been sourced from CLR Chemisches, Germany. Hence, there is no compromise with the quality.
Ingredients of Minimalist Toner with 3% PHA: Detailed Analysis
The toner has been formulated with more than 40 ingredients. This is one of the longest ingredient analysis that I have ever done here. So, grab a coffee and keep reading.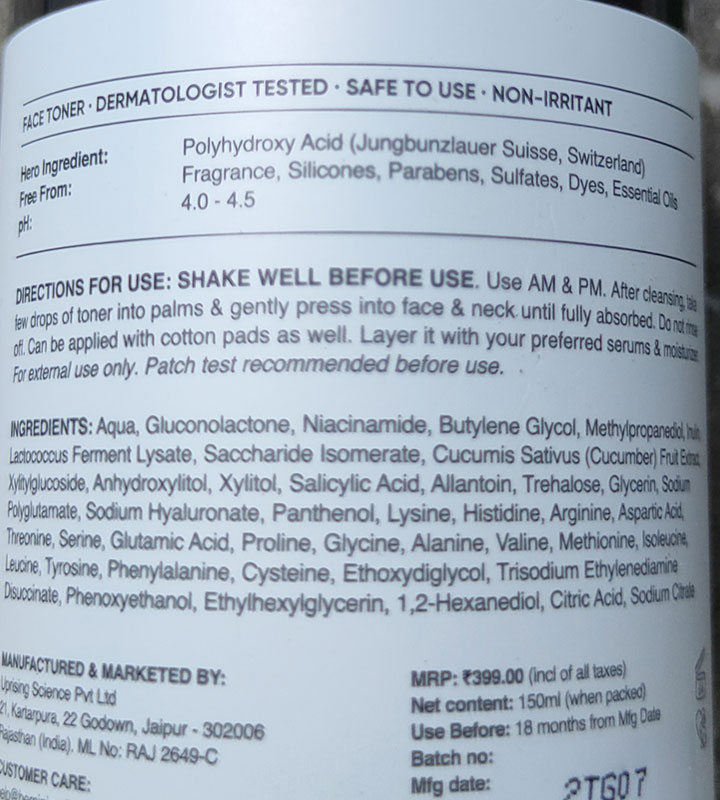 1. Aqua
Water is the base component of this toner.
2. Gluconolactone
I am glad that Gluconolactone has been used in the second highest quantity here. This ingredient helps to dissolve dead skin cells. It also helps to improve the appearance of the fine lines and hyperpigmentation spots.
This is a new generation PHA that offers gentle exfoliation. It penetrates slowly into the deeper layers of the skin. It also offers a protection from the UV radiation to some extent.
3. Niacinamide
An amazing active ingredient that works as an anti acne. It also works as a skin conditioning agent.
4. Butylene Glycol
A synthetic component that makes sure that the liquid consistency of cosmetics remains in tact.
5. Methylpropanediol
Due to the hydrating properties of this component, the skin looks smooth and dewy.
6. Inulin
A good and safe ingredient that is found in the rhizomes of plants e.g. Chicory. This prebiotic component helps to reduce the bad bacterial growth. Thus, enhances activities of skin-friendly microorganisms.
7. Lactococcus Ferment Lysate
Another skin-loving ingredient that forms a protective layer on the outer surface of the skin.
8. Saccharide Isomerate
An excellent humectant that retains moisture.
9. Cucumis Sativus (Cucumber) Fruit Extract
The hydrating properties of this extract help  to repair dry and sun-damaged skin.
10. Xylitylglucoside
This active ingredient is derived from plant sugars. It works as an beautiful humectant.
11. Anhydroxylitol
It is beautiful that how the brand has used number of humectants in this formulation. Just like the previous component, Anhydroxylitol is a humectant too. 
12. Xylitol
It helps to boost the hydration level by repairing the skin barrier.
13. Salicylic Acid
To treat acne and wart, this is a magical compound. It is widely used as anti-acne in skincare products.
14. Allantoin
It helps to soothe and moisturize irritated skin.
15. Trehalose
Another skin conditioning agent that moisturizes even under extreme dry weather.
16. Glycerin
A natural humectant.
17. Sodium Polyglutamate
A biotic component that offers a bundle of skincare benefits. It helps to hydrate the skin instantly and prevents water loss from the surface of the skin.
18. Sodium Hyaluronate
A component of Hyaluronic Acid which acts as a beautiful skin hydrator.
19. Panthenol
Panthenol is also known as Vitamin B5. It is an excellent skin conditioning agent.
20. Lysine
An amoni acid derivative that provides a silky touch to the skin.
21. Histidine
It is an excellent anti-oxidant that helps to keep the skin healthy.
22. Arginine
It is an excellent moisturizer that is compatible with almost all cosmetic ingredients.
23. Aspartic Acid
This component works as a buffe. Its main function is the control the pH in a cosmetic formulation.
24. Threonine
Known for its anti-ageing and healing properties, Threonine is an excellent skin conditioning agent.
25. Serine
Serine is a lookalike to our skin. It helps the skin to look young and healthy.
26. Glutamic Acid
An amino acid that hydrates and conditions the skin.
27. Proline
A humectant that softens the skin and helps to retain the moisture.
28. Glycine
It helps to strengthen, regenerate, and repair the skin
29. Alanine
Alaine is an amazing ski conditioning agent.
30. Valine
It helps to promote collagen from the layers of the skin. Thus, the overall skin health is improved.
31. Methionine
This component helps to improve the skin elasticity.
32. Isoleucine
An active ingredient that is known for its anti-ageing properties.
33. Leucine
It helps to provide a supple, soft, and smooth skin texture by reducing the apppearance of fine lines.
34. Tyrosine
A masking agent that also acts a skin conditioning element.
35. Phenylalanine
Quite effective to treat skin discolouration.
36. Cysteine
It is used as an anti-static skin conditioning agent.
37. Ethoxydiglycol
A widely used cosmetic ingredient that works as a solvent.
38. Trisodium Ethylenediamine Disuccinate
This is actually a chelating agent that helps to deactivate metal ions if any present in a formulation.
39. Phenoxyethanol
A widely used preservative that is moderately safe.
40. Ethylhexylglycerin
It is used for both its antimicrobial and skin conditioning properties.
41. 1,2-Hexanediol
This functions as both humectant and emollient. It is widely used in One Thing products.
42. Citric Acid
A type of AHA that is promarily used as an exfoliant and an antioxidant.
43. Sodium Citrate
Another buffering agent that helps to control the pH of products.
And, we are done! Honestly, I am totally impressed. A number of skin conditioning agents, active ingredients, and biotic components have been used here.
This Alcohol and Fragrance-free formulation is pretty basic yet smart & effective. The last time when I used the Minimalist Sunscreen, I was not much impressed with the formulation. But, this time, I must say that the overall formualtion of this Minimalist Toner deserves a rating of 5 out of 5 undoubtedly.
Packaging, Aroma, and Texture
The packaging is pretty basic yet looks very stylish. The black body is all made of sturdy plastic. All the information including directions of usage, ingredients, etc. have been written clearly on the label. Indeed a travel-friendly packaging!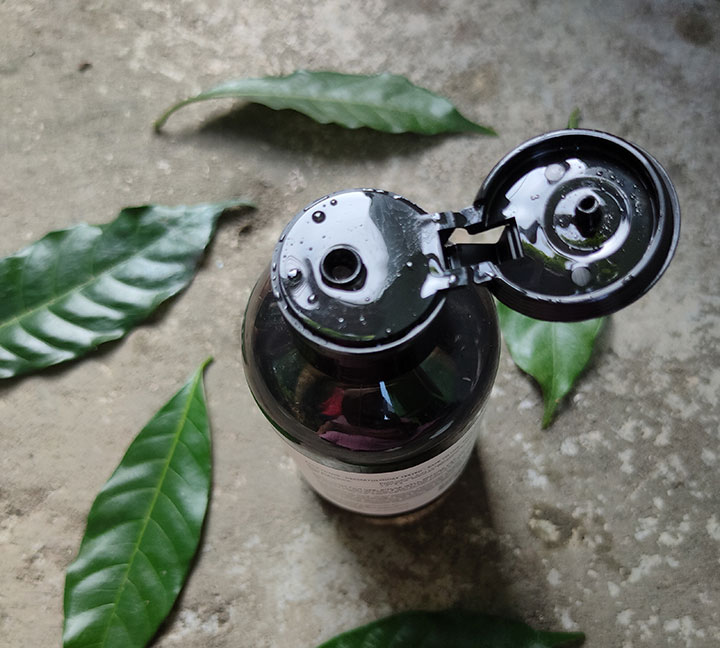 I have a pretty sensitive nose and I could not sense a trace of any distinct aroma. This is entirely an aroma-free toner.
The texture is just like water. It is as light as water for sure. There is no stickiness nor any heavyness. It is perfect in one word.
My Experience with Minimalist Toner with PHA 3%+ Biotics
Skin Type: Dry and Sensitive
Any Skin Concern: Mild Sun Tan
In this one week, I have used this toner twice a day. During my morning skincare ritual and just before hitting the bed.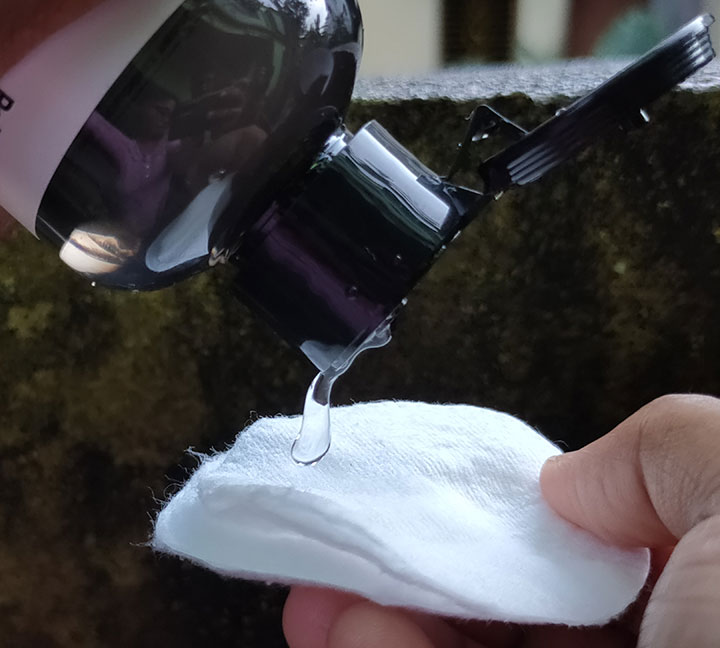 Some times I used my palms to apply it, sometimes I used cotton pads. Both are effective in applying this product. Just 5 drops are enough to cover the whole face and neck.
Here are a few things that I observed post-application.
It creates a smooth silk-like layer over the skin surface. Skin stays smooth and buttery soft for more than 5 hours.
I feel a slight tingling sensation every time during application. The sensation stays there for about 30 seconds. After that, the skin feels and looks nice.
Toners often get hates due to their astringent properties (that makes the skin dry & stretchy). But, this is a hydrating toner which is absolutely brilliant.
It can remove dead skin cells like a pro. I am glad that this toner comes with a chemical exfoliation property.
I had mild suntan on my forehead. And, I can see that the suntan is fading; not fast but significant improvement is there. But, this product alone should not be given all the credit. I use tan removal products too.
Frequently Asked Questions
Here are three question answers that are often often asked by users.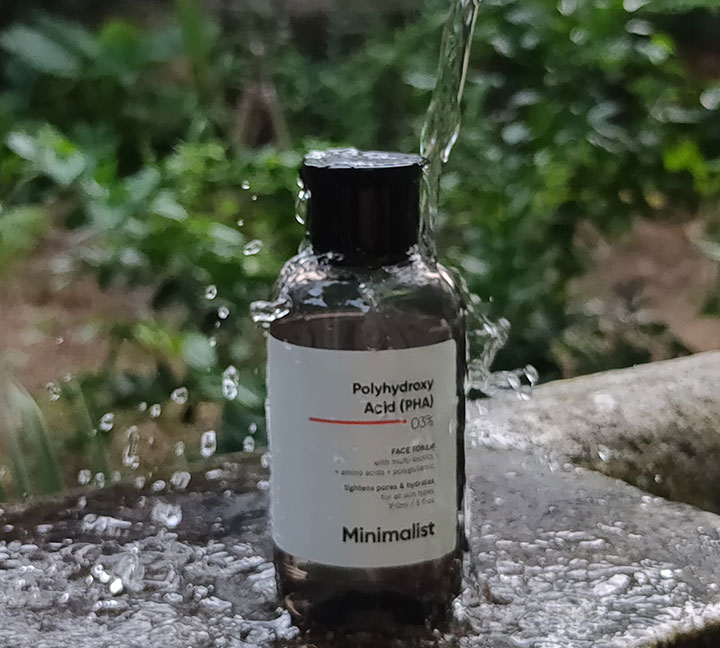 1. Is Minimalist Toner Suitable for All Skin Types? Or, Suitable for Only Oily & Acne Prone Skin?
I have quite dry and highly sensitive skin. Yet, I did not find anything bad happening to my skin. The formula is indeed safe to All types of skin.
2. Does Minimalist PHA 3% Toner Cause Breakouts?
No, not at all. At least, with my super sensitive skin, I have not experienced any kind of breakouts or acnes or pimples or rashes.
3. Does Minimalist Toner Helps to Tighten or Shrunken Pores?
Umm, it does not help much in  this case. Pores are not much shrunken.
4. Is There Any Side Effect? 
None. At least, there is no such thing that I experienced or observed.
5. Has Minimalist Toner Any Cons? 
Well! Nothing as such. The pore shrinking power is not much strong. Otherwise, I have no such complain.
# The review is based entirely upon my experience. I have also considered the potency of the ingredients. Hence, there is always a possibility that it might react differently with other skin type. Thus, a PATCH test on your armpit area is a must prior to appying on the face.