||Preservative Free Cosmetics and Biotique||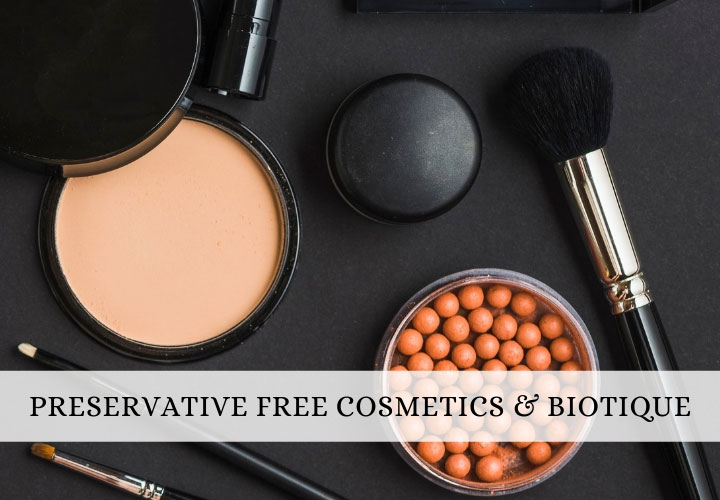 Hey Angel! Today's post is about preservative free cosmetics and also the connection of Biotique with it. With the rising age of modern technology and upgraded cosmetology, brands are pretty concerned about what to offer to people.
The products that are being manufactured these days are no more just the conventional ones. Every now and then, new and innovative products are coming inside the cosmetics market. This is a hardcore business where every company is fighting for the best tagline and the best claim.
The stronger the tag sounds, the heftier the profit turns out. One hype that has created an uproar among manufacturers and consumers is 'Preservative Free Cosmetics'.
What is Preservative Free Cosmetics?
Well! In the past 5 years, we all have seen that how afraid people are of using Paraben laden cosmetics.
There are a very few substantial proofs though that can corroborate the harmful effects of Parabens. Yet, people try to avoid them and eventually, the cosmetics line of companies have also learned how to refrain themselves from using parabens in the formulation.
There are a number of companies like The Face Shop, that had parabens in almost all their cosmetics, but now, they use some safer options like Phenoxyethanol or Potassium Sorbate.
Surprisingly, on the other hand, there are brands that are skeptical about their own formulations and prefer to use false taglines that include 'Preservative Free Cosmetics'.
These brands claim that their products are free from harmful preservatives and are equally effective just like the other brands of products. They claim to have a shelf life of more than 1 year without using a pinch of preservative in it. The real question is, is that even possible?
Why Preservatives are Used in Cosmetics?
There are three types of cosmetics namely Oil-Based, Powder-Based, and Water-Based (Or Gel Based Or Cream Based).
Oil-Based cosmetics contain beeswax or other oils that do not require any preservatives. So, these type of cosmetics can be totally preservative-free without any hassle at all.
Powder-Based cosmetics can be makeup or natural clay powders. These are totally water-free cosmetics, so can be preservative free cosmetics too.
Lastly, the Water-Based cosmetics. Well! We all know that water is the powerhouse for all types of microbes, bacteria, and other germs. Water-Based cosmetics are indeed the most vulnerable ones because they simply cannot survive without preservatives.
There is another term which is called self-preservation. There are many final products that can preserve themselves naturally. For example, products with an acidic formulation, high in salt, or waxy products.
These are not conventional preservatives but if these are present in a formulation, these can preserve a particular formulation pretty well.
So, if a brand uses water in the formulation, then the claim 'preservative-free' might sound baseless. Now, when the premise is ready to talk about preservative free cosmetics, I think that it is the right time to talk about Biotique products.
The Connection of Biotique Products with Preservative Free Cosmetics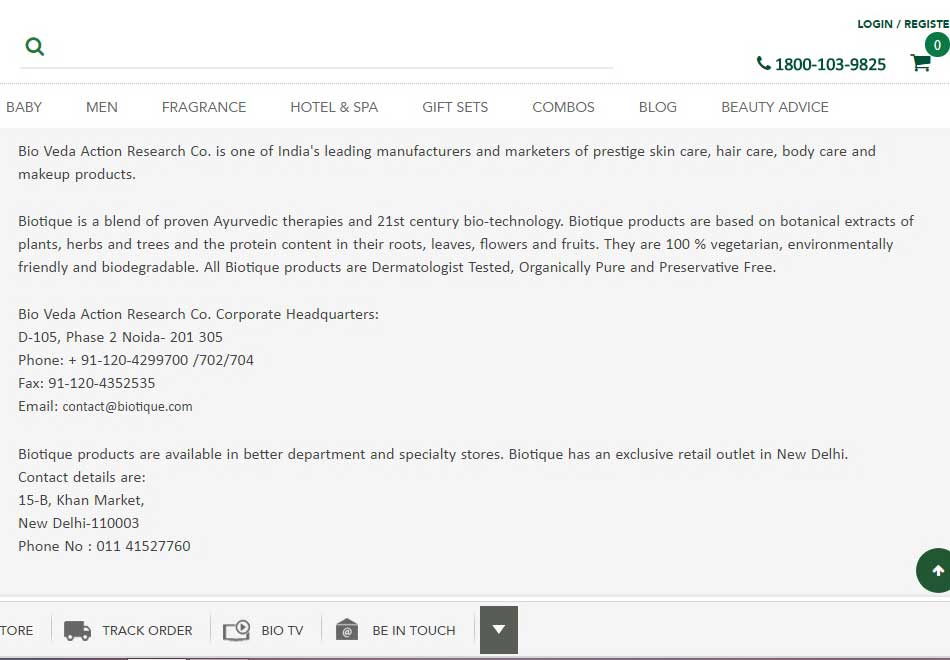 Have you ever noticed or read the ingredient list of Biotique products? If you have, then you might have noticed that Biotique never mentions or discloses the full component list ever on any of its products. Biotique boasts of manufacturing Preservative Free Cosmetics.
Surprisingly, they never disclose much information regarding this or the technology involved in manufacturing the preservative-free cosmetics. The real question that emerges from this scenario is that how far the claim is true? Well! Here, I am going to throw some light upon this issue.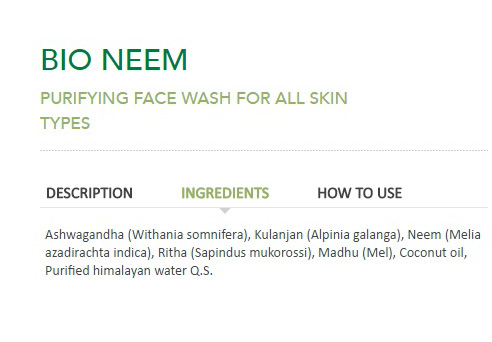 Biotique Bio Neem Face Wash is quite a popular product and pretty famous especially among the oily skin beauties. The above image has been extracted directly from their official website. In the image, can you see that how cunningly they have represented the component list?
What Biotique mentions is only 25-30% of the whole component list, the rest are the inactive components. And, also notice that the brand uses a q.s (quantity satisfied) amount of water. This is definitely the violation of the concept.
It is a water based product and has a shelf life of 18 months (in fact, mostly Biotique products have a shelf life of 18 months). So, according to the common notion or the popular concept, any water based product needs a preservative.
There are brands like Aroma Essentials and Juicy Chemistry that have products with a shelf life of 6 months without any additives or preservatives. More than 6 months of shelf life always opens the possibilities of using preservatives, especially for water-based products.
Final Words:
Lastly, I am not against the brand or the concept. But undoubtedly, the brand needs to present some clarification regarding its technology. The labels showcase a direct violation of the usual concept of preservative-free cosmetics.
And, this is something about which I wanted to talk for a long time. Honestly, I have stopped using Biotique products a long ago because of two reasons. First of all, I feel, it is a forgery to not disclose the full ingredients and second of all, the violation of the concept of preservative-free cosmetics.
In this time when there is hardly any rule or regulation regarding the standards of the brands especially of cosmetics, the consumers need to create awareness among themselves.
Be a buyer who is logical; the one who purchases products, not because the product comes in an attractive packaging or because of the brand value, but rather try to be a consumer who understands the product and is much interested in knowing its components.