Squalane Oil Review: Indulgeo Essentials
Since the past two to three years, I am using Rosehip Oil. And, I must say that I have literally no regret at all. I am indeed happy with the results. But, my blogger mind was equally getting bored with the same product.
And then, I decided to try out something new and fresh. So, I went for Indulgeo Essentials Squalane Oil. Well! I have heard and read a lot about this skin hydrator. It is said to be the best hydrator ever. Is it so in reality?
After applying it for the last 2 months, here I am ready to share my experience. Let's talk about Squalane Oil in-depth.
Basic Details about Indulgeo Essentials Squalane Oil
Price: INR 1150 for 30ml
Buy From: Nykaa, Indulgeo Essentials
What Does the Brand Claim about Indulgeo Essentials Squalane Oil?
Human skin produces Squalane in the skin. But as we age, the amount decreases significantly. And, this is when you have to apply Squalane Oil tropically.
The molecular structure of this oil is similar to the skin. It penetrates easily into the deepest layers of the skin. Skin feels healthy and looks immensely moisturized throughout the day.
Squalane Oil promotes collagen formation. It makes skin firmer and plumper. If you are looking for an anti-ageing product that is pure and natural, then you need to try this out.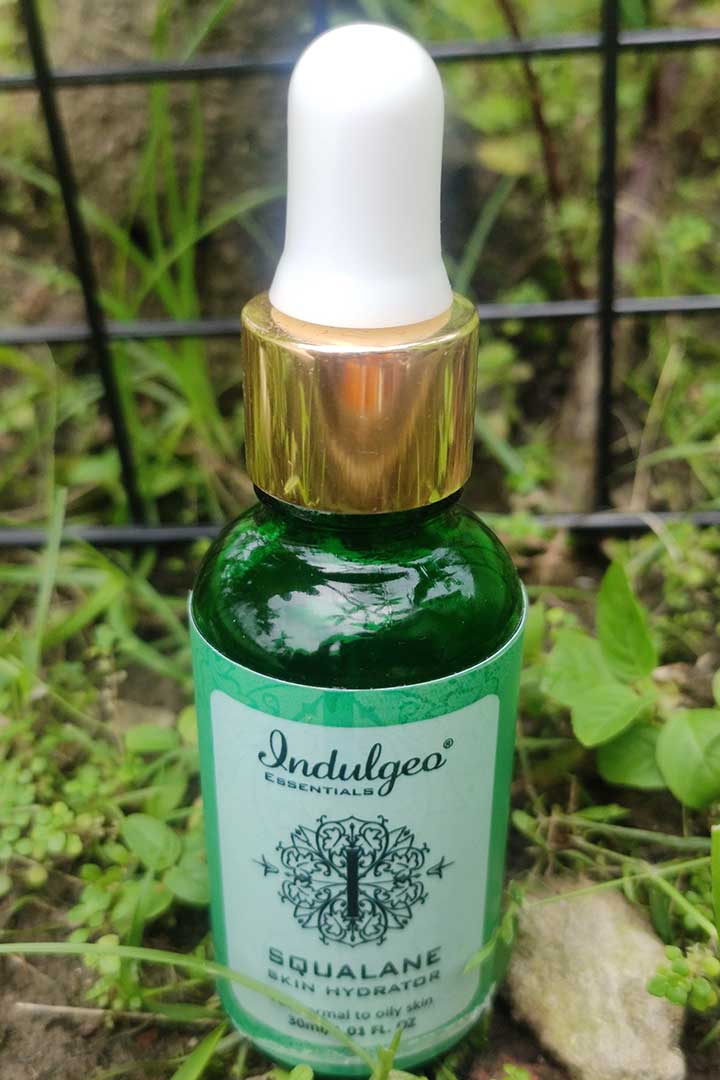 Ingredient Analysis of Indulgeo Essentials Squalane Oil
Well! It would be wrong to state that Squalane Oil is a whole new concept. Earlier, Shark Livers were used to extracting Squalane Oil because of the abundance. But, this was definitely not a sustainable option.
After conducive research, it was found that Olive has a small amount of Squalane too. The amount can be increased with every stage of processing. Indeed, People found a vegan solution.
With time, it is found that not only Olive fruits, Sugar Cane is also a great source to extract Squalane Oil. If Bio Fermentation is done, a better and clearer version of Squalane Oil can be extracted from Sugar Cane.
Indulgeo Essentials Squalane Oil is 100% plant-derived. 70% of the oil is extracted from Olive and 30% of it is sourced from Sugar Cane. I must say that the brand has done an excellent job in extracting the oil. It is 100% vegan and pure.
Solely for the ingredients, I would rate this oil 5 out of 5.
Packaging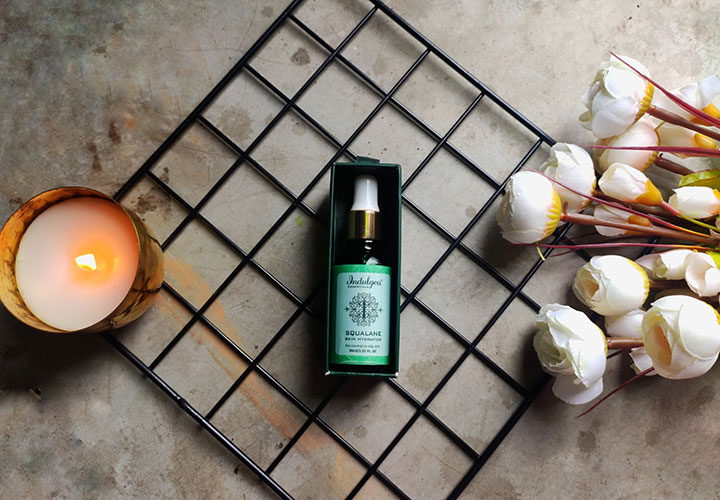 The carton and the bottle are simply called love. The brand has made sure that the carton looks royal and classic.
It is designed in such a way that one can easily pull the oil out of the box. In fact, the carton is hard enough to be kept as-it-is for a long time.
A dark coloured glass bottle has been used to preserve the oil. So, the efficacy of the oil remains intact.
Usually, I refrigerate Carrier and Essential Oils to maintain purity. But, if you are someone who prefers keeping the oils outside in a closet, this dark bottle would help you to preserve the potency of the oil.
Texture and Aroma
Oh my god! It is the lightest of all the carrier oils I have used so far. It looks crystal clear. The texture itself shouts out how pure the oil is.
Talking about the aroma, there is no significant note. It would not be wrong to state that this oil is free from aroma. And that again proves the purity of the oil.
My Experience with Indulgeo Essentials Squalane Oil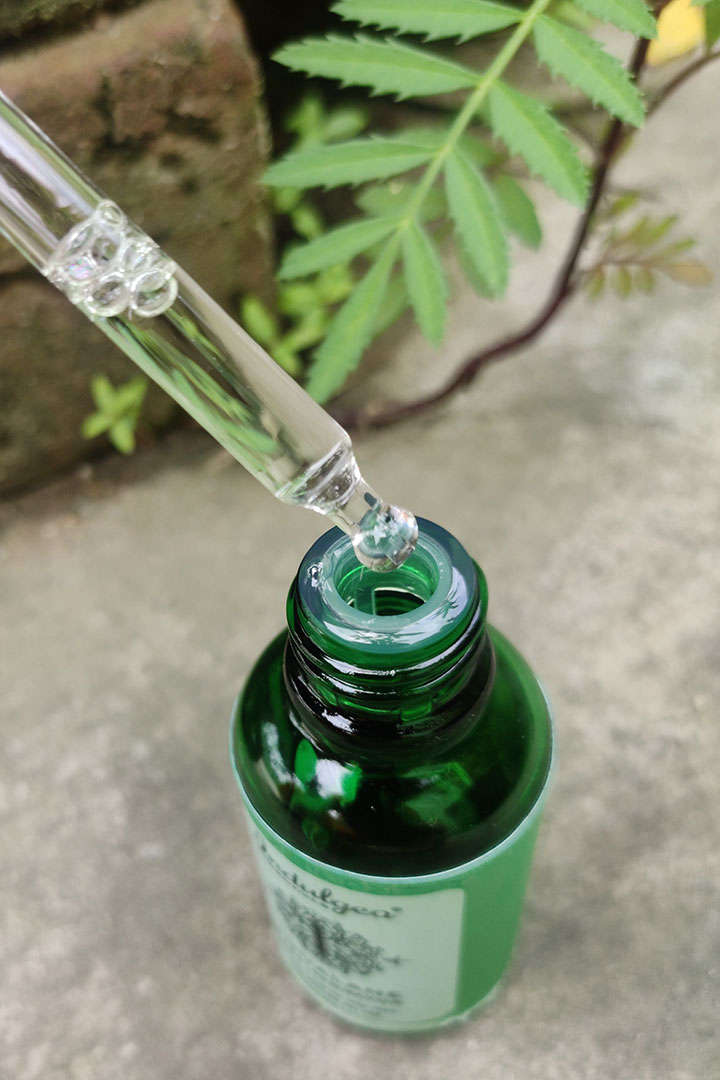 So, as I said, for the last two months, I have been using this oil. I dab this oil twice a day. In the morning, right after the application of a Lactic Acid based toner, I apply this.
I simply take two tiny drops of this oil and combine with my regular sunscreen. It blends so well that I could not imagine even!
During the night, I apply the oil right after the toner.
Squalane Oil has excellent absorption power. It does not even ask for a massage. I Just dab four drops of the oil and that is enough to cover the entire face & neck.
It gets absorbed into the skin within 5 seconds. Skin does not feel greasy at all. The oil is entirely water-resistant. So, even if I wash my face with water, my skin still feels hydrated.
Skin stays moisturized for at least 8 hours. Isn't it amazing?
How to Apply Squalane Oil?
No matter what your skin type is, always apply Squalane oil once you are done with spritzing a water based toner. It blends well, especially on wet skin.
It is said that this oil is ideal for normal to oily skin. But mine is dry and sensitive. And, my skin responded pretty well for this moisturizer.
Oily skin people might not need even a toner. But, to people with my skin type, my suggestion would always be to apply a water-based treatment right before applying the oil.
Does it Irritate Skin?
No! My sensitive skin responded pretty well for this oil. And thus, I believe that Squalane Oil is apt for ALL skin types.
Is it a Replacement for Rosehip Oil?
To some extent! Both the oils help to nourish and moisturize the skin. But, Rosehip oil runs an extra mile.
Rosehip oil works best on the pigmented skin. If you have deep acne scars, then this is what you need.
Overall, apart from moisturization, both the oils meet different requirements. So, choose wisely!
Pros of Indulgeo Essentials Squalane Oil
100% pure and vegan
Extracted from natural sources i.e. Olive fruits and Sugarcane
Quick absorption power
Skin does not feel greasy or sticky
Hydrates and moisturized skin for at least 8 hours
Skin looks glowing and dewy
Does not irritate the skin
Water-resistant texture
Best for ALL skin types
No additives are used
Cons of Indulgeo Essentials Squalane Oil
The price tag is quite high. I just wish the price was on the lower side. Or, at least, the brand could have introduced a travel size pack (5 ml).
Would I Repurchase Indulgeo Essentials Squalane Oil?
Of course! I am quite happy with the result. In the summer, when Rosehip Oil sometimes might feel heavy, this oil poses as the aptest solution ever.