5 Days with Minimalist Sunscreen SPF 50: A Detailed Review with Ingredient Analysis
Minimalist is no more a new brand in the market. It's been quite a few years since the brand entered the market.
Last year when the brand launched a range of Minimalist Sunscreens i.e. Minimalist Sunscreen SPF 50 and Minimalist Sunscreen SPF 60, it became almost an instant hit. Straight 50 grams of product with a low price tag attracted a huge number of people.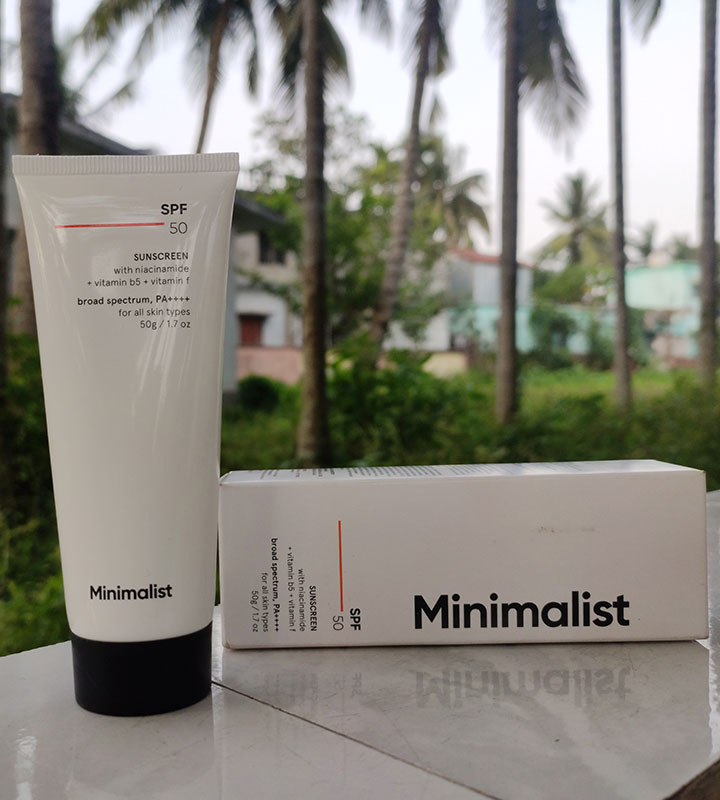 Often, Minimalist is called the "Desi version of The Ordinary". The formulations of the products match a lot with the ones from The Ordinary. Indeed, most of the products are quite effective. I have used three Minimalist products, you can check out my review here.
Well! Now, the question is can we say the same thing about Minimalist Sunscreen SPF 50? Well! It's been 5 days now that I am using the sunscreen. And, here goes my experience along with an in-depth analysis of the ingredients.
Table of Contents
Basic Details about Minimalist Sunscreen
Price: INR 399 for 50g
Shelf Life: 18 months from the manufacturing date
Buy From: Amazon
What does the Brand Claim about Minimalist Sunscreen SPF 50?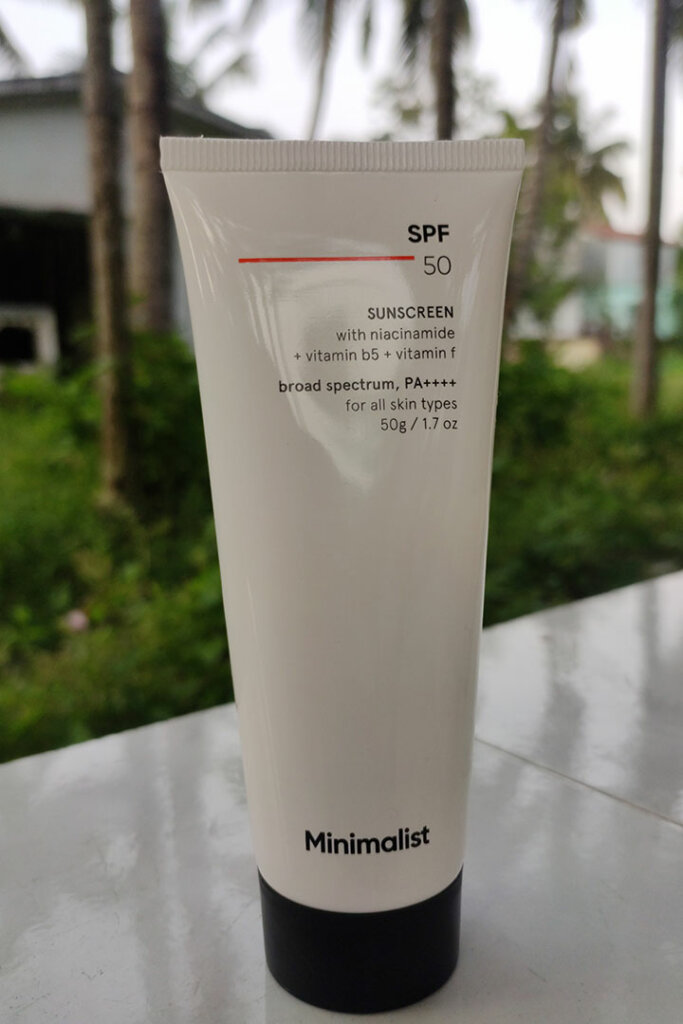 This lightweight sunscreen comes with board spectrum SPF protection of 50 with PA))) rating. The lightweight texture spreads quickly and provides a natural and non-shiny look. Get ready to grab a vitamin-rich sunscreen that moisturizes too.
Ingredient Analysis of Minimalist Sunscreen SPF 50
Often I find brands claiming that their sunscreen contains a number of naturally derived ingredients like Cold Pressed Carrot Oil which is a physical sunblock. It goes without saying that there is no such natural element that can block 100% sun rays.
And this is another reason why DIY Sunscreens should never be used. There is no shortcut while formulating a sunscreen. I am glad that Minimalist has not come up with such a hoax.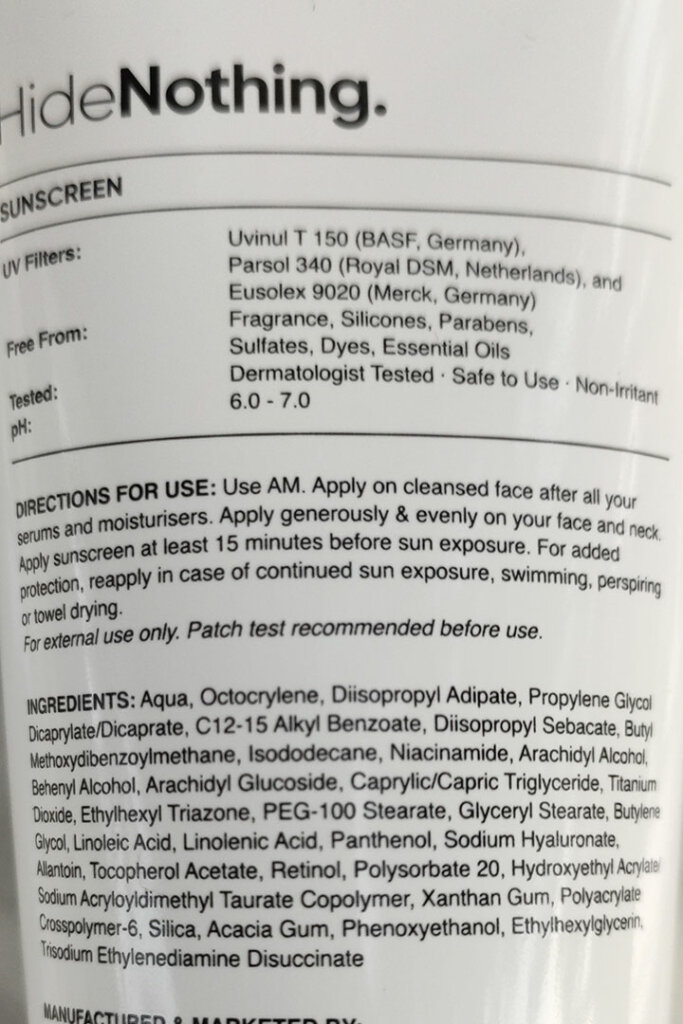 The brand believes in the mantra of "Hide Nothing" which is commendable for sure. Minimalist Sunscreen has been formulated with more than 30 ingredients and all are listed on the tube itself.
This section is going to be a bit lengthier as I would analyze all the components one by one. So, stay tight to check out how safe and effective the ingredients of Minimalist Sunscreen SPF 50 are.
1. Aqua
The base is water in this sunscreen.
2. Octocrylene
A moderately safe UV light absorber or a sunscreen agent.
3. Diisopropyl Adipate
It is a safe skin conditioning agent that also works as a fragrance agent.
4. Propylene Glycol Dicaprylate/Dicaprate
Another safe skin conditioning agent that works as an excellent emollient.
5. C12-15 Alkyl Benzoate
Just like the previous ingredient, it is also another safe skin conditioning agent.
6. Diisopropyl Sebacate
Among a number of skin conditioning agents, this is also another one. Additionally, it is safe.
7. Butyl Methoxydibenzoylmethane
This is Avobenzone, one of the most popular sunscreen agents with global recognition. It is the global gold standard UVA protection agent that can give good protection for the entire UVA range of the sunrays.
The only problem with this sunscreen agent is that it is highly photo-unstable. It has a tendency to lose 36% of its absorption capability if just an hour is spent in sunlight.
So, it is said that sunscreens with Butyl Methoxydibenzoylmethane must be reapplied after every 2.5-3 hours.
8. Isododecane
It is a safe emollient that also functions as a fragrance agent.
9. Niacinamide
An amazing active component that helps to make the skin smooth. I am glad that the brand used this component here.
10. Arachidyl Alcohol
A safe viscosity controller that also functions as an emulsion stabilizer.
11. Behenyl Alcohol
It works as a binder in a cosmetic formulation.
12. Arachidyl Glucoside
It helps to create a smooth surface by conditioning the skin. And, in return, it helps to absorb the product more into the layers of the skin.
13. Caprylic/Capric Triglyceride
Another safe skin conditioning agent.
14. Titanium Dioxide
A widely used sunscreen agent that is moderately safe. It is also used as a colourant sometimes due to its clear white colour.
15. Ethylhexyl Triazone
A safe UV ray absorber. But, as it is a PABA derivative; thus, it is not recommended to use as an active ingredient in the U.S.
16. PEG-100 Stearate
This moderately safe component helps to feel the skin soft and smooth. Thus, it helps to absorb the product more into the layers of the skin.
17. Glyceryl Stearate
Another safe skin conditioning agent that works just the way PEG-100Stearate does.
18. Butylene Glycol
A safe skin conditioning agent that also functions as a fragrance agent.
19. Linoleic Acid
It functions similarly to the Butylene Glycol. And also, it is a naturally occurring fatty acid.
20. Linolenic Acid
Well! Just like the name sounds similar, they function similarly as well. The only difference is that Linolenic Acid is an unsaturated fatty acid and does not occur naturally.
21. Panthenol
This is basically a form of Vitamin B5 which is a beautiful skin conditioning agent.
22. Sodium Hyaluronate
A derivative of Hyaluronic Acid which is an excellent anti-ageing element. I am glad that the brand has added this component here.
23. Allantoin
A safe skin conditioning agent.
24. Tocopherol Acetate
It is basically Vitamin E which is an excellent antioxidant and an effective emollient.
25. Retinol
Another amazing active ingredient which is also an excellent skin conditioning agent.
26. Polysorbate 20
A moderately safe fragrance agent.
27. Hydroxyethyl Acrylate/Sodium Acryloyldimethyl Taurate Copolymer
The harder it sounds, the simpler its function is. This safe component is actually a viscosity controller that also functions as an emulsion stabilizer.
28. Xanthan Gum
A naturally-derived binder that gives a binding texture to the product.
29. Polyacrylate Crosspolymer-6
This safe ingredient helps to thicken the consistency of the product.
30. Silica
Silica is widely found in sunscreens and other personal care products. The basic objective is to condition the sun-damaged skin. It also helps other ingredients present in the product get absorbed into the skin well.
31. Acacia Gum
This safe ingredient makes skin supple, soft, and smooth.
32. Phenoxyethanol
A widely used preservative that is moderately safe.
33. Ethylhexylglycerin
It is a safe skin conditioning agent and also a fragrance component.
34. Trisodium Ethylenediamine Disuccinate
A safe component that is basically a chelating agent (deactivates metal ions present in a formulation).
***The safety ratings have been noted down here the way it was found on the online database of EWG. 
And, that's all! That was a pretty huge list for sure. The best part is the addition of a number of safe skin conditioning agents. It makes the sunscreen more moisturizing. Another good part is that no colourants or perfumery substances have been used here.
But, there are only 3 sunscreen agents. Among those, one is extremely photo-unstable. I truly believe that the formulation could have been one of the best out there with the addition of a few more sunscreen agents.
Umm, at this stage, I feel no guilt to call the formulation of Re'equil Ultra Matte Dry Touch Sunscreen Gel with SPF 50 the best so far!
Well! Overall, I cannot give more than 2.5 the ingredients of Minimalist Sunscreen with SPF 50 out of 5 on a rating scale.
Packaging, Texture, and Aroma
The sunscreen comes in the usual plastic-made tube packaging with a black cap. All the necessary and even the most intricate details have been mentioned both on the carton and also on the label.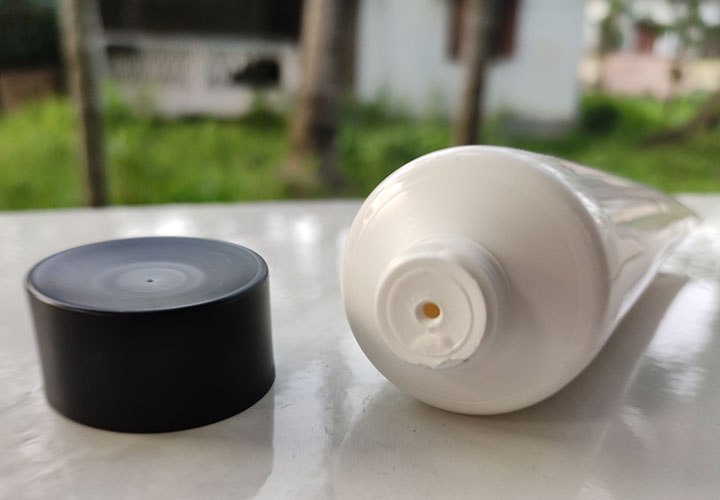 The texture is creamy with a hint of white grains. Don't worry! The grains are not harsh at all. The sunscreen is absolutely white in colour.
The sunscreen has no aroma at all. Great; isn't it?
Disclaimer:  Everything written in the following section is the opinion based on everything that I experienced. Every skin is different. And thus, the apparently same skin type of two people might react differently to the same product. 
5 Days with Minimalist Sunscreen: My Experience in Detail 
I might skip eyeliner or lipstick, but sunscreen is my mate all around the year. I never forget to apply my sunscreen.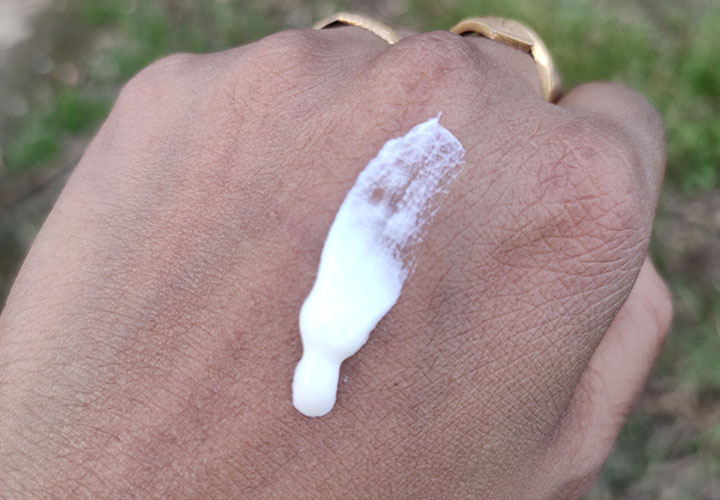 So, in the last 5 days, every day, while going outside, I have applied this sunscreen. And, here goes what I have realized so far.
The texture does not spread instantly. It takes 15 seconds and a light massage to blend the sunscreen completely.
A white cast stays for 5-8 seconds that eventually vanishes.
After a minute, it starts feeling heavy on the skin. I don't want to compare this sunscreen with the one I am using, at present, but the comparison just kept coming to my mind. With Minimalist Sunscreen on my face, I can feel the presence from the very beginning.
The moment I step outside of my house with the sunscreen applied all over my face and neck, I can see drops of sweat on my chin and nose areas. Within 5 minutes, I am all sweaty and I have no choice left other than taking out my hanky.
The sweating makes me feel as if all the sunscreen has been washed off. Within two hours, I can barely feel anything on my face. It feels just sweaty and dry.
With profuse sweating, my skin definitely feels unprotected and vulnerable.
It takes me 1 hour to reach the office. And, in these 5 days, I avoided stepping outside my office between 11 am and 5 pm. So, there is no sign of suntan luckily.
But, I am pretty sure that if I had stepped outside after 2-3 hours without reapplication, it would have surely given me tanned skin.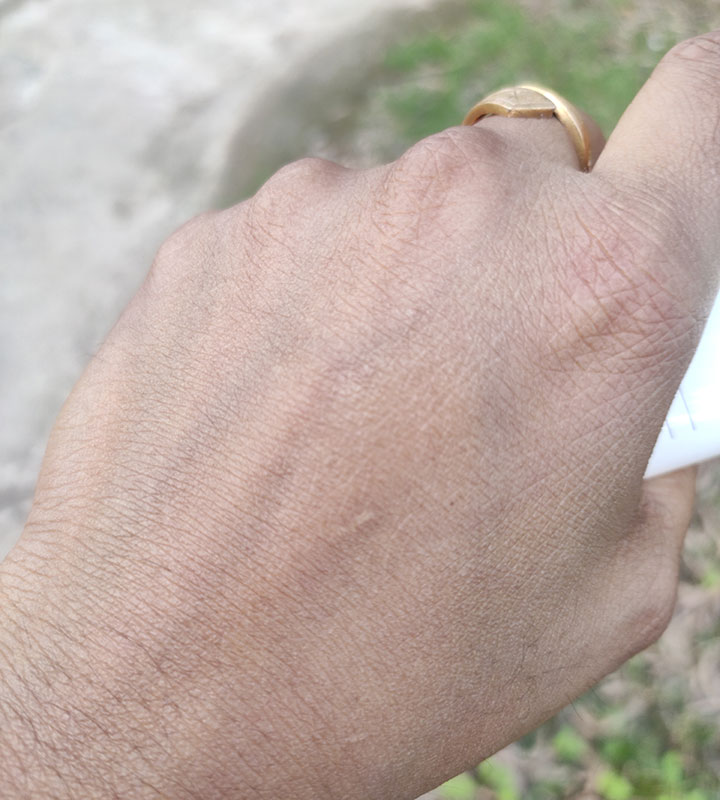 Can People with Sensitive Skin Use Minimalist Sunscreen?
As I said, this sunscreen contains a number of safe and non-comedogenic components. Thus, people like me who have super sensitive skin can easily apply it. It has not caused me any rash or bumps so far.