Are you a wig lover or intend to buy a wig to hide the imperfection of your natural hair? If yes, then you're at the right place.
Here we'll present you with the trendiest wig options that look like real hair. As we all know that wigs are all the rage.
Now everybody loves to wear wigs because of their usefulness and credit goes to the list of wigs benefits. We see many types of wig options online and in the market.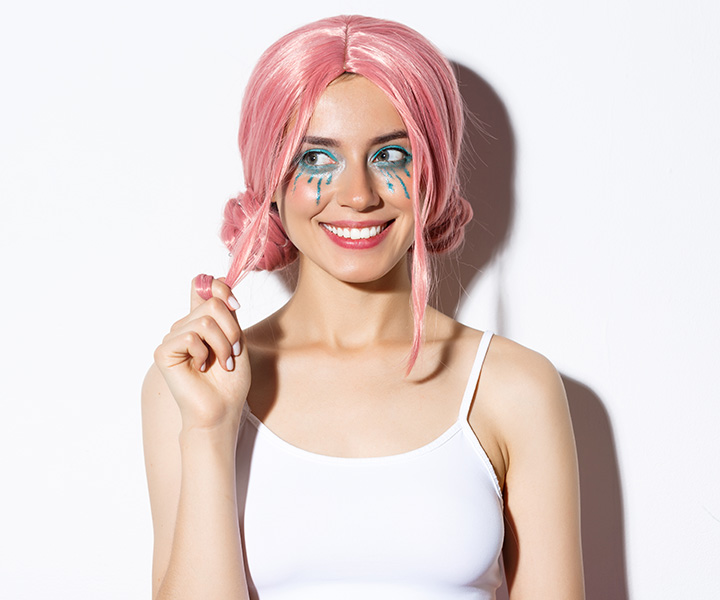 The long list of wig options made it difficult for us that which option we should opt for. But don't worry, for your convenience, we've prepared a list of the trendiest wig options that are undetectable because they look like real hair.
For a beginner, it is difficult to choose the best real hair wig from human hair wigs, synthetic wigs, lace wigs, frontal lace wigs, and many more.
The options are limitless but according to our research, some wigs are trendy because they look like real hair.
The real hair wig option enables you to hide your hair issues like bald patches or thin hair.
Factors Need To Be Considered When Buying A Trendy And Natural Wig
But before getting into the details of trendy wig options let's talk about some factors that need to be considered to buy a wig option that looks like real hair.
Budget
The rule is clear; if you wanna buy an undetectable wig, that lasts longer, and is made of premium quality material then you have to pay a price. The first thing that you'll consider is your budget. If you are ready to pay a high cost then go for a human hair wig option that you can use as long as you want.
Usage
Consider the usage of the wig that how often you gonna use that wig. If your usage is higher, then make a wise investment by buying a wig option that is made of superior quality and can't be used for a longer period.
Consider your natural hair condition if you are undergoing cancer treatment or facing alopecia then you might have to use a wig 24/7.
Or, if you're an office-going professional then you might need to wear a wig from 9 to 5. Make the right decision that makes you happy while wearing the trendy wig option.
Facial Features
Your face shape, complexion, and lifestyle do matter. Consider your features before buying the best wig option. Must try the wig before buying it and go for the option that suits you most.
Always do not fall for the trend but make the right decision according to your personality and lifestyle. Choose a wig that you can carry like a pro. Also consider the style, color, and material of the wig.
The Trendiest Wig Options that Look Like Real Hair
HD Lace Wig
HD lace wigs are an excellent trendy wig option that looks like real hair. The lace used in the HD lace wig is super thin and transparent which perfectly blends in with any skin tone. This perfectly blends the ability of HD lace wigs making it superior to all wig options.
Another plus point of HD lace wigs is that they come with bleached knots and plucked hairline that makes the hairline invisible and looks like real hair growing from the scalp. Some people prefer human hair HD lace wigs because it's a bit pricey option but for me, it's a worthy investment. If you really wanna buy something that gives an illusion of natural hair then blindfold goes for HD lace wigs.
No doubt, you have to pay a high price once but you can use it for a longer period and no one can detect that you're wearing a hairpiece. HD lace wigs are the best option that you can opt for to wear on a big day, like wedding, birthday prom, or graduation ceremony. It allows versatility in styling and can't be detected by the naked eye.
Human Hair Wig
The hot favorite and trendiest wig options that look like real hair are human hair wigs. Most human hair wigs are made of virgin human hair and didn't undergo any intensive procedure and give an exact shine like real human hair. Human hair wigs can be dyed, heat styled, and blow-dried.
As the quality charge cost so human hair wigs are a bit expensive but they are the trendiest option to flaunt like real human hair.
Headband Wig
This trendy wig option is a must-have wig for beginners. It comes with an attached silk headband that is attached to the front part of the wig instead of lace.
Headband wigs are made of 100% virgin human hair so it looks like real human hair. The strands of the headband wig are sewn in a soft cap. It comes in different styles and textures.
The Headband wig comes with half lace or no lace. A headband wig is installed halfway from the forehead so your natural baby hair can be seen on the forehead and gives an illusion of natural hair look.
This trendy wig option covers the hairline for a natural look and allows different styling options by adjusting the band.
Lace Front Wig
This is yet another tremendous wig option that looks like real hair. Lace front wigs have frontal sheer mesh and strands are hand-tied that give a natural hairline and can't be detected easily.
The lace of the lace front wig comes in different sizes like 13×4 or 13×6 inches.
A lace front wig enables you to go for the list of hairstyles and even you can opt for a style to push hair back and away from the face.
A lace front wig is a comfortable option because of the sheer mesh and can be used in any weather.
Full Lace Wig
A full lace wig is always a trend option because of its realistic look. The entire head section of the wig is covered by sheer lace that covers the head.
Its strands are made of virgin material that is hand tied for a maximum realistic appearance.
A full lace wig needs to be glued fully by adhesive to the head.
It's a trendy wig option because it enables you to make several hairstyles because of the full lace base.
V/U Part Wig
The V part wig has a 5 inches middle part line and a V-shaped opening at the top. This is a new trendy wig option because the V-shaped opening helps you to mix your natural hair to create an appearance of natural hair look.
The U part wig also comes with U shaped opening on top of the wig. The U-shaped opening permits you to blend your natural hair with a wig.
They both possess the same qualities but U shaped wig needs more natural hair to mix with a wig to create a hairline. And due to the small opening of the V shape, it needs less hair to mix with natural hair. Both options are trendy and give the illusion of natural hair look.
Conclusion
These are some trendiest wig options that look like real hair. Besides these options, you can also try natural black body wave wig, HD lace front wigs, HD lace closure wigs, human hair wigs with bangs, natural black curly wigs, human hair glueless wigs, brown blonde body waves, 360 frontal wigs, body wave lace frontal wigs, etc.
All these options are best in their class and can really help to hide the imperfection of your natural hair. You can buy any type of these trendy options wigs that look like real hair.