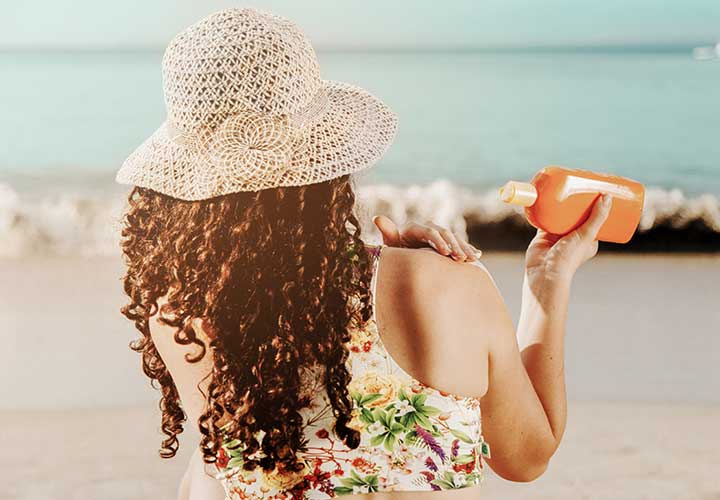 What's Inside?
SPF or Sun Protection Factor ||  Why You should Know Your Skin Type to Choose the Best Sunscreen || What is UV Spectrum || Ingredients to Look for in a Sunscreen || 13 Best Sunscreen in India that are Dermatologically Tested || How to Get Maximum Protection from a Sunscreen
Whether it is winter or summer or rainy, the necessity of a good sunscreen is never-ending. There was a time when I was least bothered about sunscreens.
I was carefree; my theory was that my skin looks good and healthy. So, I don't need sunscreen. Over the years, I used to go out without a sunscreen and also without an umbrella. Basically, I nailed my own coffin. This misconception has only damaged my skin.
Well! No matter what brand it is, almost every brand has its own sunscreens or sunblocks. As the market is already flooded with a number of brands and their products, it is really difficult to make a choice.
I believe that this article is going to help you in a number of ways. Before we pound upon the list, I would like to share a few key points here. In case, you are just curious to know the best sunscreens in India and nothing else, jump here directly.
What is SPF or Sun Protection Factor?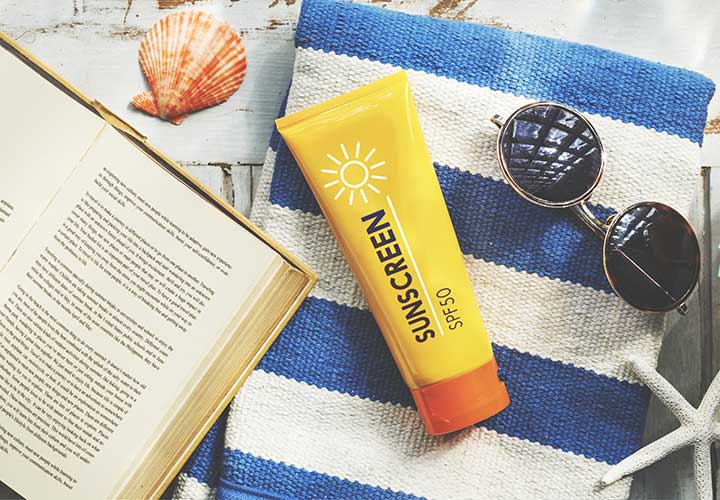 Well! Whenever we talk about sunscreens, we determine the efficacy with the help of a parameter which is SPF or Sun Protection Factor. This factor or index determines how long your skin would be protected from the harsh rays of the Sun.
If your skin is supposed to get exposed in the sun for 2 hours or even more, then you need a sunscreen with SPF 30+. Whereas, if you are partying outside in cloudy weather, moisturizing cream with SPF 15+ would be enough to protect your skin.
A higher SPF does not increase the coverage exponentially. It ensures the percentage of UV rays blocked by your sunscreen. Basically, your choice of SPF should depend upon your daily activities or the climate you live in.
SPF 15 –> Blocks 93% UVB, SPF 30 –> Blocks 97% UVB, SPF 50–> Blocks 98% UVB, SPF 100 –> Blocks 99% UVB (hypothetically)
Why is It Important to Know Your Skin Type to Choose the Best Sunscreen?
This is another determining factor that many often overlook. Before you spend large on your sun protector factor, you should know whether it would suit your skin or not.
If you are a dry skin person and if you choose a mattifying sunscreen, then it would only cause you troubles. Your skin would dry out no matter how many layers of moisturizer you put on.
So, it is important to determine your skin type. Here is the thumb rule to determine the type of sunscreen you need as per your skin.
Normal Skin: Not too drying nor too moisturizing

Oily Skin: Light weight mattifying Sunscreen that also hydrates

Dry Skin: An oil-based suncreen that also moisturizes your skin

Sensitive and Combination Skin: Look for sunscreens which are free from dyes, chemicals, parabens, and also fragrance.
Know about the UV Spectrum Too
UV or Ultraviolet rays cannot be seen with bare eyes. Sunscreens are formulated to protect us from the harmful effects of these rays.
UVA and UVB, these two are the categories of these rays. UVA has a longer wavelength and thus, it is responsible for premature ageing. Whereas, UVB is the reason behind sunburn and skin damage.
Generally, SPFs are a measure of UVB protection, but UVA is important too. So, choose a sunscreen or sunblock cream that provides Broad-Specturm proctection from both UVA and UVB.
Look Up Ingredients: Choose Your Sunscreen Wisely
The world of cosmetic components is quite a huge one. And, decoding the formulation of even the simplest Sunscreen Cream can be quite a tough task. So, I would not ask you to analyze these even. But, I think knowing a few would not cost you anything.
Oxybenzone, Octonoxate, PABA, Homosalate, Octocrylene, Octisalate, etc. are known as hormone disruptors. So, if ingredients matter to you, then it is better to avoid sunscreens containing these.
My suggestion would be, always stick to the formulation containing Zinc Oxide or Titanium Dioxide. In the following section, I would list down 8 sunscreens which are almost the best from the rest.
Well! Some of these sunscreens might have Parabens or other components. I would leave the choice to you. Choose what you feel is best. Let's talk about the best sunscreen in India at the time of writing.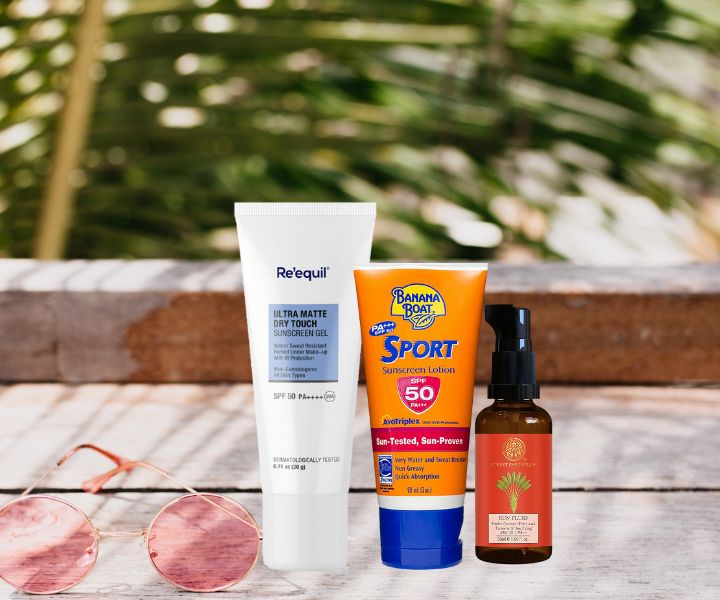 Compilation of the Best Sunscreen in India that are Dermatologically Tested and Safe for Beginners
All the sunscreens have been arranged here in a numbered form just for the sake of listing. The one at the top does not indicate the only best nor the one at the last indicates the worst.

All of these products are the best in the market as per our observation. With that said, let's jump into the list.
1. ROA Broad Spectrum Sun Protection SPF 35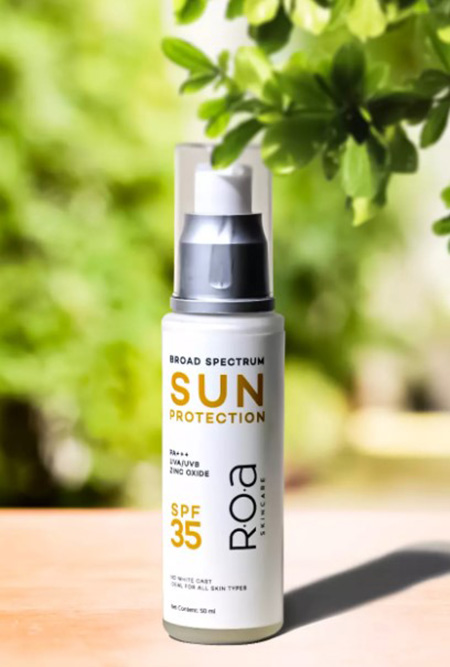 Courtesy of Brand
ROA is a relatively new brand in the Indian market for sure but the brand has already formulated a number of amazing products. And, this broad spectrum sunscreen is one of those.
It is enriched in Ethylhexyl Methoxycinnamate, Titanium Oxide, and Zinc Oxide; all are excellent UV ray shields. The simplicity of the formulation makes this sunscreen more interesting & reliable.
Let's take a glance at the key features.
Pros

Broad spectrum sunscreen with SPF 35 that blocks over 97% of UVA radiation, PA+++ rating for high UVB protection.
Smooth & lightweight formula that does not provide white cast
Suitable for both men and women, on bare skin or under makeup.
Perfect for all skin types including the beauties with sensitive skin
For better protection, reapply after every 3 hours.

Cons

It is not a con in particular but rather a wish that the brand must come up with a high SPF formulation

As a whole, ROA sunscreen is one of the best sunscreen in India that is dermatologically tested & declared safe. Do you want to buy it? Use this code ARENA20 exclusive for all the readers of Cosmetics Arena.
2. Lotus Herbals Safe Sun UV Screen Matte Gel SPF – 50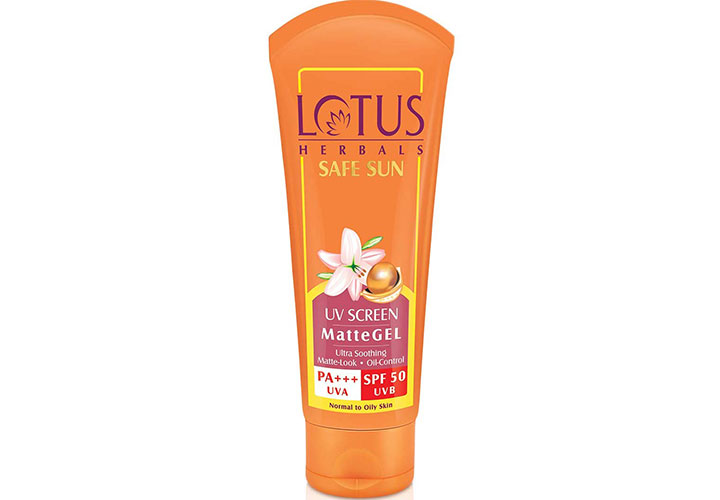 Courtesy of Brand
This is one of the most-bought sunscreens of all. Majority of people love it. Because of the matte finish it provides, it is ideal for oily skin people. This is one of the first sunscreens that I used as a teenager. Here are some of the pros and cons of this sunscreen.
Pros

Suitable for both oily and sensitive skin people
Mostly safe components
Affordable
A little amount of product goes long

Cons
3. L'Oreal Paris UV Perfect Super Aqua Essence SPF 50+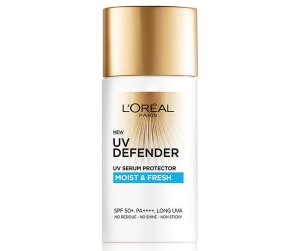 Courtesy of Brand
L'Oreal Paris has lately come up with a bunch of dedicated skincare products. And, I must say that it is one of the best recently launched skincare products from the house of L'Oreal Paris. The sunscreen comes with an SPF of 50+ which is brilliant. Here is a list of pros and cons so that you can make a choice.
Pros

Rich in anti ageing skin agent like Hyaluronic Acid
Hydrating light weight formula that does not irritate the skin
Non greasy texture which is prefect for all skin types
Oil free non sticky formulation; thus, skin does not feel messy or cakey
Can be used as a good makeup base
Provides protection from both UVA and UVB rays

Cons

Alcohol is present; thus, sensitive skin people should not use it
A bit pricey in comparison to the quantity
4. The Derma Co 1% Hyaluronic Sunscreen Aqua Gel With SPF 50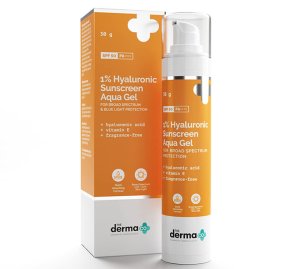 Courtesy of Brand
In recent times, this brand and its sunscreen have become quite popular in India; all thanks to the social media influencers.
Its non-greasy, fragrance free formulation has made this one of the best sunscreen in India among many. But, there are many other factors that make this one stand out. Check those out.
Pros

Water resistant Zinc Oxide based formula
Makes skin feel refreshing especially during the scorching heat of summer
Protects the skin from UVA and blue light; all in all broad spectrum protection
Fragrance and alcohol free safe formulation
From normal to oily, acne prone sensitive skin, this sunscreen is perfect for all
Rich in Hyaluronic Acid, Aloe Vera Gel, and Sunflower Oil

Cons

Due to the presence of Zinc Oxide, you might get white cast. But, don't worry! Within a few minutes, it settles down.
5. Green Tea Day-Light Sunscreen Gel SPF35 | PA+++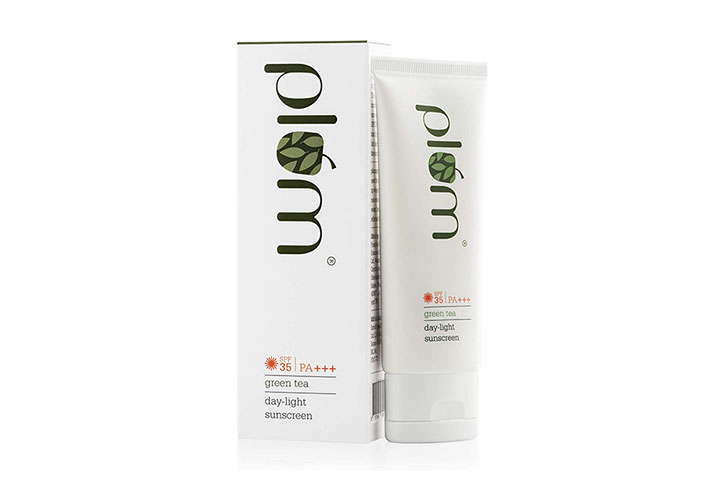 Courtesy of Brand
If you have oily and acne-prone skin, then this sunscreen gel would suit you the best. The gel-based sunscreen does not leave any white cast, which is indeed an advantage. Here goes a list of some more advantages and disadvantages.
Pros

Paraben-free formula
Light-weight gel texture
Niacinamide is present
Harmful chemicals are not present here

Cons

Not suitable for dry skin people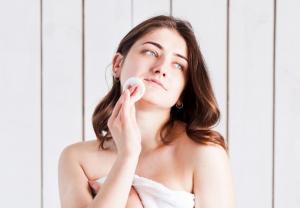 A proper CTM routine is enough to improve the skin. Check out a compilation of the best toner for face, oily skin, dry skin, acne prone, and sensitive skin in India for the ultimate glowing skin.
Read More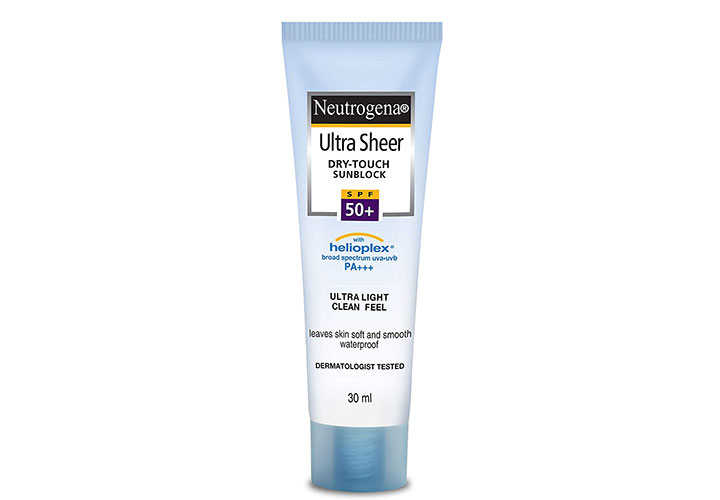 Courtesy of Brand
This sunscreen is one of the best sellers from the house of Neutrogena. It is best suitable for oily and sensitive skin people.
But, as a dry skin person, I mix it with moisturizer or serum. A number of reasons make this sunscreen the best sunscreen in India and also the best sunscreen recommended by dermatologists. Here goes a list of good and bad points about this sunblock cream.
Pros

It does not leave any white cast on the skin
Paraben free waterproof formula
Helioplex is a patent ingredient of Neutrogena which is a safe sunblock
PABA free formula
Gives good coverage as it is a broad spectrum sunblock cream.

Cons
7. Foxtale Coverup Mattifying Sunscreen SPF 50+ PA++++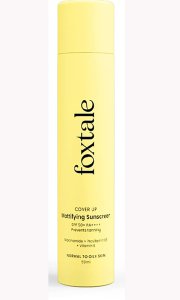 Courtesy of Brand
The brand is relatively new in the market for sure, but it has already created a roar among its peers. The formulation is brilliant because of the well-researched ingredient list.
Check out some of the highlights of this sunscreen before you click the 'shop now' button.
Pros

Safe for all skin types including the one with acne prone and sensitive skin
Oily skin people can easily skip moisturizer during summer
No white cast as it is not a Zinc oxide/Titanium Oxide based sunscreen
Presence of Photostable sunscreen agents
Allergen free fragrance
The mattifying effect does not look cakey or artificial
Creates an excellent base for the makeup

Cons

I have covered a detailed review of this sunscreen on Cosmetics Arena, you can check that out here.
8. I

nnisfree Intensive Triple Care Sunscreen Cream SPF 50+ PA++++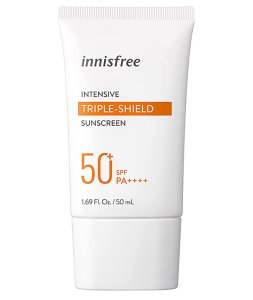 Courtesy of Brand
Now, when Korean products are being launched in India back to back, it is time to enlist a few Korean sunscreens too. Innisfree is indeed one of the most popular Korean brands here. Check out what makes this sunblock cream the best sunscreen in India.
Pros

Safe UV protectors
Budget friendly
Hydrates skin and makes the skin glowing
Does not leave white cast to the skin
Works best for the dry skin people

Cons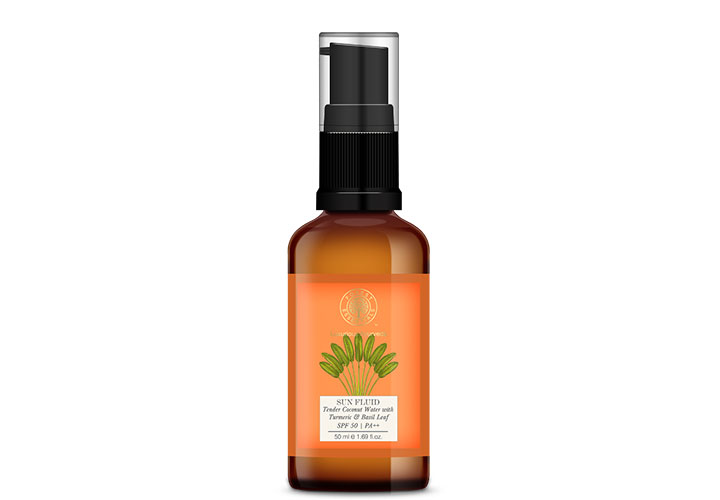 Courtesy of Brand
Well! This is indeed the best sunscreen in India. It has been recently launched by Forest Essentials. A number of people have praised this product and the number is only increasing. Check out what makes it the best in the market free.
Pros

Perfect for dry skin and combination skin people
Ideal sunscreen for cold seasons
Goodness of herbs; safe list of components
No need to use moisturizer separately
Skin does not break out

Cons

High price tag
Oily skin people would find it greasy
10. Re'equil Ultra Matte Dry Touch Sunscreen Gel with SPF 50 PA++++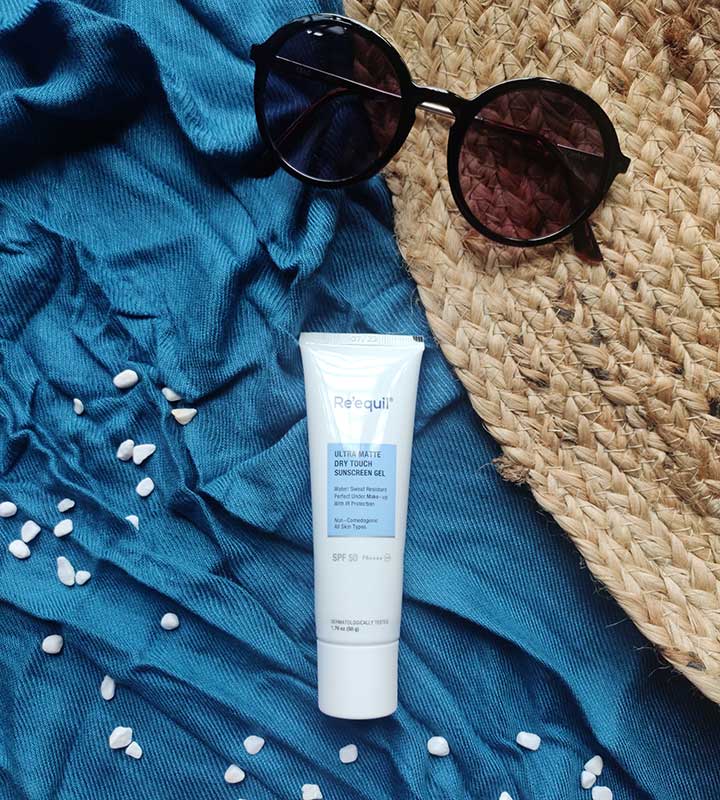 It's been quite a long since I updated this article. And, in between, I have come across a number of sunscreens. It would be a crime if I do not tell you about a few such products.
Just a month back, I started using Re'equil Ultra Matte Dry Touch Sunscreen Gel with SPF 50 PA++++. The formulation is brilliant; quite easy to blend. Here goes a list of some of its features.
Pros

Light weight waterproof and sweatproof formulation
Works beautifully as a primer
Brilliant formulation
Perfect for all skin types including the one with sensitive skin
Don't worry! Even in extreme humid days, I have never felt much sweating

Cons

The Super-Silicone type of feel might not get accepted equally by everyone.
For the first 20 seconds of application, a subtle white cast can be seen. But, it just disappears within half a minute!
To know more about Re'equil sunscreen, check out my full review here along with a detailed analysis of the safety of the ingredients.
11. Dot & Key Watermelon Cooling Sunscreen SPF 50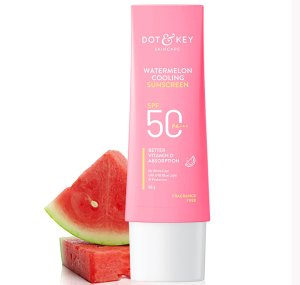 Courtesy of Brand
Another recent launch that has already become staple sunscreen for many. According 99% of the users, it leaves no white cast. The smooth luminating texture is perfect for all day wear. Let's find out what this sunscreen offers more.
Pros

Instant cooling formula which is light weight
Leaves no white cast
Protects the skin from UVA, UVB, Blue Light, Infra Red, HEV rays
Makes the skin look smooth
Gel cream texture is quite easy to blend

Cons

Not sweatproof or waterproof. Hence, for optimum protection along the day, reapplication is required.
But, as a whole, it is indeed one of the best sunscreen in India.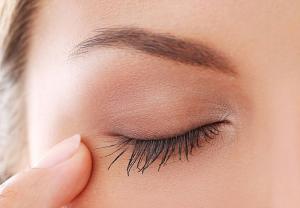 Do you want to ditch those big panda eyes? Know a compilation of the best under eye creams in India to treat the stubborn dark circles.
Read More
12.

Banana Boat Sport SPF 50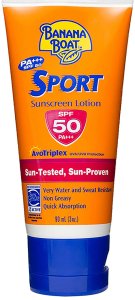 Courtesy of Brand
All the sunscreens that we have talked about so far are great for short term sun exposure. But, if you are a sports person or an athlete who has to spend outdoor most of the time, then you need something extra.
For a long time, this sunscreen from the house of Banana Boat has been the absolute favorite for athletes and swimmers. Its non-greasy formula provides active sport protection. Check out what ese this product offers.
Pros

Water-resistant and sweatproof formula
Non greasy texture which helps to blend well
Its AvoTriplex technology provides protection from skin damage and sun burn
Perfect for all types of skin

Cons

Contains Oxybenzone and Parabens

Overall, it is surely one of the best sunscreen in India for sports personalities that have been popular for a long time now.
And, that's all. In this context, it is worth every mention that recently, Dr. Sheth has launched a few sunscreens. I have used their Oat and Zinc one which is a Zinc Oxide based sunscreen.
Well! It goes without saying that the never-blendable white cast has stopped me today from including the product in this list.
But, as long as the ingredients are concerned, this is one of the gem physical sunscreen formulations. For details, you can check my detailed review here.
As of now, all of the listed sunscreens are the best ever in the market. But, the list does not end here as the market is ever-expanding. Let us know in the comment section about your favorite sunscreen.
You might have noticed that I have not included Biotique sunscreens here.

Well! I simply do not recommend Biotique ever.

To know about the reasons, you can check out this link HERE. In fact, not only Biotique, I do not recommend any brand that does not disclose its full ingredient list.

It is mandatory for everyone to know what's inside before they purchase a cosmetic.
And, before we wrap up this article, here are a few things that you can do to protect your skin from further damage even after applying sunscreen.
How to Get Maximum Protection from a Sunscreen
Apply sunscreen at least 30 minutes before you leave
Reapply sunscreen after 2-3 hours
If you are exposed to the Sun for long hours, it is better to spray a facial mist at regular intervals so that skin remains hydrated.
Once you return, make sure to wash off the exposed areas and apply moisturizer.
So, that's all for today. Take care lovelies! Subscribe to Cosmetics Arena if you find it helpful. We will meet soon with another interesting article.