So lately, a lot of things are going on in my life. With every stress passing by, all it leaves is a fine line on my face. I was literally struggling with uneven skin tone, dark spots under my eyes just a month back even.
I got to understand that my old and simple skincare routine is not going to make it up. And, I need something fresh, unique, and more powerful. So, just like any skin enthusiast, I started reading more about effective skincare treatments.
Within a week, I came across a website that sells Korean products. Well! You guessed it right; the site is Limese. I am quite sure that many of you have already read the piece I wrote about why I like Limese a lot these days.
Among various brands, there was a brand that took me aback. I was quite stunned by the concept the brand believes in. Guess what!? 'One Thing' is the name of the brand. The brand features several products. But, after studying for a while, I decided to purchase One Thing Artemisia Capillaris Extract.
It's been more than 2 weeks now that I am using this product. And, as the title says, this is the secret behind my glow. But, how did this happen? What is this extract? Is it safe for all types of skin? Well! It's time to answer everything.
What is the Motto Behind the One Thing Brand?
One Thing bottles up Botanical Extracts and Skin-Loving Ingredients which are 100% pure. The products are free from additives like perfume or colour.
Not only these extracts can be used as a toner but can also be used in a regular/homemade face pack/mask. So, these are multi-functional products.
Although the extracts are 100% pure yet these are pretty effective and gentle on the most sensitive skin type even. As of now, all the One Thing products come in 150ml bottles; so one bottle lasts quite long.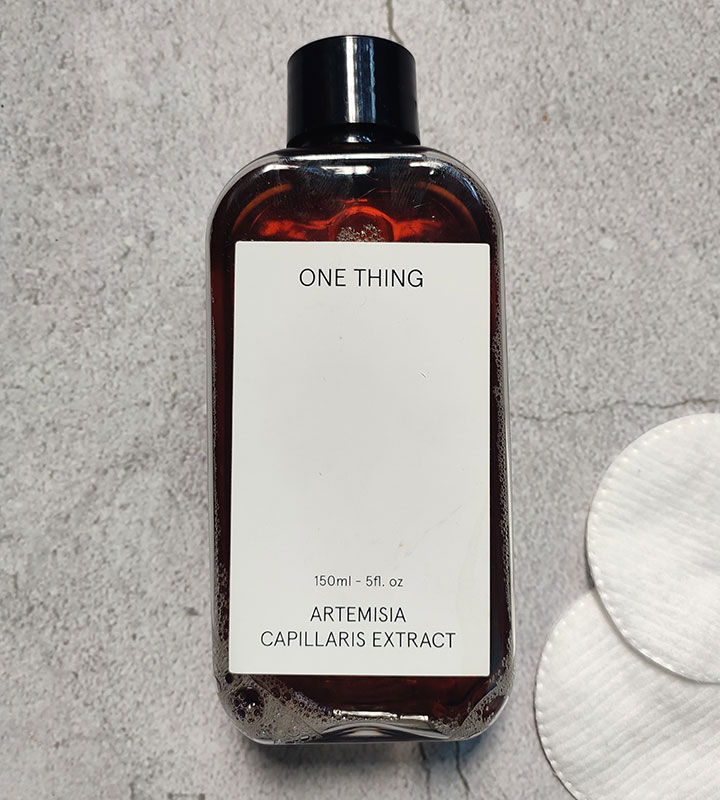 What is Artemisia Capillaris?
Artemisia Capillaris is also known as Wormwood. It is widely grown in Yeongcheon, South Korea. This special herb can withstand harsh weather like cold winter.
Skin Benefits of Artemisia Capillaris Extract
For ages, Artemisia has been used for its healing and soothing properties. The extract miraculously on ageing and fine lines. It is mild enough to be used by sensitive skin people.
Artemisia Capillaris also helps to improve the natural barrier of the skin. It contains Beta-Carotene that helps to deliver Vitamin A straight to the skin cells.
This extract also helps to hydrate the skin and reduces inflammation. The antioxidants present in Artemisia Capillaris also helps to repair and protect the skin.
A Few Basic Details about the One Thing Artemisia Capillaris Extract
Price: INR 1050 for 150 ml
Country of Origin: South Korea
Shelf Life: 2 years 
Buy From: Limese
Packaging, Texture, and Aroma
The product comes in a usual plastic container. It is easy to take out the product both on your palm and also on a cotton pad. I just wish the bottle was dark in colour and also would have come in a spray bottle.
The texture is just like water. It is light in weight.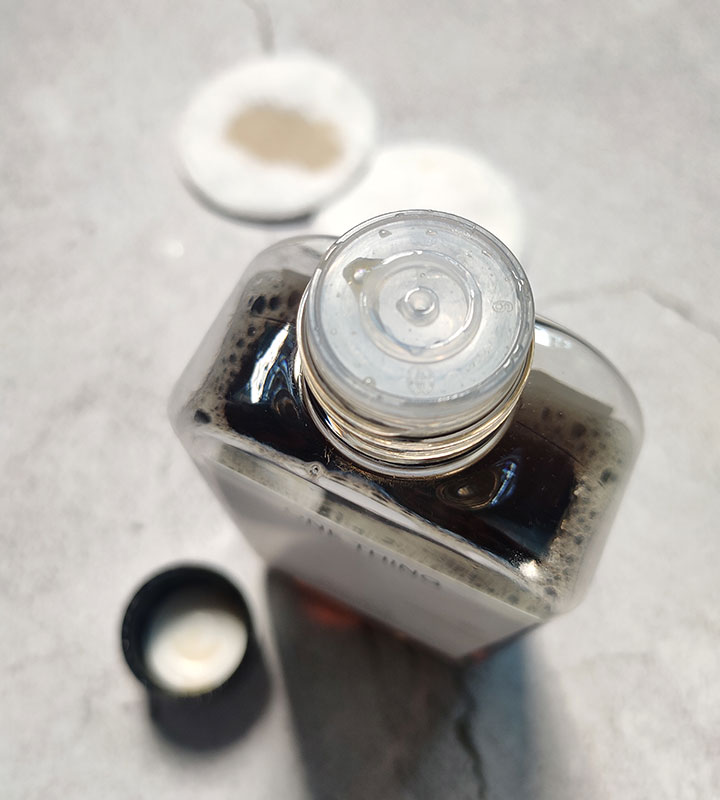 The aroma resembles green tea extract a lot. It smells quite refreshing, soothing, and rejuvenating at the same time.
Ingredient Analysis of One Thing Botanical Extracts
All the One Thing Botanical Extracts consist of three ingredients only. The first one is the active ingredient and the other two ingredients are inactive namely Butylene Glycol, 1,2-Hexanediol.
Butylene Glycol is a colourless, water-soluble liquid. This organic alcohol is widely used as a solvent and skin conditioning agent in cosmetics. As per EWG, it is completely safe.
1,2-Hexanediol is another widely used component in personal care products. It works as a solvent and also as a preservative. Don't worry! It is safe too.
How to Use Artemisia Capillaris Extract
1. As a Toner: This is how I am using it these days. Just pour the product onto the palm or onto a cotton pad.
2. As a Mist: Pour the product into a mist or spray bottle and use it whenever needed.
3. In a Cream: Take 5% of the extract and mix it with the cream or moisturizer that you use daily.
4. Homemade Mask: Take 5ml of the extract and soak a tablet mask into that. Let the mask soak all the goodness and apply it to your face or on your concerned area. Keep it on for 10-15 minutes and take the mask off.
My Skin Journey with the One Thing Artemisia Capillaris Extract
In these two weeks, I have applied this extract twice a day without any miss. I have used both my palm and cotton pads to apply this product. The brand suggests transferring the product in a mist bottle and spraying over time to time.
In fact, the best would be to divide the 150ml into 5 containers of 30ml each. In order to preserve the efficacy, the best practice is to store the extract in a cool and dark place. And also, it is important to refrigerate to keep the longevity intact.
The extract feels very soothing on the skin. My skin is extremely sensitive (all credit goes to Topical Steroid). But, it has never stung me. Just be careful about eyes. If the extract goes into eyes, it can sting a bit. Otherwise, it gives indeed a very soothing experience.
The first 5 days were normal. I was just religiously taking care of my skin. I made sure that my skin must soak the benefits of the potion twice a day.
Right after 5 days, I saw that beautiful yet subtle glow! It is a glow that made me fall in love with my skin more. Whoever has seen my swatch-shoot on Nykaa All Day Matte Liquid Lipstick, everyone has showered me with compliments.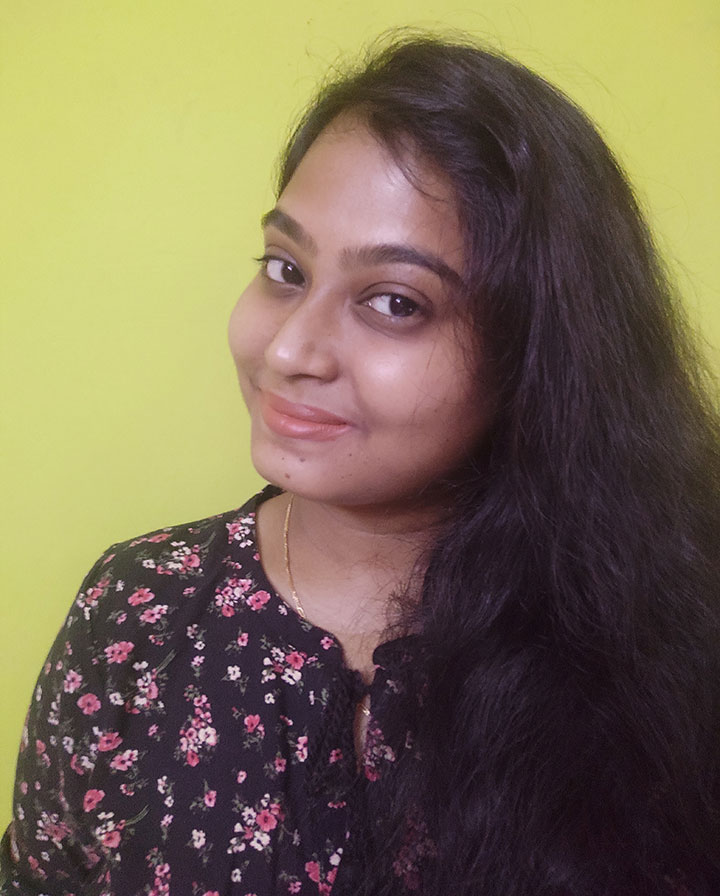 Trust me! If you have acne-prone sensitive skin, this extract has the ability to calm down those acnes. No matter whether you have dry or oily or combination skin, this extract definitely going to hydrate and nourish the skin cells deep inside.

The only downside of One Thing Artemisia Capillaris Extract is the transparent bottle instead of a dark bottle. Otherwise, it's a hit for sure!
So, if you haven't added this product to your skincare routine yet, it's high time to do so. This is something I am definitely going to continue with for some time now until I find anything better.
That's all for today! If you like reading this article, make sure to share it with your friends and family. Take care; celebrate life.