5 Practical Ways to Use Boroline Cream in All the Seasons
Childhood without Boroline is unimaginable. At my home, no matter whether my mom purchase moisturizer or not, a tube of Boroline cream was a must.
Formulated in 1929 in Kolkata, Boroline was a symbol of self-sufficiency in a nation that was still under British rule. It was launched by GD Pharmaceuticals. Goumohan Datt took the initiative to launch Boroline in Kolkata.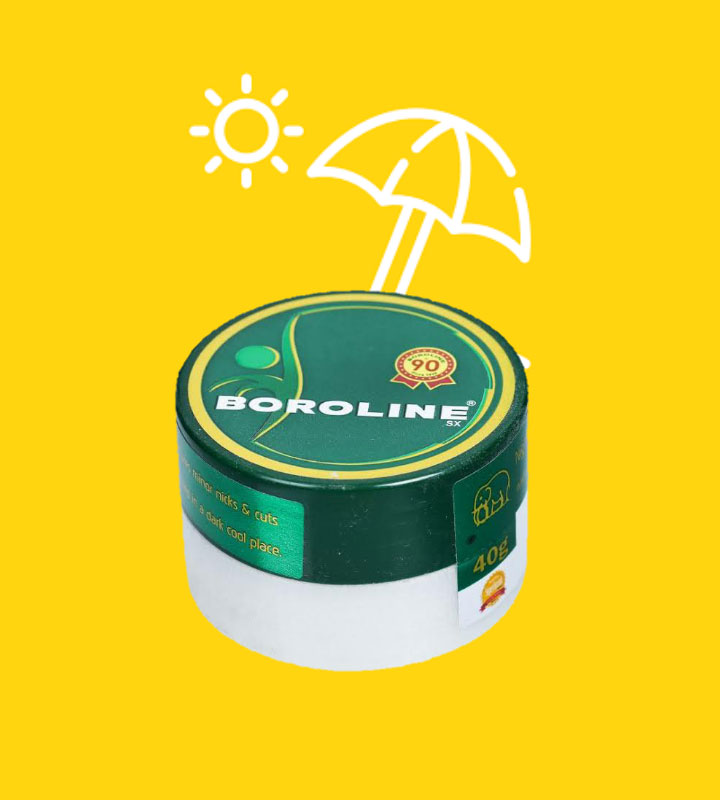 From small cuts to wounds, from a minor burn to major skin infection, Boroline was invented to treat these all. I have found Boroline quite useful as a kid. In this article, I am going to share how I use Boroline in everyday life.
What's Inside Boroline Cream? 
Boroline has a simple ingredient list. Just to let you know, over time, the packaging of the cream has changed a bit. But, in a market with a high competition rate, the brand has never changed its formulation.
Well! That's quite remarkable for sure. Here are the ingredients you find in the cream:
1. Boric Acid
Boric acid is quite a good antiseptic in nature. It can treat minor cuts and first-degree burns to a great extent.
2. Zinc Oxide
A natural powdery sunscreen agent that also works as an astringent. It is also an amazing skin conditioning agent.
3. Mineral Oil
An excellent skin conditioning agent for severely dry skin. It reduces epidermal water loss.
4. Paraffin Wax
It helps to unclog pores and thus, skin can breathe. The skin feels rejuvenated as this component helps moisturizers penetrate the layers of skin.
5. Lanolin & Perfume
Lanolin is usually animal-derived skin emollient. It also helps to protect the skin and reduces the signs of skin ageing.
The name of the perfume has not been mentioned on the ingredient list. I hope it is not harmful. The entire formulation is ayurvedic.
And, now that you know the formulation closely, it is time to talk about how to incorporate the cream into the skin care regimen.
5 Different Uses of Boroline Cream
There are a number of ways to use this antiseptic cream. Here are 5 ways how I use Boroline in my daily life. Trust me; all these tips work for real!
1. As a Makeup Remover
Due to the presence of Mineral Oil and Paraffin Wax, Boroline can work as an excellent makeup remover cream.
Just take a cotton pad and dip it into a tub of Boroline. Scoop out some and apply the cotton pad over the makeup. Just a swipe is enough to take out even the waterproof makeup from the skin.
Whenever I run out of my Micellar Water, I apply this trick. The only thing is, a thorough cleaning is a must after this step otherwise a greasy residue is left. As a whole, this trick is safe.
2. It can Treat Chapped Lips Smoothly
Of course! This is something that everyone must try out. If your lip balm has just got over, you don't need to buy a lip balm immediately.
Just scoop your index finger into the goodness of a Boroline tub and apply it all over your chapped lips. Keep it that way overnight. And, discover a pair of perfect, soft, and smooth lips in the morning.
Well! Not everyone is a big fan of the aroma this cream offers. But, talking about the efficacy, Boroline offers results per excellence.
3. Relieving Rashes
Winter rashes are pretty common among dry skin people. In the entire winter, Boroline helps me a lot treat this issue.
Rashes do not go away overnight for sure, but with the application of Boroline, the rashes can be alleviated.
4. First-Degree Burn Treatment
Minor burns and cuts are common in every household. I find Boroline pretty useful in such cases. Not only does it alleviate the burning sensation, but also helps to heal the burn wound.
Just apply Borline cream on the affected area and keep it for some time. It gives a soothing feel.
5. It can Treat Dry Skin Patches
Not everyone is a victim of dry skin patches. I find it quite common on my skin, especially during winter. Boroline helps me to a great extent to treat these skin dilemmas. But, here is a trick involved.
First of all, I clean the skin with a decent face wash. After that, I spray a chemical-free toner 3-4 times all over the skin and specifically on the affected area. And, hydrate my skin with 4 drops of Squalane Oil.
Right after that, I take a small scoop of boroline on a spoon and warm it up. Once it liquifies, I apply the liquid Boroline cream on the dry patches. Warm Boroline helps to increase the efficacy of the age-old formulation.
And, this is how I use Boroline all year-round no matter what the season is. In fact, I also use Borline to keep my eye corners scar-free due to heavy spectacles that I have to wear all the time.
But, this is not the end. Here are some frequently asked questions or doubts that people often raise about Borolines. 
# Can I Use Boroline as a Night Cream?
As I said, Boroline is great to treat dry skin patches. But, I do not endorse it as a night cream. The presence of mineral oil, paraffin wax, and perfume make it quite a poor choice.
If mixed with a facial oil or your regular moisturizer, the efficacy of the cream increases for sure. But, here is a catch. Paraffin wax is comedogenic and has a history of clogging skin pores.
So, using it as a night cream would not be a skin-rejuvenating experience for people with oily and acne-prone skin.
# Can I Use Boroline to Treat Acne?
Well! As I said, Paraffin wax in Boroline cream is comedogenic. So, it is not a good choice of skin cream for people with oily, combination, and/or acne-prone skin.
It can worsen the acne situation for sure. Moreover, it has a thick and heavy texture that is not quite suitable for acne-prone skin.
If you are having acne a lot lately, it is always advisable to consult with an expert rather than trying out home remedies or tricks.
# Is Boroline Safe?
Well! For someone who has been using Boroline for a long time now, I must say that it is safe on the skin. I have severely dry and sensitive skin. Yet, Boroline has never caused me any trouble. Although it has Perfume, yet I have never faced any trouble.
Overall, the question can be answered in two ways. If you are looking for an amazing all-rounder cream that can be multi-functional, then this is it. But, if you are looking for an inexpensive yet effective skin cream, then Boroline would not be a wise choice for sure.
# Can I Use Boroline as a Sunscreen?
It has Zinc Oxide and thus, often people think of it as sunscreen. Well! Having Zinc Oxide is not enough in sunscreen. There are other ingredients too that you need to protect your skin from the harsh sun rays.
It is safe in daylight for sure but that does not imply you can spend hours after hours in sun just only applying Boroline.
And, that's all for today! I hope that all your questions have been answered here. If there is anything else, ask me in the comment section below or you can mail me as well.
If you find the article helpful, make sure to share it with your friends and family. Take care; celebrate life.