Know about the Top 10 Best Moisturizer for Oily Skin in India
Oily skin has its own share of merits and demerits. While they have a slow pace towards ageing, they are also most prone to acne and pimples.
If you are one of the millions who are struggling with oily skin, you must have thought one thing. And that is," I, at least, have the advantage that I don't need to spend money on moisturizers."
Well! Sorry to disappoint you here but if you believe experts, don't save this money. Let it get invested on a good quality moisturizer specifically designed for oily skin.
But if every other moisturizer leaves you to look like an oil ball when you least expect it, then you indeed need to do some research.
Here we have compiled the list of the most sought after and the best moisturizer for oily skin in India that makes skin soft and supple just the way it's meant to be. In this list, we have kept everything for every budget. Whether it is affordable or luxury, we have got you. Let's take a look.
1. Plum Green Tea Mattifying Moisturizer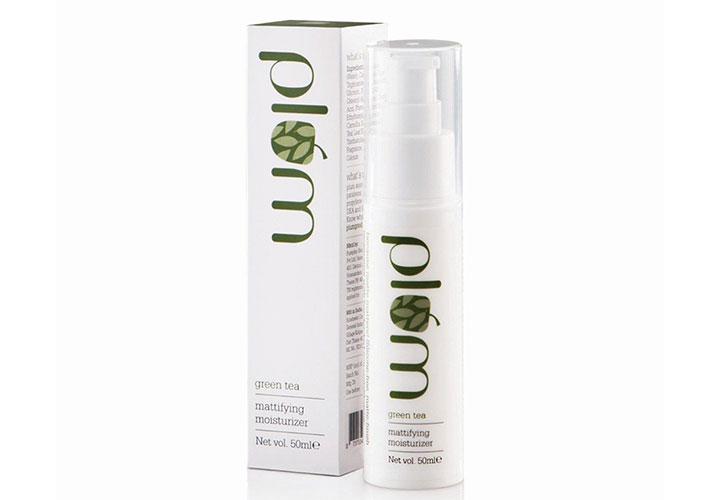 Courtesy of Brand
Shop Now!
This moisturizer is specifically curated for oily skin with hand-picked non-comedogenic ingredients like Green Tea and Glycolic Acid.
The ingredients in this moisturizer help you revealing smoother and younger-looking skin beneath. Here, Green tea is a storehouse of antioxidants that acts against the acne formation process.
This matte finish moisturizer can be doubled up as a night cream too. Its multidimensional features also include controlled hydration, combat acne, fresh, and non-sticky appearance.
Pros

Feather light formula
Shine free texture
Consists of green tea extracts and glycolic acid
Spill proof pump pack
Slough off dead skin cells and expedite skin renewal process
Can be doubled up as night cream

Cons

Not great for sensitive skin
The speciality of this moisturizer lies in its ability to hydrate skin without making the skin sticky. From all the aspects, this baby is indeed the best moisturizer for oily skin in India.
If if you are an ardent fan of Plum products, then give their night gel a try. Plum Night Gel is a terrific night time moisturizer too for oily skin.
2. Neutrogena Hydro Boost Water Gel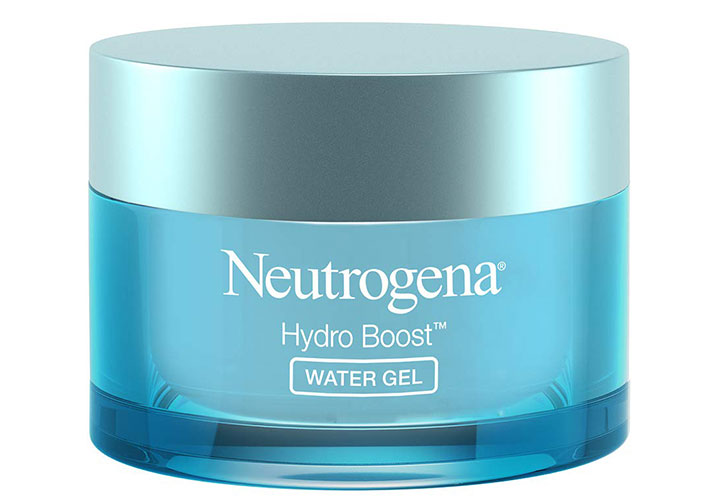 Courtesy of Brand
Shop Now!
Neutrogena has a number of best-sellers in its closet and this moisturizer is indeed one of those.
It is formulated with an innovative breakthrough Pre Biotic technology that provides 2x deeper hydration. This dermatologist-tested skincare product activates skin cells' dormant potential that reawakens their natural ability to produce Hyaluronic Acid (HA).
HA is a fabulous ingredient that can hold up to 1000 times of its own weight in water. So this product will help you achieve more hydrated, plumper, and firmer skin.
It assists your skin to achieve five standard aspects i.e. smoothness, translucency, firmness, plumpness, and elasticity. Amazing, isn't it?
Pros

Gives a pure boost of instant hydration
72 hours of non stop marathon moisture.
Induce the production of Hyaluronic Acid in kin
Air light texture seeps 2x deeper in skin
Strengthens skin barrier against harmful external factors

Cons

Not great for sensitive skin
Active agents might irritate acne prone skin
This product is the result of an advanced biotech extraction process. This product claims to be the result of a decade of research and we have to agree.
With 50% more Hyaluronic Acid produced in the skin, it brings a visibly long-lasting healthy glow to your skin. So if you are looking for an effective paraben-free moisturizer for All skin types, you have found your match. Check out the detailed review with ingredient analysis to know more about the moisturizer.
3. Kaya Purifying Nourisher Face Cream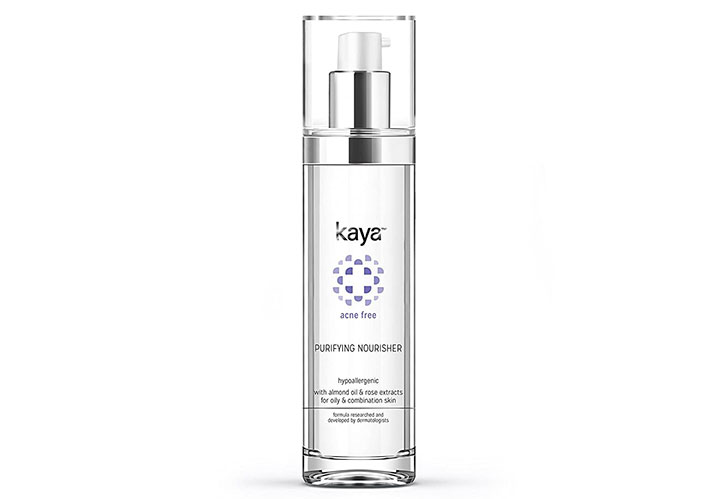 Courtesy of Brand
Shop Now!
Another best Indian moisturizer for oily skin that contains Aloe Vera as the main constituent. Aloe vera is perhaps the most widely used remedy for oily skin.
It has a calming factor that keeps skin irritation and other problems at bay. It provides immense lubrication. This purifying nourisher also accompanies Almond oil, Rose extracts, and Sodium PCA which keep your skin supple and replenished.
Pros

Feather light texture, doesn't feel like you have applied something on skin
Works well on acne prone skin too
Perfect matte finish
Leaves skin moist for hours
Fragrance free and clinically tested to be non-comedogenic

Cons
Kaya has always been a skin saviour. The amazing texture of this moisturizer allows your skin to suck in the maximum moisture and retain it for hours. The first application gives you a velvety touch that keeps your skin supple round the clock. Undoubtedly it is the best moisturizer for oily skin in India.
4. Aroma Magic Juniper Berry Oil Free Moisturizer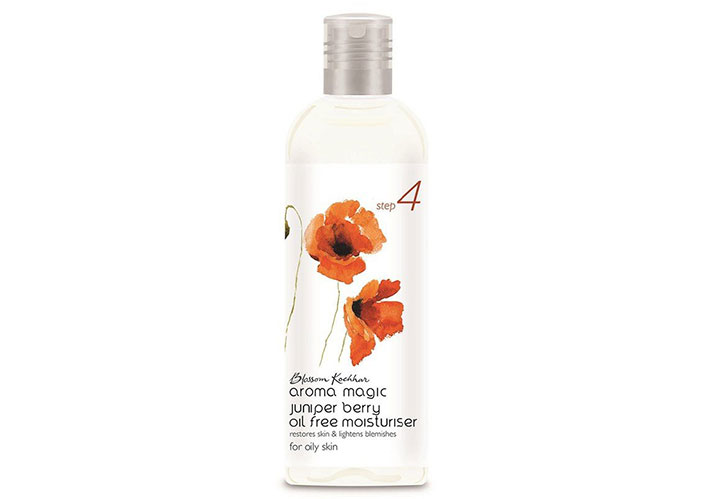 Courtesy of Brand
Shop Now!
It is a lightweight water-based gel that secures dampness of skin. Fortified with an exotic blend of Juniper Berry oil, Aloe Vera, Cucumber extracts, Patchouli, and Lemon essential oil, this lotion serves as a multipurpose cream.
While juniper berry oil and cucumber extracts act like a warrior against ageing signs. The ingredients are full of antioxidant and have anti-inflammatory properties. They also guard the skin from nasty free radicals caused by the sun.
Patchouli and lemon essential oil keep a check on oil secretion. Need we say more about aloe vera? It soothes the skin and lightens the blemishes & acne along with its other numerous benefits.
Pros

Improved with the decency of juniper berry oil, aloe vera, cucumber extracts, patchouli and lemon essential oil
Feathery texture
Comprises SPF 15
Sans toxic chemicals like paraben, phthalates, petrochemicals, artificial scent and color
Acne and blemishes fighter

Cons

Consistency is a bit too watery
So groom your skin with this ultimate potion. If you are looking for a paraben-free moisturizer for oily skin, add this goodie to your cart right away.
5. Mama Earth Oil Free Face Moisturizer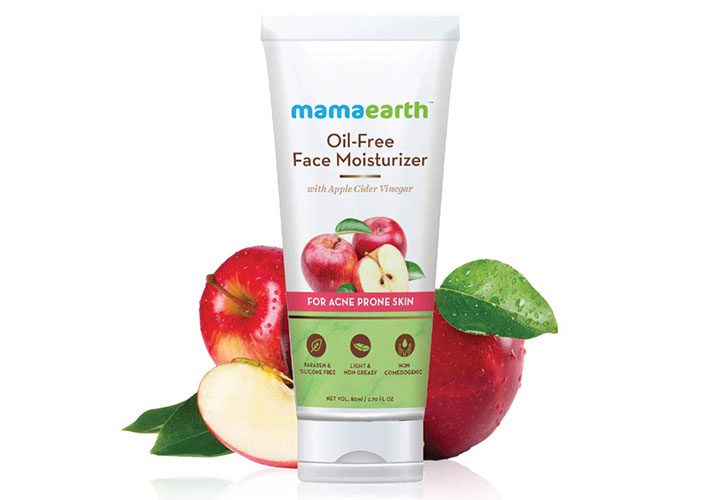 Courtesy of Brand
Shop Now!
This is so far the best paraben-free moisturizer for oily skin. This moisturizer maintains the pH level of the skin (many thanks to apple cider vinegar and Cetearyl Octanoate)and elevates the moisture-binding capacity of the skin.
It cleanses oil from deep within pores and closes them to avert further breakouts. It also combats the appearance of existing pimples and acne. Betaine content reduces the early appearance of wrinkles and fine lines. It also retains natural moisture and elasticity.
Grapes derived fatty acids serve as a great alternative to Silicones and makes the texture spread like velvet on the skin.
Pros

Apple cider vinegar balances ph level of skin
Free from toxic substances like parabens, SLS, and silicones
Non comedogenic, non greasy soothing formula
Oil repellent formula prevents acne and breakouts
Velvety texture
Ward off early signs of ageing
Enhances elasticity

Cons

A bit greasy formula; so, it takes some time to get absorbed
Feed your skin the nutrients derived from the nourishing components of this moisturizer. Make it a part of your daily skincare regime and enjoy a visible healthy sheen.
6. Clinique Moisture Surge 72 Hour Auto Replenishing Hydrator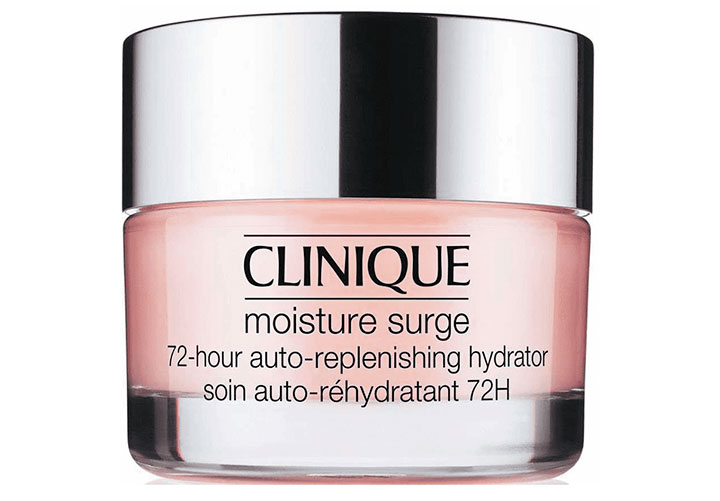 Courtesy of Brand
Shop Now!
This moisture magnet is a burst of Aloe water, Hyaluronic Acid, and humectants. As light as water, this replenishing gel allows your skin to keep rehydrating itself by taking moisture from its own internal water source and keep your skin plumped and dewy for upto 72 hours.
It fortifies and repairs skin barriers to minimise water loss and keep environmental pollutants away. This Clinique product is indeed one of the best luxury moisturizers for oily skin in India.
Pros

Rich, calming texture.
Gets absorbed in skin like water.
Improved with aloe water and hyaluronic acid.
Auto replenishing technology helps skin to fetch moisture from its own internal water source.
Work non stop for 72 hours to keep skin hydrated.

Cons

Might not work for sensitive skin
This addictively refreshing gel-cream is an instant boost of moisture. It claims to work under your skin even after washing your face.
A super holding matrix of humectants and polymers seal in moisture for upto 72 hours. These attributes make it a perfect paraben-free moisturizer for oily skin.
7. WOW Skin Science 99% Pure Aloe Vera Gel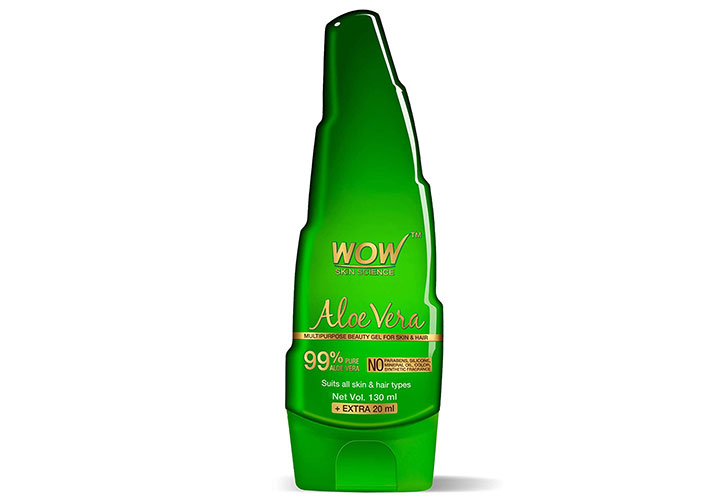 Courtesy of Brand
Shop Now!
This moisturizer is nothing else but a bottled version of pure Aloe Vera. Aloe Vera is always in the good books of beauty bloggers and their rave for it is no exaggeration.
It cuddles your skin with the purest and the finest aloe vera gel. Free from chemical nasties, the formulation boosts Collagen production which in turn leads to delayed ageing.
Here, the gooey, translucent sap is extracted from the fresh succulent, ripped, and robust leaves. And, then packed hygienically. The vitamins, minerals, enzymes, and Amino acids present in aloe vera cure almost all your skin woes.
Pros

Infused with aloe vera
No harsh chemicals
Loaded with vitamins, minerals, enzymes and amino acids
Non sticky cooling and soothing effect
Friendly with every skin type and a best friend of oily skin

Cons
If you are looking for a pure dose of hydration, you can never run dry with this gel. No fragrance, no additives, and no-frills, just a shower of abundant hydration. This moisturizer is definitely a top pick for oily skin moisturizers. Just wow!
8. Khadi Mauri Herbals Herbal Moisturizer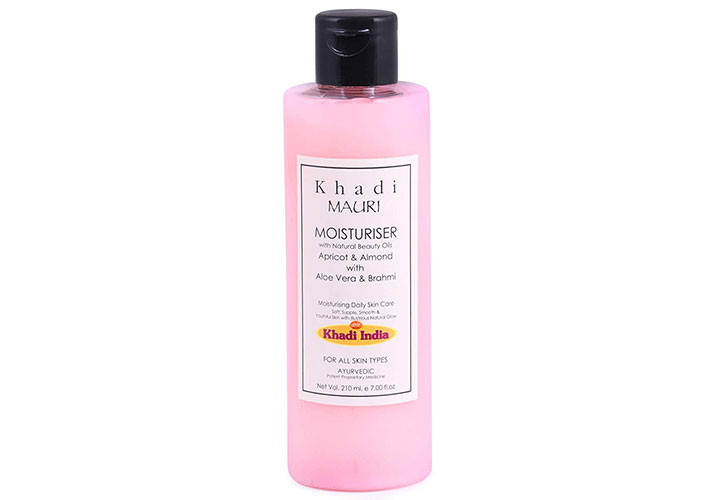 Courtesy of Brand
Shop Now!
This herbal moisturizer envelops the skin with power-packed nutrients like Almond, Aloe Vera, Apricot, and Brahmi. Almond oil is a natural moisturizer that is rich in vitamin E and antioxidants which are a great defence against UV beams. It also weeds out dead skin.
Apricots are widely used in skincare products. Thanks to its abundant vitamins which aids in skin softening, elasticity enhancement, and exfoliation. Brahmi is another great herb rich in antioxidants that grabs onto moisture so your skin can absorb it
Pros

Grabs onto moisture leaving no residues
Mild texture gets absorbed in your skin leaving no residue
Packed with characteristic concentrates of apricot, almond oil, aloe vera, and Brahmi
Acts as the first line of defence against the sun

Cons

Takes long time to show results
Drench your skin with this saturating day to day everyday moisturizer. The exotic blend of beauty oils and rejuvenating herbs make it the best moisturizer for oily skin in India.
9. WOW Skin Science Vitamin C Face Cream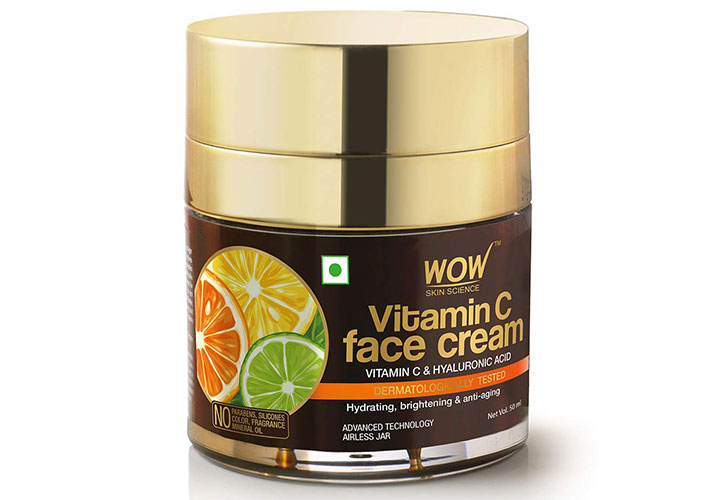 Courtesy of Brand
Shop Now!
Yet another great moisturizer in wow range that moisturizes your skin exceptionally well. Vitamin C brightens up the complexion, blocks excess melanin production, and neutralizes free radicals to fight tired skin & premature ageing.
Shea butter and Cocoa Butter are rich in Omega 3 Fatty acids that help in restoring skin's natural lipid barrier. Moroccan argan oil is rich in fatty acids that repairs damaged cell structure. Check out what else makes this the best moisturizer for oily skin in India.
Pros

Nourish skin from within to restore radiance
Sans parabens, mineral oil, silicones, synthetic colors, and fragrances
Fades away pigmentation with prolonged usage
Contains Moraccan argan oil, shea butter, cocoa butter and vitamin C
Slows down signs of aging brought on by free radicals
Restores skin lipid barrier

Cons

A bit thick consistency; so, it takes some time to get blended into the skin layers
If you are hunting for the best Indian moisturizer for oily skin, your search ends here. It delivers deep hydration, strengthens the skin's moisture mantle, and makes your skin resilient to environmental exposure.
10. Sebamed Clear Face Care Gel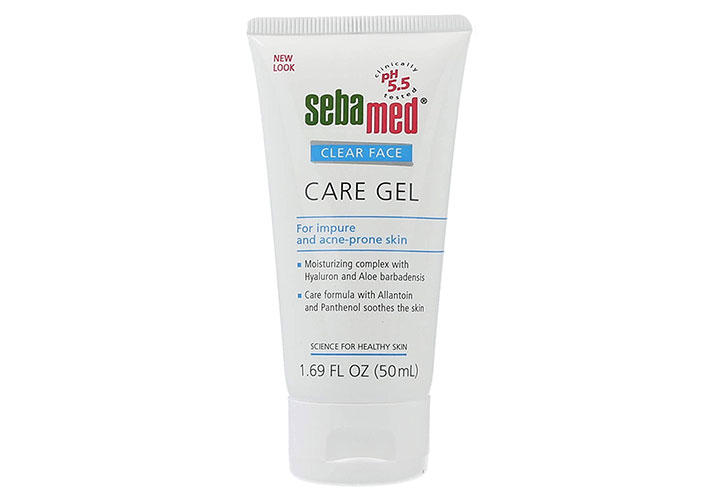 Courtesy of Brand
Shop Now!
The pH 5.5 is the signature feature of this brand. This water-based gel is specially formulated to restore your skin while inhibiting the growth of acne lesions.
It is loaded with active moisturizing agents like Hyaluronic Acid and Aloe Vera. Aloe vera has healing and soothing properties. Precious allantoin and panthenol further nourish the skin; making the skin soft and supple.
A very little amount of this water-light gel is sufficient for your entire face. And, it gets absorbed rapidly to ensure that all ingredients seep in easily into the skin.
Pros

pH value of 5.5 stabilizes skin health
Feels light on skin
Soothes irritated acne prone skin
Increases skin's moisture retaining capacity
Smoothes rough scaly skin
Free from oils, emulsifier, artificial fragrance, and colour

Cons

Bit sticky in consistency
If you are looking for a paraben-free moisturizer for oily skin that can also balance the pH level of your skin, then get your hands on this product. It's true to its claim of being non-oily; kudos to Sebamed.
All the products listed here are commercially widely popular. Thus, fragrance and additives are common here. But, if you are looking for chemical free moisturizer, then here is our top compilation.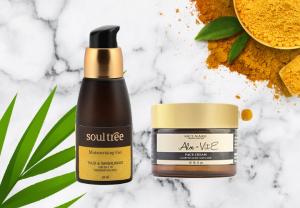 Find out the best formulations in the market that are free from Dimethicone, Paraben, Alcohol, Butyl Alcohol, etc. Let's dive in.
Read More
Latest Update as on 2023:
Lately, I have come across a bunch of malai moisturizers that are completely free from fragrance, colour, harmful preservatives, etc.
Check out Nat Habit Malai Moisturizers that have been formulated not only for different skin types but also for people with different age range.
The Bottom Line
Oily skin is not a problem. It's just that it seeks some more attention and care. Along with other products like face wash and toner, it becomes the duty of a moisturizer to escort the dewy & elastic skin back to the surface.
Moisturizers have their fair share in both dermatology and aesthetics. But if you are tired of trying and breaking out with every other moisturizer for your oily skin, then you should definitely consider the above list.
That's all for today! I hope you like reading this compilation. Don't forget to share it with your friends and family. Follow us on Instagram. We keep publishing exciting contents there too.