Two Months with Cosrx AHA/BHA Clarifying Treatment Toner: Review with Ingredient Analysis
Many of you might call that a few weeks back, I have shared how Limese has become my one-stop destination to purchase Korean cosmetics. Well! It was just the beginning. Since then, I have bought at least 10 products from the site.
Cosrx AHA BHA Clarifying Treatment is one of the first two products that I bought from there. It's been two months almost that I am using the toner.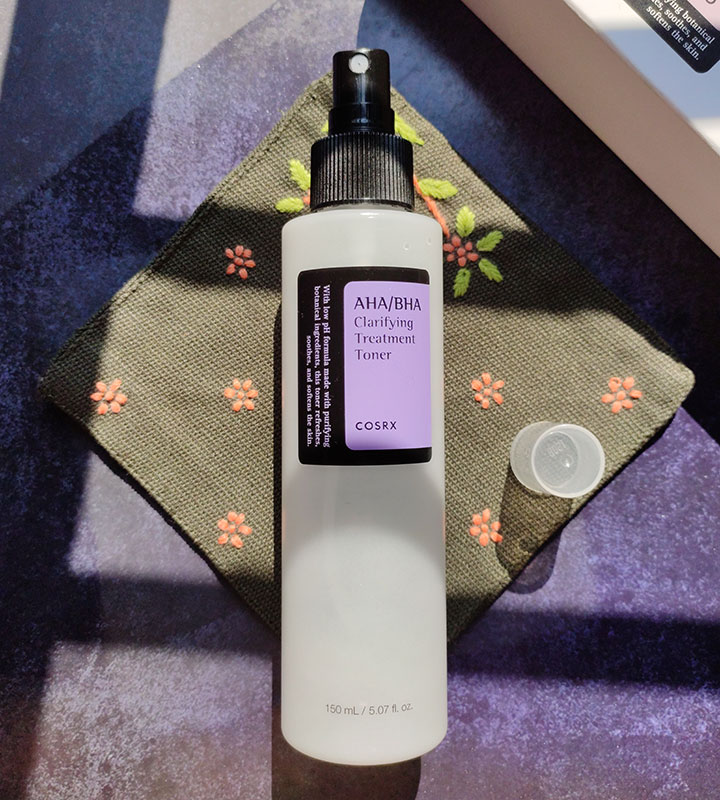 The market, at present, is filled with Korean products. But, not all are effective. Among the popular names, Cosrx is quite a well-known name. And, I wanted to try out this AHA BHA toner for a long time now.
So, how was my experience? How effective the formulation is? Are the ingredients safe? Well! It's time to answer the FAQs.
Basic Details about Cosrx AHA/BHA Clarifying Treatment Toner
Price: INR 1090 for 150ml
Shelf Life: 3 years
What does the Brand Claim about Cosrx AHA BHA Toner?
This toner is Hypoallergenic, Dermatologist tested, Cruelty-FREE, Parabens FREE, Sulfates FREE, Phthalates FREE, Alcohol-FREE, and Vegan. The formulation is gentle
It is enriched with AHA (alpha-hydroxy acids), BHA (beta hydroxy acids) and other beneficial botanical extracts that are natural resources of AHa/BHA.
The formulation helps to make the skin even-toned, reduces blackheads, whiteheads, and spots by clearing the skin.
Cosrx Treatment Toner also works as a mild exfoliant that helps to remove the dead cells if used regularly. The non-sticky texture is another USP of the product.
Ingredient Analysis of Cosrx AHA BHA Clarifying Treatment Toner
I believe that any review is incomplete without an in-depth ingredient analysis. Thus, I have introduced this section to my site.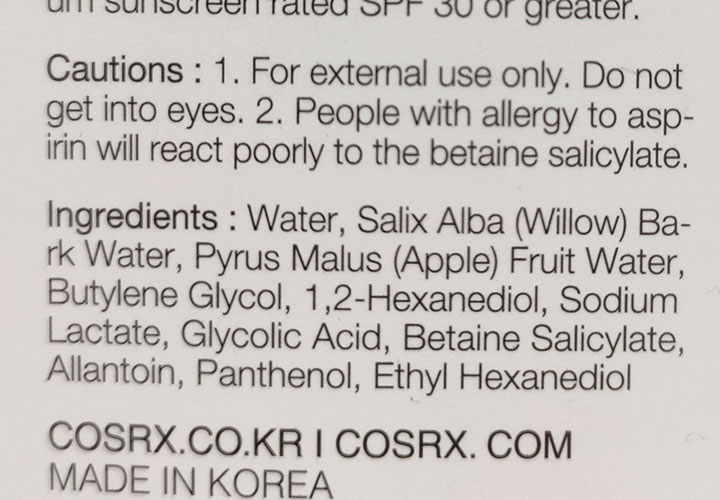 The name of the product might sound heavy, but the ingredient list has stunned me. It contains only a handful number of ingredients; just the ones which are apt to the formula. There is no added perfume or colour which makes the formula brilliant.
But, what else is there? Well! Let's move into the details.
1. Mineral Water
Cosrx uses Mineral water instead of purified water which maximises the skin-hydration.
2. Salix Alba (Willow) Bark Water
This is a natural source of salicylate (that can be converted to Salicylic Acid). Thus, this Bark Water acts like a BHA that helps to clear pores. It also minimizes the appearance of pores. It also soothes skin and controls sebum excretion.
3. Pyrus Malus (Apple) Fruit Water
This fruit water is a natural source of AHAs. AHAs improve uneven skin tone and also act as a mild exfoliant. Pyrus Malus Water also helps to reduce the appearance of whiteheads.
4. Butylene Glycol
It is a safe skin-conditioning agent.
5. 1,2-Hexanediol
This component functions as a safe solvent in cosmetic formulations.
6. Sodium Lactate
It is actually the Sodium salt of Lactic Acid. This functions as a moderately safe skin conditioning agent.
7. Glycolic Acid
Glycolic Acid makes the process of cell regeneration faster. It also helps to exfoliate rough skin and hydrates skin.
8. Water
It works as a solvent here.
9. Betaine Salicylate
It is actually a BHA which is gentle on the skin. It improves skin texture and also brightens the tone.
10. Allantoin
A naturally occurring skin conditioning agent which is safe.
11. Panthenol
Panthenol is actually Vitamin B5. It acts as an amazing moisturizer. And, also as a lubricating agent.
12. Ethyl Hexanediol
It is a moderately safe solvent. As a fragrance agent, this component is used often.
And, this marks the end of the list. I must say that the ingredients are pretty impressive. An extensive amount of research has been done in formulating this toner. All the components are used for specific reasons. As a whole, I would rate the ingredients of Cosrx AHA BHA Clarifying Treatment Toner 4.8 out of 5.
Packaging, Aroma, and Texture
The packaging is quite a usual one; there is nothing flimsy here. The plastic bottle is hard and good in quality. The spray works fine enough to mistify every spritz.
Cosrx AHA/BHA Clarifying Toner is totally free from fragrance. And, this is mind-blowing for people like me with a strong nose.
The non-sticky, light-weight, water-like texture makes it more amazing as a toner. Trust me! This is a steal-deal for any season whatsoever.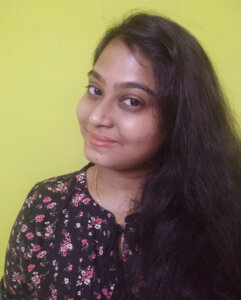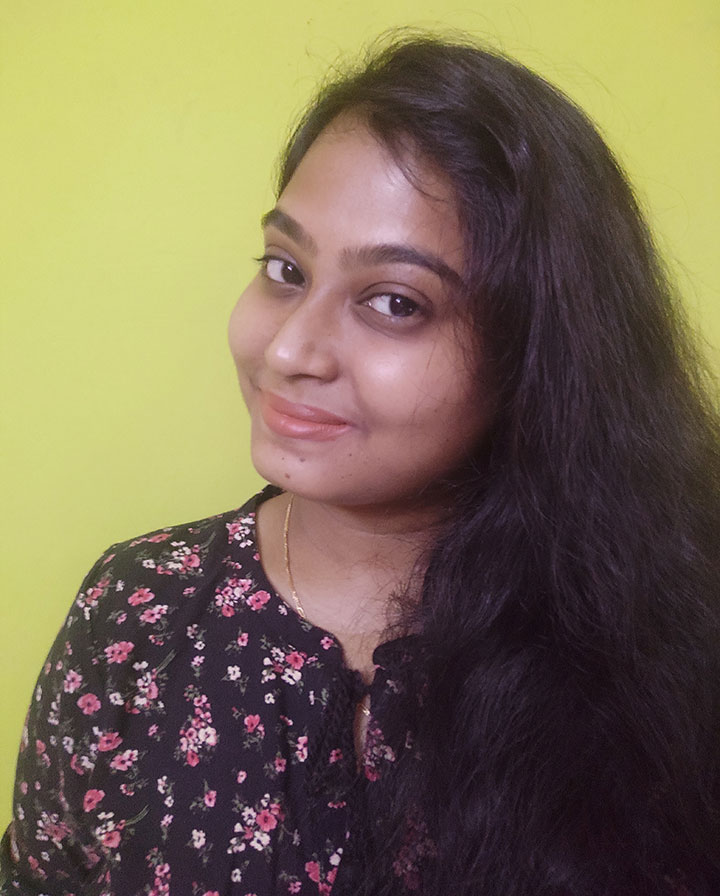 It's been more than 2 weeks now that I am using the One Thing Artemisia Capillaris Extract, And, ever since then. I can see a beautiful glow on my face. Well! It's time to know how.
Read More
My Experience with Cosrx AHA/BHA Clarifying Treatment Toner
As I said, it's been more than one and half months that I am using it. This toner is part of my daily skincare regime. As per the routine, I use it twice a day i.e. during the day time and before hitting the bed.
Right after cleaning my face, I spray it 4-5 times all over my face and neck. And, massage lightly. After that, I complete my routine either with sunscreen or with a moisturizer/facial oil/both.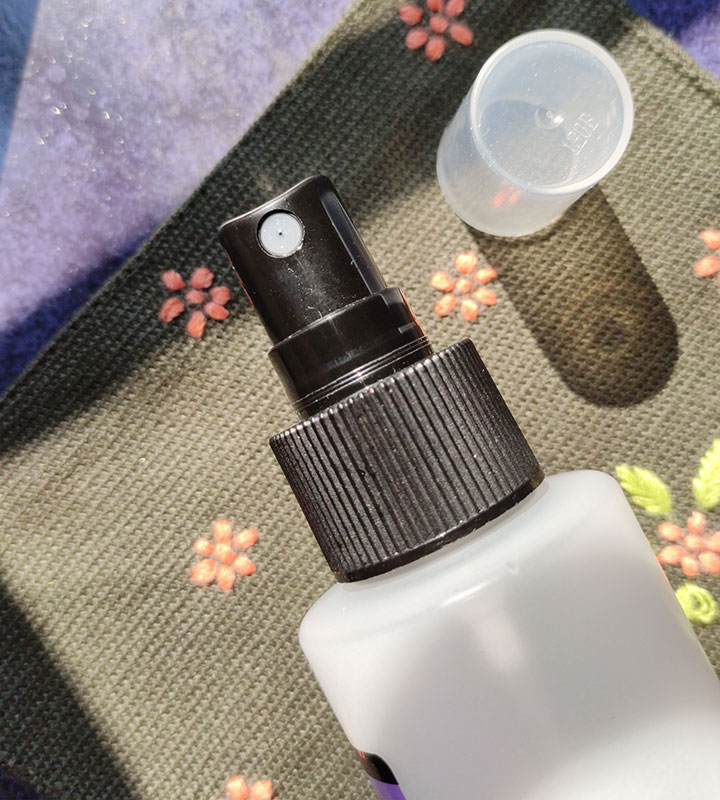 In all these weeks, I have experienced a number of things while applying the toner. Here goes a brief on that.
The toner is very mild. Since day one, I have never experienced issues like skin purging or acne or pimples.
Skin feels very smooth and soft even after 5-6 hours.
The watery feel is quite refreshing, especially in summer. Hey, don't worry! Even in winter, it feels nice.
During the arrival of winter, dry patches often appear on my skin. It happened so this year as well. Earlier, I used to scrub those patches with physical exfoliants which only used to make it worse. But, this year, Cosrx toner has helped me a lot. As it is a mild exfoliant, the dead cells bid goodbye within 3 days only!
As a dry skin person with sensitive skin, I occasionally face acne problems. But, blackheads and whiteheads never occurred to me. So, I would not be able to comment whether this toner helps to reduce the appearance of these skin woes or not. One thing is sure. The ingredients are effective. So, it is definitely recommendable to oily skin beauties.
The toner does not sting or irritate even the most sensitive skin. But, be careful while applying around your eyes. If goes inside of your eyes, it would sting a little bit (due to the acids). No worries! It's not harmful.
Overall, this toner has everything that one can expect from a high-end effective product. With that note, it's time to finally rate the product.