Men need skincare just as much as women. One of the most important steps in the skincare regime is cleansing. It removes dust, pollution, and excess oil from the face, making the skin ultra-clean. Moreover, it instantly brightens up the face and makes you feel refreshed.
The best part? You do not need to spend a fortune on an effective cleanser, and there are plenty of budget-friendly options available in the market.
Table of Contents
Top 11 Best Face Wash for Men in India: Latest Edition
So, whether you're a guy looking for a facial cleanser, or a girl looking to buy a gift for the special man in your life, this list has got you covered. Each of these products has been handpicked after due research. And this compilation mentions only the best face wash for men in India. Now, let's roll the intro!
1. Gentle Beast Activated Charcoal Face Wash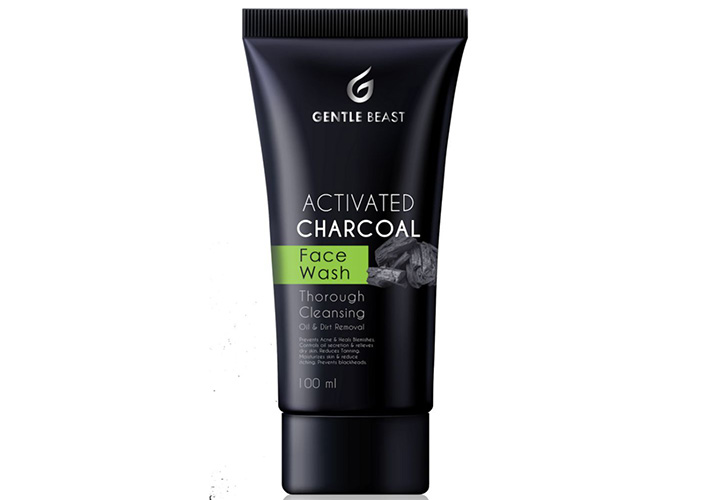 Courtesy of Brand
Shop Now!
Not every face wash comes with a gentle yet effective formula. Well! I must say that the Indian cosmetic market is blessed to have one such face wash.
Gentle Beast Activated Charcoal Face Wash is the one we are talking about. Yes! Indeed the brand is relatively a new player in the market. But, trust me! The formula has got every trait to get all the love & attention.
It is enriched with the extracts of Activated Charcoal, Aloe Vera, Green Tea, Neem, and Cucumber. Apart from these active ingredients, the face wash is also loaded with mild surfactants like Sodium Methyl Cocoyl Taurate, Caprylyl / Capryl Glucoside, etc.
Let's take a look at all the salient features of this brilliant face wash for men.
Pros

Rich in nourishing active ingredients
Mild yet effective surfactants are used
Affordable in comparison to the ingredients used
Free from Sulfates and harsh preservatives like Parabens
Travel friendly packaging
Gentle texture that cleans perfectly
Suitable for people with all skin types

Cons
With a formula that is perfect for both men and women, Gentle Beast Activated Charcoal Face Wash is undoubtedly one of the best face wash for men in India. So, are you ready for glowing skin?
Does Face Wash Make You Fair?

Well! Before I answer this question, it's important to understand the basic need of a face wash. Why dont't we use water instead? Water is a good cleanser too.

Undoubtedly, water can clean our skin to some extent. But, there are pollutants, debris, dirt that get mixed with our sebum and cause a build up on our skin.

Face wash cleans those build up. Proper cleaning not only take care of the build up but also maintains a hydrated skin. It helps to improve the overall texture of the skin system.

So, thorough cleaning is the main purpose of any face wash no matter how expensive it is.

But, the market is full of options now. Every brand claims their product the best. While doing so, some brands often claim that their face wash can make your skin one or a few shades lighter. In one word, their face wash formulations make you fair.

Suppose, there is Vitamin C or Licorice in the formulation, so the brand starts claiming that the face wash can make you fairer or a shade brighter.

Trust me! That's never going to happen. Instant fairness or this whole idea of fairness is nothing but sheer madness. Adding just a few percentage of Vitamin C or Licorice can never you fairer.

Moreover, no product can change your complexion unless it contains harmful Mercury or steroid or it is a bleach itself.

Never ever fall prey to such claims. There was a time when I wanted to change my complexion for real. The result was horrible. Check out what I did to my own skin.
2. Nivea Men All In One Charcoal Face Wash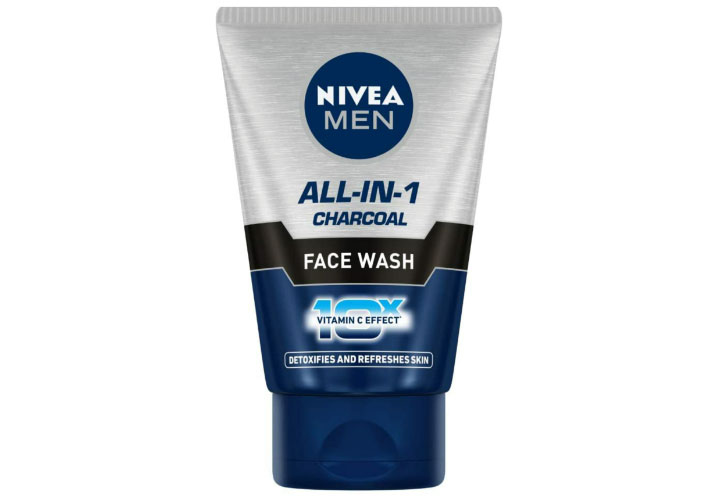 Courtesy of Brand
Shop Now!
Nivea is one of the most trusted brands when it comes to affordable skincare, and this product is no exception as well. This face wash for men is formulated especially for oily and acne-prone skin.
When you get home from work or the gym, your face feels heavy because of the oil and sweat that your skin produces. And the dirt gets accumulated in your pores.
Charcoal has deep cleansing properties and rids the skin of impurities. As a result, it prevents and reduces acne. This face wash also controls oil for a long period of time so you feel fresh all day long.
Pros

Travel-friendly packaging
Refreshing menthol scent
Perfect for oily and acne prone skin
Contains charcoal which purifies the skin
Prevents excess oil production

Cons

Not suitable for dry skin
Contains Parfum; so,I would not recommend this to sensitive skin people

So if you have oily skin and you are looking for an effective yet affordable cleanser, this product is perfect for you!
3. Himalaya Herbals Men Face & Beard Wash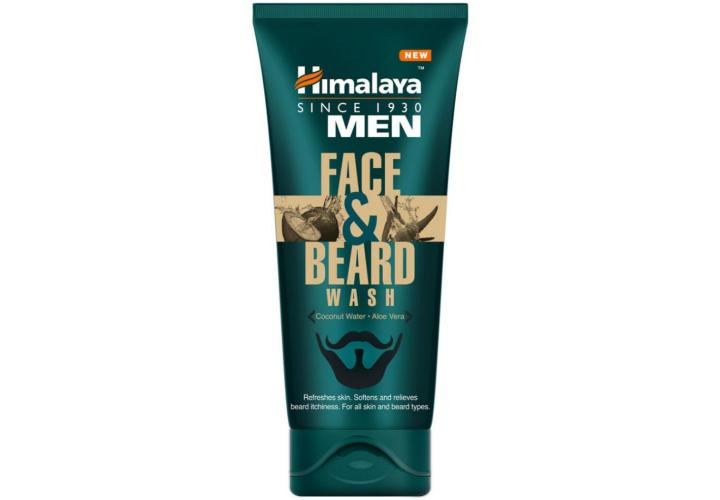 Courtesy of Brand
Shop Now!
Men have facial hair, and it can feel itchy and uncomfortable at times. Most men love their beards, and with Himalaya's Face and Beard Wash, you can rock a beard look even during prickly heat without the discomfort.
This face wash soothes the skin and makes even the coarsest facial hair softer. It relieves the itchiness. The best part is that it doubles up as a face wash and rids the skin of impurities while making it soft and smooth.
It contains skin-loving ingredients like aloe vera and coconut water which ensure that the skin and facial hair are properly moisturised.
Pros

Travel-friendly packaging
Two-in-one product
Coconut water cleans the skin
Aloe vera makes the skin soft
Available in two sizes

Cons

Contains parfum; not suitable for senstive skin
For men who are looking for the best face wash for men in India that doubles up as a face and beard wash, your search ends here.
4. Cinthol Shave + Face Wash – Sensitive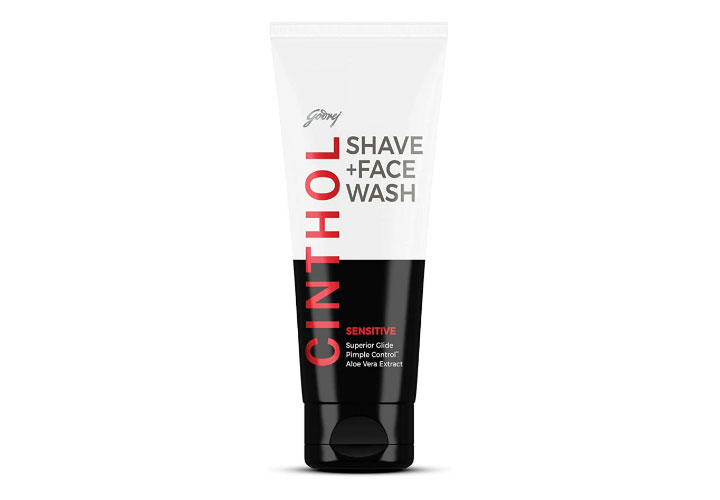 Courtesy of Brand
Shop Now!
It is commonly assumed that men's skin is rougher as compared to that of women. And thus, companies tend to add stronger ingredients to men's products. However, just like women, men can also have sensitive skin that needs extra care.
This face wash from Cinthol has been specially formulated for sensitive skin. It also doubles up as a shaving cream, making it perfect for men who want to use limited products in the morning.
This face wash is gentle on the skin, yet provides enough glide for a close shave. It also has a delightful lemon fragrance that will wake you up instantly in the morning.
Pros

Citrus fragrance that instantly charges up
Can be used as shaving cream
Cleanses the skin thoroughly
Not harsh on the skin
Travel friendly

Cons

Strong scent might not appeal to those with sensitive nose
SLS and Perfume are present
Well! If you're a guy who doesn't want a complicated skincare routine with piles of products, then this is the best men face wash for you.
5. Ponds Men Energy Bright Anti-Dullness Face Wash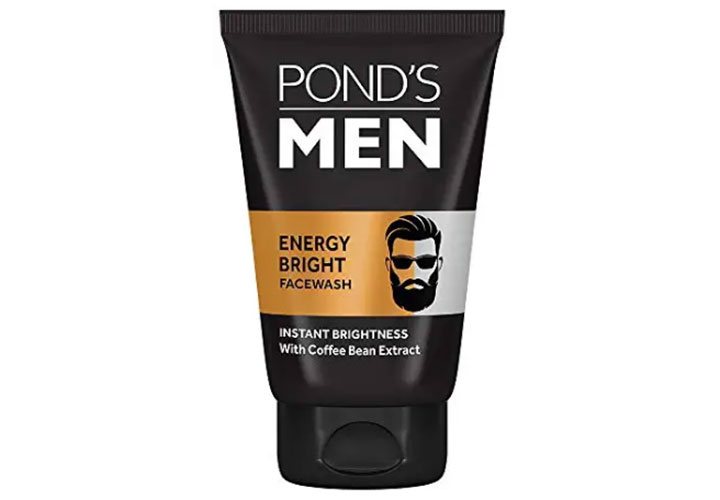 Courtesy of Brand
Shop Now!
You love your morning coffee because the caffeine in it gives you a boost of energy in the morning. Did you know that coffee has a similar effect when used on the skin? You heard right.
This face wash for men will not only deep clean your skin but will also instantly brighten up your face. All thanks to the presence of coffee bean extracts in it! The coffee extracts also have a mild exfoliating effect which removes dead skin.
It also has menthol extracts which make this face wash the perfect pick-me-up whenever your skin feels dull.
Pros

Travel friendly packaging
Coffee extracts brighten the skin
Menthol extracts refresh the skin
Cleanses the skin deeply
Removes dead skin

Cons

Contains DMDM Hydantoin
Might Be Too Harsh for sensitive skin as it contains Perfume
If you're a man with oily skin, this gentle exfoliating face wash will never let you have a dull day.
6. Bombay Shaving Company Menthol Refreshing Face and Body Wash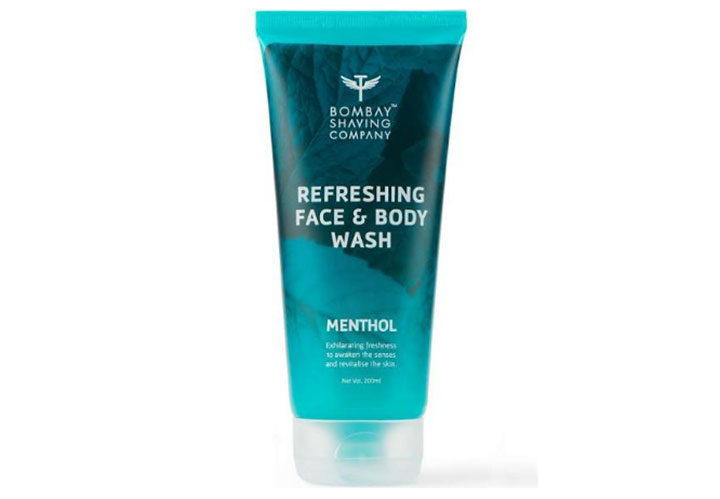 Courtesy of Brand
Shop Now!
If you travel a lot, you probably don't want to carry a lot of products with you. Or maybe you just want to quickly be out the door in the morning. Whatever the case is, this is one of the best face wash for men in India as it does all without any fuss.
It is paraben and SLS free, making it completely safe to use. This face wash is loaded with the goodness of menthol, and charcoal that will rejuvenate your senses in the shower. At the same time, it also cleanses your face thoroughly.
Moreover, it contains aloe vera extracts which will ensure that your skin is not overly dried.
Pros

Formula is free from SLS and Paraben
Activated charcoal deeply cleanses the skin. Menthol refreshes the skin. And, Aloe vera softens the skin
Huge quantity at an affordable price
Prevents odour
Travel friendly

Cons

Might not be suitable for dry skin
If you're a man on the go, this face wash is the one you should definitely try!
7. Beardo Turmeric Face Wash For Men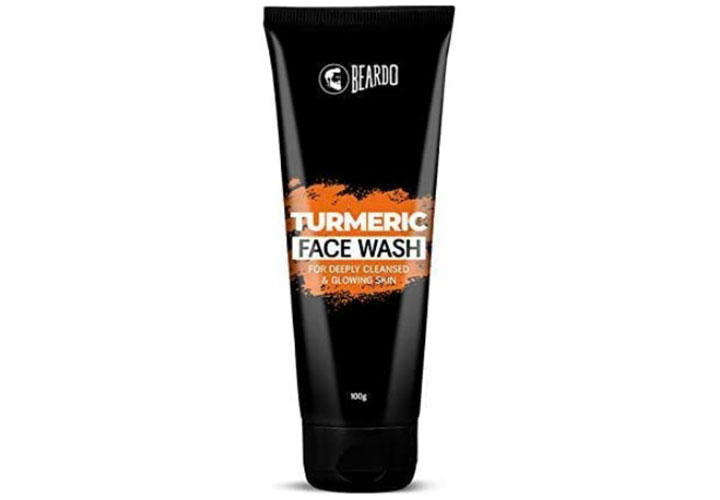 Courtesy of Brand
Shop Now!
Turmeric is one of the best-kept beauty secrets of Indians. It has strong antibacterial properties. Turmeric cleanses your skin from within.
If too many harsh chemicals are used on the skin, it can lead to even more skin damage. Keeping that in mind, this men's face wash has been formulated. It contains skin-friendly ingredients like aloe vera and turmeric.
This face wash is pretty effective against pimples and impurities. And, yet is very gentle. It also has a delightful coffee fragrance that any coffee addict will love.
The range also has a face mask and face scrub, which you can easily add to your skincare routine for even better results.
Pros

Turmeric extracts fight impurities and Aloe vera extracts soothe the skin
Safe surfactants
Pleasant fragrance
Harmless ingredients
Travel friendly

Cons

Consistency might seem way too oily for some
Artificial Fragrance has been used in the formula
So, if you want your products to be effective but not harsh on the skin, definitely this is one of the best face wash for men in India. Check this out!
8. Khadi Natural Neem and Tea Tree Herbal Face Wash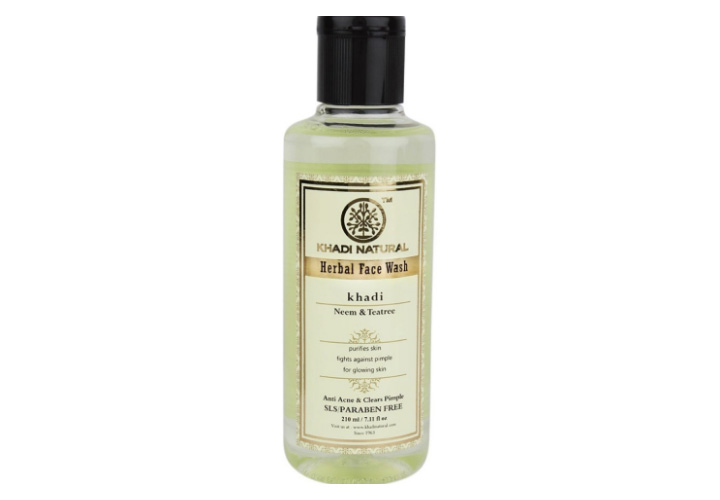 Courtesy of Brand
Shop Now!
Khadi products are not only extremely light in the pocket, but they're also top-notch in quality and performance. This unisex face wash is formulated with skin saviours like neem and tea tree.
It is ideal for those with oily and pimple-prone skin. The tea tree is known to be a boon for oily skin as it helps to control the production of sebum. Neem, on the other hand, is highly effective against bacteria that cause pesky pimples.
If you apply this face wash consistently, day after day, your skin will look and feel healthier and clearer.
It is also highly affordable and you get a huge quantity at the price tag.
Pros

Tea tree extracts fight blemishes and Neem extracts have antibacterial properties
Huge product quantity
Travel friendly
Makes skin soft
Helps to fade away acne marks

Cons

Not suitable for sensitive and dry skin
Feels slightly drying; so, follow up with a moisturizer is a must
Full ingredient list is not given
Overall, if you have oily skin and are looking for a budget-friendly face wash for men, this product must be on your wishlist.
9. Garnier Men Oil Clear Matcha D-Tox Gel Face Wash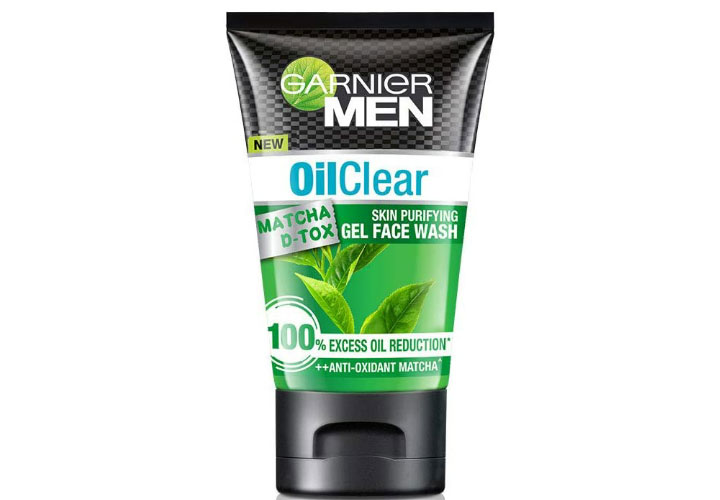 Courtesy of Brand
Shop Now!
Nobody likes looking like a greaseball, especially if there's an important event like a date or a meeting. So, what's better than a product that not only just removes excess oil but also actively reduces the production of oil on the skin. This face wash for men by Garnier does exactly that.
It is enriched with matcha tea extracts, which works exceptionally well against clogged pores. It deeply cleanses the pores, which prevents pimples and other skin issues.
This face wash does not dry out the skin excessively and effectively controls oil production in the skin. Finally, it has a soothing scent that will leave you relaxed every time you use this, especially after a long and tiring day.
Pros

Match tea extracts provide deep cleansing
Regulates sebum production
Non drying
Unclogs pores.
Gel like texture is easy to spread

Cons

Packaging is not leak proof
Oil control might vary from skin to skin
Contains SLS
So, if you do not bother much about the presence of SLS, then you would not have to look further with this ultra-affordable option.
10. Set Wet Studio X Face Wash For Men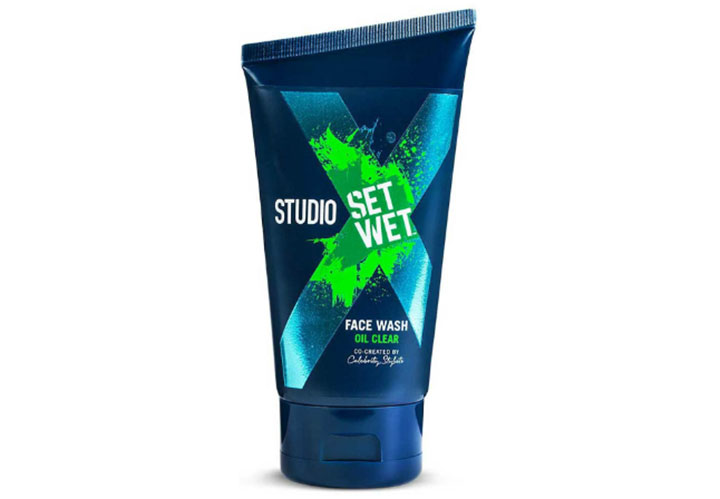 Courtesy of Brand
Shop Now!
This Paraben-free foaming face wash for men from the house of Set Wet has been formulated with carefully curated ingredients that make the skin brighter and more radiant.
It cleanses the skin and offers fantastic benefits to the skin. This face wash for men contains glycerin, which is an excellent moisturising agent. Glycerine ensures that the skin is deeply hydrated.
Moreover, it contains Chinese skullcap extracts, which is a great anti-ageing ingredient. With continued usage, you'll see a noticeable difference in your skin. It will look more even-toned and healthy. But wait, that's not it! This face wash also has an invigorating fragrance that will boost your mood after every use.
Pros

Attractive packaging
Travel friendly
Glycerin moisturises the skin
Chinese skullcap extract has anti-ageing properties
Paraben free foaming formula
Makes skin smooth and helps to fade away acne scars

Cons

Strong fragrance because of the added Perfume

Well! If you're looking for a product that will make your skin brighter and clearer, this Set Wet face wash is the one that you should not miss.
Recent Update
11. Ustraa Face Wash For Men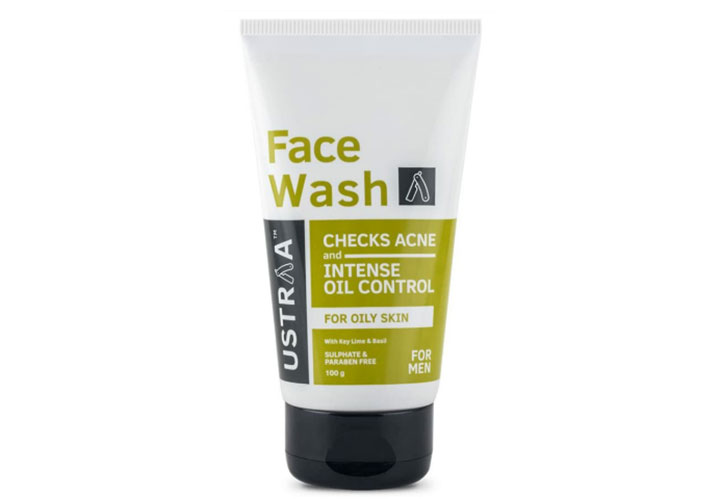 Courtesy of Brand
Shop Now!
Many brands tend to overlook men with dry skin since the common assumption is that men have oily skin. Ustraa is a complete men's personal care centric brand. This is one of the best face wash for men in India suitable for people with dry skin.
It contains some thoughtful ingredients that work against dryness and offer intense hydration. Moreover, it has a soothing effect and eliminates itching.
This face wash contains glycerin, which ensures that your skin is moisturised deeply. Peppermint extracts offer a cooling sensation, making this face wash a great option for the summer heat.
Pros

Glycerin and coconut water nourish the skin
Suitable for dry to normal skin
Pine bark extracts calm the skin down and Peppermint offers a refreshing feel
Travel friendly
Paraben and Sulphate free formula

Cons

The fragrance might not be pleasant to some

If you're a man with dry skin, this pocket-friendly face wash will gently cleanse your skin without making it feel dry and stretchy.
At the time of writing, all of these face washes are the best face wash for men in the market. Go ahead and choose the one according to your needs and skin type. Well! Now, let's talk about another important aspect of skincare i.e. a simple skincare routine!
An Ultra Simple Skin Care Routine for Men
The key to having healthy, problem-free skin is being consistent and following a routine. If you do not want to spend too much time on skincare, I understand and I've got you. You don't need an elaborate skincare regime. Just by following these three simple steps, your skin is going to rock. You'll thank me for the great results!
Cleansing is the Mantra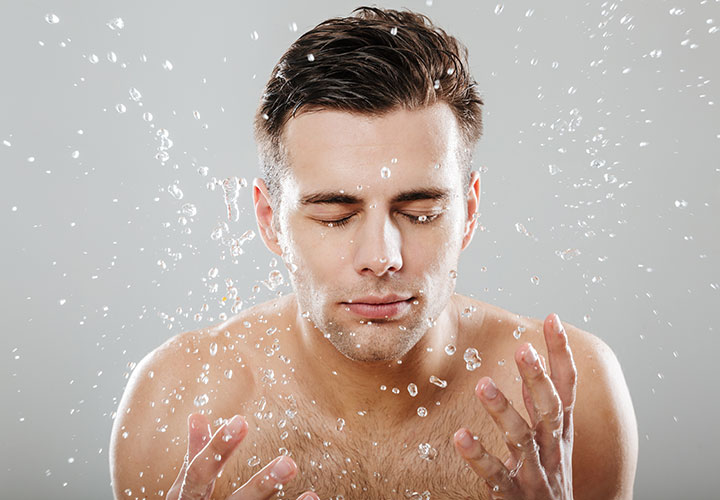 Cleanse your face twice a day; once in the morning and once before going to bed.
It is pretty well-known that the skin rejuvenates at night. And thus, nighttime cleansing is quite important to remove all the pollution and oil that get accumulated on the skin throughout the day.
This practice can help prevent clogged pores and pimples. Moreover, it freshens you up and you can sleep better.
Moisturization is the Key
Never ever forget to use a moisturiser after cleansing. This prevents the skin from drying. Dry skin is one of the main reasons behind wrinkles and premature ageing.
Clinique's Moisture Surge is a highly effective unisex moisturiser. If are looking for a good budget-friendly option, then Lets Shave Beard & Face Moisturizer for Men is one of the best face wash for men in India.
Do Not Step Outside Without Sunscreen Ever
No matter what season it is, always remember to use sunscreen during the daytime. This prevents your skin from harmful UV rays which can cause skin damage, premature ageing, and even skin cancer.
I highly recommend The Man Company Sunscreen Anti Pollution Lotion For Men with SPF 40. Check out the following article for more such options.
Apart from following these, make sure you exfoliate your skin at least twice a week. Exfoliation not only removes dead cells but also helps to prevent the growth of ingrown hair.
Buyer's Guide to Choose the Best Face Wash: Editor's Note
Well! In this compilation of the best face wash for men in India, a number of products have been listed. Of course, we have done a lot of research analyzing the other men's face wash before we came up with this. But, as you can see, the list is all about affordable men's face wash.
Keeping in mind the availability of products, we have also tried to limit the products within a perimeter of renowned brands.
The cosmetic industry is ever-expanding; new brands are popping up every now and then. So, the chance of finding not-much popular products that are truly effective is quite strong.
Thus, you need a guideline or a bunch of tips. So that, you can purchase the best face wash on your own. Here are things you need to know to buy the best skincare product.
1. Ingredients Matter Before Anything Else
Ingredients speak a lot of things about a particular cosmetic. If you have been following Cosmetics Arena for a while now, you must have noticed that we never forget to add ingredient analysis to reviews.
The reason is simple. It becomes pretty easy to predict the efficacy of a product by simply knowing what is put inside. If the ingredients are good, the product would not cause any harm to your skin nor to the environment.
So, whenever you pick up a face wash, make sure to read the ingredients. Often, brands disclose only the key ingredients. Well! Our suggestion would be to never go for such products. As a buyer, you have every right to know what you are going to apply to your skin.
2. Read the Label
Many of us often do not read the labels properly and thus, we miss many key points. Apart from the product name, price, shelf life, quantity, and ingredient list, the label says another thing as well. It is the label that tells you about the skin type the product is formulated for.
If you have oily skin, you definitely do not want to buy something meant for the dry skin people. So, before you purchase anything, make sure you have read the labels properly.
3. Brand Value Does Not Count Always
Exactly! You have read it right. After taking a look at the ingredients, suppose you have liked the formulation of a face wash. But, the product is not manufactured by a big brand.
Well! Honestly, it's not necessary as well. All you need is an amazing formulation and a face wash that is suitable for your skin type. The brand does not guarantee efficacy. Remember, at the end of the day, it is the product that makes a brand a hit or a miss. So, whenever you find a great formulation, go for it before someone else picks it up.
4. Don't Be Gender-Biased
The men skincare industry has evolved a lot. From face wash to lip balm, it has everything a man needs to take care of himself. But, there are products too which are suitable for both men and women.
These products are quite effective a well. So, there is no point in staying stereotyped. The market is filled with options. Check out what you find the best.
Active Ingredients You Need in Your Face Wash
A face wash is basically made of a base (q.s. or quantity satisfied), surfactants, active ingredients, and inactive ingredients like colourants, preservatives, etc.
Active ingredients play a major role in any cosmetic. These ingredients determine the efficacy of a certain product. The strength of a formulation depends upon the utilization of actives.
No matter how beneficial active ingredients are, every ingredient is meant to solve a certain skin concern. Here is a brief guideline to choose the best actives that suit your skin type and concern.
1. Retinol
It's a derivative of Vitamin A which is also man-made. One of the most common active ingredients that are usually used as an anti-ageing element.
Retinol helps to remove dead skin cells; thus, improves the overall texture of the skin. It also helps to reduce the fine lines, wrinkles, signs of ageing, etc.
Although it is usually meant for oily and acne-prone skin, yet all skin types of people can find benefits. Sensitive skin people can opt for a concentration between 0.025-0.03%.
2. Salicylic Acid
This is a member of the Beta Hydroxy Acid that is commonly known as BHA. Just like Retinol, this active helps to get rid of dead cells. It also helps to clear acne and control oil secretion.
Just like the previous ingredient, Salicylic Acid is excellent for acne-prone skin. Dry skin or sensitive skin people need to avoid this as the overuse of this component can cause irritation.
3. Ceramides
These are actually lipids/fats that resemble what lies on the top of our skin layers. Apart from hydrating the skin, it also helps to soothe irritated skin.
Ceramides are excellent for dry and ageing skin. Even, people with sensitive skin can use it. People who have eczema-prone sensitive skin can get lots of benefits from Ceramides.
4. Vitamin C
An excellent antioxidant, this active ingredient helps to get rid off free radicals. Thus, it protects the skin from damage by pollutants and sunlight.
It helps to make the skin look much brighter and younger. Although it is suitable for all skin type, yet it is always suggested to use it in lower concentrations so that the skin does not become dry and patchy.
5. Niacinamide 
Niacinamide, a derivative of Vitamin B3 is a boon to irritated skin. It soothes the skin and also helps to reduce redness.
All these active ingredients are quite popular. But, the list definitely does not end here. There are other active ingredients too like Alpha Hydroxy Acid or AHA, Glycolic Acid, Sulphur, Benzoyl Peroxide, Hyaluronic Acid, etc.
Different actives play different roles in skincare regimes. So, choose as per your skin concern and type.
Final Thoughts
Men are not taught to focus on their skin because it is believed that men have tougher skin, which is not the case. Just like women, men can also suffer from different skin issues. Those issues can easily become serious if not taken care of timely.
This list of the best face wash for men in India is one such curation that you can trust because it contains only the highest rated products in the market that are loved by many men out there.
So, which one caught your eye the most? Let us know in the comment section below. If you find this article helpful, don't forget to Subscribe to Cosmetics Arena.