Two Weeks with Nykaa SKINRX 2% Ceramide Serum: New Launch Alert*
Yes, Nykaa has launched this Ceramide Serum just two days back. But, the best part is to get a chance of trying out the formulation prior to the launch as a #NykaaAffiliates.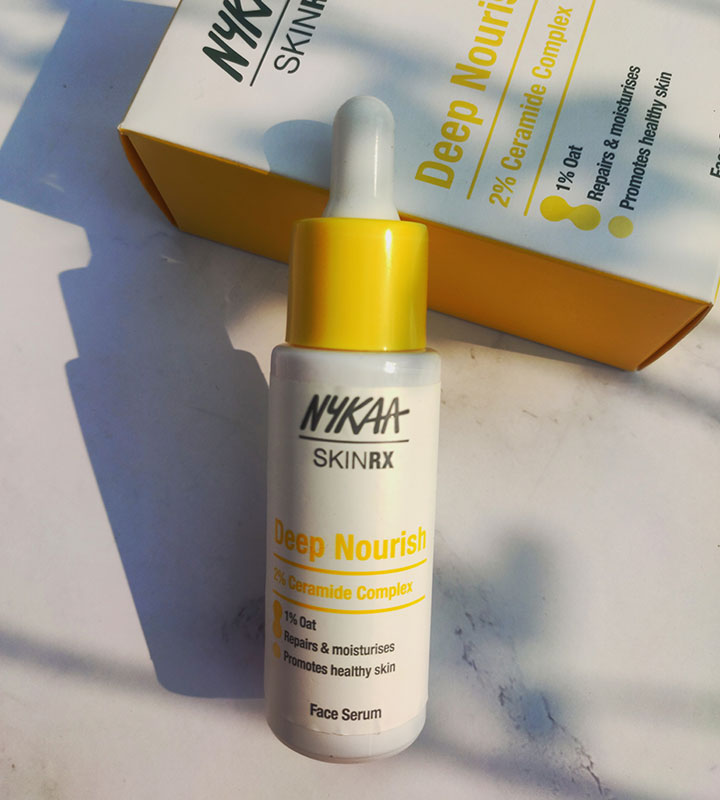 Just within a year, Nykaa has launched a number of #NykaaSKINRX products one after another. Undoubtedly, people are loving the formulations. With the launch of every product, the brand is trying to improve its branding and formulation.
Well! Honestly, this is my first ever Nykaa SkinRX product. Nykaa sent it around two weeks back to perform a trial and test.
In these two weeks, I have used the serum twice a day. So, how safe the formulation is?
About the Brand
Nykaa SKINRX, a skincare brand, born from extensive scientific research to give your skin everything it needs. Here, #ScienceMeetsSkincare. Every formulation is enhanced with the power of clinically proven ingredients, appropriate concentrations, that work together to give you real and visible results.
What Does the Brand Claim about Nykaa SKINRX 2% Ceramide Serum?
This daily repair serum is a #HealthySkinEssential. The serum forms a healthy barrier to prevent moisture loss or exposure to pollutants. It soothes the skin from the effects of irritants thereby leaving it softer, moisturized and smoother to touch.
The serum is enriched with 2% Ceramide that restores the skin's protective barrier, prevents skin dryness & irritation, and binds skin cells together.
The formulation also contains 1% Oat that repairs and moisturizes skin, soothes and nourishes sensitive skin, reveals healthy and balanced skin.
2% Olive Omega has anti-inflammatory properties that provide a soothing effect. It is also rich in anti-oxidant that provides bimodal hydration.
Altogether, 2% Ceramides + 1% Oat + 2% Olive Omega Complex provides with an Instantly Moisturised Skin.
And, last but not the least. Like any other Nykaa SKINRX product, the serum is Dermatologically Tested, Fragrance-Free, Alcohol-Free, SLS Free, Cruelty-Free, Paraben Free, and Silicone Free as well.
Basic Information about Nykaa SKINRX 2% Ceramide Serum
Price: INR 799 for 30ml
Shelf Life: 2 years
Buy From: Nykaa.com and All Nykaa Stores
Ingredient Analysis of Nykaa SKINRX 2% Ceramide Serum
The serum is made of 25 components altogether. Some ingredients are familiar whereas some are not so popular. Are these safe? What is the ratio of active to inactive ingredients? Let's take a look at the in-brief ingredient analysis of Nykaa SKINRX Serum.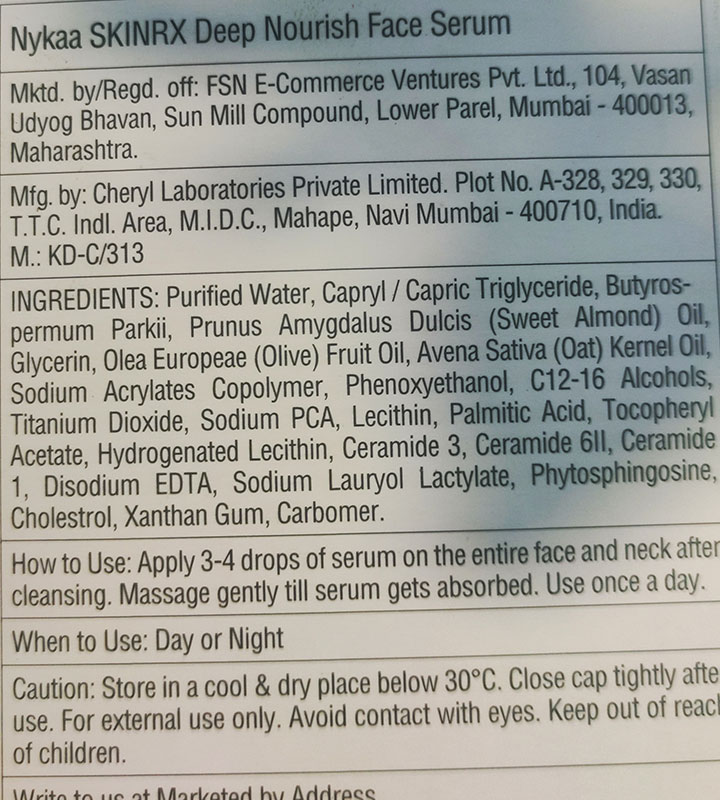 1. Purified Water
Water is the base of the serum.
2. Capryl/Capric Triglyceride
It is a safe skin conditioning agent.
3. Shea Butter
A naturally sourced vegetable butter that is known to be a boon for dry and mature skin.
4. Sweet Almond Oil
This skin-loving oil is rich in Vitamin E and many other antioxidants.
5. Glycerin
A natural humectant that holds the moisture.
6. Olive Oil
This is an oil that is rich in anti-oxidants. Regular application can prevent premature ageing.
7. Oat Kernel Oil
A non-comedogenic oil that does not clog pores. It can also reduce the appearance of blackheads and papules with regular application.
8. Sodium Acrylates Copolymer
This component works as a binder that also controls the viscosity of formulations.
9. Phenoxyethanol
A moderately safe preservative that also works as a fragrance agent.
10. C12-16 Alcohols
It is a synthetic mixture of alcohols that function both as a surfactant and also as an emulsifier.
11. Titanium Dioxide
Usually, it is used in sunscreens as it can absorb UV rays. In moisturizers, it is used as a colourant (due to its white colour) and also as a pacifying agent.
12. Sodium PCA
Just like Glycerin, it is also a humectant that secures moisture into the skin.
13. Lecithin
It is a safe skin conditioning agent.
14. Palmitic Acid
Another safe fragrance agent that also functions as an opacifying agent.
15. Tocopheryl Acetate
A moderately safe skin conditioning agent.
16. Hydrogenated Lecithin
Another safe skin conditioning agent that also functions as a surfactant.
17. Ceramide-3
A safe skin conditioning agent.
18. Ceramide 6-II
Just like the other Ceramide, it is also a safe skin conditioner.
19. Ceramide 1
Another skin conditioner that functions just like the other two ceramides.
Ceramides help to form a healthy skin barrier and keep the skin hydrated.
20. Disodium EDTA
It is quite a popular chelating agent that deactivates metal ions if any present in a formulation.
21. Sodium Lauroyl Lactylate
An emulsifying agent that is safe too.
22. Phytosphingosine
I have never come across this component. Well! Guess what? This is also a skin conditioner.
23. Cholesterol
Yes, you are right. This is the same cholesterol that is bad for your health but good and safe for your skin.
24. Xanthan Gum
It is a safe binder.
25. Carbomer
A safe component that controls the viscosity of the formulation.
Overall, most of the ingredients are safe as per EWG and Paula's Choice. I love how Nykaa has used a number of skin conditioning agents. The formulation is free from artificial additives like perfume, harsh preservatives, colourants/dyes.
Also, the first few ingredients are all-natural butter and vegetable oils that are full of fatty acids & nutrients. Indeed, the formulation is quite good and it deserves a rating of 4.8 out of 5.
Things to Note Before Trying Out Nykaa SKINRX Serum
1. Patch test recommended prior to use
2. Store the serum in a cool, dry place below 30 degrees C. Keep away from sunlight
3. Products with potent ingredients change colour over time, which is normal.
4. If you experience skin irritation within 24 hours, consult a dermatologist
5. Do not use Retinoid treatments on the same day
Packaging and Texture of Nykaa SKINRX 2% Ceramide Serum
The serum comes in a glass made bottle that is absolutely white in colour. It is made in that way to protect the serum from sunlight and other radiations. The dropper cap is made of plastic; the bright yellow colour looks quite charming.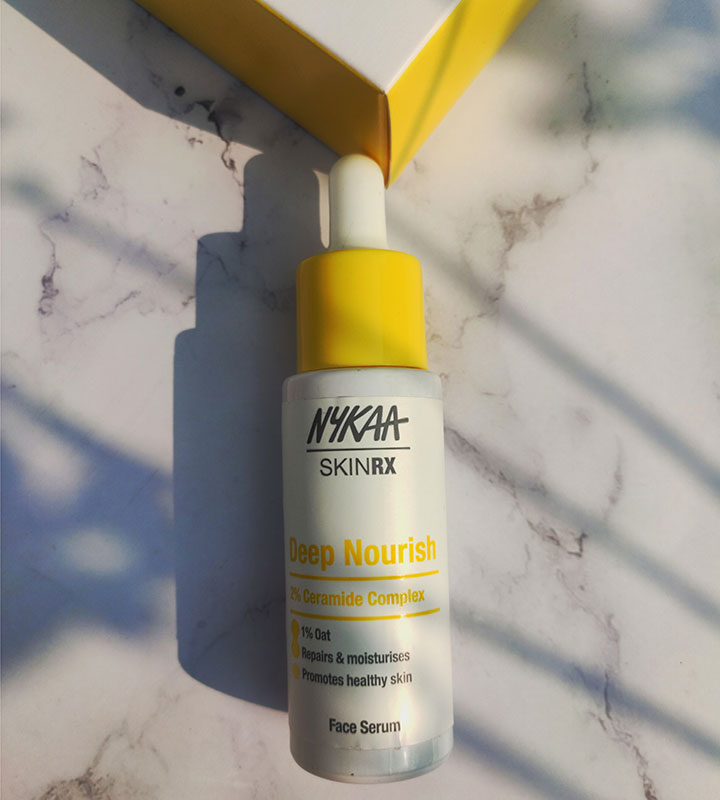 All the information including the ingredient list are given both on the carton and also on the bottle. The glass bottle is quite hardy so you can take it with you on a trip as well.
The texture is an amalgamation between gel and cream. It is quite spreadable and feels nice on the skin.
Two Weeks with Nykaa SKINRX 2% Ceramide Serum
In the past two weeks, I have applied this ceramide serum every day and night. Most of the time I use it right after applying toner. As I never miss my toner, so the serum gets absorbed pretty quickly.
Often I mix it with squalane oil which makes it more potent as a moisturizer. Here are the things that I have noticed.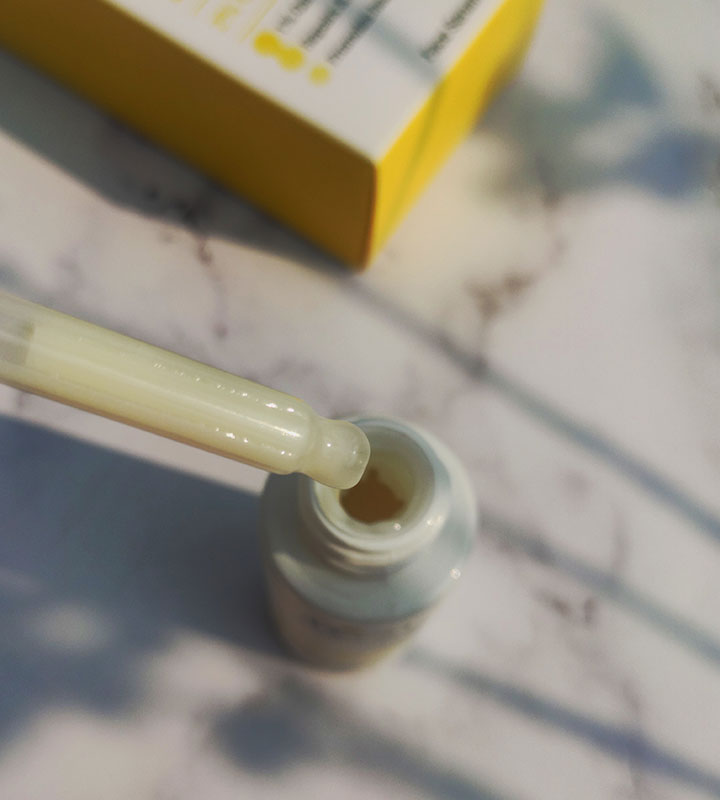 Skin feels nourished and hydrated
The serum does not sink on the surface; rather, it gets absorbed within seconds and does not leave any trail even.
I have extremely sensitive skin yet it has never given me any rash or irritations.
The texture is perfect for All skin types. People with acne-prone skin can easily use it.
No matter what time of the day it is, you can always apply it.
I am not going to lie, I can see my skin looks more healthy now. The serum makes my skin quite hydrated for at least 4 hours without making it look oily or matte. Definitely, appearances of dry patches have become rare on my face right now.