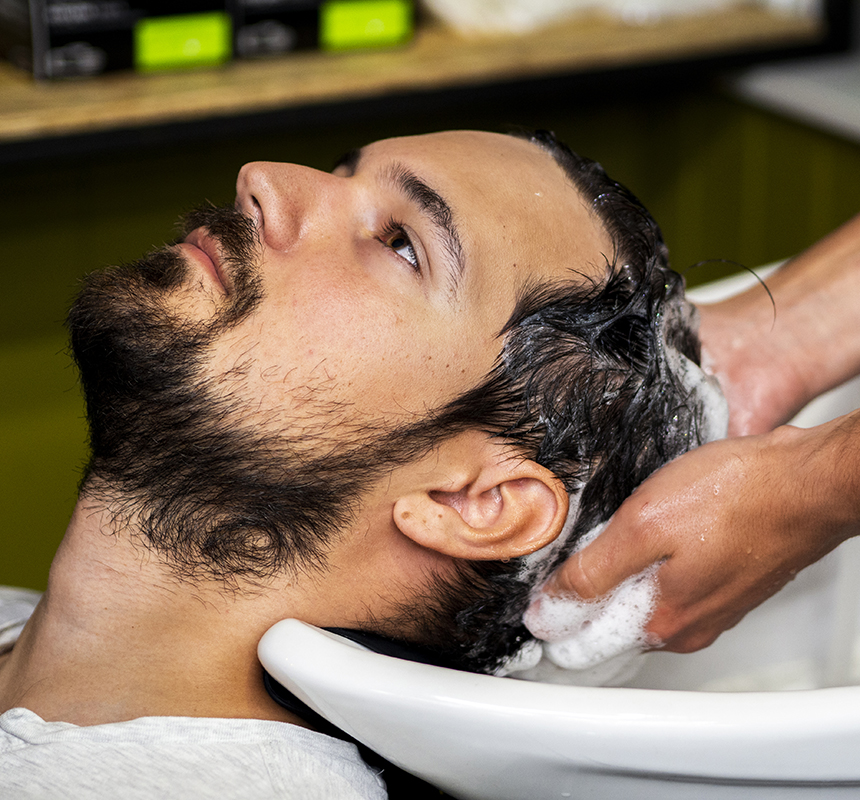 Table of Contents
Importance of a Healthy Scalp | List of the Best Shampoo for Men in India | Tips to Buy Shampoo | Frequency of Hair Wash
Why is it Important to Take Care of Scalp Even for a Man?
For a long time, there was a misconception that skincare and haircare is women-centric only. Well! The latest trend shows us a different picture.
Irrespective of the gender, hair care is important. Just like a woman, a man should have dedicated hair care routine too.
In order to set a proper hair care routine, it is important to follow 3 steps. Oil and massage, shampoo gently, and condition (leave-in/wash-off) the strands.
No matter how much we brag about expensive products or treatments, the root is always the scalp. The hair strands look healthy & fine only when the scalp feels good.
In the upcoming sections, I have not only listed the best shampoos for men in India but I have also discussed the pro tips to purchase the best shampoo & many other interesting points. So that, your choice never stays limited to our list.
Top 8 Best Shampoo for Men in India: 2023 Edition
As I always say that market is flooded with hair care products. But, not all the products are worth taking away. Hence in this section, we have enlisted only such shampoos that are pH balanced, gentle, and perfect for everyday application (although it is not recommended). Let's find out what's inside!
Numbers have been arranged chronologically just for the sake of listing. Hence, product listed at no. 1 does not indicate the best. All the products listed here are effective and the best.
1. Satthwa The Daily Drench – Everyday Shampoo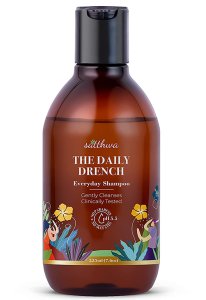 Courtesy of Brand
Shop Now!
Whether it is skincare products or haircare products, Satthwa has always been one of my favourite Indian brands. The brand is quite popular because of all their safe & effective formulations. And, this newly launched Satthwa The Daily Drench – Everyday Shampoo is no exception as well.
It consists of mild surfactants like Decyl Glucoside, Coco Glucoside, etc. The product has a pH value of 5.5 which is perfect for everyday cleansing experience.
The shampoo is free from Sulfate and Paraben which makes it perfect for all types of hair and scalp. There is no such harmful additive that can irritate the scalp.
A number of hair conditioning agents have been used in this shampoo that can make the hair bouncy and voluminous. Don't worry about the fragrance! It will not trouble even if you have a picky nose.
As a whole, if you are looking for an affordable mild shampoo that is perfect not only for you but also for your entire family, then this is the one you need.
Is There Anything Bad Here? 
Nothing as such.
2. Love Beauty & Planet Onion Blackseed & Hairfall Control Shampoo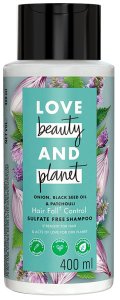 Courtesy of Brand
Shop Now!
Well! This shampoo from Love, Beauty, & Planet strikes just the right balance between affordable price tag and good formulation.
The formulation of this shampoo is quite striking. The affordable price point might make you wonder about the utility of the product.
But, as someone who has used this shampoo on repeat, I can vouch for this. The shampoo is Sulphate, Paraben, and Colourant free.
There are a number of plant-based ingredients like Patchouli Oil, Onion Bulb Oil, Black Seed Oil, etc. that make the shampoo quite different from many.
For the detailed ingredient analysis, check out my review here. It has helped me to fight off the smelly scalp and stubborn dadruff issues.
My hair texture definitely improved post-application. For many such reasons, this shampoo is one of the best shampoo for men in India.
Is There Anything Bad Here? 
Perfume is present as one of the ingredients. So, if you are not a great fan of perfumed shampoos, this is not for you.
3. Arata Natural Cleansing Shampoo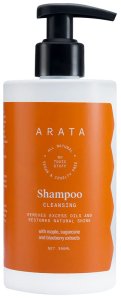 Courtesy of Brand
Shop Now!
This is another shampoo that will always be one of my favourites. It is rich in plant-extracted herbs, juices, and ingredients.
Very mild surfactant has been used here. It goes without saying that the shampoo is free from Sulphate, Paraben, Colourant, and many such harmful chemicals.
Hair looks shiny and scalp feels rejuvenated post application. According to the brand, essential oil based fragrance has been used here which is quite safe. Know all the ingredients of this shampoo in detail here.
As I have used 2 bottles of this shampoo, I can tell you that the fragrance is so light that post-wash off, you would not even feel anything. As a whole, it is one of the best shampoo for men in India which is mild yet effective.
Is There Anything Bad Here? 
Except the high price point, I could not find any.
4. Sebamed Everyday Shampoo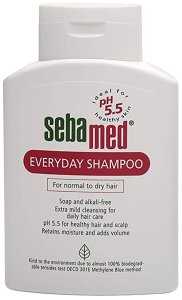 Courtesy of Brand
Shop Now!
Sebamed is pretty popular for formulating pH balanced gentle products. And, this shampoo is no exception.
The surfactants used here are new-generation that are mild yet have strong cleansing properties. There are a number of plant-derived ingredients that make this shampoo interesting.
Its mild, soap, and alkali free formulation is perfect for everyday application. Don't worry! This shampoo does not dry out hair. In fact, it has been formulated specially for normal to dry scalp.
The shampoo has a mild fragrance that makes it ideal for all the sensitive nosey men. So, if you are looking for a pH balanced, mild shampoo that is free from Sulphate, Paraben, Colourant/dye, harsh preservatives/chemicals, synthetic fragrance, then it is simply the best shampoo for men.
Is There Anything Bad Here? 
Nothing as such.
5. Herbcience Hair Nourishing Pro-V Keratin Shampoo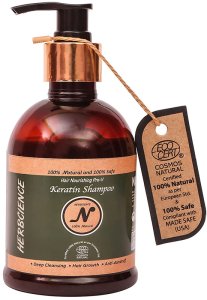 Courtesy of Brand
Shop Now!
Science backed with the power of nature, is the mantra of this brand. Herbcience is a relatively new brand in the market. But, their products are well-formulated and the ingredients are well-researched.
This shampoo is made of 10 herb extracts and mild surfactants like Docyl Glucoside & Coco Glucoside. No added colour or fragrance has been used in making this product. This is definitely the best part.
Also, this shampoo is pH balanced and mild enough to be applied on regular basis. Overall, this shampoo deserves every right to be listed as one of the best shampoo for men in India.
Is There Anything Bad Here? 
Nothing as such.
6.

Phy Apple Cider Vinegar Shampoo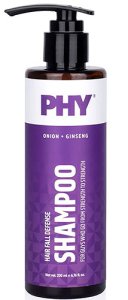 Courtesy of Brand
Shop Now!
If you are into men skincare products for sometime now, you must have heard about this brand. Phy products have been formulated especially for guys. It is a brand owned by Plum Goodness!
This shampoo is rich in Onion, Ginseng, Biotin, and Sunflower Seed Oil. The surfactants used here are pretty mild in nature. It is free from Sulphate, Silicone, and Colourants.
Due to the present of fragrance, I would not call it a mild shampoo but surely it is gentle enough to be applied on daily basis.
Also, if you have coloured or chemically treated hair, then it is just the right shampoo for you. As a whole, Phy Onion and Ginseng Shampoo is one of the best shampoo in India for men.
Is There Anything Bad Here?
The presence of fragrance as not everyone is a fan of fragrant shampoos.
7. Just Herbs 8 In 1 Root Nourishing Amla

Courtesy of Brand
Shop Now!
There are many Ayurvedic brands in the market and Just Herbs is one of the oldest. As the name suggests, this shampoo is rich in 8 herbs i.e. Amla, Neem, Hibiscus, Henna, Vetiver (Khus), Methi (Trigonella) Seed, Wheatgerm Oil, and Soy.
The formulation is quite mild due to the presence of mild surfactants. It is also free from Silicone, Sulphate, harsh chemicals, and colourants.
In fact, the vetiver fragrance keeps you reminding the purity of the shampoo. The shampoo is ideal for oily and dandruff prone scalp.
So, if you are looking for a budget friendly ayurvedic shampoo that is effective and pH balanced at the same time, this is one of the best shampoo for men in India.
Is There Anything Bad Here?
Nothing as such.
8. Vilvah Goat Milk Shampoo

Courtesy of Brand
Shop Now!
Just like Arata, Vilvah is not dependent upon any kind of commercial advertisements too. Ingredients are what make this shampoo the best mild shampoo out there.
The shampoo is one of my favourites for many reasons. First of all, it is free from harsh surfactants & preservatives, colourants/dyes, and synthetic fragrances.
Moreover, there are plenty of plant-derived ingredients and herb extracts e.g. Neroli Essential Oil, Silk Protein, Banana extract, Hydrosol, etc. that are ethically sourced.
Hair feels smooth and soft post-application. The shampoo has a beautiful natural aroma that lingers for quite sometime post wash-off.
If you are new into the category of mild shampoos, then this is definitely one of the best shampoo for men in India, from all the aspects.
Is There Anything Bad Here?
Nothing at all.
Well! The list definitely does not end here. There are many shampoos e.g. Giovanni Smooth as Silk Shampoo, Juicy Chemistry Shampoo, Kama Ayurveda Shampoo, Rustic Art Shampoo Butter, etc. that are perfect shampoo for men in India.
Do you want to know how you can choose the best shampoo among a pool of products? Check these tips out.
How to Choose/Purchase the Best Shampoo: Pro Tips
1. Do Not Fall for Advertisement Schemes
This is one such tip that has helped me to save tons of money. We often want to buy products that are popular or come from a popular house of brand. But, the practice needs to changed.
It is the formulation and the efficacy of the product that make it either a hit or a miss.
2. Always Read the Label
Often brands mislead by not disclosing everything on the label. There are many brands that just mention only the key ingredients. My suggestion is to never fall for the trap.
Always check out the full ingredient list. If you feel satisfied and safe, then only purchase the product.
3. Do Not Purchase Anti Dandruff Shampoo Just Like That
Often people purchase anti dandruff shampoos for daily usage. Well! It goes without saying that such shampoos make the hair strands rough and might damage the scalp barrier due to high pH.
Check out this compilation if you are in looking for a medicated anti-dandruff shampoo.
4. Do Not Fall for the Title
Titles like Anti Hair Fall or Keratin Shine or Silky Smooth might entice you. But, try to embrace these titles just as names only. Just because a shampoo says it can voluminize your hair, it will necessarily make your hair look voluminous.
Rather, try to learn to read the components written on the label. Whether a product is effective or not, it has always been dependent upon these ingredients. Hence, nothing but these should matter to you while purchasing or choosing the right product.
How Often Should You Shampoo Your Hair: Tips that I Follow
There are many men and women whom I personally know, they shampoo hair almost every day. Every time you wash off hair every day with these products, you also take away the sebum from the scalp. Which in turn makes the scalp dry and the hair strands brittle.
In my opinion, during winter, try to shampoo at least twice a week. And, during summer and rainy season, shampoo at least thrice a week.
The ultimate aim of shampooing is to keep the scalp clean so that natural sebum can moisturize the scalp & the hair strands better. Ensuring this keeps your scalp nourished and makes your hair grow well.
That's all for today! If you find this article helpful, make sure to share it with your friends and family. Take care; celebrate life.