Best Night Cream in India: Let Your Skin Soak All the Goodness
Dehydrated skin can look flaky and feel unpleasant, and in fact, it can even lead to excess sebum secretion if the skin's required level of hydration is not met.
You probably already use a moisturiser in the morning. But, did you know that it is just as important to use a good night cream?
Most of us sleep in air-conditioned rooms, which can lead to a loss of hydration in the skin as air conditioners reduce the level of humidity.
And, not keeping the skin nourished can make it very dry and contribute to a host of skin problems. Therefore, using a night cream is absolutely necessary.
There is an array of options available in the market, with features ranging from deep hydration to anti-ageing benefits.
The cherry on the cake is that there is a large number of affordable options as well, so you don't have to worry about breaking the bank.
In this list, I will be talking about the top night creams, all under INR 1000; so you can find the best night cream in India that your skin needs. Let's go!
This list is all about such night creams that are available everywhere and are commercially popular.

Some of these night creams might contain ingredients that are not so good for the environment.

So, if you are someone who cares a lot about cosmetic ingredients and also for the environment, then here goes a list of the best chemical free moisturizers in India that your skin is going to love.
1. Olay Total Effects 7 In One Night Cream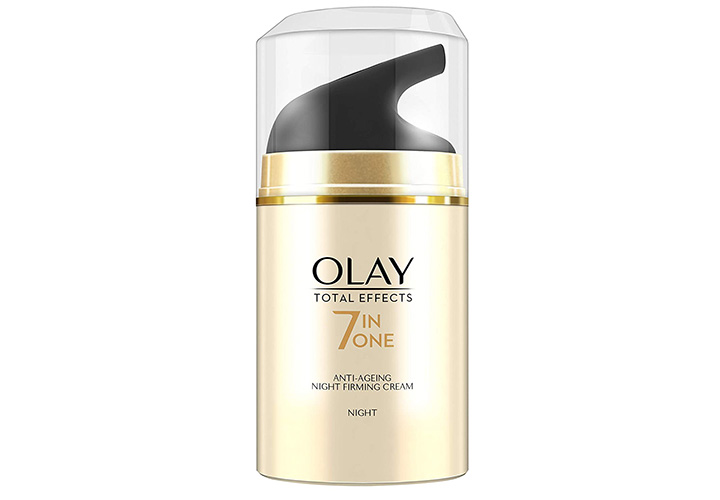 Courtesy of Brand
Shop Now!
It only makes sense to begin this list with a cult favourite brand, doesn't it?
Olay is well known around the globe for their pocket-friendly anti-ageing products. Affordable products get a bad reputation for having lower quality ingredients, but this particular night cream has a host of beneficial ingredients that can help the skin look and feel healthier.
It contains glycerin, which is a natural humectant and helps to keep the skin soft and supple.
Niacinamide reduces the appearance of pores and helps to regulate sebum production. Also, it has green tea extract which is an excellent antioxidant. Vitamins C and E help to further nourish the skin & tackle free radicals. 
Pros

Contains niacinamide which is an excellent anti-ageing element

Glycerin nourishes the skin

Vitamins C and E and green tea extract act as antioxidants

Hygienic pump dispenser

Cons

Contains Isopropyl Isostearate
Altogether, Olay Total Effects 7 in One Night Cream is the best night cream in India for those looking for an ingredient-focused product.
2. Plum Green Tea Renewed Clarity Night Gel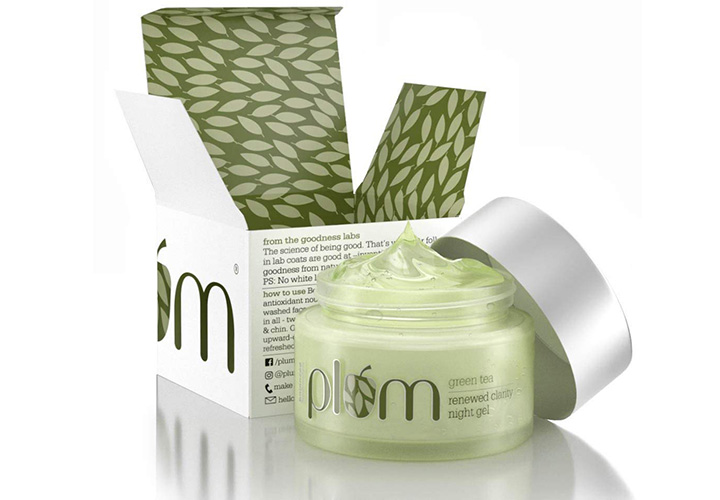 Courtesy of Brand
Shop Now!
It's definitely harder for those with oily or acne-prone skin to find a good moisturiser that is not sticky or heavy.
Plum's Green Tea Night Gel solves that problem with an ultra-lightweight gel texture that gets absorbed into the skin very quickly without leaving behind any feeling of heaviness.
It contains glycolic acid, which gently exfoliates the topmost layer of the skin to reveal clearer skin. And, Argan oil, which is rich in fatty acids and provides moisture.
Green tea extract works as an anti-oxidant while aloe vera soothes the skin. However, those with cystic acne should stay away from it as it can cause irritation.
Pros

Lightweight texture

Glycolic acid reduced spots

Argan oil moisturises the skin

Contains extracts of green tea, licorice, goji berry, willow bark and gingko

Non comedogenic

Cons
There is no doubt that this nourishing yet non-greasy moisturiser by Plum is the best night cream in India for oily skin and also under a budget!
3. Faces Canada Urban Glow Dark Spots Reducing Night Cream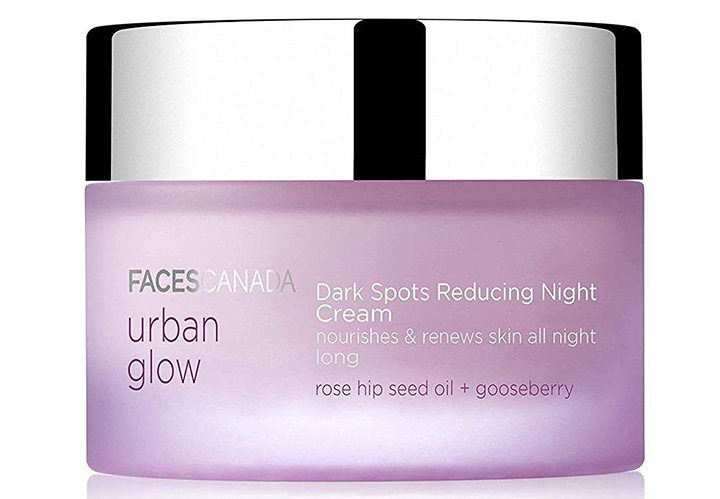 Courtesy of Brand
Shop Now!
Hyperpigmentation is a common issue with Indian skin and incorporating a brightening product into your nighttime skincare can be a great way to tackle dark spots.
The Urban Glow night cream from Faces Canada contains some unique ingredients that help reduce pigmentation and reveal a brighter & more even complexion.
Firstly, it contains the goodness of Glycerin that provides intense nourishment. Next, it has lauric acid which is a cleansing agent and helps reduce spots.
Tocopherol or Vitamin E is a very moisturising ingredient that also acts as an antioxidant. Finally, it has rosehip seed oil which is high in fatty acids and contributes towards skin regeneration.
Pros

Glycerin and Vitamin E moisturise the skin

Lauric acid tackles dark spots

Contains rosehip seed oil

Cons

Heavily fragranced

Many good ingredients are in low concentration
If you are someone who is very new to skincare or someone who doesn't want to experiment with something too strong, this moisturiser from Faces Canada is the best night cream in India for you.
4. Palmer's Cocoa Butter Formula Moisture Rich Facial Night Cream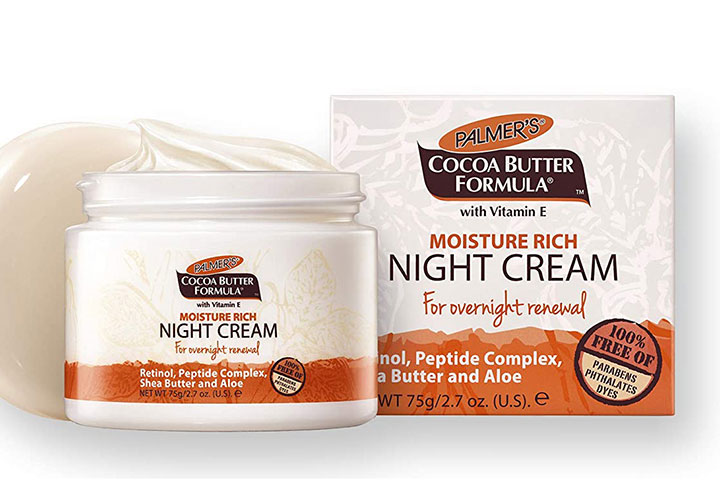 Courtesy of Brand
Shop Now!
Ladies with dry skin, I've definitely not forgotten about you. Nighttime is the best time to give your skin intense hydration and moisture, as most of us prefer to use lighter creams during the daytime.
This night cream from Palmer's is a heaven for dry skin because it contains several ingredients that are rich in moisture.
It has cocoa butter and shea butter, both of which are heavy emollient and nourish the skin from deep within.
They are also powerful rich in antioxidants and vitamins. Glycerin, aloe juice, and hydrolyzed milk protein also provide with long-lasting moisture.
This cream has a rich texture and also contains retinol, which is an anti-ageing agent and makes the skin appear more youthful.
Pros

Suitable for dry and mature skin

Cocoa butter and shea butter nourish the skin

Anti-ageing properties with retinol

Intense moisturisation with glycerin, aloe juice and milk protein

Makes skin supple and soft

Cons

Contains many perfuming ingredients which can cause irritation
Well! Undoubtedly, this luxuriously rich formula is the best for dry skin beauties who don't mind fragrance in their skincare.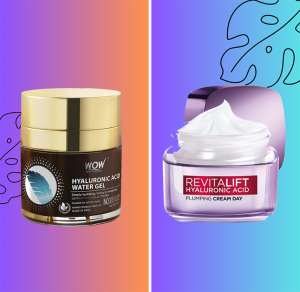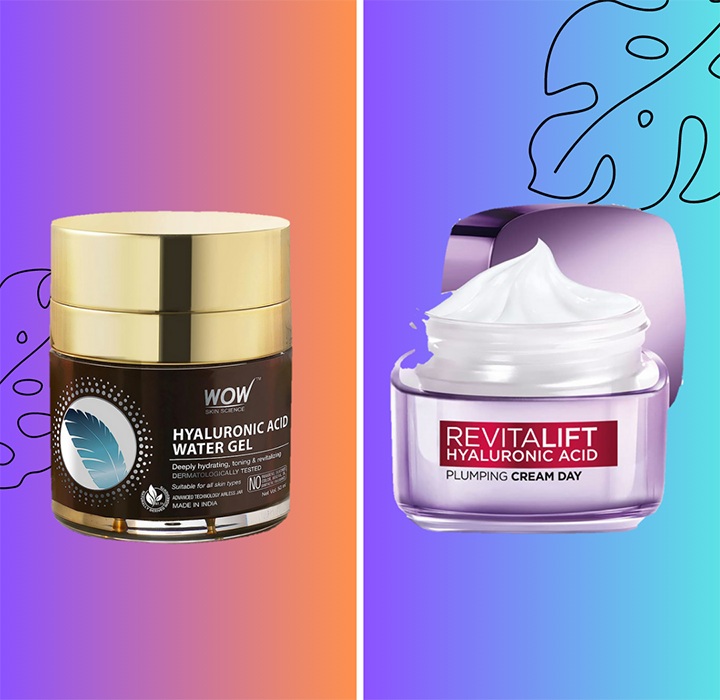 Are you tired finding the right moisturizer for your dry skin? Check this out. You can trust this compilation!
Read More
5. St.Botanica Bulgarian Rose Otto Glow Night Cream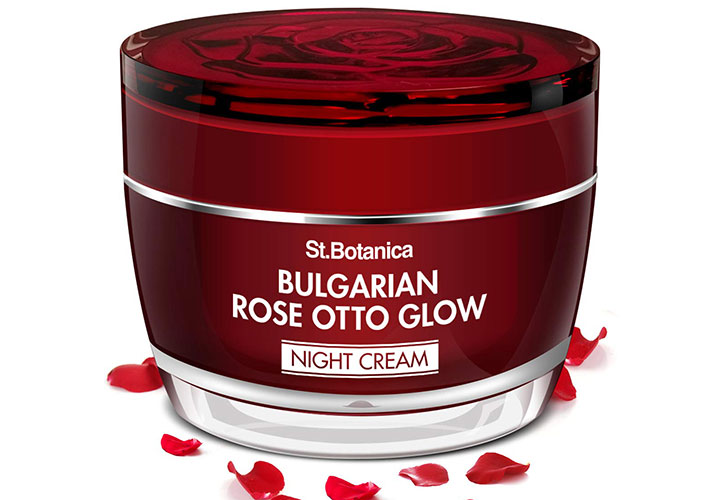 Courtesy of Brand
Shop Now!
Packed in an opulent ruby red jar, the Bulgarian Rose Otto Glow Night Cream from St. Botanica is all about harnessing the power of roses to restore your skin to its best state.
It features extracts from the rose in multiple forms, such as Rosa Damascena essential oil, rose water, and rosehip cold-pressed oil. However, the star ingredients are aloe vera leaf juice, shea butter, avocado cold-pressed oil, extra virgin olive cold-pressed oil, oat extracts, Vitamin E, and cocoa butter.
All these ingredients provide with intense hydration to the skin and are rich in antioxidants. It also contains Pro-Vitamin B5 which is a humectant and helps to maintain a healthy skin barrier.
It is free from silicones and other harmful ingredients. Indeed it is a great cream for those with normal skin.
Pros

Attractive packaging

Multiple moisturising and anti-oxidant ingredients

Makes skin nourished and moisturized

Contains Pro Vitamin B5

Suitable for all skin types

Cons
So, if you love rosey fragrance and want an ingredient-focused night cream which also has antioxidant properties, this one from St. Botanica is the best night cream in India for you.
6. Lakme Absolute Hydra Pro Overnight Gel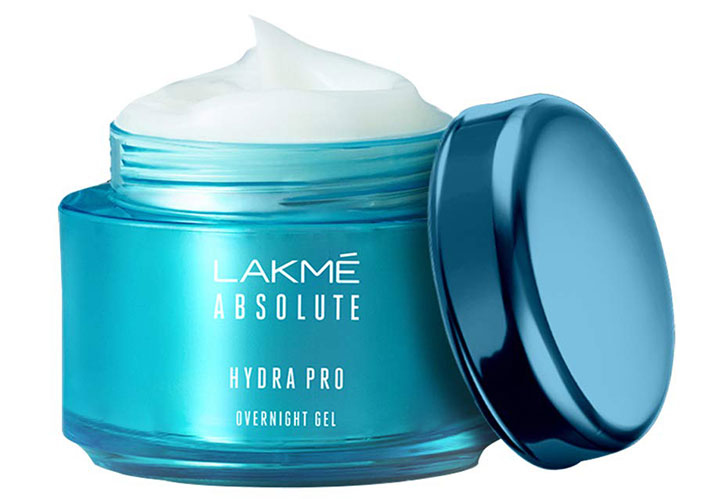 Courtesy of Brand
Shop Now!
When it comes to moisturisers, Hyaluronic Acid is the hottest ingredient in the market at the moment. Known for its impressive water holding capacity, this ingredient is a humectant. It draws in moisture from the environment to your skin, therefore keeping is soft, supple, and full of moisture.
The Hydra Pro Overnight Gel from the house of Lakme uses the power of hyaluronic acid to make the skin feel instantly nourished. The gel consistency is lightweight, making this product suitable even for those with oily skin.
It also contains the goodness of Pentavitin, also known as Saccharide Isomerate. This ingredient is a plant-derived humectant that provides long-lasting moisturization to the skin, thereby making this cream perfect for nighttime.
Pros

Lightweight texture

Gets absorbed easily

Hyaluronic acid and pentavitin provide long lasting hydration

Cons
So, if you are looking for a lightweight, affordable, and hyaluronic acid-based moisturiser, this one is the best Make in India night cream for you.
7. Mamaearth Overnight Repair Night Cream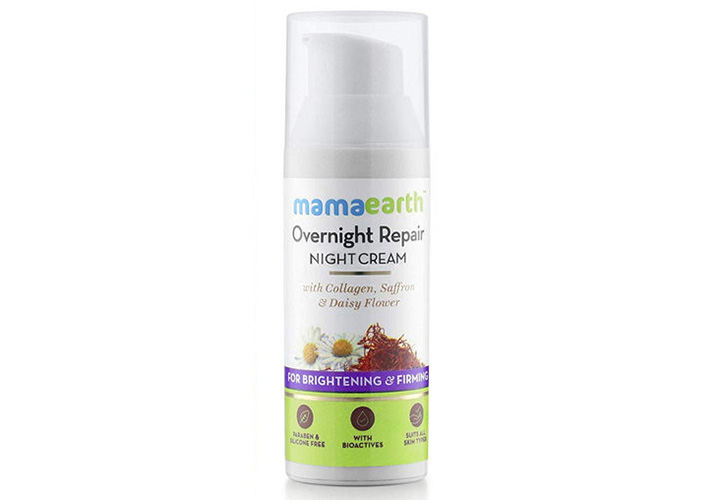 Courtesy of Brand
Shop Now!
Mamaearth's Overnight Repair Night Cream features several ingredients that gently nourish and care for the skin. Glycerin, olive oil, almond oil, and shea butter give this cream moisturising properties, while also help in smoothing out fine lines with regular usage.
Daisy flower extracts rid the skin of any dark spots, making it look brighter. Saffron extracts also add brightening properties to this cream.
It contains collagen which is a great humectant and helps to lock in moisture for a long time. Lastly, Biosaccharide Gum shields the skin against environmental aggressors, thereby delaying ageing.
Pros

Glycerin, olive oil, almond oil and shea butter hydrate the skin

Daisy flower extracts and saffron extracts brighten the skin

Biosaccharide gum protects the skin

Hygienic pump dispenser

Cons

The fragrance is a bit bothersome
Loaded with skin-loving ingredients that moisturise and brighten your skin, this is the best night cream for dry skin that you can get without burning a hole in your pocket.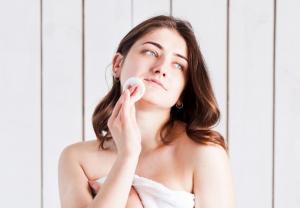 A proper CTM routine is enough to improve the skin. Check out a compilation of the best toner for face, oily skin, dry skin, acne prone, and sensitive skin in India for the ultimate glowing skin.
Read More
8. Joy Revivify Hydra Renew Regenerating Night Cream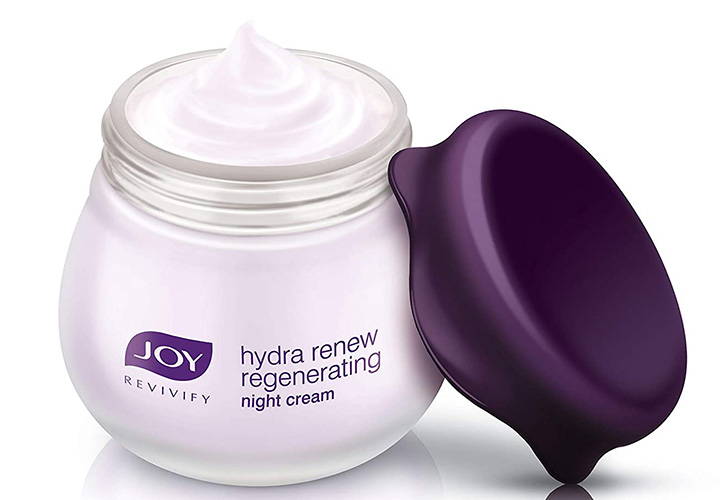 Courtesy of Brand
Shop Now!
For my broke college girls obsessed with skincare, Joy Revivify Hydra Renew Regenerating Night Cream is as good as it gets. It may be inexpensive but contains some impressive ingredients.
It is alcohol-free and has absolutely no ingredient that can clog pores. Glycerin moisturises the skin, making is baby soft.
Hyaluronic acid elongates the hydrating properties of this cream by retaining the moisture for a long time. Ceramides contribute towards strengthening the skin barrier, while tocopheryl acetate acts as an antioxidant. D-Panthenol and Allantoin have soothing properties and calm the skin down.
It is pretty surprising to find so many amazing ingredients in this tub at such price tag.
Pros

Ultra affordable
Contains glycerin and hyaluronic acid
Ceramides strengthen skin barrier
D-Panthenol and Allantoin soothe the skin

Cons
Overall, I think that product is a great bang for your buck and is even better than many expensive night creams.
If you want a basic and affordable nighttime moisturiser with no complicated or harmful ingredients, this delightful formulation by Joy is the best night cream in India for you.
9. MCaffeine Naked Detox Green Tea Night Gel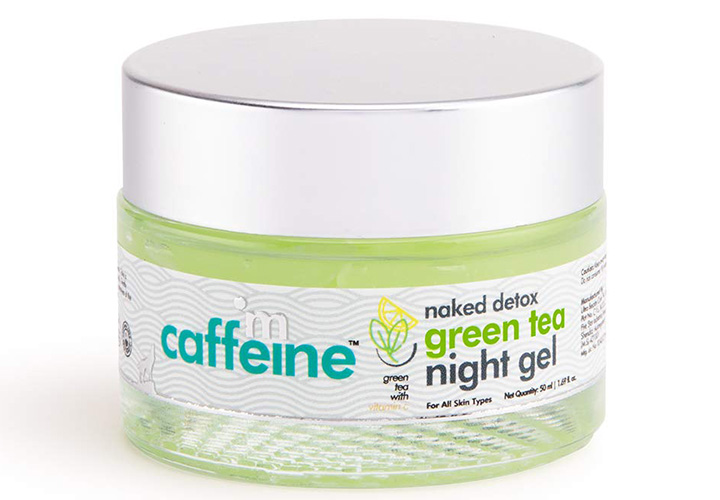 Courtesy of Brand
Shop Now!
Girlies with oily skin, here's another budget-friendly option for you. If you liked everything about Plum's night cream but do not want to use glycolic acid, this night cream from MCaffeine is the answer.
It contains the goodness of green tea extracts, which is a natural antioxidant. Caffeine is a known skin booster and helps to reduce the appearance of fine lines.
Vitamin C helps to even out the skin tone by reducing dark spots and hyperpigmentation. Finally, hyaluronic keeps your skin soft and supple by locking in moisture.
This moisturiser has a gel-like texture which gets absorbed very easily. The only drawback is the strong artificial fragrance of aloe vera. 
Pros

Perfect for people with oily skin

Contains green tea extracts

Vitamin C brightens the skin

Caffeine helps tone the skin

Hyaluronic acid nourishes the skin

Lightweight

Cons

Full ingredient list is not disclosed

Not much hydrating
So, this formulation from MCaffeine is the best night cream for oily skin girls who want a cream without any exfoliating properties.
10. L'Oreal Paris Revitalift Anti-Wrinkle And Firming Night Cream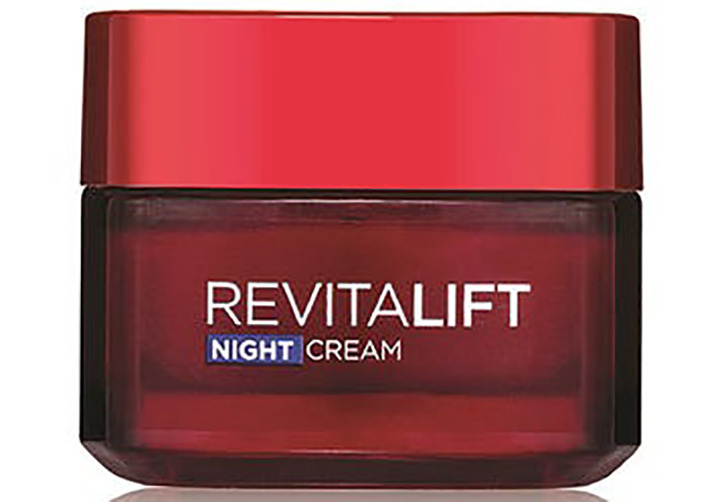 Courtesy of Brand
Shop Now!
A night cream with a fan following of its own, this product from the house of L'Oreal has amazing anti-ageing benefits but is gentle enough to be used even by those in their mid-20s.
It has glycerin, which provides deep nourishment to the skin and makes it softer. Apricot kernel oil and yeast extract also moisturise the skin.
Green tea extracts have antioxidant properties and help the skin calm down. Tocopherol or Vitamin E is another antioxidant that helps to improve the skin's overall appearance.
Finally, the star ingredient is Retinoid Palmitate, a mild form of retinol which helps to delay and even reverse signs of ageing. With an ingredient list this amazing, this night cream will surely rejuvenate your skin from the inside out.
Pros

Glycerin, apricot kernel oil, and yeast extract nourish the skin

Green tea extracts and tocopherol soothe the skin

Retinoid palmitate fights ageing

Transforms skin from dull to glowing
Non sticky formula

Cons

Contains many perfuming ingredients
So, if you want an affordable night cream with retinol and antioxidant agents, this one from L'Oreal would not disappoint you. 
Final Thoughts
Well! All these are the best affordable night creams in India. But, if you are feeling fancy, you cannot go wrong with the following luxe options. 
Forest Essentials Ojas Glow Replenishing Night Beauty Balm
Innisfree Perfect 9 Repair Cream EX
Dermalogica PowerBright TRx Pure Night
Kama Ayurveda Rejuvenating & Brightening Ayurvedic Night Cream
Estee Lauder Advanced Time Zone Night Age Reversing Line / Wrinkle Creme
With an array of options for every skin type and every budget, I'm sure you've found a night cream that's perfect for you. So, which one are you adding to your cart?
That's all for today! I hope you find this article helpful. Don't forget to share it with your friends and family. Also, follow us on Instagram for more interesting stuff. Take care. Remember! Each moment counts.