It's Time to Get a Rejuvenating and Glowing Skin with the Best Vitamin C Serum in India
In recent times, Vitamin C serums have become pretty popular. The reason behind this craze is simple. Vitamin C which is abundantly found in Lemon, Amla, and Orange, is widely known to reduce blemishes, hyperpigmentation, and many other skin concerns.
The Indian cosmetic market is filled with various Vitamin C serums. But definitely, not all are the best. So, in this article, we are going to talk about a bunch of the best Vitamin C serums in India that have amazing formulations.
Table of Contents
Why You Should Include One Vitamin C Serum in Your Skincare Routine?
Whenever Dermatologists talk about an anti-ageing cosmetic product, Vitamin C serums appear first in their minds. It is basically loaded with benefits.
Even if you intake foods that are rich in Vitamin C, the benefits would not enter your skin directly. That's why you need topical products!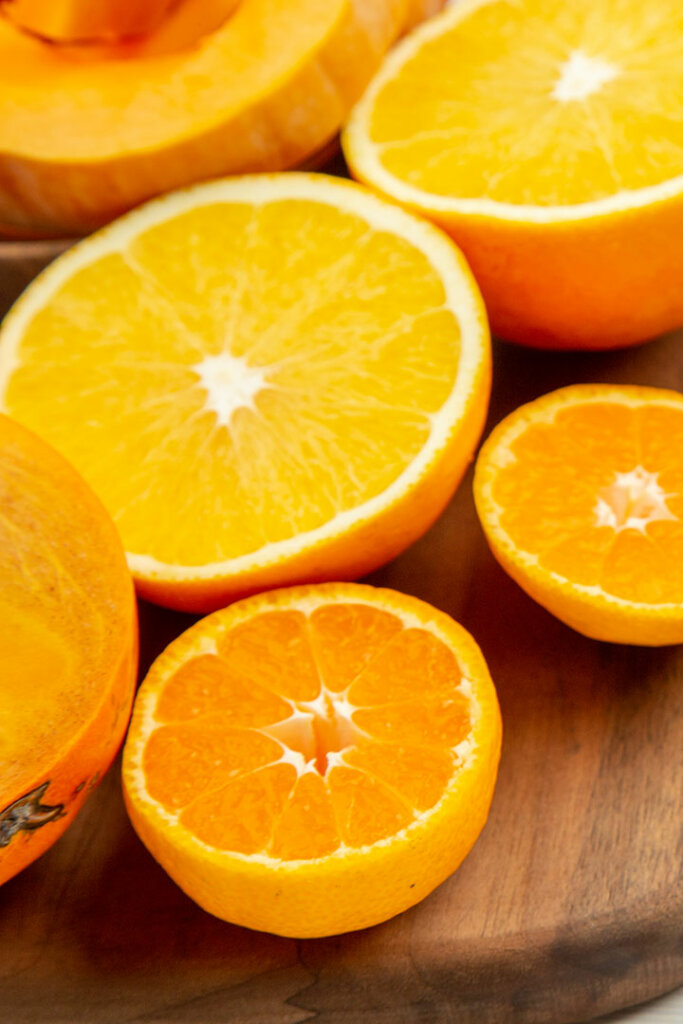 I could have easily jumped to the list of the products. But, I believe it is important to know the benefits and the risk factors involved with every new skincare/haircare product. So, let's take a look!
1. Suitable for ALL Skin Types
Exactly, it is contrary to the myth that Vitamin C serums are not suitable for all skin types. According to an article,  no matter what the age or the skin type of the person is, he/she can apply Vitamin C rich products.
For, people with hypersensitive skin, cases of minor irritations have been often seen. But that can easily be handled by blending the Vitamin serum with another product from your skincare regime like AHA, Retinols, Sunscreen, etc.
2. It Brightens and Hydrates Your Skin
You have read it right! Vitamin C imparts a beautiful glow to your skin. In fact, feel amazing if you find Magnesium Ascorbyl Phosphate in your Vitamin C serum.
This derivative of Vitamin C is extremely hydrating for our skin. It helps our skin to retain moisture.
Vitamin C also helps to treat skin inflammation of many types. It reduces redness and helps to create an even complexion.
3. Say Goodbye to Hyperpigmentation!
It can treat all types of hyperpigmentation e.g. Melasma, Sun Spots, Ageing Spots, etc. Hyperpigmentation occurs whenever excess Melanin is produced by our skin in special situations.
The topical application of Vitamin C helps a lot to fade all those hyperpigmented skin spots.
4. Vitamin C Serum Smoothens the Fine Lines Under Your Eye Area Too
As I said that Vitamin C is full of wonders. It can treat the under-eye fine lines and discolouration too. As Vitamin C helps to activate more collagen production, it can smooth out wrinkles and fine lines too if applied for a long time.
5. Saves Your Skin From Sun Damage
Vitamin C rich product is often said that should not be applied during the day. But, contrary to the myth, the antioxidants in Vitamin C helps to protect the skin from sun damage caused due to free radicals.
In fact, as per a Trusted Source, Vitamin C also accelerates cell turnover and thus, repairs the damaged cells.
Steps of Using a Vitamin C Serum
At first, clean up your face with a chemical-free/regular face wash.
Tone your clean skin with an alcohol-free toner.
Take 4 drops of Vitamin C serum on your face. And, apply all over your face and neck with a light massage.
And, seal in the moisture with a gentle yet effective moisturizer as per your skin type.
Vitamin C Derivatives to Look for in a Serum
Basically, the fundamental form of Vitamin C is L-Ascorbic Acid which is very active and well-studied. But, this form of Vitamin C is not much stable. And thus, it needs to combine with other derivatives of Vitamin C. Here is a list of derivatives that you might find in an effective Vitamin C serum.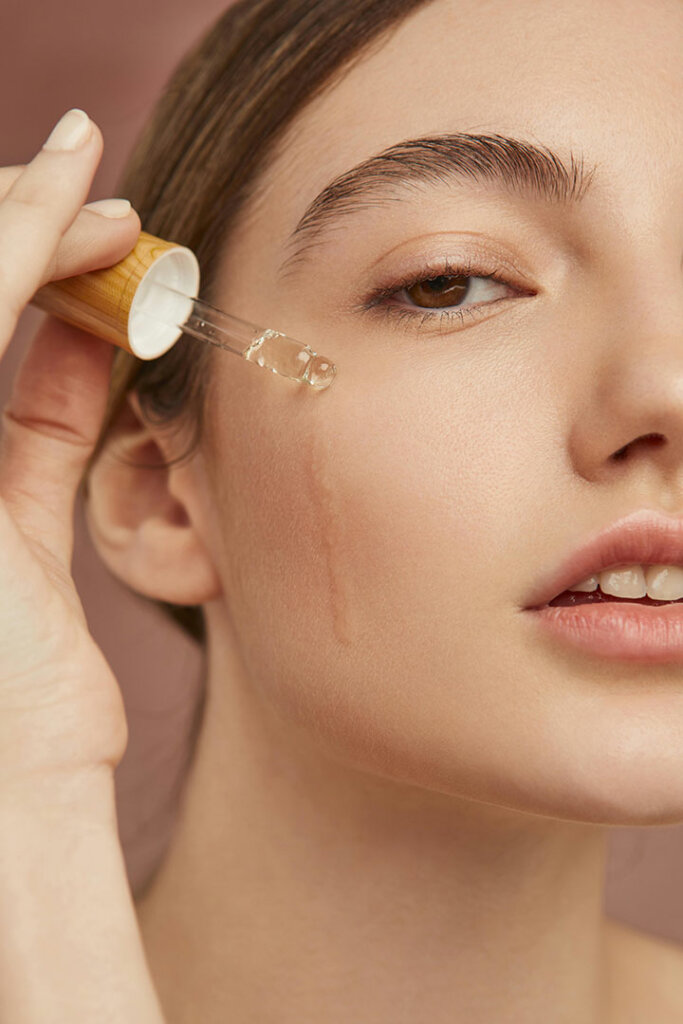 Sodium Ascorbyl Phosphate

Ascorbyl Palmitate

Retinyl Ascorbate

Tetrahexyldecyl Ascorbate

Magnesium Ascorbyl Phosphate
All these derivatives whenever come into skin contact, Vitamin C is released in the pure form. For example, as per a Dermatologist, if a Vitamin C serum contains 10% of one such derivative, then it would release 3% Vitamin C to the skin.
How to Preserve the Longevity of a Vitamin C Serum

It's pretty important to enclose the cap securely after every application. Vitamin C easily react with air/light/heat/other chemicals.

As a result, it might easily get oxidized and thus, deactivating the efficacy of the serum.

So, always make sure to keep your serum in a cool and dark shelf.

If you ever see that the colour of the serum has changed, then you should immediately throw it away because the formula is no more effective.

Try to use the product within 6 months of opening the cap. Otherwise, both the freshness and the efficacy get spoiled.
Is There Any Potential Side Effect of Using a Vitamin C Serum?
As of now, no such side effects have been recorded or found. But no matter, how amazing ingredients your favourite serum has, the best practice is to go for a patch test always.
Do not go for a full-on application directly on your delicate skin without knowing all the pros and cons. Otherwise, it might damage your skin barrier.
If you have super-sensitive skin or if you experience irritation/burning sensation while patch testing, wash off immediately and discontinue application.
7 Best Vitamin C Serum in India that Your Skin Needs to Sip In
Alright, so now when we know almost every important thing related to Vitamin C, it is time to explore the best Vitamin C serums in India for the face.
In this compilation, we have listed only such products that contain rich ingredients. Well! We have actually gone through the component list of all of these products. And, now it's time to jump to the list.
1. Minimalist 10% Vitamin C + Acetyl Glucosamine 1% Face Serum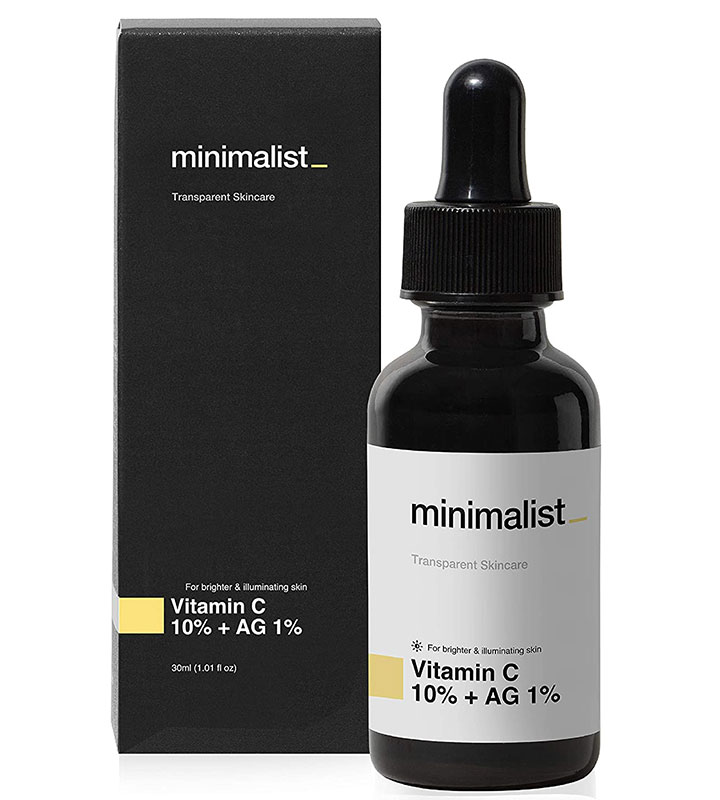 Courtesy of Brand
Shop Now!
In recent times, Minimalist products have occupied the market pretty well. Their products are pretty effective and they deliver what they promise. Minimalist is often called our The Desi Ordinary as their products are all similar to ones from The Ordinary.
This Vitamin C serum is quite a popular Minimalist product. It is rich in Water extracted from Gotu Kola Leaf, 3-O-Ethyl Ascorbic Acid, Ethoxydiglycol, and Acetyl Glucosamine 1%.
3-O-Ethyl Ascorbic Acid is a stable form of Vitamin C with a molecular structure that is close to the purest form of Vitamin C or L-Ascorbic Acid. Check out the pros and cons before you decide to buy this.
Pros

Rich in Gotu Kola extract, stable Vitamin C, AG, Glycerine, and many other beneficial ingredients.
Compact dark bottle that is made of hard glass.
The dropper works pretty fine.
A stable formulation which is quite affordable too

Cons

People often complain that this serum causes lot of redness, skin purging, white heads, pimples, acnes. Well! I am pretty sure that the main cause is the higher percentage of Vitamin C used in this serum.

So, if you are starting your Vitamin C journey with this serum, it would be best if you blend just 1 drop of this serum with your regular moisturizer or your sunscreen.  

As a whole, this serum has amazing components and has every reason to call it the best Vitamin C serum in India.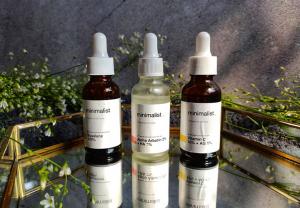 Is Minimalist our own 'Indian The Ordinary'? Well! Its' time to discover a clean brand and its unique products.
Read More
2. Suganda Antioxidant Serum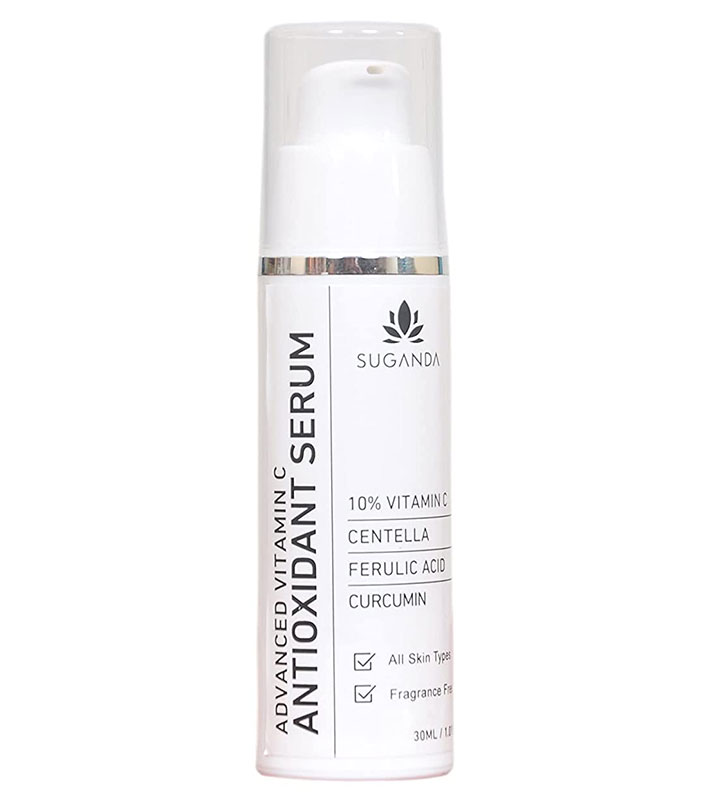 Courtesy of Brand
Shop Now!
Suganda is another name of trust whenever we talk about harsh chemical-free effective products. The formulations are amazing.
Most interestingly, if you just subscribe to their newsletter, they would not spam your inbox with deals/discounts, rather they would keep sending you pretty useful information regarding skincare products/myths and many more things.
Suganda Antioxidant Serum is just the right product for beginners of Vitamin C serum. It is rich in Sodium Ascorbyl Phospate, Vitamin E, Ferulic Acid, and Gotu Kola. All these ingredients together impart a beautiful glow to your skin.
Pros

Rich in Gotu Kola, Vitamin E, 10% Vitamin C.
It also contains a little percentage of Hyaluronic Acid
Compact packaging
Reasonable price tag
Frgrance free and also free from other harmful additives.

Cons

Just like the previous one, people often complain about breakouts after applying this serum. Well! The brand answers it well. As per Suganda team, it is important to build the tolerance of Vitamin C serum. So, it would take some time.

The best way to do that it to blend this serum along with an Occlusive moisturizeror Squalane Oil.
The Relationship Between Vitamin C Serum and Skin Purging
Guess what! Any component that turns over your cells faster might cause purging. Components that have excellent chemical exfoliation properties e.g. Vitamin C, Retinoids, AHA/BHA, etc.
All these chemical components basically help your skin to shed off the dead skin cells. So, if you find these skin concerns right after applying a Vitamin C serum, that means it is a simple purge.
Such skin purging actually brings the acne or pimple faster to the skin surface. It also clears the spot very fast too. Well! The entire process takes 2-6 weeks which is more than a month actually.
So, it is highly possible that your skin would freak out initially. But, after a while like 4-6 weeks, it would improve and make your skin texture better than ever.
The key is to wait for a while rather than just dumping the serum. The purge would heal gradually and would bring out the best of your skin. 

But, if the purge still continues even after 6 weeks, then you must consult with a dermatologist. 

I have seen similar skin purging during the initial days of applying Rosehip Oil which is pretty normal. 

So, observe the pattern of purging and also the timing. For some people, purging occurs during Menstruation cycle too. So, make sure if you have considered everything before jumping to a conclusion.
3. Plum 15% Mandarin and Vitamin C Serum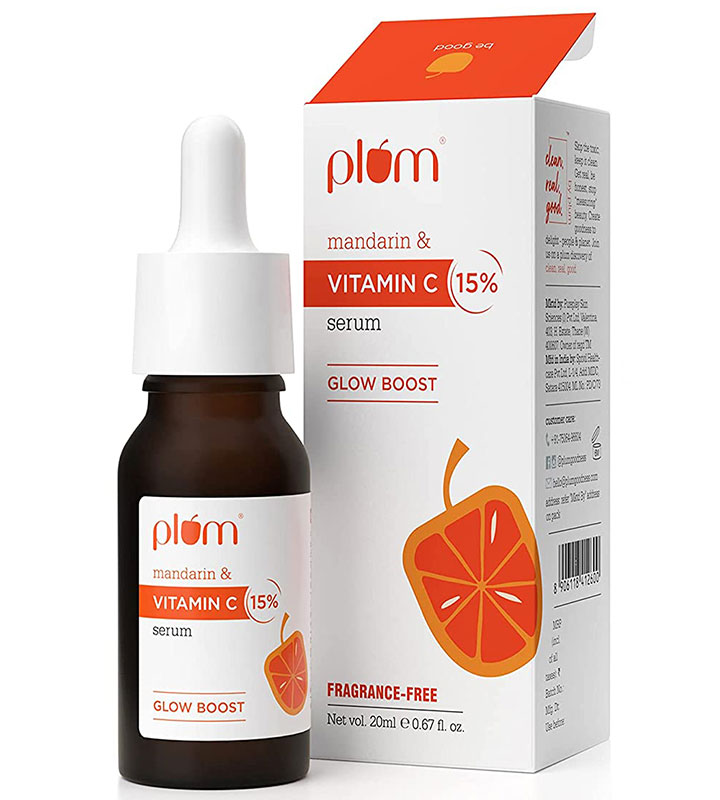 Courtesy of Brand
Shop Now!
Quite a new launch in the market, this serum from Plum Goodness has become quite popular in the market.
As you can understand, it has 15% active Vitamin C. The brand says, 17.7% Ethyl Ascorbic Acid has been used in the formulation. This would release 15% pure Vitamin C into the skin.
Well! Undoubtedly, this is not something a beginner should use. But, if you are using Vitamin C serum for a long time now and want to switch to some other brand, then you can definitely give it a try.
Pros

Fragrance free formulation
It contains 15% EAA, Japanese Mandarin extract, Rose extract, Kakadu Plum extract. All are pretty rich in atioxidants.
Light weight texture
Attractive sturdy packaging

Cons

High percentage of Vitamin C; so not much beginner friendly.

But, as a whole, Plum Vitamin C Serum has all the features to be called the Best Vitamin C Serum in India.
4. Dr. Sheth's Amla VC20 Vitamin C Serum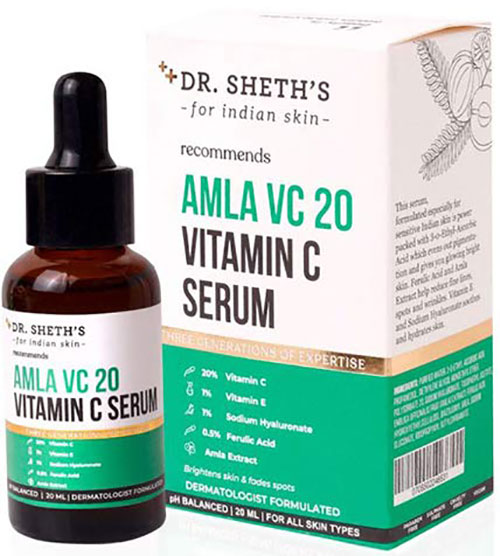 Courtesy of Brand
Shop Now!
I have used a number of Dr. Sheth's products and most of the products are pretty effective. Lately, I have used Dr. Sheth's Niacinamide Toner and I loved it totally.
This Vitamin C Serum is one of their pretty popular in-house products. As the name suggests, it contains 20% Vitamin C which is quite high in concentration.
It contains EAA, Ferulic Acid, Vitamin E, Amla Extract, and many other skin-loving ingredients. The formulation is pretty stable too. Overall, it is indeed one of the best Vitamin C serum in India.
Pros

Rich in 20% EAA, Ferulic Acid, Vitamin E, Amla Extract, Hyaluronic Acid, and Ferulic Acid.
In spite of containing 20% Vitamin C, the formula is quite stable and hardly, people complain about purging.
Fragrance free and harsh chemical free formulation
Nice packaging that is functional in reality.

Cons

The quantity in comparison to the price is really low. The brand should think of this.
5. KLAIRS Freshly Juiced Vitamin Drop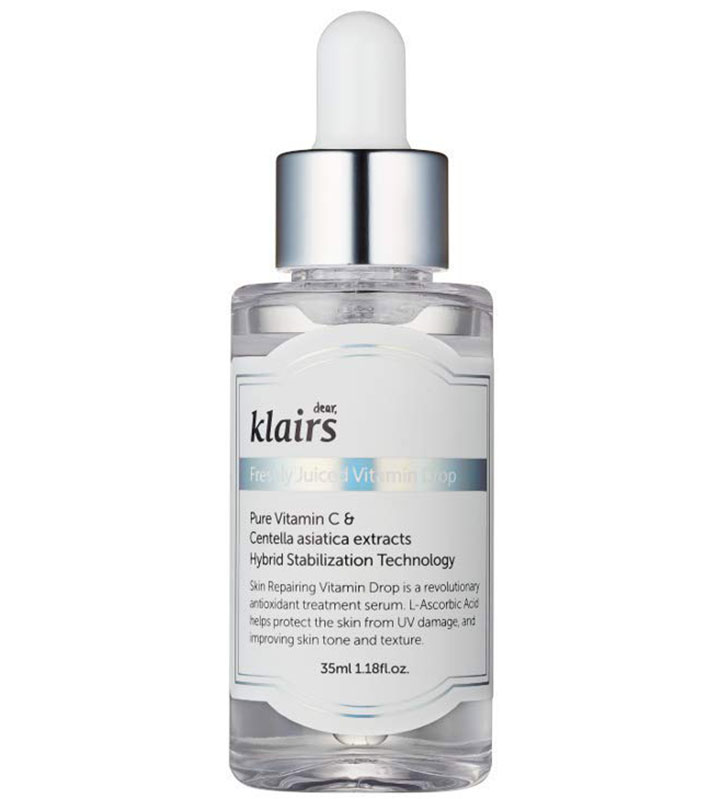 Courtesy of Brand
Shop Now!
KLAIRS does not need any introduction. It is one of the most popular and trustworthy skincare brands for sure.
Well! It is true that in India, KLAIRS products are pretty pricey. But, I have included this Vitamin C serum to this list solely because of the low concentration of Vitamin C. It contains 5% Ascorbic Acid. The best and also the worst part is the brand has used the purest form of Vitamin C, not any other derivatives.
Apart from that, the serum contains many fruit extracts. Overall, if you are new to this type of skincare regime, you must include this serum in your routine.
Pros

KLAIRS Vitamin C Serum contains 5% Ascorbic Acid, Gotu Kola extract, Lemon and Anise Extract, Lavender Oil, extracts of Tea and Grapefruits, and many more skin-loving ingredients.
Quite an effective formulation
Good quantity in comparison to the price tag
Brightens and smoothen out skin texture

Cons

Apart from skin purging, people also complain about an entirely different issue. As I said the brand uses the purest form of Vitamin C which is quite reactive in nature. Thus, the product easily gets oxidized.
Along with that, the product comes in a transparent bottle which is entirely unscientific. So, it happens often that the product gets oxidized when you have hardly finished half of the bottle.

I believe if the brand resolves all these issues, this Vitamin C deserves to be one of the best Vitamin C serums available in India.
6. PIXI Vitamin C Serum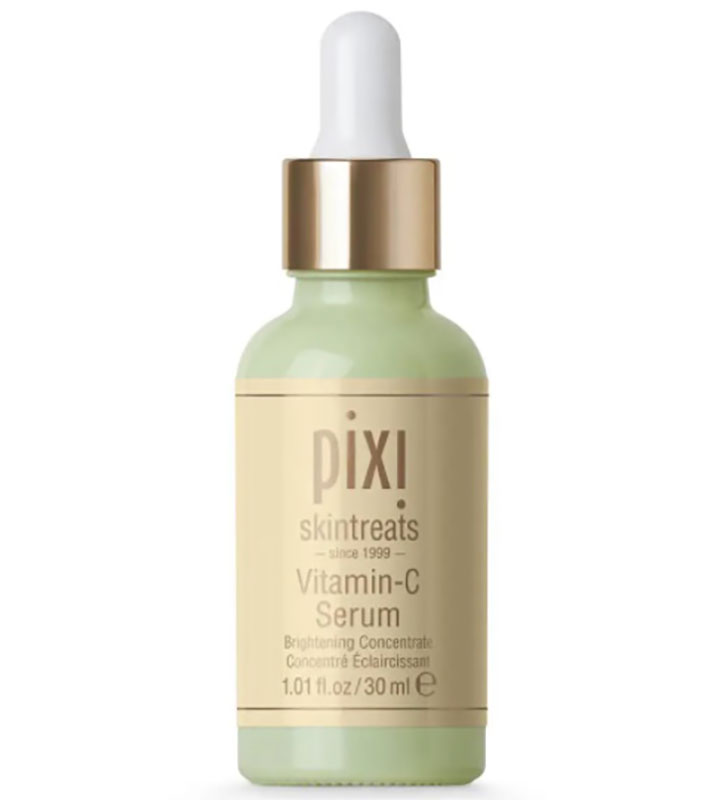 Courtesy of Brand
Shop Now!
I think PIXI is one such brand that does not need any separate introduction. PIXI Glow Tonic has got its own separate fan base.
This serum is pretty popular too. It is rich in 15% Ascorbic Acid. Surprisingly, the brand has not mentioned the percentage anywhere. Thanks to Beauty Alley for bothering the brand to the point that they revealed this vital information.
The serum also contains Grapefruit extract, Aloe Vera, Retinol, Vitamin E, Ferulic Acid, etc. It is light yellow in colour and has a pretty lightweight texture.
Pros

Light weight formulation
Loaded with 15% Ascorbic Acid, Grapefruit extract, Aloe Vera, Retinol, Vitamin E, Ferulic Acid, Lime Peel and Orange peel extract, and many more skin-loving ingredients
Perfect packaging
Fragrance free serum
Brightens and smoothens skin texture in reality

Cons

Might oxidize within three months which is way lesser than the standard oxidization period of 6 months
The brand does not disclose basic information like the concentration of Vitamin C
Pretty pricey in India
7. Pilgrim Natural Vitamin C Serum 20%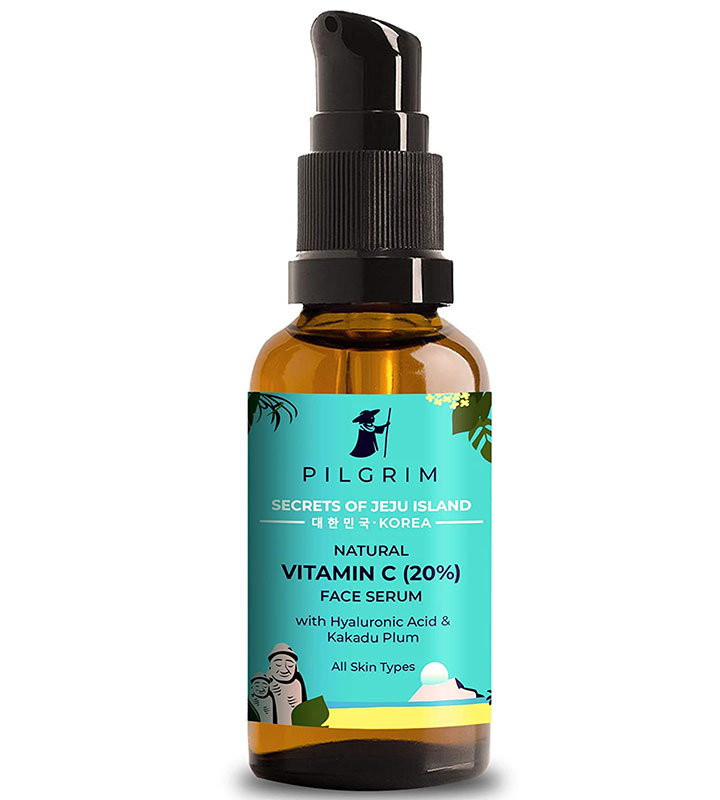 Courtesy of Brand
Shop Now!
Pilgrim is a Korean skincare and haircare brand. The brand has formulated a number of interesting and effective products. This Vitamin C serum is one such.
It is rich in 20% Vitamin C (Kakadu Plum is the source of Vitamin C here), Hyaluronic Acid, Vitamin E, etc. The packaging is pretty nice and unique. The pump nozzle is excellent to take out the right amount of serum.
Pros

Enriched with 20% Vitamin C, Hyaluronic Acid, Vitamin E, and many other active ingredients. All are plant derived actives.
Texture is light weight and perfect dark packaging.
Potent formulation for all skin types

Cons

The watery texture often becomes the center of complain for this serum.
Contains purfume.
So, The Bottom Line is…
Well! The list of the best Vitamin C serum in India does not end here. There are many other serums that you can check out. Just make sure that the serum is low in pH, has a concentration between 8% and 20%.
Some of the serums in this list contain photosensitive ingredients. So, it is always advisable that if you are using Vitamin C serum during the daytime, then you must follow up with sunscreen.
There are many benefits that you can rip off from a Vitamin C serum. But, there are many constraints as well that people usually experience. Tricky formulation, texture, application, are some of the problems. So, be a wise buyer. Check out the ingredients in detail before you make a decision.
And, that's all for today! I have done extensive research before writing this article down. So, please share it with your friends and family if you find it helpful. Take care; celebrate life.