Best Moisturizers for Dry Skin in India
Nobody knows the importance of moisturisation better than a person with dry skin. Summer is almost upon us.nd, the heat brings dehydration with itself. So, loss of moisture from the skin is natural during this time.
Just like it is crucial to drink a lot of water to keep your body hydrated from inside, it is equally quite important to hydrate the skin from outside using topical products. And what's better than a moisturizer for this purpose?
Dry skin needs extra special care since this skin type tends to not produce oils naturally, and is therefore prone to premature ageing and wrinkles.
There is an overwhelming variety of moisturizers available in the market. Thus, it's quite easy to feel confused.
There are so many ingredients, brands and price points, and all of them claim to be the best. About the variety of them you can even write a custom essay!
To make your skincare shopping a little simpler, I have compiled this extensive list of the crème de la crème of moisturiser for dry skin in India. No matter what your budget is, I've got you. Let's go!
Table of Contents
Compilation of Top 13 Dry Skin Moisturizers in India You Need to Try This Year
In the following section, I have compiled the best dry skin moisturizers of all time in India. These are easily available and are all commercial.
Thus, you would occasionally find ingredients like Denatured Alcohol, Parabens, BHT, Disodium EDTA, etc. Well! If the ingredients of cosmetics do not bother you much, then this list is just made for you.
1. ROA Hydrafix Moisturizer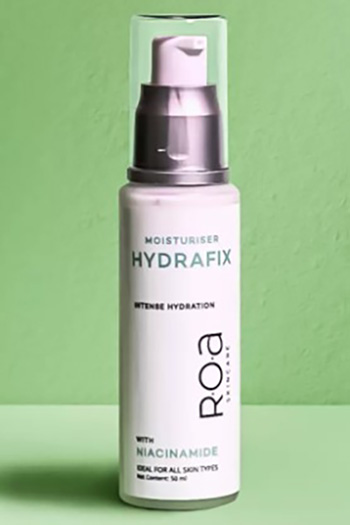 Courtesy of Brand
Shop Now!
Well! The brand might seem a bit new to the Indian market but its well-researched products are already creating roars. This moisturizer is perfectly tailored for the Indian beauties.
The formula is rich in Niacinaamide, Licorice, and Ceramides that target anti-ageing and pigmentation problems. Moreover, it is FDA approved and dermatologically safe.
In case you want to buy it, here goes an exclusive 20% Discount coupon code for all of our Cosmetics Arena readers –> ARENA20.
Now, let's point out the key features that make this moisturizer one of the best moisturizers for dry skin in India.
Pros

Perfect for Indian skin; targets anti-ageing and pigmentation
Provides up to 12 hours of hydration
Non-comedogenic (won't clog pores) formulation that is suitable for Dry, Combination, and Sensitive skin types
Clean and cruelty-free formulation
FDA approved; dermatologically tested & declared safe
pH balanced

Cons

Nothing as such
2. Ponds Light Moisturiser Non-Oily Fresh Feel With Vitamin E and Glycerine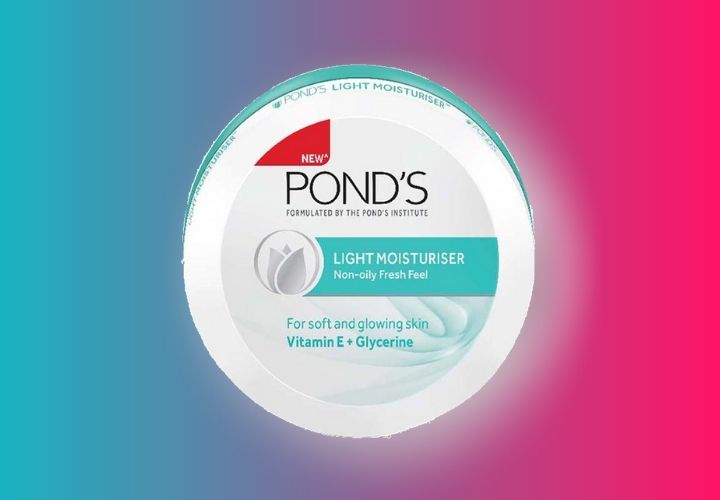 Courtesy of Brand
Shop Now!
Everyone loves moisturised skin, but let's be honest, no one wants to look like a greaseball. Nothing is worse than the feeling of sticky and oily skin. To keep you feeling hydrated but fresh during the summer, Ponds Light Moisturiser is here to the rescue. It contains the goodness of Vitamin E and Glycerin, both of which are hydration heroes.
Since this is a very lightweight cosmetic, it'll sink into your skin quickly and instantly rejuvenate it. The mild and soothing fragrance will brighten your day. While its moisturising ingredients brighten your skin.
The best part is that it is long-lasting, so you won't have to constantly reapply it. At the time of writing, it is available in 3 sizes; each size is ultra-affordable. Overall, this baby is a total steal.
Take a look at these good and bad points that make this one of the best moisturizers for dry skin in India.
Pros

Affordable
Non sticky
Long lasting
Perfect moisturiser for day time
It has the goodness of Soybean, Strawberry and Peach Fruit Extract, Vitamin E, Glyceine
Quick absorbing formula
Does not clog pores
Good for both dry and oily skin

Cons

Unhygenic packaging
Not suitable for sensitive skin
Contains Parabens and other not so good ingredients

Altogether, there is no doubt that it is one of the best affordable moisturizers in India.
3. Cetaphil Daily Advance Ultra Hydrating Lotion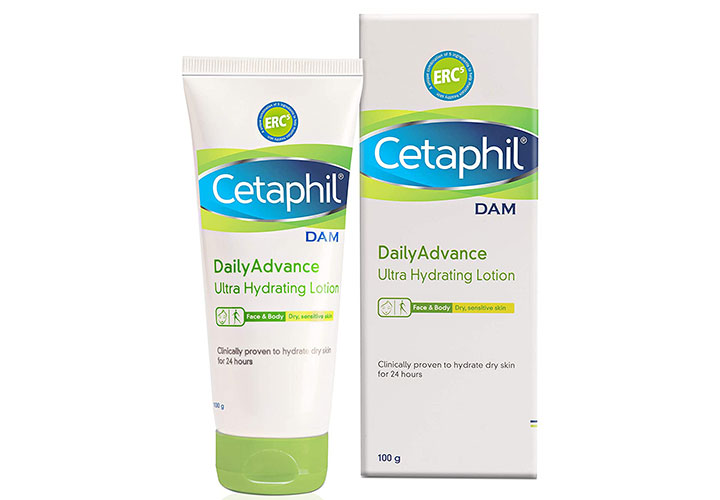 Courtesy of Brand
Shop Now!
Take a dip into a pool of rich moisture with Cetaphil's Daily Advance Ultra Hydrating Lotion. Enriched with natural ingredients, this lotion is a dream come true moisturizer for dry skin in India. It focuses on deep moisturization using a combination of ingredients that are humectant, emollient, lipids, water locking and skin-replenishing agents.
Moreover, it is non-comedogenic so you do not have to worry about clogged pores. As the formula is oil-free, your skin won't feel sticky even if you apply a little bit much. The tube packaging guarantees extra hygiene if you're always on the go. Here goes a brief on all the pros and cons.
Pros

Non-sticky formula
Fragrance-free
Enriched with shea butter, macadamia nut oil, and Vitamins E and B5
Non-comedogenic
Suitable for even sensitive skin people
Non sticky formula
Great packaging

Cons

Product quantity is less in comparison to the price

As a whole, it is one of the best moisturizers for dry skin in India especially for working ladies.
4. Garnier Wrinkle Lift Anti-Ageing Cream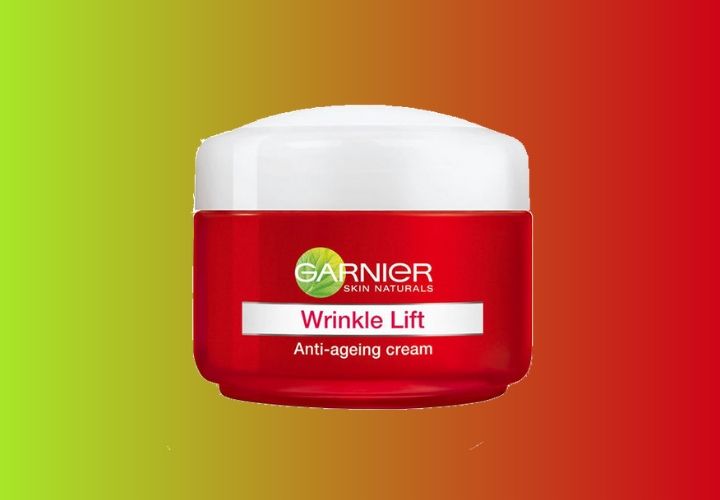 Courtesy of Brand
Shop Now!
A rich moisturiser that also offers anti-ageing effects? We're all ears! This stunning ruby red tub has a fan following of its own. And, that is also for all the right reasons. Garnier's Wrinkle Lift Anti-Ageing Cream contains some excellent skin-loving active ingredients like Ginger.
Ginger is a well-known superfood for the skin. It works towards revitalising skin from the inside, giving it a glow from within. Cherry essence and bilberry extract, on the other hand, have anti-ageing properties which help the skin retain its firmness.
It has a pleasant scent that is sure to make your day each time you use this product. Moreover, this cream is rich with moisturizing ingredients that will keep your skin soft and supple throughout the day, and at such an affordable price! Let's sum up everything.
Pros

Contains active ingredients like ginger, cherry essence and bilberry extract
Pretty affordable
Deeply moisturizing
Contains rice protein and Shea butter
Pleasant aroma

Cons

Overall, if you are looking for an affordable moisturizer for dry skin, then this can be your choice.
5. Plum

Green Tea Day-Light Sunscreen Gel SPF 35 PA+++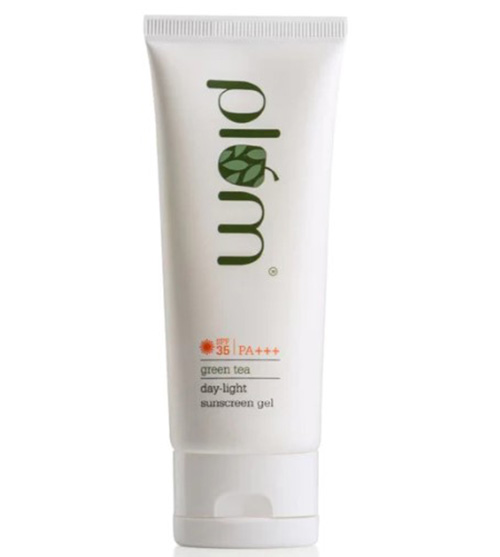 Courtesy of Brand
Shop Now!
Get ready to give your skin the goodness of skincare that is free from Parabens, SLS, phthalates, propylene glycol, DEA, PABA and other nasty ingredients. This lightweight cream from Plum works as both moisturizer and sunscreen,
It is an all in one formula, with natural ingredients like grape seed oil and sea buckthorn oil. Grape seed oil is nature's own skin shield. It is rich in nutrients that helps to repair skin cells.
Sea buckthorn oil has antioxidant properties and helps evade sun damage. This moisturizer contains SPF 35 and does not leave a white cast, making it a great option for the summer. It won't clog your pores or make your skin sticky, thanks to its very light texture.
Pros

Free of harmful ingredients
Contains SPF
Light texture
No white cast
Does not clog pores
Non sticky formula; perfect moisturizer for summer

Cons

Strong fragrance might be unpleasant for some

Altogether, it is one of the best dry skin moisturizers in India that is free from harsh chemicals.
6. L'Oreal Paris Revitalift Day Cream with Hyaluronic Acid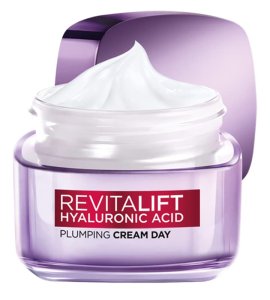 Courtesy of Brand
Shop Now!
This moisturizer from the house of L'Oreal offers a combination of ingredients that is hard to find in drugstore products. Hyaluronic acid is the star ingredient here. It is known for its water-retaining property which makes the skin supple and soft.
On the other hand, Aloe Water has a highly soothing effect that calms down the skin. Lastly, French mountain water acts as a locking agent. This ensures that the hydrating effect of this product lasts for a long time.
Its soothing scent is the cherry on top. The lightweight gel-like ensures the product will seep into your skin quickly. And, it would provide an instant boost of moisture.
Pros

Paraben free formula
Absorbs quickly
Enriched with Hyaluronic Acid, Aloe Water and French Mountain Water
Soothing scent
Gel-like texture seeps into the skin quickly

Cons

Contains alcohol and fragrance; thus, might not be suitable for sensitive skin

So, there is no doubt that this moisturizer from the house of L'Oreal is one of the best drugstore moisturizers for dry skin in India.
7. NIVEA Soft Light Moisturizing Cream Berry Blossom Fragrance With Vitamin E & Jojoba Oil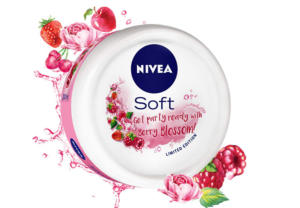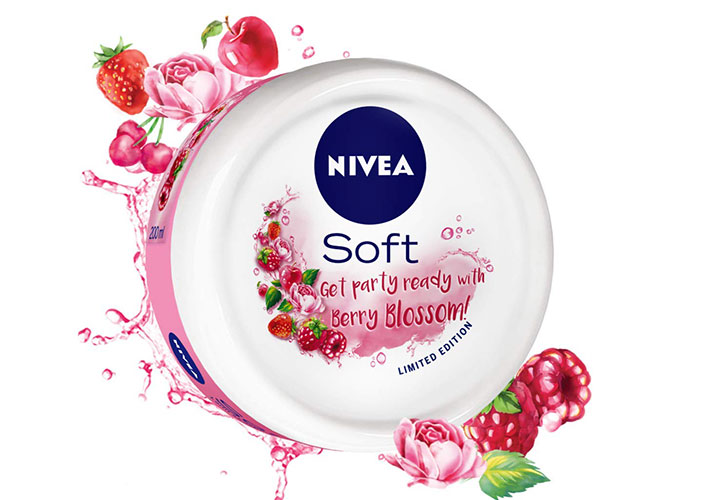 Courtesy of Brand
Shop Now!
Nivea is a name we all associate with our childhood. Even today, the brand continues to offer some highly effective products with pretty affordable price tags. So when Nivea launched this moisturiser in three yummy fragrance variants, I was overjoyed.
This product truly lives up to its name. It has a texture that is extremely soft to touch. It feels non-greasy on the skin.
The moisturizer seeps into the skin and replenishes it. It contains ingredients which are rich with excellent moisturizing properties. I personally love this Berry Blossom variant for the delicious fruity scent. At less than 100 bucks, this classic favorite is a must-try for dry skin beauties.
Pros

Lightweight and non-greasy formula
Comes with the goodness of Vitamin E and Jojoba oil
Affordable
Fruity aroma
Available in travel size as well

Cons

All of these features prove that there are ample reasons behind the popularity of this moisturizer among dry skin people in India.
8. Lakme Peach Milk Soft Creme Moisturiser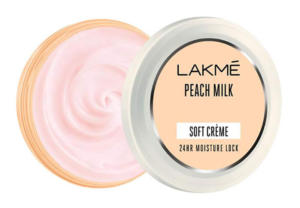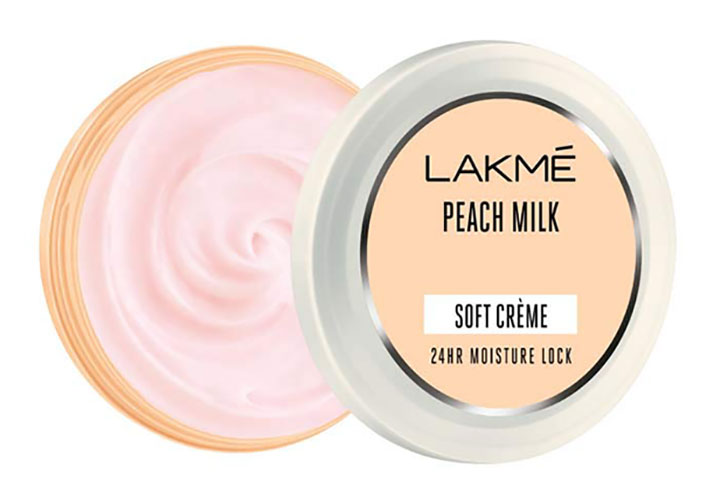 Courtesy of Brand
If you like your skincare to be uncomplicated, Lakme's Peach Milk Soft Creme moisturiser is perfect for you. An oldie but a goodie, this product contains extracts of peach and milk.
Milk and peaches have been used by women as a part of skincare for centuries. And, both these ingredients have intense moisturizing properties.
This cream has a whipped texture that feels very pleasant especially on the dry skin. This cream hydrates the skin from deep within. Surprisingly, it does not leave behind any greasiness or stickiness.
Moreover, it has a long-lasting effect. So, you won't need to reapply it constantly. The best part? It is ultra-affordable and easily available everywhere. Let's take a look at all the features at a glance.
Pros

Non-sticky formula
Whipped texture
Reapplication is not needed
Delicious peachy scent
Affordable and easily available anywhere

Cons

No repairing or protective properties
Contains BHT and Paraben

Well! If you are not much bothered about the ingredients of cosmetics, then Lakme Peach Milk Moisturizer can definitely be the solution for your dry skin.
9. Lotus Professional Phyto-Rx Deep Moisturising Creme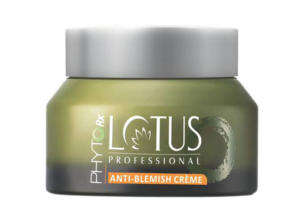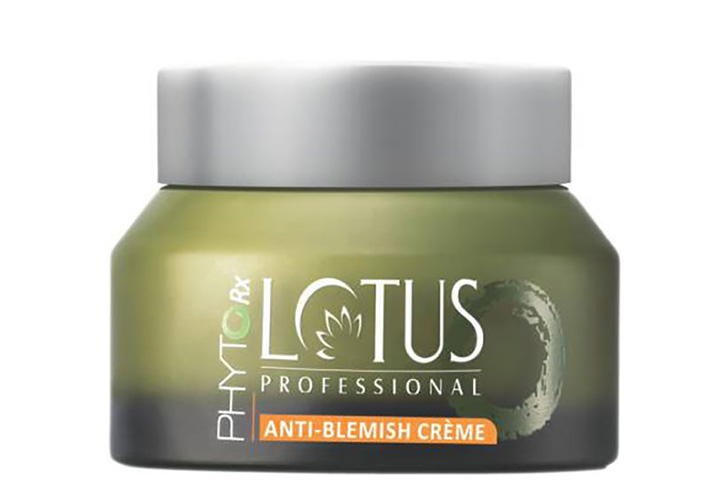 Courtesy of Brand
Shop Now!
Bask in a lovely blend of unique ingredients with this rich moisturiser from Lotus. This is indeed a well-thought-out product.
The ingredients here, work towards treating the skin. These eliminate the factors that cause dehydration. Moreover, those ingredients are organic, making them extra safe for the skin.
While many products simply moisturise the skin without any additional benefits, this cream corrects the causes that make your skin dull and dehydrated. As a result, over time, the skin will feel increasingly supple and rejuvenated with this cream.
It has a non-sticky texture and gets absorbed into the skin within seconds. Just a small amount you need for your face and neck. Which means that a little goes a long way. With negligible cons, it is one of the best moisturizers for dry skin in India.
Pros

Non-sticky texture
It contains chamomile, soy extract and apple juice
Repairs skin from the inside
Hydrates skin and imparts a nice glow
Quick absorbing formula

Cons

A bit pricey in compare to the quantity
Glass jar is not suitable for travel purpose
10. Mamaearth Natural Radiance Day Cream SPF 20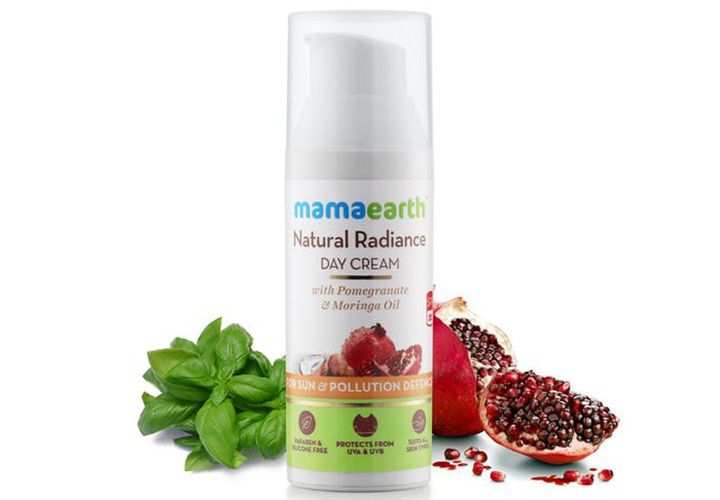 Courtesy of Brand
Shop Now!
Mamaearth offers some of the most unique, affordable, and safe products in the beauty market and this moisturiser is no exception too. It is free from harmful chemicals like parabens, phthalates, SLES, mineral oil, dyes, and fragrances.
What it contains are ingredients that your skin is going to love. The ingredients provide rich moisture to the skin and keep the skin baby soft. Rice bran oil and moringa oil have anti-ageing properties.
This duo helps to reduce fine lines while protecting skin from sun damage. Finally, mulberry extract regulates melanin production in the skin, keeping it nice and bright.
However, that's not it! This moisturizer also contains SPF 20 and arrives in a hygienic packaging with a pump. Let's sum up all of these things.
Pros

Safe ingredients
Fragrance-free
Bundle of goodness like Pomegranate oil and Murumuru butter
Contains SPF
Hygienic packaging

Cons

Leaves a white cast
Not easy to blend

Overall, this moisturizer has all the traits to become one of the best moisturizers for dry skin in India. Just give it a try!
11. WOW Skin Science Hyaluronic Acid Water Gel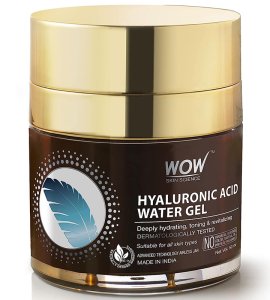 Courtesy of Brand
Shop Now!
If you keep up with the trends, I can bet that you must have heard of hyaluronic acid at least once in the recent past. This ingredient is your dry skin's best friend.
It can hold a thousand times its weight in water, which makes it a great humectant. It draws in moisture from the surroundings, making sure that your skin is never dry.
This moisturizer from WOW Skin Science features hyaluronic acid as its star ingredient. It also contains Vitamin E and pro-vitamin B5. The moisturizer has a transparent gel formula that gets seeped into the skin instantly, leaving it hydrated and soft.
After every application, you will feel an amazing cooling sensation that is perfect for the hot summers.
Pros

Absorbs quickly
Contains hyaluronic acid, Vitamin E and B5, Sodium PCA
Hygienic packaging
The formula is free from paraben free
Perfect for summer for the cooling effects

Cons

The gel might feel sticky to some people
12. Laneige Water Bank Moisture Cream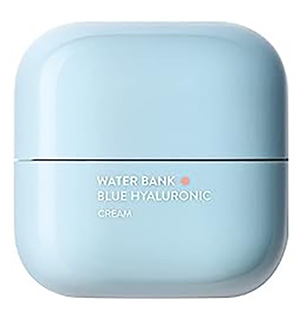 Courtesy of Brand
Shop Now!
When it comes to moisturisers, Koreans most certainly know how to do it better than anyone else. Laneige's Water Bank Moisture Cream is exactly what the name suggests. It is a water bank for your face.
This cream is everything your dry skin could ask for. It has a rich texture that will quench your skin immediately. It employs a unique Moisture Biogene technology that reinforces the natural moisturising agents inside your skin, which makes the effects of this cream long-lasting.
Along with that, it contains hyaluronic acid and olive squalene which act as moisture barriers and nourish the skin deeply. This product is a treat for dry skin and will give you that dewy glow from within.
Pros

Long lasting
Contains hyaluronic acid
Restores skin from the inside
Formulated without parabens and phthalates
Soothing fragrance

Cons

Availability might be an issue

Overall, if you are into luxury cosmetic, then indeed this is one of the best moisturizers for dry skin in India.
13. Clinique Moisture Surge 72-Hour Auto-Replenishing Hydrator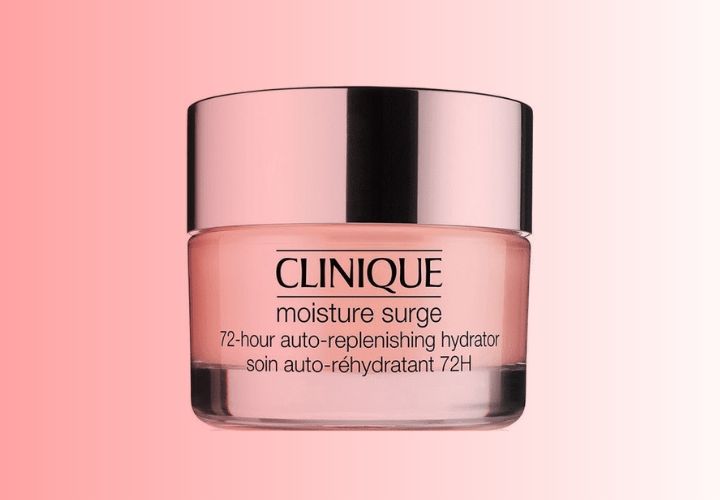 Courtesy of Brand
Shop Now!
Clinique Moisture Surge has been a celebrity favorite for years, and it's not surprising why. It's one of those products that you have to try at least once just because it's so highly revered.
This moisturiser has a very lightweight, gel-like texture that is not oily or sticky. It contains the goodness of hyaluronic acid, activated aloe water, and many other humectants that hydrate the skin from deep within.
Clinique uses an auto-replenishing technology that works towards strengthening the skin's internal water source, which basically means that it makes your skin create its own moisture.
The famous pink jar is available in various sizes. Which means that you can always try a small variant before investing in the full-sized product. This moisturiser is truly like a tall drink of water for your skin!
Pros

Lightweight
Moisturizes skin from within
Non sticky formula
Contains humectants like hyaluronic acid and activated aloe water
Available in travel size

Cons

Hydration is not long lasting

Well! There is no doubt that for many reasons, this celebrity-favorite moisturizer is one of the best dry skin moisturizers in India.
Editor' Note: Tips to Take Care of Dry Skin
Well! Taking good care of dry skin is really challenging. If dry skin is not treated well, it can lead to Dermatitis. Here are a few simple things that I usually follow. Trust me! These tips have always helped my dry and sensitive skin.
Do not take a long hot shower. It can strip away the natural oil from your skin. It is always better to use lukewarm water.
Always use a gentle cleanser; better if it is a chemical free one.
Dry skin requires weekly exfoliation. Try to use a Paraben free exfoliator twice a week.
It is better to not experiment with various cosmetics especially if you have dry and sensitive skin. Use products formulated, especially for your skin type.
Never ever skip the moisturizer. Moist skin is the key to healthy skin.
Try to use products containing Ceramides, Hyaluronic Acid, Vitamin E, Glycerine, etc.
Lastly, never ever skin your sunscreen.
If you follow these tips properly, your skin is going to look younger ever.
Final Thoughts
Summertime can be harsh for those with dry skin and finding the right product that deeply hydrates the skin without making it too greasy can be difficult.
At the time of writing, these moisturisers are the best for dry skin in India. And, there's one for every budget.
Remember, it is crucial to cleanse the skin before using any moisturiser so that the skin can absorb the product more effectively. So, which of these you are going to try next?