Minimalist Products Review with Ingredient Analysis
As a blogger, I receive numerous PR mails. But, due to my own policies and principles, I rarely say 'yes' to such mails. In the month of January, one such mail came. You are right; the mail came from the owner of Minimalist.
Before that, I had a faint idea about the brand but I never personally tried & tested their products. So, I felt intrigued and nodded my head. Minimalist gave me the offer to choose three products of my own.
As I have dry and sensitive skin, I am quite aware of the products I apply. Moreover, their product section is an encyclopedia itself. Every skin concern and the right solution have been documented properly on their site.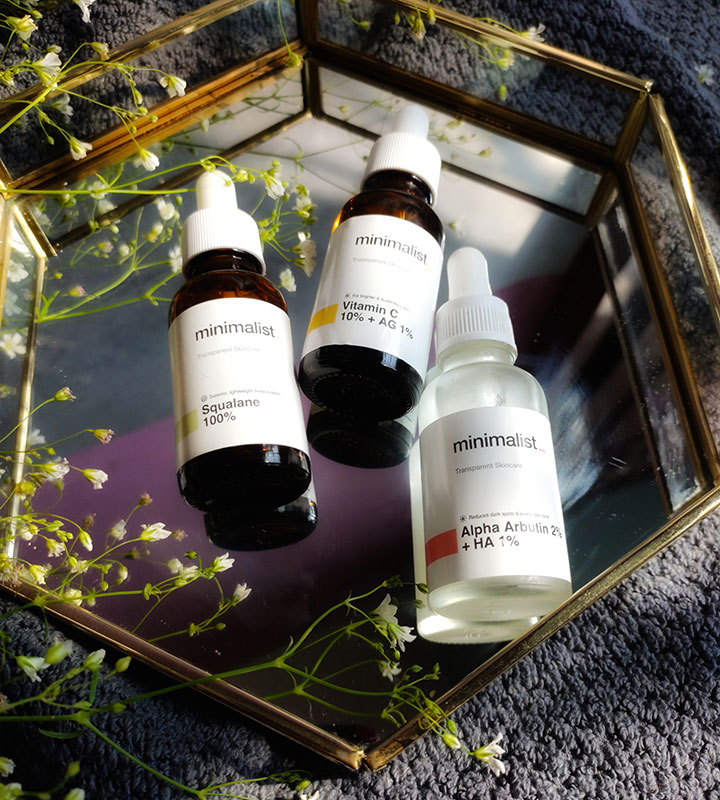 For people like us with problematic skin, it becomes easy to choose products. So, after a brief readout, I went on choosing Minimalist 100% Squalane Oil, Minimalist Alpha Arbutin 2%+ HA 1%, and Minimalist Vitamin C 10% + AG 1%.
It's been more than 45 days now that I am using all these products. I gave two weeks to each product so that I can see a visible effect on my skin.
And now, I am ready to share my experience with all of these Minimalist products.
About the Brand 'Minimalist'
In 2020, the brand was founded. To promote transparency in the beauty industry was the main motto behind the foundation. Minimalist was formed to fight the most acclaimed misconception ever which is '100% natural means safe & effective'.
Everything we use including the water we drink is chemical. And, there lies the truth that says not all chemicals are harmful. Important is the active ingredient in the plant or the fruit, not the entire plant or nor the entire fruit itself.
All the Minimalist products come under the tag of 'Clean Beauty'. The products are free from well-known toxins and do not sensitize or disturb your skin cells.
Minimalist 100% Squalane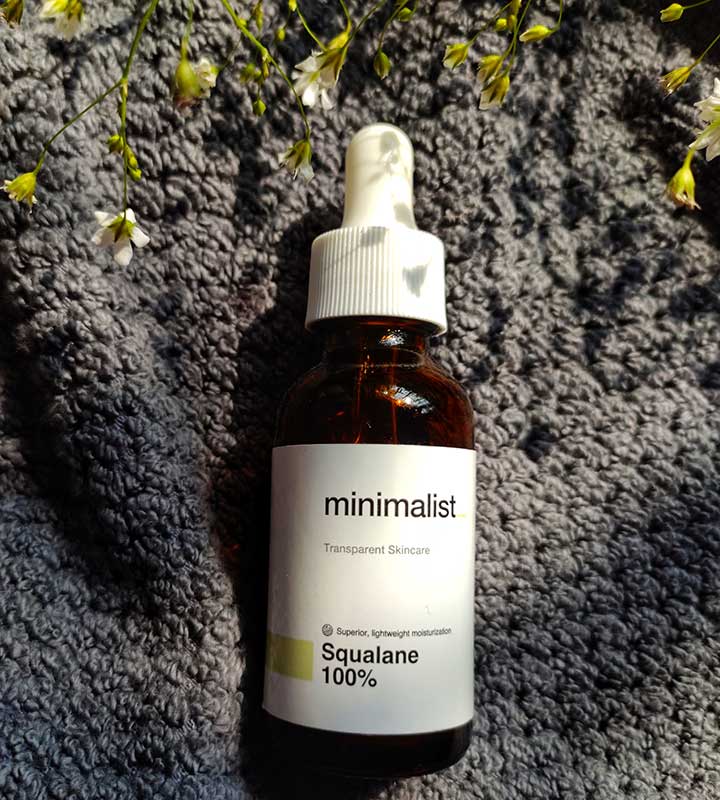 Shop Now!
If you had been following my blog for some time now, then you might know that I am a fangirl of Squalane Oil. My love for Squalane grew up in 2020.
I have already used Squalane from Indulgeo Essentials and Suganda. This time, I wanted to try something new. Here is a short titbit about Squalane for those who have never heard of it.
Squalane is the main component of human sebum. But, as we age, natural Squalane production starts decreasing as well. And thus, our skin loses its elasticity and it becomes drier.
But, thanks to science. It has been found that Squalane can be derived from Olive and Sugarcane as well. As the component is quite unstable, through proper hydrogenation, its benefits can be restored.
So far, Squalane is one of the best natural skin moisturizers. Not only it prevents water loss but also makes skin supple & smooth. If you want to know more about Squalane, check out the Minimalist blog page.
Ingredients of Minimalist Squalane 100%
Guess what! The source is absolutely natural. It is extracted from Olive Oil.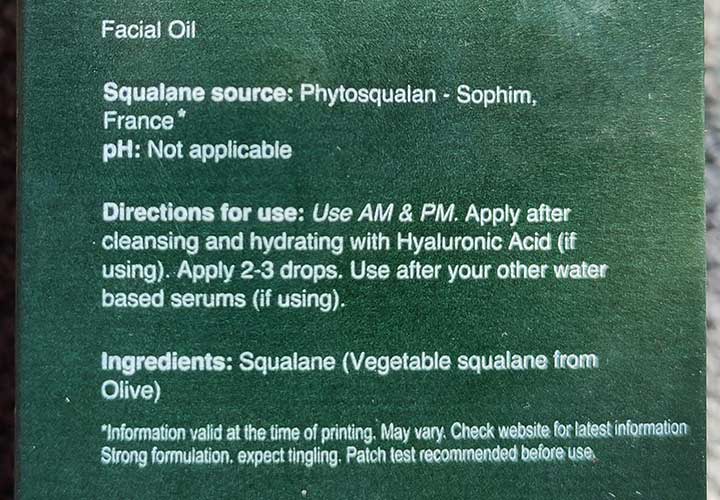 Moreover, the brand has maintained full transparency in declaring the trader name. It is sourced from Sophim, which is one of the giant vegetable Squalane production houses of France. And, it is totally approved by Ecocert.
How to Apply
After cleaning your face, toning, and applying the regular water-based serums, apply this Squalane oil all over your face & neck. 

The oil is pretty light-weight and non-sticky. Within a few seconds of application, it would disappear into the layers of your skin.
You can easily include this oil into your AM and PM skincare routine.
My Experience with Minimalist 100% Squalane Oil
This is the product I have used the most. The bottle is almost empty. And, I must tell you that I loved it to the core. In comparison to all the Squalane I have used so far, it is the most affordable one.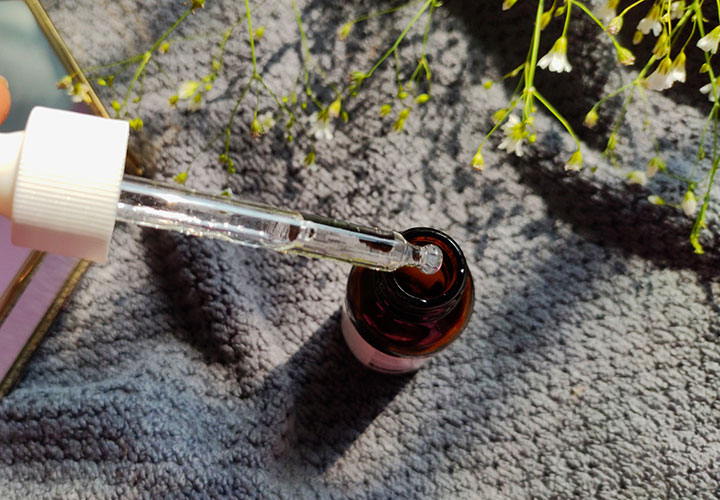 Here are the things I have observed after two weeks of application.
The dropper is perfect; no mess and drops out the oil without any hassle
Skin feels softer and bouncier
No rashes or pimples
Skin does not feel sensitive
Disappears into the layers within 10 seconds
It feels perfect even on the sweaty days
If you are looking for a budget-friendly facial oil, then I would strongly recommend this irrespective of any skin type or concern. Don't worry! It is absolutely non-comedogenic.
Minimalist Alpha Arbutin 2% +Hyaluronic Acid (HA) 1%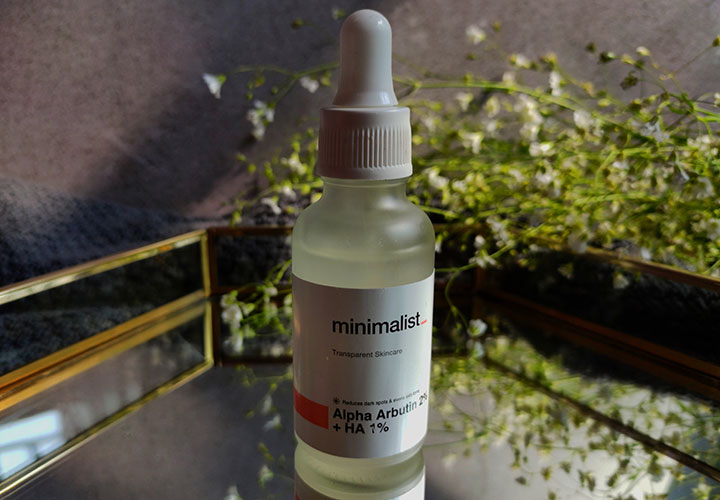 Shop Now!
There is no shame in disclosing the fact that I never heard of Alpha Arbutin prior to this. I did not have to travel far to know about this component. The answer was right there on the Minimalist database.
Arbutin is extracted from the barberry plant. It is known for its skin-brightening properties. This component is widely found in serums and in treatments.
Arbutin is usually paired with skin brightening components like Vitamin C, Niacinamide, etc. If applied religiously, Arbutin can promote healthy and spot-free skin.
Hyaluronic Acid or HA is another amazing component present here. HA is actually a natural sugar that is found in our skin. It has excellent skin hydrating property.
Just like collagen, over time, the production of HA decreases. And thus, we need to supply this component in the form of serums and moisturizers.
If you want to know more about this Alpha Arbutin-Hyaluronic Acid combination and how it works, here is your knowledge booster right from their blog.
Ingredients of Minimalist Alpha Arbutin 2% +Hyaluronic Acid (HA) 1%
This anti-pigmentation serum is enriched with 2% Alpha Arbutin and 1% Hyaluronic Acid. Both of these components function as the active ingredients in this serum.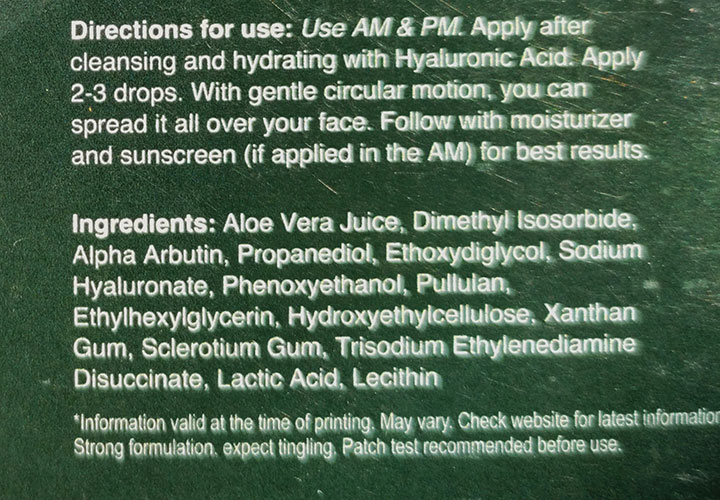 Let's take a look at the other components present in this formulation.
1. Aloe Vera Juice
Enriched with enzymes and vitamins, aloe vera juice is the best natural antioxidant out there.
2. Dimethyl Isosorbide
A solvent that also functions as a viscosity controlling agent.
3. Alpha Arbutin
As discussed earlier, it is a skin brightening component
4. Propanediol
Another safe viscosity controlling agent.
5. Ethoxydiglycol
This safe component works as a fragrance agent, a viscosity controller, and also as a humectant.
6. Sodium Hyaluronate
Sodium component of Hyaluronic Acid.
7. Phenoxyethanol
A widely used preservative that also functions as a fragrance agent.
8. Pullulan
It works as a binder in a product.
9. Ethylhexylglycerin
A weak preservative that also functions as a skin conditioning agent.
10. Hydroxyethylcellulose
It is widely used as a binding and thickening agent.
11. Xanthan Gum
This component functions just like the previous one.
12. Sclerotium Gum
This gum is produced by the bacteria named Sclerotium Rolfssii. It functions as an emulsion stabilizer and also as a viscosity controlling agent.
13. Trisodium Ethylenediamine Disuccinate
A safe chelating agent that reduces heavy metal reactivity in a particular formulation.
14. Lactic Acid
One of the most popular AHAs that functions as a chemical exfoliant and also as a skin conditioning agent.
15. Lecithin
Lecithin, this lipid can be derived from both eggs and soybeans. I believe, here the source is soybeans. Lecithin functions as an excellent skin conditioning agent and as an emollient.
All these components are well-researched and beautifully put in the formulation. The right concentration and the right order of ingredients make this serum one of the best skin brightening serums in the market.
How to Apply
Clean and tone your face; hydrate your skin with Hyaluronic Acid (for better absorption), and apply this light serum all over your face and neck

Let your skin soak the goodness of the serum for 1-2 minutes

Follow up with your regular serum and moisturizer

Squalane Oil is my go-to moisturizer. So, after waiting for 2 minutes, I straight apply Minimalist Squalane Oil.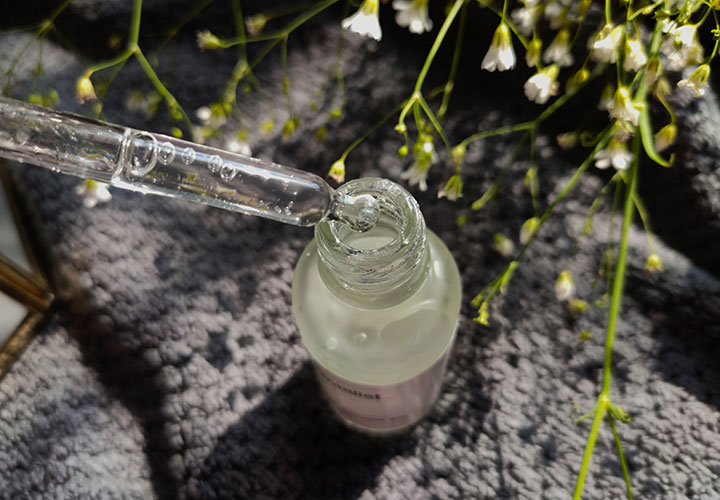 My Experience with Minimalist Alpha Arbutin 2% + HA 1%
Before I talk about my experience, it's important to give you a disclaimer that it is not a fairness treatment. This is a preventive treatment.
So, it is best to apply whenever new dark patches appear. Or, rather you can apply this serum throughout the year so that new patches do not develop and your skin looks visibly smoother & brighter.
I already stated that I was not going through any specific skin concern during placing the order until I went for my regular eyebrow threading. After forehead threading ( that I usually avoid), I noticed dark patches and rashes all over my forehead due to the harsh thread work.
By the time, the parcel arrived, my forehead was filled with patches and rashes. So, a typical skin concern was ready to receive the treatment. Here are the things I observed after intensive care of 2 weeks.
I included this serum in both my AM and PM skincare routine
Within 2 days of application, I saw the dry patches do not look bad anymore
My skin tone started becoming smooth within 8 days of application
I would not say my skin started looking fair, but it definitely looked much even and brighter after the completion of 14 days
After the completion of 2 weeks, 80% of the dark patches were gone
Along with this treatment, I also used an exfoliating chemical toner.
The brand claims that you need to apply at least 4-5 weeks to witness the ultra-radiant skin. I am still applying it to prevent my skin from developing any new patches or pigmentations.
Minimalist Vitamin C (Ethyl Ascorbic Acid) 10% + Acetyl Glucosamine 1%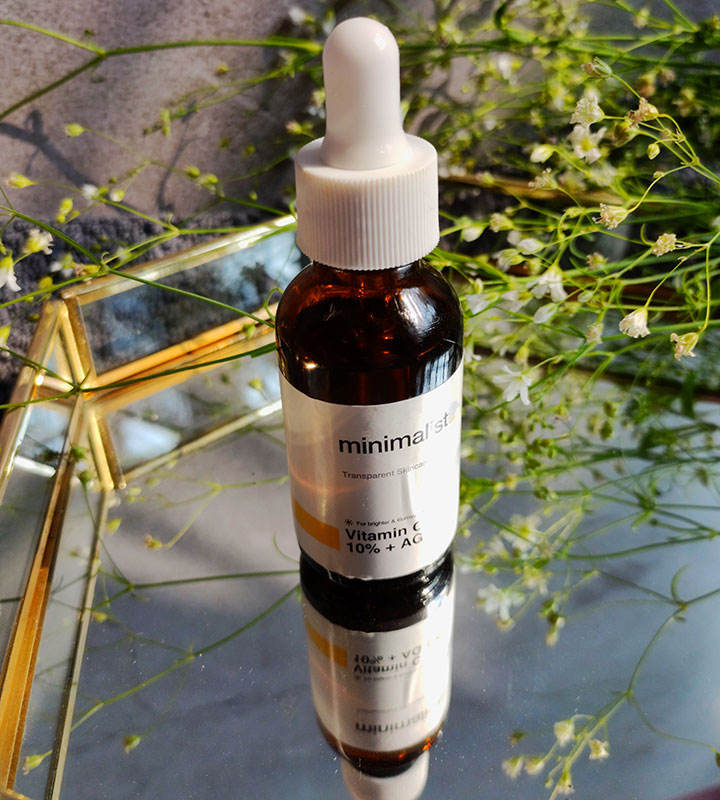 Shop Now!
Another serum that is formulated to give you a bright and illuminated skin tone. It is enriched with the goodness of Vitamin C and Acetyl Glucosamine.
Ethyl Ascorbic Acis is a brilliant derivative of Vitamin C and it contains 86% Vitamin C. Kudos to the brand to use this derivative rather than the other ones which contain only 40-50% of Vitamin C.
It also contains 1% AG which comes just before Hyaluronic Acid. It has similar skin hydrating benefits just like HA. Apart from moisturization, it also helps in natural exfoliation.
Vitamin C is sourced from CosMol Korea, one of the leading global suppliers.
Ingredients of Minimalist Vitamin C (Ethyl Ascorbic Acid) 10% + Acetyl Glucosamine 1%
Apart from Vitamin C and AG, the products are formulated with a few other components. Let's take a look at the formulation.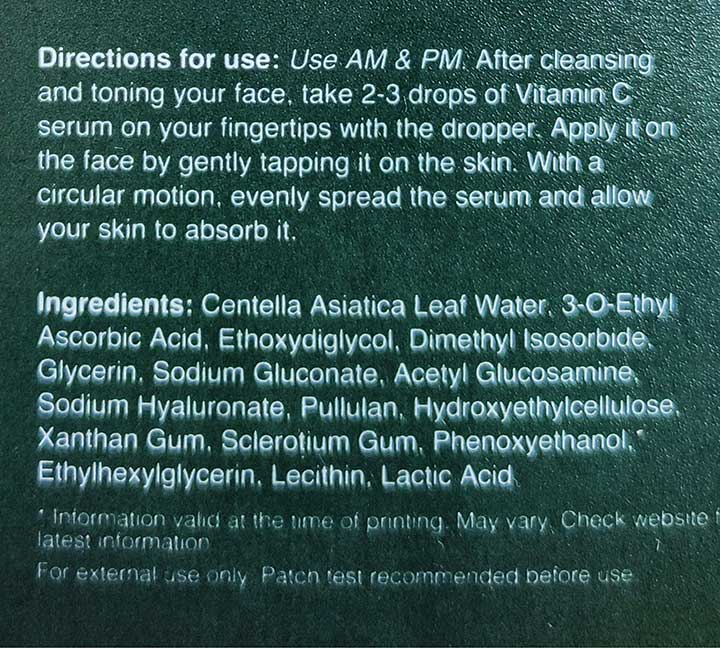 1. Centella Asiatica Leaf Water
It has numerous skin benefits. This leaf water helps to hydrate our skin, boost collagen product, stimulates cell growth, and also boosts skin healing.
2. 3-O-Ethyl Ascorbic Acid
It is a stable derivative of Vitamin C, as discussed already.
3. Ethoxydiglycol
This is a safe synthetic solvent that also functions as a perfuming agent.
4. Dimethyl Isosorbide
A safe viscosity controlling agent.
5. Glycerin
A natural humectant that retains moisture.
6. Sodium Gluconate
Sodium component of Hyaluronic Acid.
7. Acetyl Glucosamine
According to Paula's Choice, it is actually the simple sugar that helps skin to produce Hyaluronic Acid.
Apart from these 7 components, the serum also contains Sodium Hyaluronate, Pullulan, Hydroxyethylcellulose, Xanthan Gum, Sclerotium Gum, Phenoxyethanol, Ethylhexylglycerin, Lecithin, and Lactic Acid. The functionalities of these components remain the same.
All these components are used in the right concentration and in the right order. I love how simple the brand has kept the formula.
All Minimalist products are free from Silicone, Fragrance, and Parabens. The products are pH-balanced.
How to Apply
Once you do cleansing and toning, take 2-3 drops of this serum on your fingertips. Apply generously on your face and neck.
Spread out evenly and massage in a circular motion.
To lock the hydration, use a Hyaluronic Acid-based serum prior to applying this serum.
Wait for 2 minutes so that your skin absorbs the Vitamin C nourishment and follow up with your regular moisturizer.
If you are going outside, it is important to use a high SPF sunscreen right after applying a Vitamin C serum.
Although these products have no side-effects even on the most-sensitive skin, yet a patch test for 24 hours is always recommended.
My Experience with Minimalist Vitamin C (Ethyl Ascorbic Acid) 10% + Acetyl Glucosamine 1%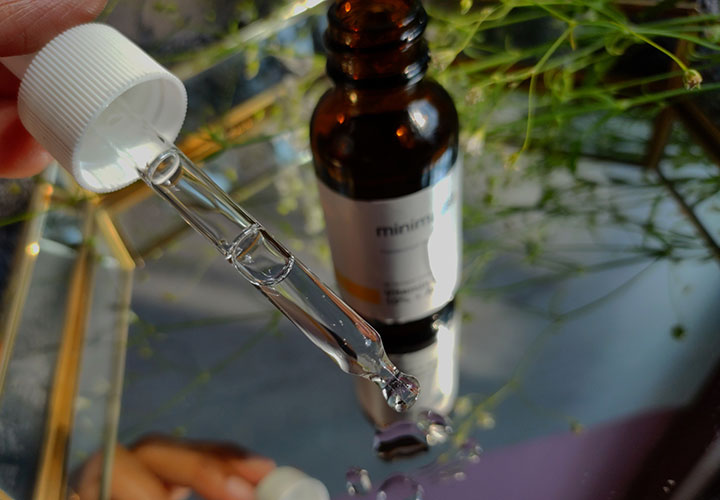 I have never used Vitamin C as an active ingredient. After giving this serum for more than 2 weeks, here are the things I have observed.
The serum feels just like water.
Within 3 seconds, my skin absorbs the oil
I have always combined it with Squalane Oil
It makes skin smooth and more even-toned
Skin looks a bit brighter
I applied this serum last of all. Thus, my skin was already free from patches. I believe with a prolonged application, you would definitely notice a visible brightness & smoothness.
Final Thoughts about Minimalist Products
It's been more than 45 days that I am using these products. Squalane is almost about to empty. Honestly, all the products are effective. The components are well-researched and have been put in the formulation beautifully.
There is already an uproar in the market about how these products resemble 'The Ordinary' products. I do not want to draw any comparison between the two individual brands.
Rather, I feel happy that now, we have our own Clean Beauty brand too. A brand that is transparent from every aspect.
That's all for today! Let us know in the comment section below about the one product you liked the most. Don't forget to share this article with your friends and family. Take care; celebrate life.