9 Best Mild Shampoo in India: Saviors for Your Damaged Hair
In recent times, people are more and more indulging in mild shampoo. Well! It would be wrong to state that the concept has emerged lately. For example, Sulphate/Sulfate and Paraben free formulation is a part of the concept.
So, mild shampoos were always there not only in India but also worldwide. But, not many people were aware of those. Earlier, only a handful number of brands used to manufacture such shampoos.
With the growing demand, even many commercial brands are trying to formulate mild shampoo too. But before we jump into the compilation, it is important to know the concept in brief.
What is Mild Shampoo?
Commercial shampoos contain strong cleansers or surfactants. Those components make hair strands rough, and frizzy, and often make our scalp dry & scaly.
And thus, we need shampoos that contain mild formulation where the surfactants are gentle on the scalp. These shampoos are known as a mild shampoos.
Jump to the List of the Best Mild Shampoo in India
Why Do You Need a Mild Shampoo?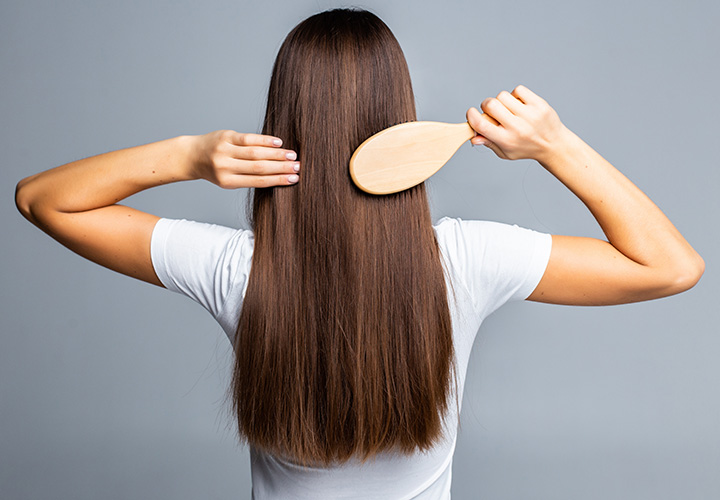 If you ever inspect the ingredients of any commercial shampoo like Dove or Pantene or Sunsilk or L'Oreal, you would find most of the following ingredients.
Sodium Laureth Sulfate or SLS
Ammonium Lauryl Sulfate
Fragrance or Parfume
Methyl and Propyl Paraben
DMDM Hydantoin
Methylchloroisothiazolinone
All of these components combinedly make hair dry, frizzy, and brittle. Eventually, our hair losses its shine; and, trigger a hair loss problem.
In fact, if you are someone who loves to shampoo every now and then. Then, your hair is more prone to get damaged. Indeed, all of these reasons are enough to shout out why your hair needs mild shampoo.
Jump to the List of 8 Best Mild Shampoo in India
What Makes a Mild Shampoo Unique?
Well! The surfactants used in a mild shampoo are weak indeed, but those do not dry out the hair strands in the long run.
Moreover, apart from strong surfactants, commercially popular shampoos also contain hair conditioning agents that are mostly synthetically derived. All those agents do not do any good to the hair and the scalp in the long run.
Whereas, mild shampoos contain natural carriers & essential oils, Hydrolyzed Protein, Shea Butter, Cocoa Butter, Glycerine, fruit extracts, and many other botanical extracts as hair conditioning agents. Combinedly these ingredients nourish the hair strands and rejuvenate the scalp.
In fact, the preservatives used in mild shampoos are also harmless and biodegradable mostly. Strong dyes or colourants are not used in formulating mild shampoos. All these factors make a mild shampoo unique and effective.
Best 9 Mild Shampoo in India: Ultimate Compilation
Now when you know, almost everything about a mild shampoo, it is time to talk about the best out there. In this compilation, we have tried to limit the price tag to INR 1000. So, this can also be called a compilation of the best mild shampoos within INR 1000. Let us check out!
1. Satthwa Biotin and Collagen Shampoo

Courtesy of Brand
Well! Satthwa is one of the best brands when it comes to hair care products. The brand started its journey with a premium hair oil that is indeed one of the best chemical-free hair oils.
And, now that brand has upgraded its hair game with its newly launched Biotin and Collagen Shampoo. It is free from Sulfate, Paraben, Silicone, and fragrance.
The shampoo is also enriched with Collagen, biotin, avocado oil, Saw Palmetto, Nettle Root Extracts with Active DHT blockers, Argan Oil, Avocado Oil, Jojoba Oil, Horsetail Extract, Marula Oil, Caffeine, and Grapefruit Oil.
The DHT Blockers are plant-based and are proven to be quite powerful & effective. Well! Let's sum up all the plus and minus points about this shampoo.
Pros

Rich in hair-loving ingredients like Biotin, Collagen, Argan Oil, Avocado Oil, Jojoba Oil, Horsetail Extract, Marula Oil, Caffeine, etc.
Plant-based DHT blockers Saw Palmetto and Nettle Root Extracts are used
Nourishing formula that not only cleans hair but also makes it strong
Helps for both hair growth and hair fall
Free from SLS, Paraben, Silicone, and Arficial Fragrance
Perfect for everyone with all types of scalp

Cons

Altogether, this shampoo has everything to call it one of the best mild shampoo in India. For the best visible results, use it along with the Satthwa Premium Hair Oil.
2. Arata Shampoo with Blueberry Extract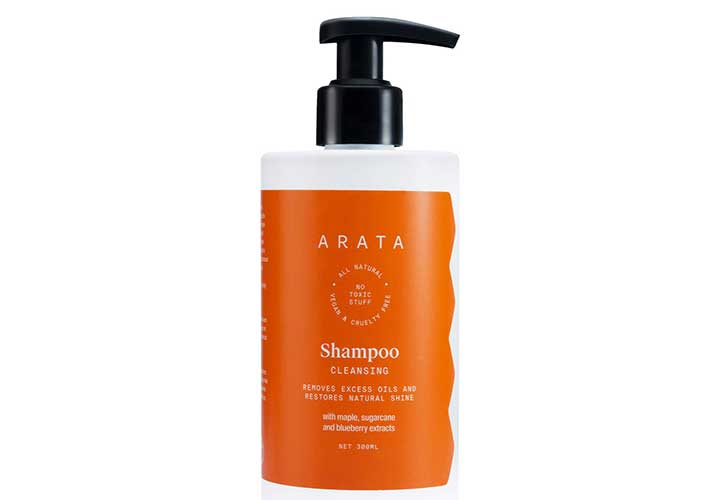 Courtesy of Brand
Shop Now!
The market is indeed filled with a number of mild shampoos but not many options are there for the coloured hair. Well! Arata Shampoo is one such shampoo that is perfect for all types of hair.
The brand has named it 'Zero Chemicals Shampoo'. And, I must say that the name is justifiable from every aspect.
It is enriched with extracts of Soapnut, Blueberry, Maple, Lemon, Sugar Cane, and many more botanical herbs. Surfactants like Decyl Glucoside, Sodium Cocoamphoacetate, etc. are used here. To know more about the other components of this mild shampoo, check out this analysis.
So, here are the pros and cons that sum up what makes this one the best mild shampoo in India for both men and women.
Pros

Naturally derived ingredients
No extra hair fall
Makes hair nourished and soft
Perfect for everyday usage
Enriched with botanical extracts
Natural fragrance of Raspberry Lime is used

Cons
3. Vilvah Goat Milk Shampoo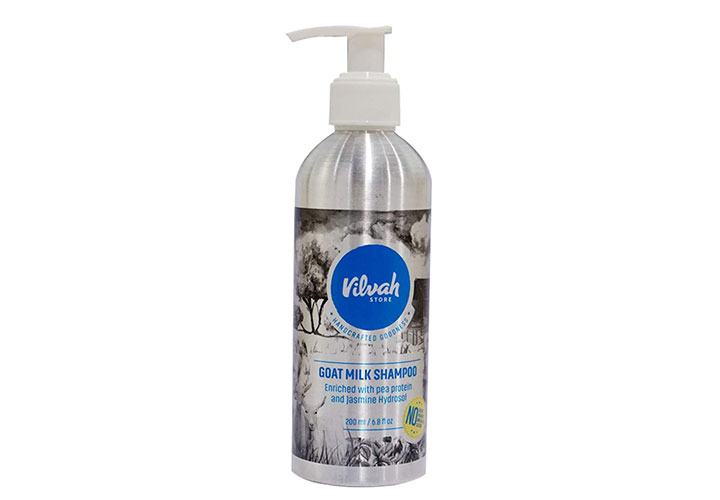 Courtesy of Brand
Shop Now!
Just like Arata, Vilvah is not dependent upon any kind of commercial advertisements too. Ingredients are what make this shampoo the best mild shampoo out there.
It is enriched with Goat Milk, Neroli Essential Oil, Silk Protein, Banana extract, Hydrosol, etc. Mild Surfactants like Sodium Lauroyl Sarcosinate have been used in the formula. Altogether, this shampoo is a bundle of joy.
I have used this shampoo and I still love it. Check out here to read the full review along with ingredient analysis. Check out what else it offers.
Pros

Makes hair frizz free
Hair feels soft and smooth
Cleanses the scalp pretty well
Control hair fall to a great extent
Great choice of ingredients
Treats dandruff too

Cons

Might not work well for people with oily scalp
4. Rustic Art Mint Eucalyptus Shampoo Butter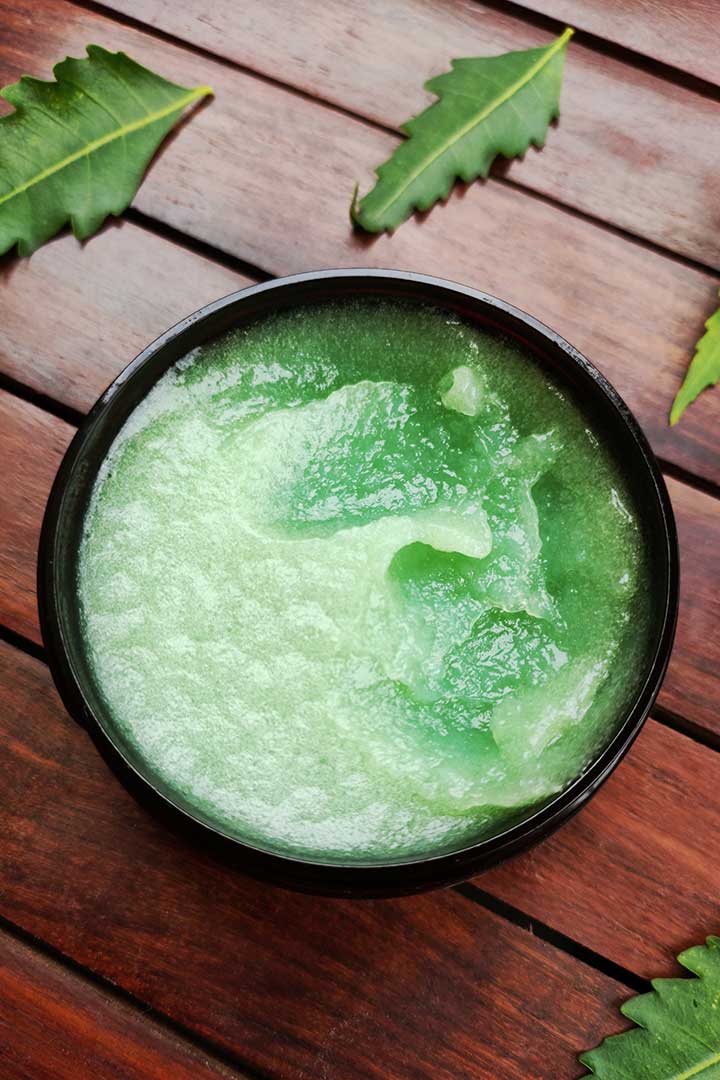 Shop Now!
Very recently, I have come across this product. Shampoo butter is indeed an amazing innovation.
The texture of this buttery smooth shampoo is creamy and extremely easy to apply. Most importantly, it has an amazing formulation. To know about the various components used in this shampoo, check out my detailed review & analysis.
This mild shampoo is absolutely a stunning performer for people with dry hair strands and oily scalp.
The extracts of Mint and Eucalyptus make this butter shampoo effective against dandruff as well. Here is a glimpse of the pros & cons to comprehend what makes this one of the best mild shampoos out there.
Pros

Free from Sulphate, Silicones, and Parabens
Perfect for oily to normal hair
Safe formulation
A buttery smooth texture
Easy to apply and less water is required to wash it off
A tiny amount is enough to clean
Cleanses oil and dirt pretty well
Reduces dandruff
No extra hair fall; makes hair hydrated and soft

Cons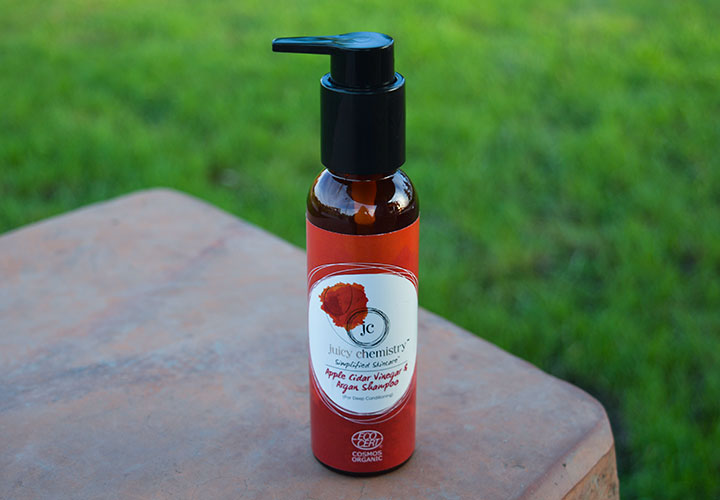 Shop Now!
Juicy Chemistry was the first-ever organic brand that I tried. I have used several products from this brand. And, I must say that this shampoo is indeed special.
This is a mild shampoo that is enriched with Argan Oil, Sucrose, Peppermint Oil, Ylang Ylang Oil, Vitamin E, Lavender Oil, Clary Sage Oil, and many other amazing ingredients. Moreover, the surfactants used here are all harmless and naturally derived.
Here is a sum up that might excite you to try out this shampoo for your dry and damaged hair.
Pros

Mild surfactants that are all derived naturally
Amazing concoction of botanical herbs and harmless chemicals
Watery texture that is easy to apply
Lathers and cleans well
Does not cause any extra hair fall
Most effective among all the other Juicy Chemistry shampoos

Cons
6. Earth Rhythm Murumuru Shampoo Bar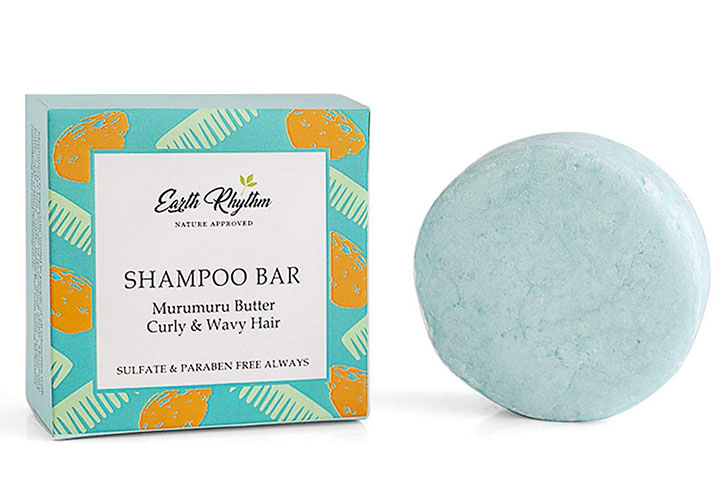 Courtesy of Brand
Shop Now!
Earth Rhythm was earlier known as Soapworks. Since its inception, the brand and its products were pretty on-demand. Efficacy and the amazing ingredients are what played the main role behind the success.
There are many best-sellers from the house of Earth Rhythm. But, this shampoo butter has always topped the chart.
It is enriched with Murumuru Butter, Shea Butter, Coconut Oil, Vitamin E, and Salicylic Acid. Behentrimonium Methosulfate (and) Cetyl Alcohol, this pair works as a hair conditioning agent in the formula.
Surfactants like Sodium PEG-7 Olive Oil Carboxylate give the formula a mild yet bold makeover. The cleansers are pretty effective.
The brand focuses more on the har conditioning agents. And thus, I believe this shampoo bar is a potent mild shampoo for all people with dry and damaged hair.
Well! The ingredients are enough to justify why it is the only shampoo bar I have included in the list of the best mild shampoo in India.
Not only this, the brand has launched a number of shampoo bars like Shampoo Bar with Reeta & Shikakai, Milk Protein Shampoo Bar, Silk Protein Shampoo Bar, Anti Dandruff Shampoo Bar, Exfoliating Shampoo Bar with 2% Salicylic Acid, and 100% Virgin Coconut Oil Shampoo Bar that are quite popular and found to be pretty effective as well.
Pros

Mild yet powerful surfactants
Enriched with potent hair conditioning agents like Murumuru Butter, Shea Butter, etc.
Comes in an attractive package
Harmless and effective formulation
Makes hair soft, smooth, and lively
Conditions hair to a great extent; separate conditioner is not needed

Cons

A bit high price tag in comparison to the quantity and also the ingredients
How to Use a Shampoo Bar
Applying a bar shampoo can be quite challenging for beginners. Here goes a brief guide that will definitely help you if you are a new user.
Wet your hair well

Slowly rub the bar between your wet palms and create a lather
Now apply the lather onto your scalp & hair strands. 
You can straightaway apply the bar on your scalp, it will generate more lather. 
Massage with light handed from root to end. 
Let the lather settle down for 2 minutes
And, finally rinse well
7.

Giovanni Organic Tea Tree Triple Treat Invigorating Shampoo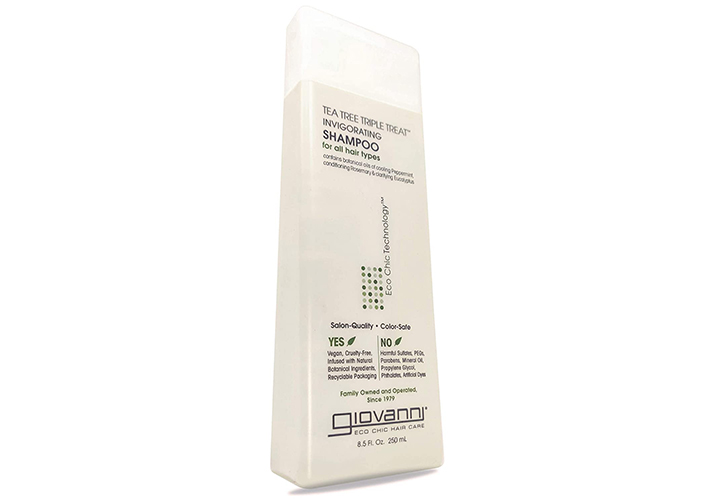 Courtesy of Brand
Shop Now!
Well! As far as can I remember, I came to know about Giovanni shampoos 2-3 years back while looking for Sulfate and Paraben free shampoos. I must say that after taking a glimpse at the ingredients, I had no doubt to call it one of the best mild shampoos out there.
It is enriched with amazing botanical herbs and oils like Peppermint oil, Aloe Vera leaf juice, Safflower oil, Chamomilla flower, Eucalyptus oil, Lavender, and Tea tree oil, Rosemary, Sage, Thyme, coltsfoot flower extract, Nettle, etc. All these ingredients are pretty potent for any anti-dandruff and clarifying shampoo.
Not only potent botanical extracts but surfactants like Sodium Cocoamphoacetate, Decyl Glucoside, are also used in the formulation. Together, all these ingredients make this product the best mild shampoo out there.
Pros

Mild yet powerful surfactants
Enriched with numerous botanical extracts and oils
Cleans pretty well
Reduces scalp etching
Soothes out flaky scalp
Perfect for all types of hair included curly hair
Excellent formula to guard against dandruff
Does not dry out hair

Cons
8. Just Herbs Moisturizing Shampoo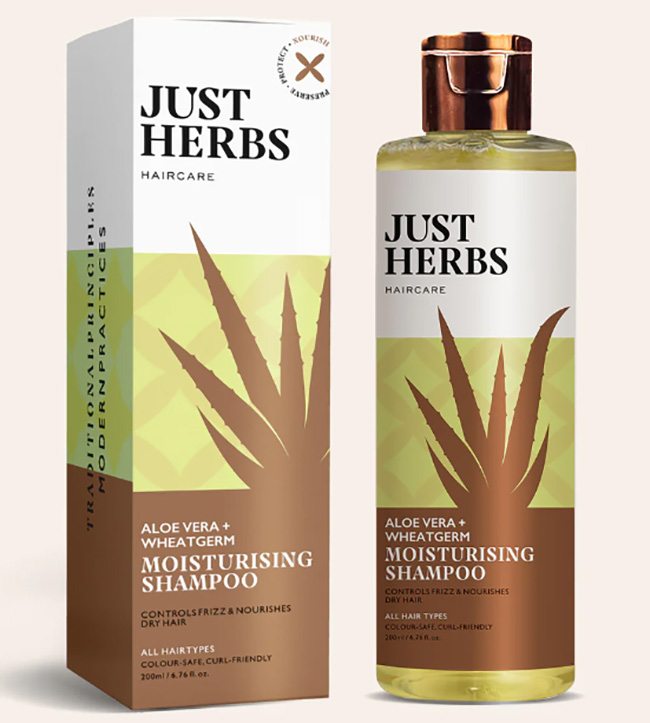 Courtesy of Brand
Shop Now!
From 'eco-friendly' packaging to a unique formulation, Just Herbs has always tried to maintain its natural essence. The brand has formulated a number of skincare, haircare, and makeup products to date.
From ingredients to the quantity provided, this shampoo has all traits to feature among the best mild shampoo in India. It is enriched with the goodness of Hibiscus, Wheatgerm, Soy Lecithin, Vetiver Water, Aloe Vera, etc.
All the surfactants used in the formulation are pretty safe and environment friendly. The shampoo is free from fragrance and colourants.
Pros

Pretty affordable in comparison to the quantity
Safe formulation
Enriched with the goodness of Aloe Vera, Wheatgerm, Vetiver, and Hibiscus
Cleans quite well; oils can be removed just with 2 washes
Eco friendly packaging

Cons
9. Himalayan Organics Bhringraj Shampoo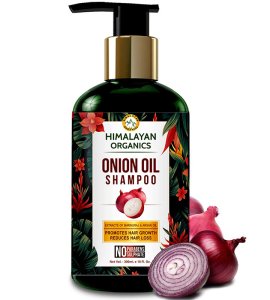 Courtesy of Brand
Shop Now!
Well! There is no doubt that it is quite a new player in the market. But, the formulation of this shampoo is enough to steal the limelight.
It is not only free from Sulfate and Paraben but also enriched with some amazing botanical extracts like Methi, Onion, Amla, Shikakai, Bhringraj, etc.
Mild yet effective surfactants like Decyl Glucoside, Coco Glucoside, etc. are used in the formula.
As of now, it is free from any kind of additives like fragrance or colour. Altogether, at present, this is indeed one of the best mild shampoos available in India.
Pros

Neat and clean formula
Free from harmful additives
Enriched with beneficial botanical herbs
Runny texture; easy to apply
Does not dry out hair
Affordable; huge quantity is offered at unbelievable price tag
Lathers and cleans well

Cons

Does not remove oil (extreme dirt) in one wash
A Few Other Mild Shampoos that are Worth Mentioning
Well! The list does not end here. There are a few other brands too that bottle up excellent mild shampoos. All these are quite potent too. Check these out.
Important Tips to Note While Purchasing a Mild Shampoo
A mild shampoo is supposed to make your hair care routine free from harmful elements. But, in case, you are suffering from a severe hair fall problem, then changing the shampoo would not be enough. A complete change in lifestyle and changing the other hair care products are necessary too.
It is worth noting that shampoos do not help much to promote hair growth. If the reason behind your hair woes is sulfates or other harmful chemicals, then buying a mild shampoo is definitely going to help you a lot.
Organic products often take some time to show the desired result. So, do not expect any instant results.
Apart from all these listed shampoos, if you wish to buy something else, make sure to check the ingredient list in detail. Every component says a lot of things about the product.
And, that's all for today! I hope you find this article helpful. Do not forget to share it with your friends and family.
To get notified of more such articles, subscribe to Cosmetics Arena. Take care; celebrate life.