Hello and a warm welcome to Cosmetics Arena. So, today I am going to review Satthwa Moroccan Argan Oil Shampoo. But before that, I want to share two news with all my dear angels. First of all, I have redesigned my site. Exactly! You are right, this site has been kind of renovated. And second of all, I am going to be regular here. So, you can definitely expect new articles every week. Now, without further ado, let's start the review.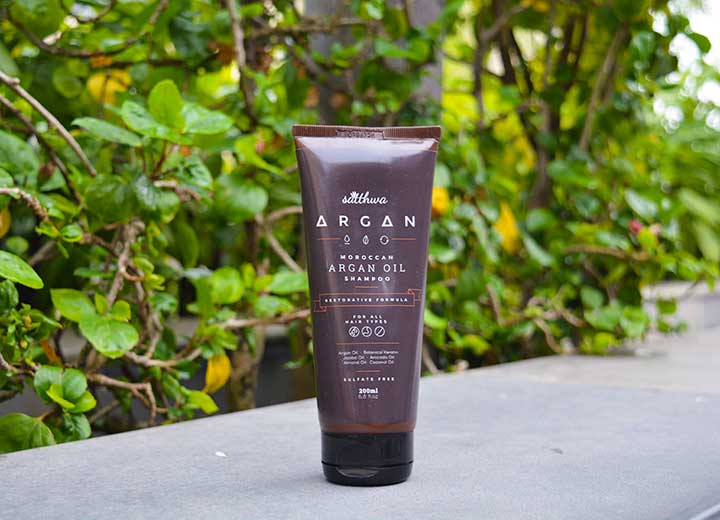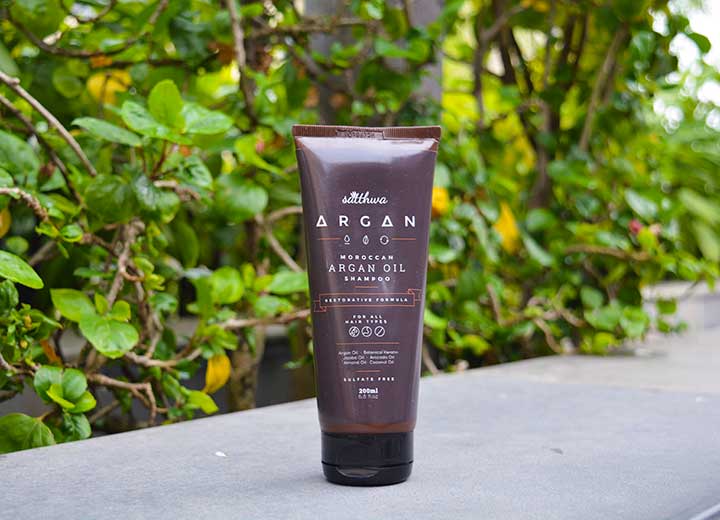 Basic Information about Satthwa Moroccan Argan Oil Shampoo:
Price: INR 499
Quantity: 200ml
Shelf Life: 2 years from the manufacturing date
What does the brand claim about Satthwa Moroccan Argan Oil Shampoo?
It took us 6 months to research this shampoo. We wanted this one to be the best ever. This shampoo is special because it has the goodness of Argan Oil, Jojoba Oil, Avocado Oil, Almond Oil, Coconut Oil, and last but not the least is Botanical Keratin. These oils would nourish your scalp and your hair. We wanted this shampoo to be free from SLS/Paraben/Alcohol. So, that in long run your scalp or skin does not get damaged. This one is made for all hair types. Both men and women can use it.
Ingredients of Satthwa Moroccan Argan Oil Shampoo:
So, now we have reached the most interesting part of any cosmetic. And, that is the ingredients part. The ingredients of this particular shampoo are quite stunning. Satthwa has made all the ingredients public. And, I must say that the brand has researched pretty well before manufacturing this shampoo. All the ingredients are harmless and quite well addressed. Here is the breakdown of all the ingredients.
Pro Tip: In any cosmetic, the ingredients are listed from high to low ratio. It means the component which is present in higher quantity is always written at the top, the one which is at the bottom or at the last position is present in low quantity. You can refer to this video for further reference.
 Aqua or water which is the basis of any liquid shampoo.
Blend of 5 oils namely, Argan Oil, Avocado Oil, Coconut Oil, Almond Oil, and Jojoba Oil.
Botanical Keratin: This is actually extracted from plants, hence the name. Keratin is the main structural component of our hair. This naturally derived Keratin helps to strengthen hair.
Lauryl Glucoside: This is actually a sugar and lipid-based surfactant. Like any surfactant, this one forms lather to clean the dirt and oil. This is absolutely mild and harmless.
Coco Glucoside: Another amazing mild surfactant that is derived from Coconut oil and glucose.
Decyl Glucoside: It is a glucose-based surfactant. Another mild surfactant for sure.
Cocamidopropyl Betaine: This is a surfactant which also works as hair conditioning agent. This ingredient is moderately safe.
Glycerine: It is a great humectant that preserves moisture very well.
Aloe vera Gel: Well! We all know how interesting this ingredient is for hair. It is quite good for hair growth.
Hibiscus Oil: This oil is one of the best oils for hair growth. If applied regularly, then it can give you a stunning texture.
Neem extract: It reduces hair fall. It is antifungal and often referred to as anti-dandruff.
Polyquart-10: Mostly used in hair care products. It reduces static electricity. So, the texture of hair improves with this one.
Phenoxyethanol: A preservative which is moderately safe.
Caprylyl Glycol: A safe skin and hair conditioning agent.
Sodium Phytate: A Chelating agent that binds with metallic components. In easy language, this component prevents the products from adhering to the skin, hair, or clothing. It is a safe ingredient.
Xanthan Gum: It is used to thicken the texture of cosmetics.
Natural fragrance: Gladly, they have not used Phthalates as fragrance, which is a relief.
So, these ingredients have been used in this shampoo. As a whole, I truly liked these. Obviously, they have tried to make the shampoo as pure as possible. So obviously, they deserve extra points for that.

Packaging:
The shampoo comes in a plastic tube packaging which looks stunning. The cap is quite sturdy. This brilliant packaging makes this product ideal for traveling.
Texture:
Well! The texture may give you an impression like you are using a commercial shampoo. But, that is the beauty of this shampoo. It is extremely creamy and white in color. The shampoo feels soothing on the scalp.
---
You will also like to read:
---
My Experience with Satthwa Moroccan Argan Oil Shampoo: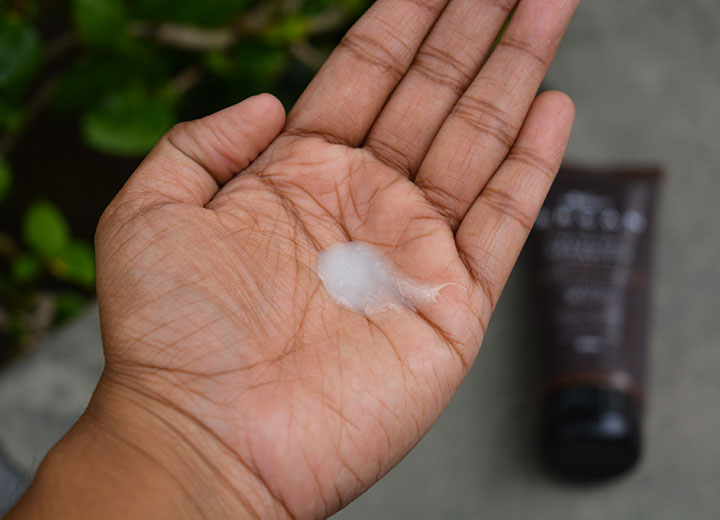 So, I have been using this shampoo for the last two weeks. I have noticed that this argan oil shampoo cleanses my scalp pretty well. The formula is SLS free, so it does not form heavy lather or foaming effect. But, the amount of lather it creates is enough to clean my scalp.
---
Watch the video to feel the Satthwa Argan Oil Shampoo:
---
Does it cause hair fall?
When we massage our scalp with any shampoo whatsoever, there are always some hairs that fall because their life cycle was about to end. And, new hair comes in those old places. So, the same thing happened with this shampoo as well. But honestly, I did not notice extra hair fall after using this shampoo. So, it does not cause any hair fall.
Does it dry out hair?
This shampoo is packed with some healthy herbal oils, so I have definitely felt the nourishment. But, my hair is excessively dry throughout the year (I hate it), so for extra nourishment, I apply a hair serum. So, if you do not have such serious problem, then this shampoo can work solely too. This shampoo keeps the oils at bay for at least 4 days in my case.
Pros of Satthwa Moroccan Argan Oil Shampoo:
The goodness of nourishing oils.
Brilliant formulation.
Nice texture.
Easy to apply.
Affordable.
Travel-friendly packaging.
No extra hair fall.
Hair does not feel dry.
Cons of Satthwa Moroccan Argan Oil Shampoo:
Tips to use Satthwa Moroccan Argan Oil Shampoo:
As I said, this shampoo does not produce much lather. So, do not try to use it in much quantity in order to produce more lather. The amount of lather it forms is enough to clean your scalp thoroughly.
Final Words:
Overall, this is a one of the best budget friendly Sulphate free shampoos in India. The texture, packaging, and ingredients everything is perfect. So, I would definitely recommend this shampoo. Try this shampoo for once. I am pretty sure that you are going to love Satthwa Moroccan Argan Oil Shampoo.
So, my dear angels, that is all for today. I hope you like it. If you really like it, then shower your love by subscribing to Cosmetics Arena. Take care. And, celebrate womanhood with pride and confidence. I will meet you soon with a new post.
Let us be friends forever on social media too.  

**PR sample sent by the brand. But all my opinions are 100 percent honest and unbiased.