Rustic Art Mint Eucalyptus Shampoo Butter: Review with Ingredient Analysis
So, it has been long since I am using pure and organic products. And I must say that my trust for organic brands is increasing with every passing day.
These days, I am all into Rustic Art products. Rustic Art is entirely an organic brand. Its products are free from Sulphate and Parabens.
The products I have used so far are Rustic Art Face Wash Concentrate and Rustic Art Mint Eucalyptus Shampoo Butter.
In the past two weeks, I have used this shampoo quite a number of times. Question is, how was the experience? What do the ingredients say? How unique the formulation is?
Well! I am absolutely ready with all the answers. It is time to talk about my experience with Rustic Art Shampoo Butter in-depth.
Basic Details about Rustic Art Mint Eucalyptus Shampoo Butter
Price: INR 525 for 100g
Shelf Life: 24 months
Buy From: Amazon, Rustic Art
What Does the Brand Claim about Rustic Art Mint Eucalyptus Shampoo Butter?
Get ready for luxurious hair treatment. This Mint Eucalyptus Shampoo Butter is formulated to answer your hair woes.
The formula is absolutely scientific. It is enriched with Essential Oils, Glycerine, and Vegetable Oils.
It contains mild yet effective surfactants. All of these ingredients combined help to nourish the scalp.
The formula is hydrating enough to make your scalp healthy. This shampoo butter imparts a nice shine to the hair strands.
The best part is the inclusion of less water to the formulation. Overall, if you are looking for a Sulphate, Silicones, and Paraben free solution for your oily and dandruff prone scalp, then this is what you must include to your hair care regime.
Ingredient Analysis of Rustic Art Mint Eucalyptus Shampoo Butter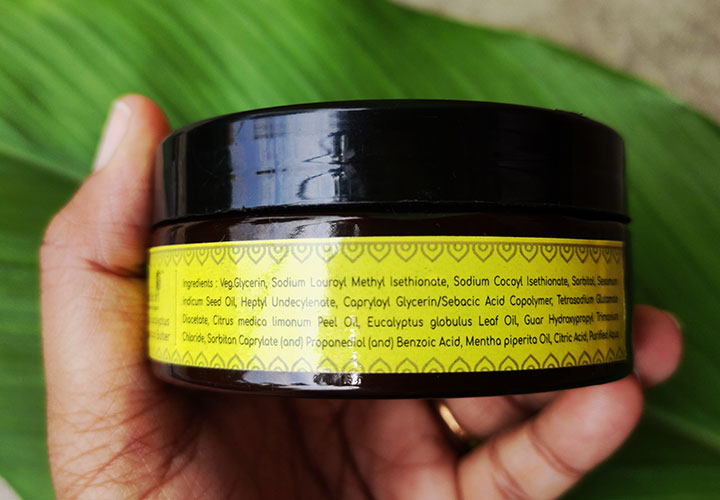 If you are following Cosmetics Arena for some time now, then you must know that all the reviews here come with detailed ingredient analysis. We believe that any review is incomplete without ingredient analysis.
Following the same tradition, I am going to analyze the ingredients of this shampoo butter. The formula indeed is free from Sulphate, Silicones, and Parabens. But, what else is inside it? Let's talk about everything in detail.
1. Vegetable Glycerine
One of the best natural humectants that retain the moisture
2. Sodium Lauroyl Methyl Isethionate
A completely safe mild surfactant that is derived from Coconut. It is said to be one of the safest alternatives to SLS in the market.
3. Sodium Cocoyl Isethionate
Another safe and mild surfactant that is derived from Coconut Oil.
4. Sorbitol
It is a safe thickener that is also used as a skin conditioning agent.
5. Sesame Seed Oil
This oil helps to prevent premature greying of hair. Sesame oil also helps control hair fall and thus, promotes hair growth.
6. Heptyl Undecylenate
An absolutely safe ingredient that works as an emollient i.e. skin conditioning agent.
7. Capryloyl Glycerin/Sebacic Acid Copolymer
Well! The name might sound big but it functions in a pretty simple manner.
This is actually a safe alternative to Silicones. It helps to form a film on the skin surface to make the skin appear smooth.
The ingredient is derived naturally from Coconut and Castor Oil.
8. Tetrasodium Glutamate Diacetate
It is actually an amazing component that helps to reduce the use of preservatives in a formula without compromising the efficacy. This ingredient also works as a safe chelating agent.
9. Lemon Peel Oil
One of the best fragrance agents ever that is naturally found. It also works as a skin conditioning agent.
10. Eucalyptus Oil
There was a time when I was going through bad hair days. Those days, I used to apply a blend of oils mixed with Eucalyptus Oil. I must say that the result was pretty amazing.
This oil is a den of benefits. It not only promotes hair growth by enhancing blood circulation on the scalp but also works as a strong anti-fungal agent.
And thus, this oil is amazing to prevent dandruff.
11. Guar Hydroxypropyl Trimonium Chloride
A safe anti-static agent that is widely used in hair conditioning products. It has strong hair conditioning property.
12. Sorbitan Caprylate (and) Propanediol (and) Benzoic Acid
Guess what! This is actually the INCI name of Nipaguard SCE. I cannot express how happy I was when I first saw this component in the ingredient list.
Nipaguard SCE is one of the safest broad-spectrum preservatives ever. It is also said to be the most trusted alternatives to Parabens.
13. Peppermint Oil
This oil not only imparts a beautiful freshness to the formula but also promotes hair growth. In fact, menthol freshness is pretty effective to treat hair loss.
14. Citric Acid
In treating dandruff, this ingredient is equally potent. It increases blood flow and helps to promote hair growth.
15. Aqua
Wow! Just like promised, the brand has used water in a very low quantity in the formulation. And, it makes it more effective.
And, that's all! Overall, there is no denying that the brand has done an amazing job in formulating this product. Every ingredient is safe and imparts a potent benefit to the formula.
I love the fact of how the brand has used a number of safe and mild surfactants. In fact, the alternatives to the Parabens and Silicones are pretty amazing too. I would like to rate the ingredients of this shampoo butter 5 out of 5 for this amazing and unique formulation.
Packaging, Texture, Colour, and Aroma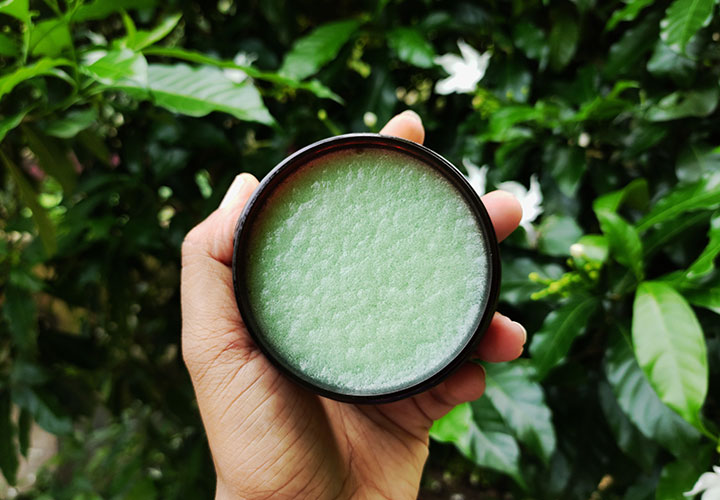 The shampoo butter comes in a tub packaging. The tub is made of plastic. The lid is made of plastic too. But, it is pretty sturdy.
The texture looks like smooth butter. Honestly, it looks so yummy that anyone would like to eat it (especially kids :P). The shampoo is smooth enough to spread all over the wet hair.
It looks slightly greenish in colour. Although, the colour of organic products might vary. But, this is how this shampoo butter looks like.
I love the refreshing aroma! It has such a minty freshness that immediately lifts my mood.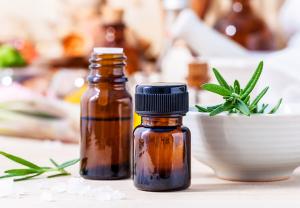 Tame your tresses with a luxurious spa treatment at home. Check out all the easy peasy steps, rejuvenating hair masks, DIY conditioners, serums, and many other tips for the ultimate salon-like hair.
Read More
My Experience with Rustic Art Mint Eucalyptus Shampoo Butter
My scalp is extremely oily and my hair end is dry. It is dandruff prone at the same time.
Usually, I shampoo twice a week. In a rare occasion, I apply thrice.
Well! The texture of this shampoo might look creamy, but the application process remains the same.
All I have to do is to take trice a pea-size amount of product to rub between my palms. And after that, I massage the shampoo on my wet scalp.
Trust me! As the name suggests, the shampoo feels like buttery smooth on my scalp. All the surfactants produce the right amount of lather to clean the dirt, oil, and debris.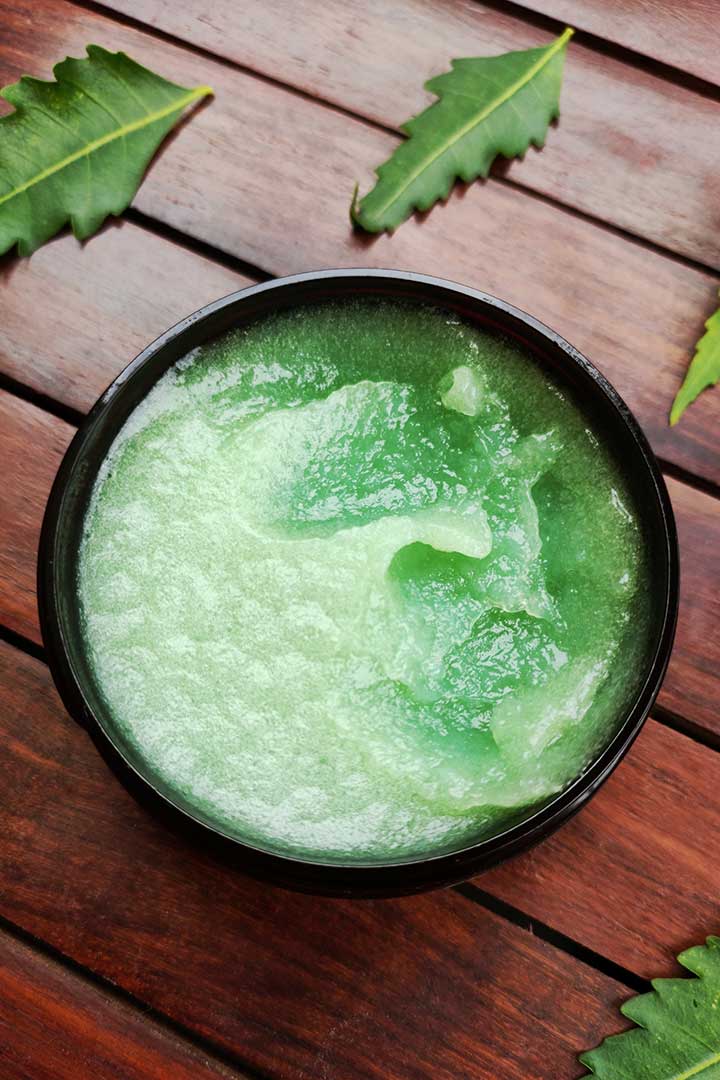 After massaging well for 1 minute, I wash off with cold water. I am not a conditioner person. I use a pre-shampoo mask; and, that works pretty much like a conditioner for me.
If you are someone who loves oiling hair before shampoo, then also it is perfectly fine. This shampoo is capable of removing oil in twice-a-go. Just apply the shampoo twice on your scalp and all your oil would be drained.
Once I dry up my hair, it does not feel rough at all. My scalp feels squeaky clean but does not feel dry or itchy. My hair strands feel hydrated enough.
All of these things I felt as I do not apply conditioner. But, if you are a conditioner person, then you are going to get some more amazing results.
Does Rustic Art Shampoo Butter Cause Hair Fall?
Nope! Not at all. I did not experience any extra hair fall. In fact, I felt a mild cooling sensation that felt pretty refreshing.
This Sulphate and Paraben free shampoo does exactly what it is supposed to do.
Is Rustic Art Mint Eucalyptus Shampoo Butter Effective Against Dandruff?
Yes, it is! I have dandruff all round the year. This shampoo has definitely helped me to reduce the itchiness.
Undoubtedly, with continuous application, you would notice a significant reduction in dandruff.
How Long the Tiny Tub Would Run?
Indeed, the tub looks pretty tiny. But, the formulation is pretty potent and thus, a very small amount is required for each wash. It would surely run for more than a month if your frequency of application is just like mine i.e. twice a week.
Pros of Rustic Art Mint Eucalyptus Shampoo Butter
Sulphate, Silicones, and Paraben free formulation
Perfect for oily to normal and dandruff prone hair
Certified and completely safe ingredients
An excellent buttery smooth formulation
Easy to apply and wash off; less water is required to wash it off
A tiny amount is required for each wash
Cleanses oil and dirt with ease
Reduces dandruff
No extra hair fall
Makes hair hydrated enough
Cons of Rustic Art Mint Eucalyptus Shampoo Butter