Vilvah Goat Milk Shampoo Review with Ingredient Analysis
Some formulations get imprinted in my mind very deeply. I felt the same way for Vilvah Goat Milk Shampoo. If you have been following my blog for some time now, then you must know that I am a great admirer of unique formulations.
If I feel that certain formulation is good, I immediately share that product with all of you. I honestly believe that we don't need to include 5 or 6 products to our haircare regime. Just a couple of effective products are more than good to maintain healthy hair.
A few months back when I first came to know about Vilvah Goat Milk Shampoo, the first thing I did was to go through the ingredient list. Indeed, I found it pretty awesome!
And thus, this time when the stock of my mild shampoo was over, I bought it. It's been over a month now that I am using this.
So, how was the experience? Do the ingredients work for real? Well! It's time to unravel the answers.
Basic Details about Vilvah Goat Milk Shampoo
Hair Type: All hair types including Straight, Wavy, or Curly (Great for dry, damaged, and frizzy hair!!!)
Price: INR 590/1380 for 200ml/500ml
Shelf Life: 2 years from the date of manufacturing (The formulators suggest using the shampoo within 6 months after opening)
Buy From: Vilvah Official Store
What Does the Brand Claim about Vilvah Goat Milk Shampoo?
Get ready for the perfect hair flip moment with the all-new goal milk shampoo. This improved formula gives a rich lather enriched with the goodness of goat milk. Loaded with Pea Protein that is clinically proven to reduce frizziness. It's time to lock the moisture into your hair strands. Give your locks a nice bath of Jasmine.
Ingredient Analysis of Vilvah Goat Milk Shampoo
Well! I am pretty sure that by now you already know that the formulation is mind-blowing. The concentrations of the ingredients are perfectly balanced. The aroma is absolutely natural and no additives like colour or fragrance has been added here.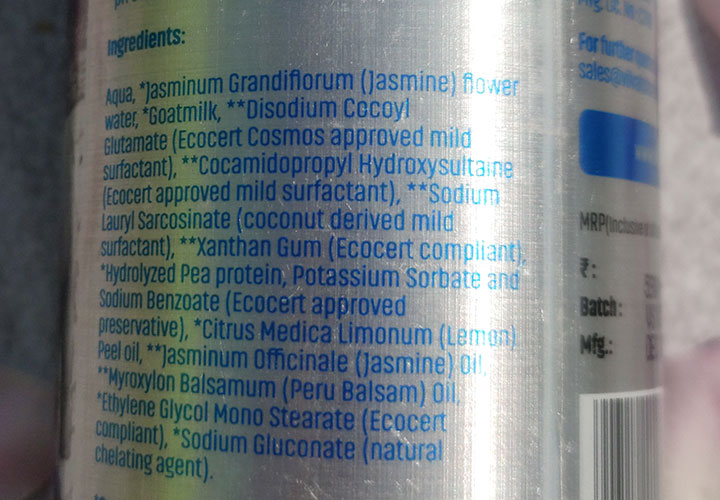 Moreover, the shampoo has a pH of 6 which is quite difficult to maintain especially in a shampoo. Enough of the blabbering! Let's straight jump into the analysis to know what's so great about Vilvah Goat Milk Hydrating Shampoo.
1. Aqua
Aqua or water is the base for almost all the shampoos.
2. *Jasminum Grandiflorum(Jasmine) Flower Water
Honestly, I have not used any shampoo with Jasmine Flower Water. The floral water basically helps to fight with extreme scalp conditions like itchiness. It also helps to boost hair growth.
3. *Goat Milk
If you search on your web browser with the keyword "Goat Milk for Hair", you would find a number of people claiming how adding goat milk to their haircare regime has changed the overall health of their hair.
Not only goat milk makes hair healthy, soft, and manageable, but also helps to soothe scalp conditions like itchiness, dry scalp, or with dandruff.
4. **Disodium Cocoyl Glutamate (Ecocert Cosmos approved)
This biodegradable mild surfactant is excellent for sensitive scalp. It is absolutely safe to use and is an approved component.
5. **Cocamidopropyl Hydroxysultaine (Ecocert approved)
Another mild surfactant with excellent foaming ability. Additionally, it helps to condition hair.
6. **Sodium Lauroyl Sarcosinate (Ecocert approved)
The abbreviation is indeed SLS, but it is far different from Sodium Laureth Sulfate. Sodium Lauroyl Sarcosinate is not only an excellent mild surfactant but also a hair conditioning agent.
7. **Xanthan Gum (Food Grade)
This plant-derived component helps to thicken a cosmetic texture.
8. *Hydrolyzed Pea Protein
This organic ingredient is rich in essential amino acids. Pea Protein not only forms a protective protein layer around the strands but also helps to hydrate and nourish the hair shafts.
9. Potassium Sorbate and Sodium Benzoate (Ecocert approved preservative)
Both of these are quite popular as preservatives. Honestly, I expected a different preservative this time as Vilvah has used the same pair in their Anti Dandruff Shampoo as well.
10. *Citrus Medica Limonum (Lemon) Peel Oil
Excellent for dandruff prone scalp to exfoliate all the dead cells. This oil also helps to balance the pH.
11. **Jasminum Officinale (Jasmine) Oil
We all know the sensuous aroma of JAsmine, isn't it? But apart from that, just like Jojoba Oil, this oil penetrates the hair shaft and nourishes the hair strands from inside & outside.
12. **Myroxylon Balsamum (Peru Balsam) Oil
Wow! I have never heard of this oil. You would be happy to know that Peru Balsam Oil is quite nourishing. It can heal itchy and dry scalp conditions.
13. *Ethylene Glycol Mono Stearate (Ecocert compliant)
This component is one of the most popular ingredients to provide a beautiful sheen in shampoos or soaps. Awesome, isn't it?
14. Sodium Hydroxide
A moderately safe component that works as a pH adjuster in a formula.
14. *Sodium Gluconate (natural chelating agent)
Chelating agents help to stabilize heavy metal ions (if any present in a formulation) by producing stable water-soluble components.
*refers to Organic components and ** refers to Plant-Derived ingredients
Well! What do you think? The ingredient list is indeed impressive. I love how they have used all the organic and plant-derived ingredients. None of the ingredients is unnecessary. And thus, I would love to rate the components of Vilvah Goat Milk Shampoo a 5 out of 5 ratings.
Packaging, Texture, and Aroma
The shampoo comes in a usual metallic container just like other Vilvah products. Metalic bottles protect the products from the harsh sunlight. The pump works fine as it dispenses just the right amount of product.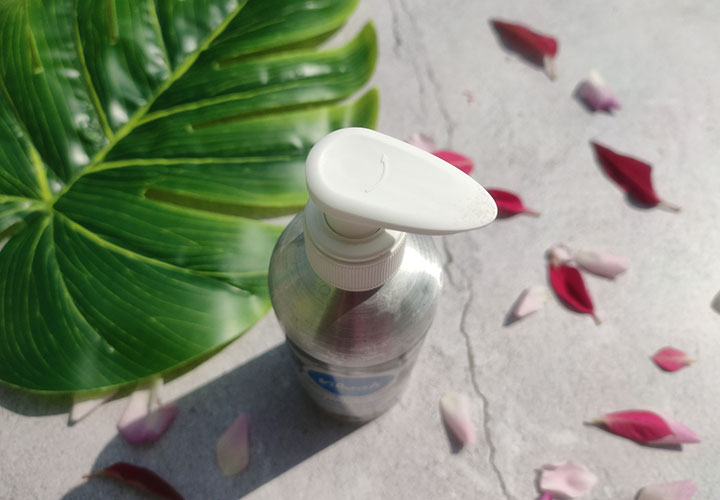 The texture is moderately thick. I love how milky-white and yummy it looks!
The shampoo has a natural sensuous jasmine aroma. In fact, there is a hint of citrus in the aroma which is mind-blowing. I cannot imagine a better fragrance than this.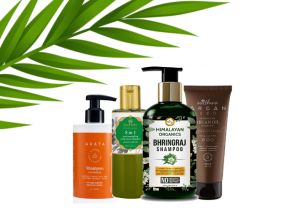 Ingredients are what we have taken into consideration while curating this list. Let's talk about the top 8 Made in India products that have garnered a lot of love and appreciation across the nation.
Read More
My Experience with Vilvah Goat Milk Shampoo
I usually shampoo twice a week in winter. For the first wash, I pump up thrice to take out just the right amount of shampoo to clean my mid-waist length of hair.
As the brand claims, this shampoo lathers medium. But, trust me! The lather is enough to clean 80% the sweaty sebums and pollutants on the first go.
For the second round of wash, I pump up once/twice. To make sure that I do not end up losing a lot of hair, I gently massage the shampoo on my wet scalp. This light massage not only helps with the healthy growth of hair but also helps to nourish my hair shaft more.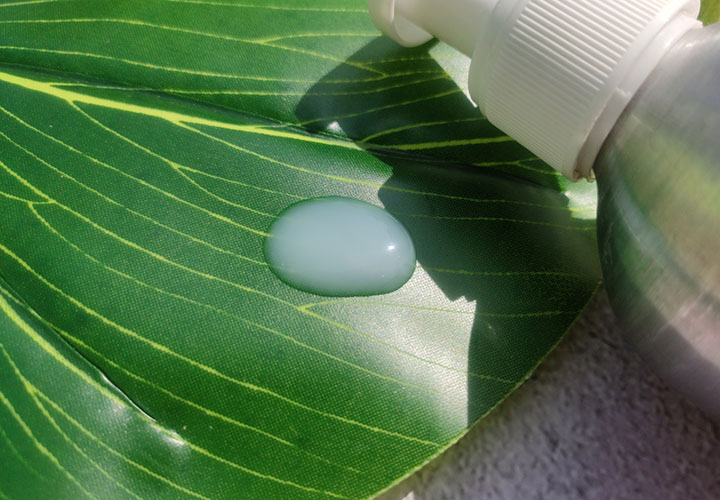 The second wash ensures that the rest of the dirt and debris is out of my scalp.
As the brand claims, this shampoo is definitely quite hydrating. I can see a clear improvement in the overall health of my hair. My hair looks more nourished, stays soft & manageable, and also does not look much oily even after three days of shampooing. Isn't it awesome?
Before I sum up my experience, it's time to take a look at some of the most commonly asked questions.
Does This Shampoo Remove Oil?
It depends upon the amount of oil you have applied. As I apply a very moderate amount of oil, just two rounds of wash up take away all the oil.
I think this is something that I cannot complain about as the brand clearly says that it produces medium lather. So, if you have a habit of heavy oiling; honestly, your shampoo stock would run out within two-three weeks only.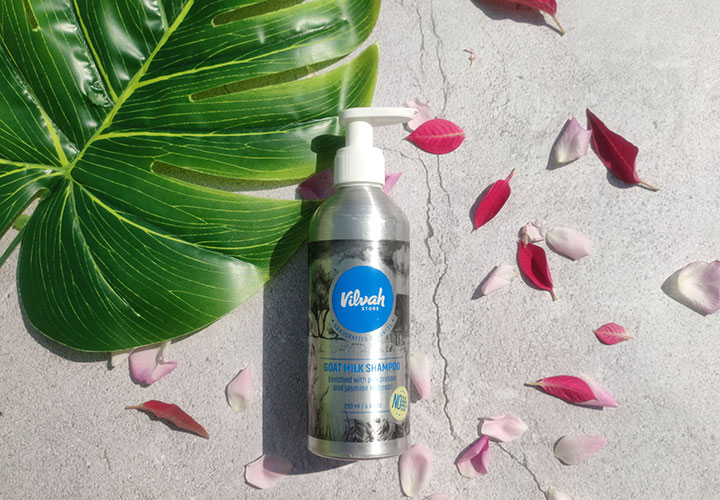 Does it Trigger Hairfall?
Nope! It does not trigger hair fall. Alternatively, if the cause of your hair fall is chemical-laden hair care product, then this shampoo would definitely reduce the hair fall.
How Long the Hair Stays Soft?
I have super dry hair. Especially, during winter, the situation becomes only worse.
My work-schedule involves outdoor work only. In my case, the hair stays soft and manageable for up to two days. After that, the weather and all the pollutants start showing their magics.
Pros of Vilvah Goat Milk Shampoo
Enriched with the goodness of Jasmine and Goat Milk
Mild surfactants are all plant-derived
pH balanced formula that has a strong cleaning power
Free from harsh and synthetic chemicals
No artificial colour or fragrance is used here
Nourishes hair and makes it soft & manageable
Does not trigger hair fall
Cost-effective shampoo as it runs for long. It's been more than a month now that I am using the 200ml bottle!!
Hair stays oil-free for up to 2 days
Cons of Vilvah Goat Milk Shampoo
Honestly, nothing as such
And, that's all for today! Share this article with your friends and family if you find it helpful. Follow us on Instagram as we keep talking about interesting stuff over there. Take care! Celebrate life.