Top 10 Best Soap in India: The Ultimate Compilation Your Skin Needs Right Now 
No matter how much I love shower gels, soap would always be my first love. There is nothing more beautiful and amazing than soaps.
In all these years, I have tried more than 20 variants of soaps. Well! Indeed, the basic job of soap is to clean our skin. But, different soaps come with different formulations.
Some soaps are richer in emollients & other nourishing ingredients, whereas some soaps are full of surfactants. Basically, the formulation depends upon the need of the skin.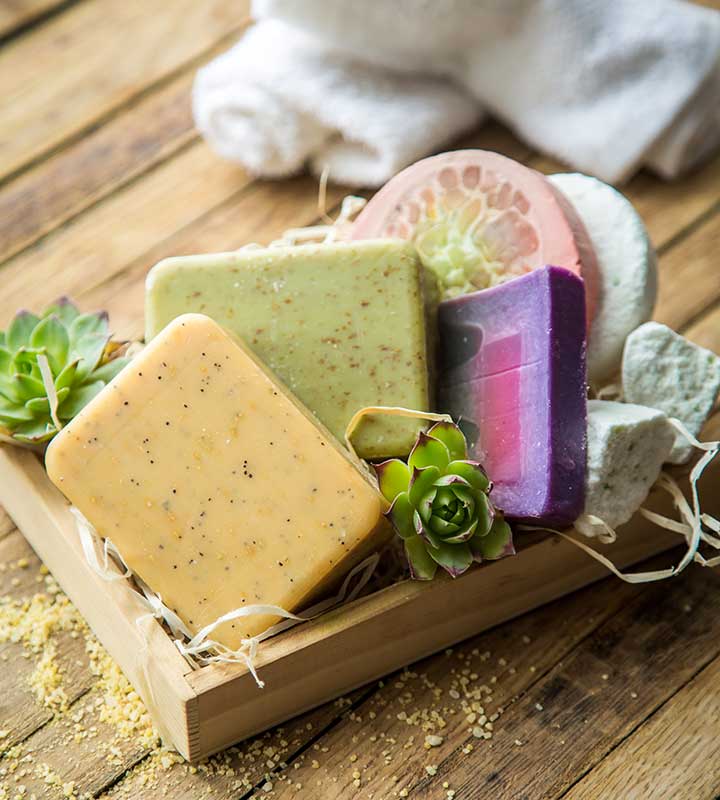 After analysing the ingredients and textures of different soaps, I am ready with the ultimate compilation of the best soap in India.
Let's talk about the best soaps that you need this year for glowing and healthy skin. Don't worry! I have included soaps from all types of budget.
But, before we straight jump on the list, it is important to know about a few interesting facts about soaps. So, let's get started.
Table of Contents
1. What is Soap? Which are the Basic Components?
2. The Feature We have Considered While Compiling the Best Soap in India
3. How to Choose Soap According to Your Skin Type?
4. 10 Best Soap in India Your Skin Needs
5. A Few Important Things to Keep in Mind
Basic Ingredients Found in a Soap
A soap bar is nothing but oil or fat mixed with alkali. The Alkali here is nothing but Sodium Hydroxide or Lye.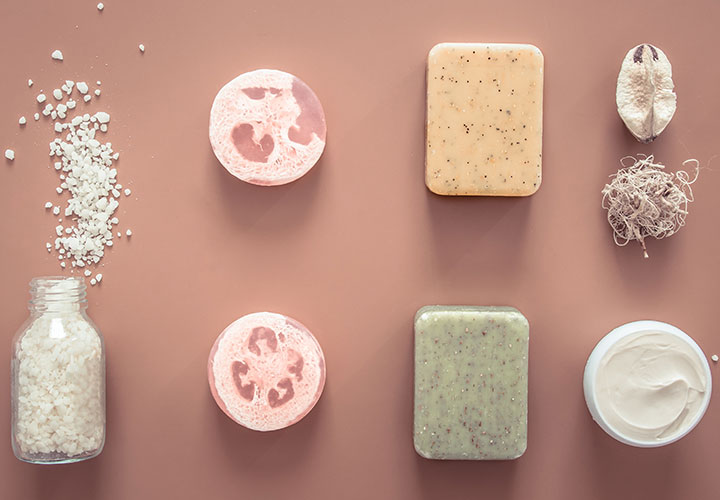 So, the combination of Lye and oil produces soap. The process is called Saponification.
It is quite important to mention that in the final product, not a single trace of lye can be found.
Apart from vegetable oils, natural butter like cocoa butter, shea butter, etc., essential oils like lavender, tea tree, cedarwood, etc. are used. Some brands also use natural herbs or flowers in their soaps.
The above formulation is applicable for handmade natural soaps. In commercial soaps, apart from surfactants, emollients, colour, fragrance, and preservatives are used too.
Overall, the concept of soap is the same everywhere. But, the added ingredients vary as per skin type.
What should be the Features of the Best Soap?
Well! As I said, soap differs because of the presence of ingredients like emollients and skin conditioning agents. And thus, it is quite tough, to sum up, the best features of a soap.
But, here are a few things that I have considered while choosing the best soap in India.
Soap should not be drying even if it is meant for oily skin
The skin should feel hydrated after wash off
Harsh chemicals should not be used
It should not melt easily
I believe that all of these features are enough to make a soap bar the best out there.
How to Choose Soap According to Your Skin Type?
Choosing the best soap might seem a bit challenging as rarely people go through the ingredients of soaps. Most of the consumers look for feature ingredients like honey, oats, neem, tea tree, etc. as per their skin type.
And thus, to make things easier, in the following section, I have chalked out the ingredients that you need to choose for your skin type.
1. Oily Skin
Soaps rich in Neem, Tea Tree Oil, Turmeric, Sandalwood, Mint, Cucumber, etc. are usually considered the best for oily skin. In fact, all types of antibacterial soaps enriched with extracts of Lavender, Thyme, Rosemary, etc. are suitable for oily skin.
2. Dry Skin
The market is literally flooded with soaps meant for dry skin people. Usually, honey, oats, shea butter, cocoa butter (or any other natural butter), Ghee, Goat Milk, Avocado, Coconut extract, etc. are used in soaps made for dry skin people.
3. Combination Skin
Soaps with Almond and Glycerine, both are good for combination skin.
4. Sensitive and Acne-Prone Skin
Soaps that are made with non-comedogenic ingredients are considered the best for acne-prone skin.
And, if you have sensitive skin, make sure you avoid products with heavy perfumery substance or colour.
It's always better to choose soaps that are rich in active ingredients like Salicylic Acid, Benzoyl Peroxide, and Tea Tree Oil. Overall, it's always safer to choose soaps with mild surfactants and hydrating components.
The Best Soaps in India: Your Secret Key to a Healthy Skin
So, now when you know almost every salient feature, it's time to explore the alleys of the best soaps. I have compiled all types of brands here. Some are commercially popular personal care products whereas some are online successful ventures.  Let's dig deeper now.
1. Nathabit Cold Processed Brightening Milk-Rosehip Soap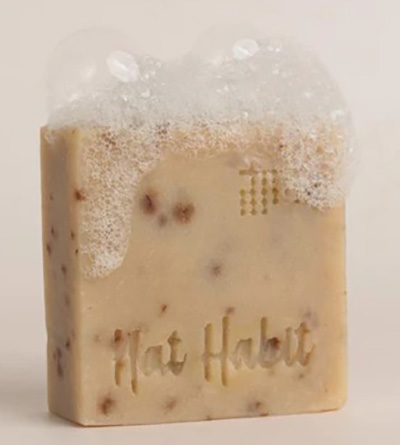 Courtesy of Brand
Shop Now!
I found this brand quite recently and I am glad that I got introduced to their products. As of now, I have used & re-used at least 5 of their best-selling products. This soap is definitely one such amazing products.
It is rich in cold pressed pure oils, kokum butter, milk, rosehip, aloevera, and green tea.
As the soap does not contain artificial surfactants, hence it does not produce much foam. Just the right amount of lather that you need to clean your skin.
Pros

Made of cold pressed oils and milk
Potent formulation that cleanses well
can make skin glowing and soft-smooth
Affordable
Does not irritate the skin at all

Cons

Nothing as such
Suitable for all skin types, this soap is definitely one of the best soap in India that is free from harmful chemicals & additives.
2. Dove White Beauty Bathing Bar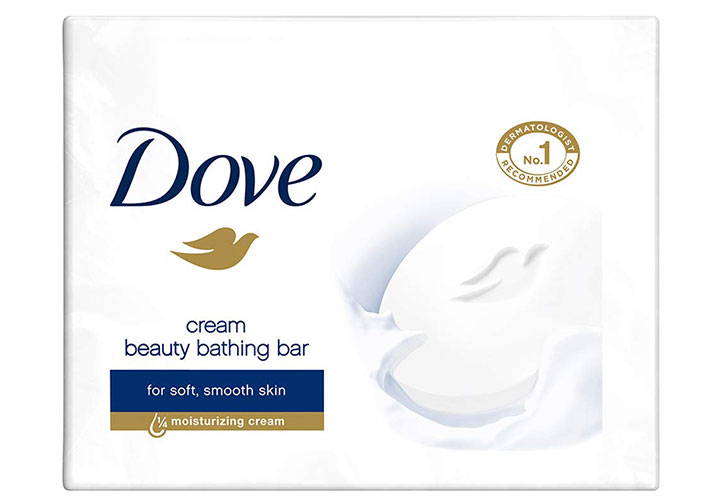 Courtesy of Brand
Shop Now!
Well! This list would remain utterly incomplete if I do not talk about this beauty bathing bar. I can still remember the day when my mom gave me this soap for the first time.
She had always been a fan of Dove soap. In fact, both my parents used to apply this soap.
Mild and safe ingredients are the biggest positive fact about this soap.
I believe that no matter, what type of skin you have, Dove Beauty Bathing Bar should always be the best soap in India.
Pros

Mild and safe surfactants
Unnecessary and harmful ingredients like colour are not used here
Hydrating, nourishing, and moisturizing formula
With regular application, skin becomes brighter

Cons
Usually, I never ever recommend anyone to use soap on face. But, this is one such soap that I, myself have applied on my face and would recommend as well. So, get ready to welcome the best soap in India if you haven't already.
3. Pears Pure and Gentle Bathing Bar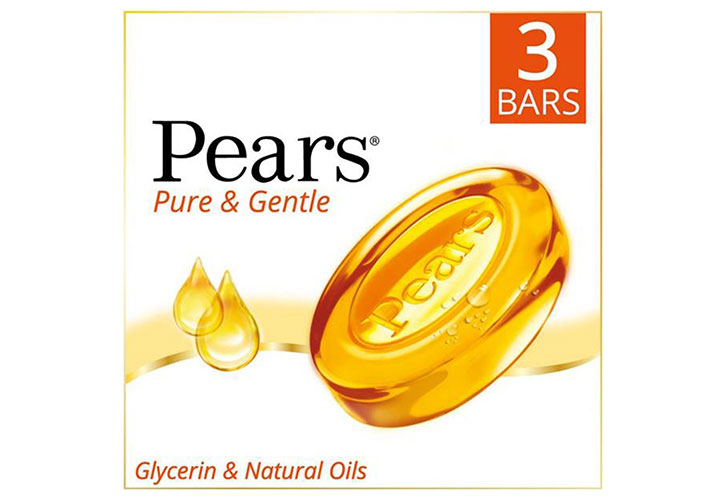 Courtesy of Brand
Shop Now!
Winter is already here. And, if you are looking for a soap that can handle your dry and itchy skin problem, then this is the best soap you could have asked for.
It is rich in Grade I Glycerine and Natural Oils. Mild surfactants like Sodium Palm Kernelate is used here. The formula, overall, is quite safe. Let's take a look at all the pros and cons before you buy this.
Pros

Pretty affordable
Rich in ingredients like Glycerine and Eugenol (extracted from natural essentials oils of Nutmeg, Bay Leaf, Cinnamon, Clove)
Mild surfactants are used here that make the soap more reliable
Hydrates and nourishes skin; suitable for both oily and dry skin type
Best for all daily use

Cons

Melts quite fast
Not meant for heavy duty cleaning
As a whole, this soap is the best Glycerine based soap in India that you need to try this winter if you haven't already.
4. Fiama Peach and Avocado Gel Bar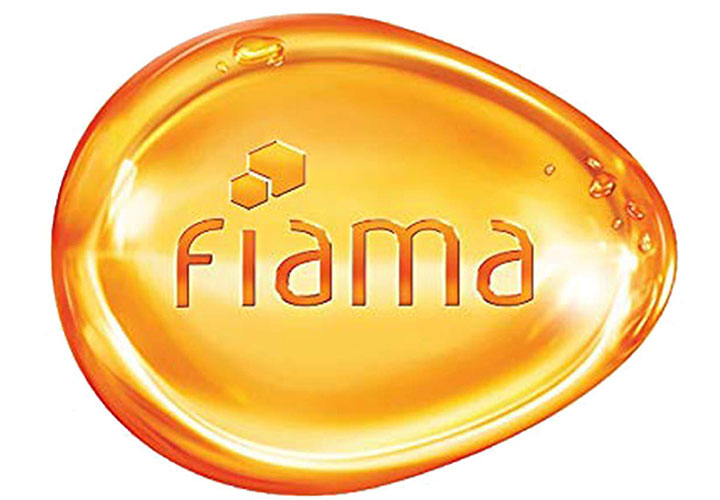 Courtesy of Brand
Shop Now!
In comparison to Dove and Pears, Fiama is indeed a new player in the market. But, trust me! This soap is an amazing product from the house of Fiama.
It is enriched with Glycerine, Castor Oil, Vitamin E, Avocado, and other fruit extracts. Instead of SLS, the brand has used SLES here which is a much better alternative. Surfactants like SLES, Decyl Glucoside make the formula not only mild but effective as well.
Here is a quick glance at all the plus-minus points.
Pros

Nourishing and hydrating formula
Mild surfactants are used
Made with a unique liquid crystal freezing technology; you can literally see crystal like formations reflecting within the soap
Skin feels smooth and hydrated for long
Soothing and refreshing aroma
Perfect for dry, oily, and combination skin

Cons

DMDM Hydantoin and colours are present in the formula
A bit pricey
Fiama Gel Soaps come in a number of variants. But, undoubtedly, this is one of the best soaps in India. So, are you ready to try it out?
5. Juicy Chemistry Tea Tree, Neem and Rosemary Soap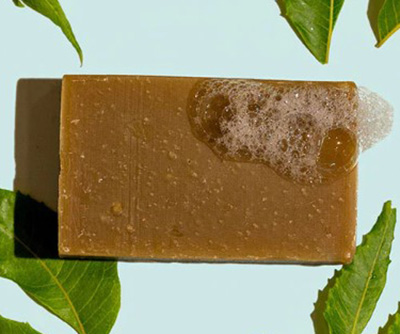 Courtesy of Brand
Shop Now!
The Body Shop has a separate fan base. And, if you are one of them and yet to try this variant, then you have missed out a gem.
This organic anti-bacterial bar soap helps to clean the skin gently and is pretty effective for acne-prone skin as well. It is rich in tea tree oil, neem leaf extract, shea butter, mango butter, lavender oil, and rosemary oil. 
Saponified oils of Olive, Coconut and Castor work as surfactants in this soap. The lather is minimal but perfect for cleaning the skin well.
Well! Let's take a look at all the salient features of this soap.
Pros

Deep cleanses and clarifies the pores

Helps to calm the skin down

Helps to promote healthy skin

Preserves the skin's natural sebum

Boosts glowing skin

Cons
Altogether, this year, if you are looking for such a soap that can clean, nourish, and calm your irritated & sensitive skin of both your body and your facial skin, then nothing can beat this soap bar.
In this entire compilation, we have not mentioned Biotique soaps even for once. We have enough reasons behind not doing so. Are you curious to know? Then, check out this article.
6. Sebamed Clear Face Cleansing Bar PH5.5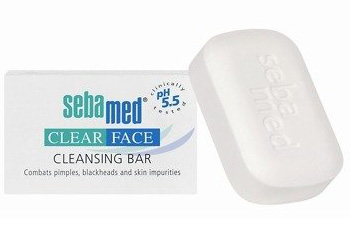 Courtesy of Brand
Shop Now!
Soaps are usually not made for our delicate facial skin cells. The high pH value of soaps might disrupt the pH balance of our facial skin. So, it is always desirable that facial soaps should have a low pH value.
It is amazing to know that we have such a type of soap. This particular soap not only has a low pH but it is also specially formulated for acne-prone skin.
The mild formulation is quite effective for clearing excess sebum and blackheads. Usually, anti-acne products make the skin dry; but skin conditioning agent like Lecithin makes the skin moisturized.
Most importantly, this facial soap can also be applied to other body parts that are acne-prone (or filled with zits). Here is a brief list of all the pros and cons.
Pros

Enriched with Lecithin, Vitamin E, and Amino Acids
Perfect for acne-prone sensitive skin
Does not dry out the skin at all
pH balanced formula
Visible reduction of acne can be seen from the first week of application
No allergic reaction

Cons

If not kept properly, it might melt fast
From all perspectives, I must say that it is the best soap in India for acne-prone skin people. If used properly, you would surely see a visible difference in your skin texture.
7. Lux International Creamy Perfection Soap Bar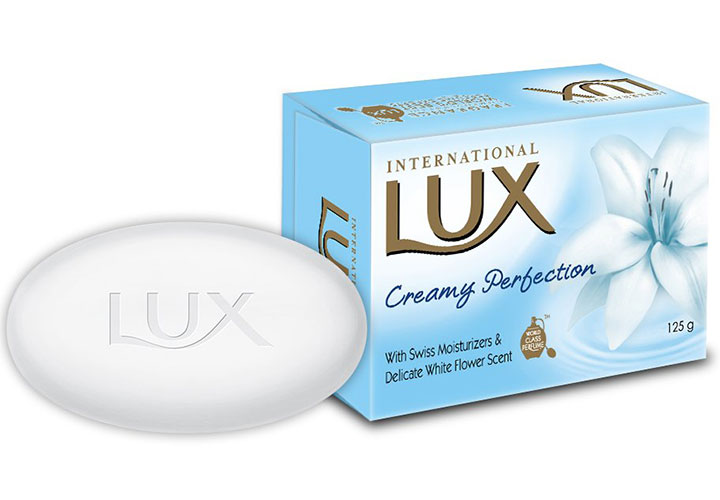 Courtesy of Brand
Shop Now!
Honestly, I never was a big fan of Lux soaps until the brand came up with this superb formulation. Enriched with milk, this soap is one of the best soap in India for dry skin.
I am glad that the brand has used mild surfactants while formulating this one. Lux soaps are usually known for the enchanting fragrances. And, this product is not an exception too.
The mild yet soothing fragrance lingers for some time and then, settles beautifully. Here is a quick glance at all the features.
Pros

Excellent formulation
Perfect for people with normal to dry skin; in fact, people with sensitive skin can use it too
Luxurious packaging
Hydrates skin for quite some time
Beautiful fragrance

Cons

Not suitable for suoer dry skin
Get ready to experience luxurious bathing with this soap bar.
8. Himalaya Herbals Almond and Rose Soap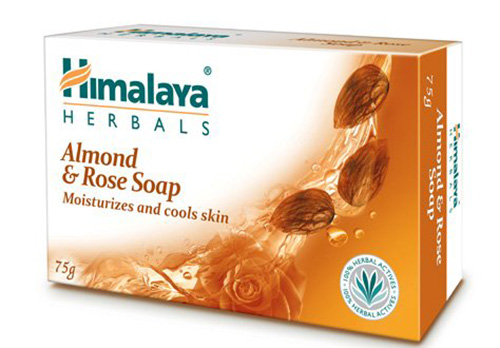 Courtesy of Brand
Shop Now!
Himalaya Herbals is quite a popular name in the beauty industry. Apart from face wash, shampoos, moisturizers, the brand has also formulated a range of soaps.
Among all the variants, this soap is quite a popular one. It is enriched with Almond and Rose extracts. It is said to be the best soap in India for all skin types.
Let's check out the pros and cons quickly before you buy it.
Pros

Rich in Almond and Rose Extract
Ultra-affordable
Not a drying formula
Hydrates skin for long
Perfect for all skin types
Soothing aroma

Cons

Complete ingredient list is not provided
If you are keen on knowing everything that goes into your product, then this is not for you. Otherwise, don't miss this awesome soap.
9. NIVEA Creme Soft Soap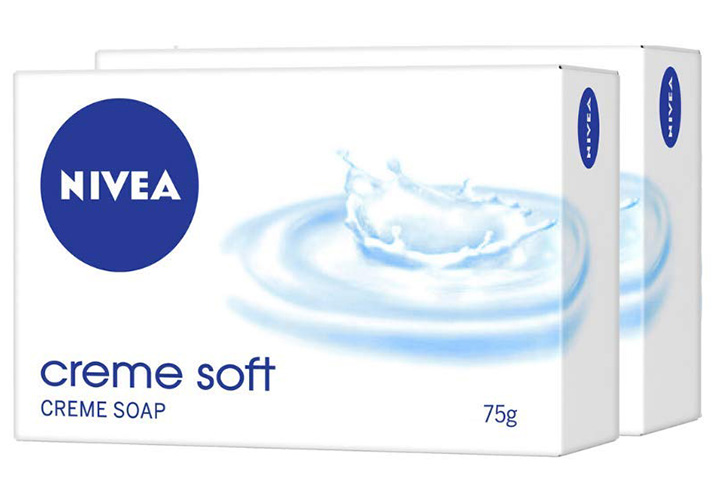 Courtesy of Brand
Shop Now!
Just like Dove, NIVEA has its own moisturizing bathing bar too. Enriched with Glycerine and other skin conditioning agents, this soap bar is all you need in winter.
It makes the skin soft and smooth. The formulation is just what your dry and sensitive skin needs.
But, unlike Dove, this soap is strictly formulated for your body. Because of high pH, I would not suggest this soap to use on your delicate facial skin.
Pros

Rich in Glycerine and Provitamins
Cleans well
Dermatologically tested
Soothing aroma

Cons
10. Nyassa Cocoa Butter Soap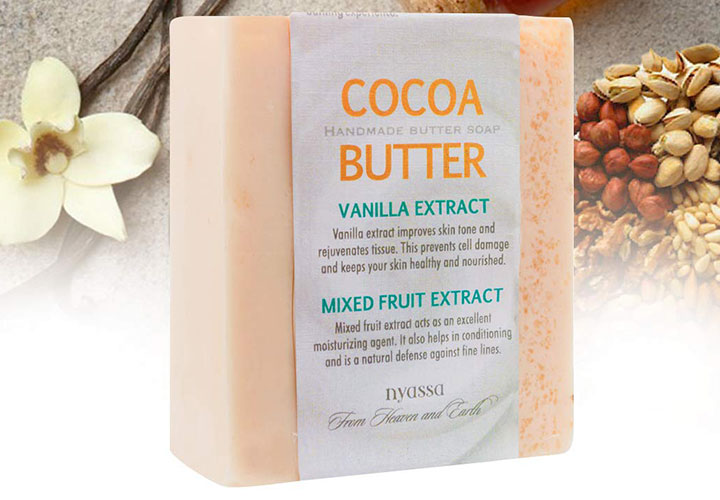 Courtesy of Brand
Shop Now!
Well! You have reached almost at the bottom of this article. And, I wanted to conclude the compilation with a bar of handmade soap. There are many brands these days that are formulating handmade soaps and Nyassa is indeed one of the best among those.
It is enriched with Cocoa Butter, Vanilla, Dry Fruits like Almond/Fig/Pistachio, Extracts of Aloe Vera and Grape Seed, Sweet Almond and Wheat Germ Oil, etc. The surfactants are mild too.
It definitely makes skin healthy, smooth, and soft. But, what else does it offer? Let's check out below.
Pros

Rich in Cocoa Butter, Almond Oil, and other beneficial extracts & oils
Mild surafactants make the formulation more effective and less harsh on the skin
Beautiful enchanting yet light aroma would blow your mind
Makes skin super smooth
Minimal lather but cleans pretty well

Cons

The inclusion of BHT, Fragrance, and EDTA is not desirable.
Apart from Nyassa, there are many other brands e.g. Kama Ayurveda, Juicy Chemistry, Forest Essentials, etc. that shelve handmade soaps. If you haven't tried out any handmade soap yet, you are missing out another gem.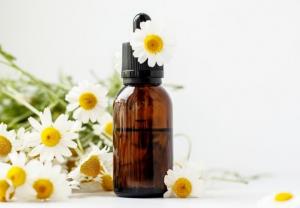 Know about the best organic skincare brands in India that everyone must give a try at least once. Have a look!
Read More
A Few Things to Keep in Mind
Except for the Sebamed and the Dove one, all the other soaps are strictly meant for body. But if you ever wish to try soap on your face, then here is a checklist you need to tick off.
Make sure you have gone for a patch test
Make sure harsh ingredients are not used in the formula; essential oils are also a potential threat when it comes to facial skin cells
Always use soaps with low pH value for your face
Make sure the soap has at least one or two active ingredients; you definitely do not want the soap to clean only
And, that's all! If you like reading this article, do not forget to share it with your friends and family. Also, don't forget to check out our official Instagram page for interesting stuff. Take care; let's celebrate life.