Rock the Smokey Hot Look with Best Lakme Lipsticks In The Town
If you are a makeup enthusiast like me, you must know the significance of a good lipstick. We women always have an obsession for lipsticks; no matter whether our drawer is already stuffed with umpteen hues of these magic sticks or not.
Whenever you are running short of time and you still don't want to compromise with your looks, a lipstick comes as a saviour. Just a swipe of your favourite red lipstick can knock down the absence of other makeup products. It can brighten up your face like anything.
A lipstick not only it enhances your outer look, but also helps to boost your morale. Whether you are going for your first date or that crucial meeting, a swipe of a suitable lip colour instantly perks up your face. You can easily blow away people with your charismatic personality.
So, this incredible thing does deserve some limelight; isn't it? And, what can be better than Lakme lipsticks? Lakme is a leading brand when it comes to high-performance cosmetics. In the past few years, Lakme has indeed raised the bar in the field of colour cosmetics. Lakme lipsticks are giving other brands a run for their money. Get ready to delve in to find out 10 best Lakme lipsticks.
1. Lakme Absolute Gloss Addict Lip Color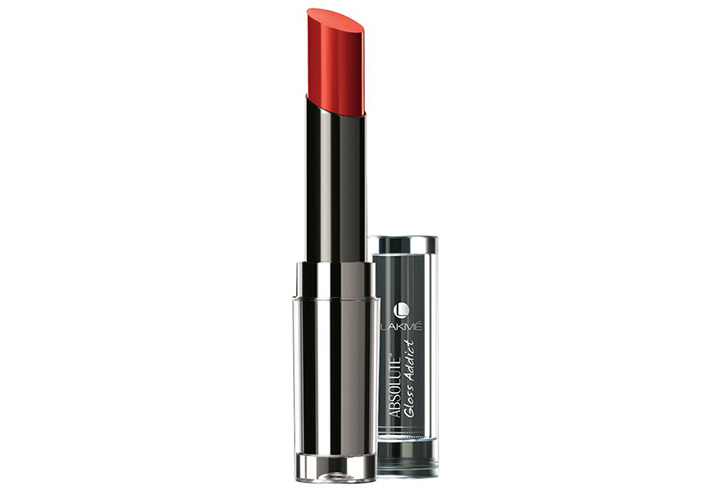 Courtesy of Brand
Shop Now!
If you are a lip gloss person, you have found your match. This revolutionary lip colour range is high on gloss. It comes with a creamy texture and rich on hues.
Unlike old liquid lip glosses, it doesn't stick to your hair. Just a single stroke of this bullet lipstick gives the illusion of fuller lips. At the time of writing, this super chic range is available in a big array of 8 bold colours.
The best seller shades of this range are Coffee Shot and Bare Beige.
Pros

Glossy sheen.
Keeps lips well moisturized.
Buttery soft texture.
Pays off rich color payoff

Cons

Pigmentation is not high; the sheen looks more like a lip balm rather than a lipstick
A Bit pricey
This plush range is simply superb. It makes your lips brighter, prettier and lovelier. Although pigmentation is slightly less, you can always build it up with two or more glides as per your choice. So redefine your lips with the glamorous shades of this Lakme lipstick and get addicted to a perfect pout.
2. Lakme 9 To 5 Primer + Matt Lip Color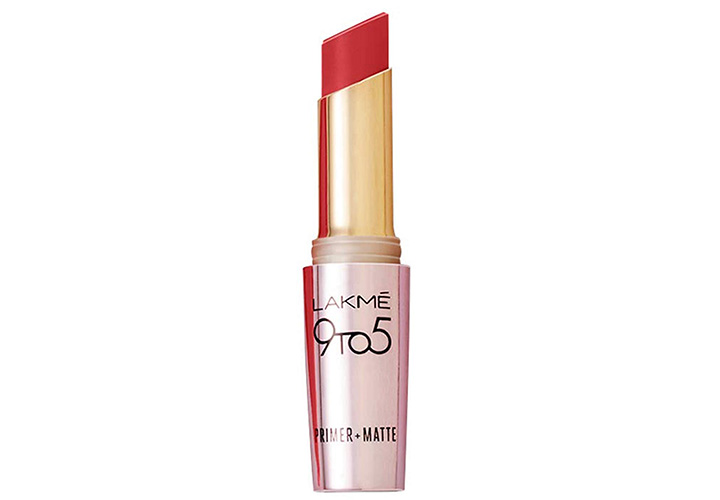 Courtesy of Brand
Shop Now!
Specifically designed for office goers, this range is a high flier in the drugstore market. Despite being matt in nature, this bullet glides like butter on lips and just a single swipe yields an intense colour.
Having a built-in primer as a key ingredient, it stays well on your lips and doesn't fade off easily. Rich crease-free texture makes your lips fuller and defined. It offers an insanely big range of 42 shades.
Some of the best picks are Rosy Sunday, Blushing Nude, Pink Perfect and Blush Book.
Pros

Decent staying power of 12 hours
Vast shade range
Rich texture defines lips
Doesn't settle into fine lines

Cons

Most of the shades are in red and pink hues
Transferable so you would need touch ups
The upside is that it comes in 42 shades. Lakme should have included some more fun colours to such a great range. Nevertheless, this range is exclusively designed for warm and neutral undertones and suits the best for Indian skin tone.
3. Lakme Forever Matte Liquid Lip Color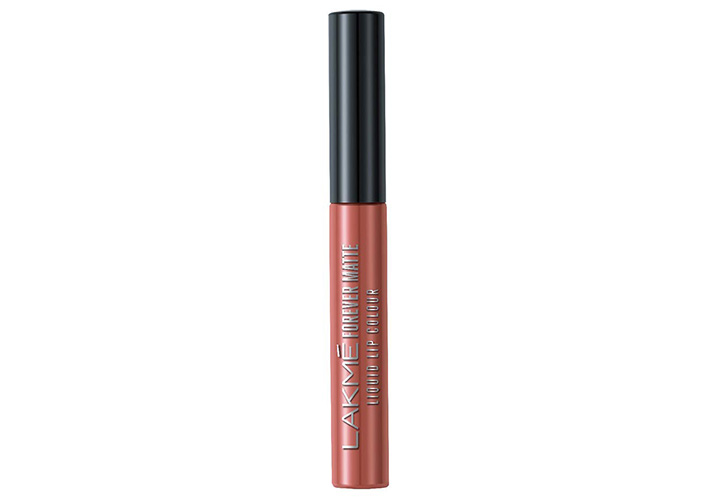 Courtesy of Brand
Shop Now!
This exciting range is truly a pick-me-up. Waterproof formula, matte finish and soothing mild fragrance are some of its interesting features.
This liquid colour fix formula comes with a wand that is super easy to apply and gives a fine precision to your lips. Just a single swipe gives you a matte finish and comfortable wear all day long.
This Lakme lipstick is an affordable product; it offers 20 unique shades to play with.
If you find this range appealing, do check out the shades Red Carpet, Nude Pink and Pink Glam.
Pros

Non-transferrable
Long stay, doesn't crumble up with time
Feels light on the lips
Huge shade range.
Pocket friendly

Cons

Fades slowly after having meals or drinks
Small wand
The texture is slightly tacky
If you are stalking for an affordable lipstick having bold sensuous colours quite a while, this range might put an end to your search. Well! Indeed you would need a touchup after heavy meals or drinks. But then again, it's sleek packaging and wand applicator is super easy to use. It is one of the best Lakme lipsticks to get a fresh look forever.
4. Lakme Absolute Sculpt Matte Lipstick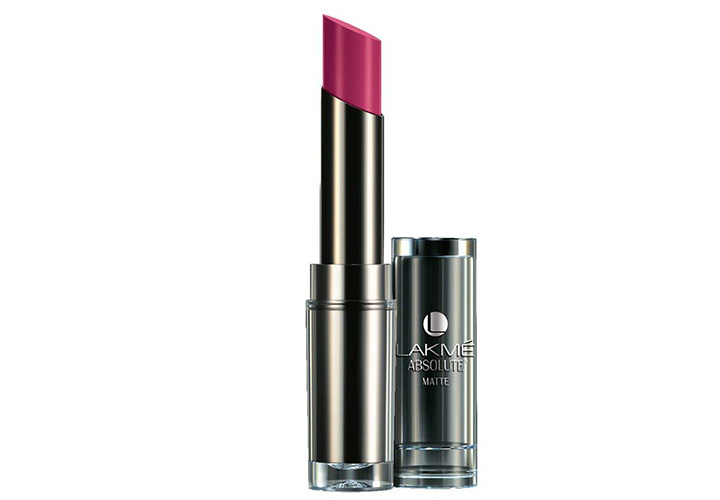 Courtesy of Brand
Shop Now!
Sculpting is the next big thing in the fashion world. One stroke of this high definition matt bullet will help you to achieve those defined sculpted lips. Available in 20 trendy shades, this range offers the perfect pout with an expert finish.
It gives a nice mattish finish without making the lips drying out. The amazingly pigmented colour stays up with you for long hours.
If you are a fan of contoured looks, do try the shades Pink Me Up and Red Rush.
Pros

Turns opaque with just a single swipe
Gives a contoured perfection
Big variety of shades
Highly pigmented

Cons
Four versus one speaks it all. Needless to say, this is one of the best Lakme lipsticks. Like everything, beauty is also going high definition. So go with this product and you will look nothing less than a gorgeous diva.
5. Lakme Absolute Argan Oil Lip Color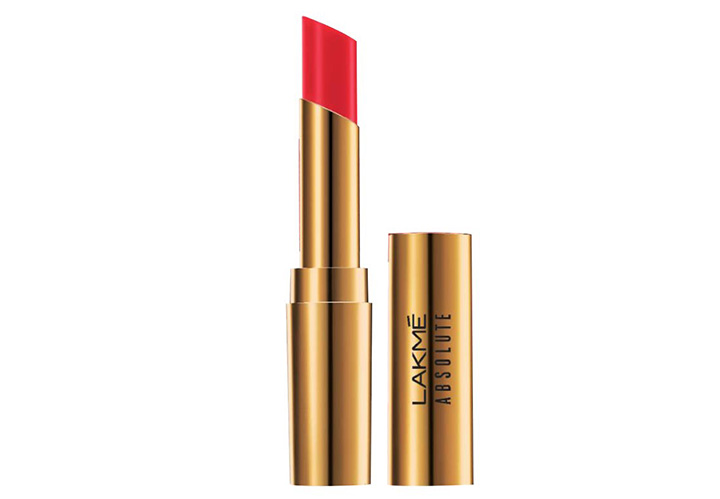 Courtesy of Brand
Shop Now!
Infused with pure Moroccan argan oil, this ultra-smooth lip bullet nourishes your delicate lips and leaves an intense pigmentation. Glossy by nature, it feels like you have actually applied some oil on your lips without being tacky.
So its not an exaggeration to call it liquid gold. You can actually swap it for your lip balm. Its shade palette has introduced 15 delightful hues including nude ones. All shades can be pulled off gracefully by Indian beauties.
Some promising shades of this Lakme Lipstick range are Pink Tint, Soft Nude and Crimson Silk.
Pros

Enriched with moraccan argan oil.
Creamy rich texture.
Satiny soft finish.
Easy to apply, easy to remove.

Cons

Nude shades might wash out the face
Fades away easily
Some of the nude shades might wash you out but you can carry it out by lining your lips with a darker lip liner and contouring your lips well. So ink your lips with this one of the best Lakme lipsticks and amp up your glam quotient.
6. Lakme Enrich Satin Lipstick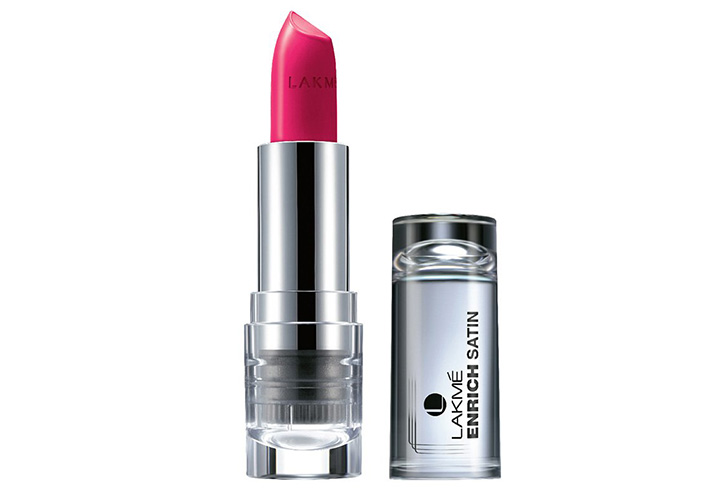 Courtesy of Brand
Shop Now!
Lakme has revamped this classic range and this time it is more satiny, more pigmented, and more creamy in texture. Enriched with the goodness of Olive oil and Vitamin E, this range comes in 25 flattering shades.
The claim of a satin finish is true. This bullet does not settle into fine lines and keeps your lips well hydrated for a long period of time.
P128, M455, P165 are some of the impeccable shades from this range.
Pros

Benefits of olive oil and vitamin E
Makes lips plump
Velvety soft finish
Highly pigmented

Cons

Easily transferred
Tends to bleed
Bit patchy
This trusted range of Lakme lipstick has been ruling the market for a long time. It does everything it claims.
It moisturizes your lips, leaves a satin-smooth finish and keeps up with you for long hours. Make it a staple in your kit and you are all set to make your pout look fab.
7. Lakme Absolute 3D Lipstick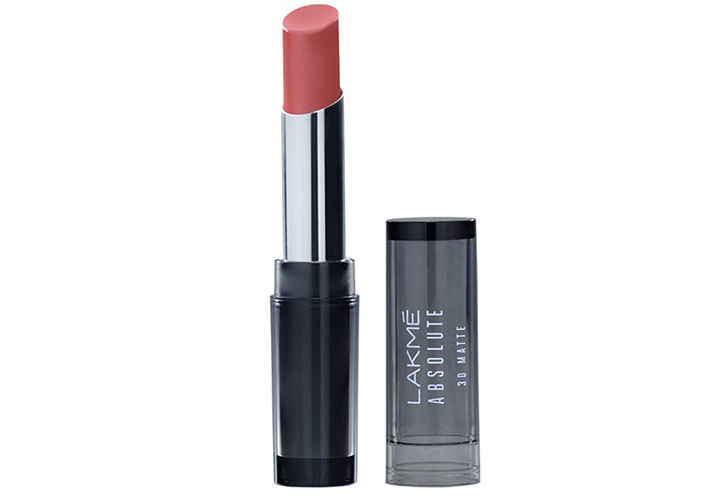 Courtesy of Brand
Shop Now!
This revolutionary range from Lakme gives a new dimension to your pout in a single stroke. The main highlight of this range is 3D, which imparts an alluring matt finish with a hint of goldish shimmer.
It earns brownie points with its full-coverage formula. Just a single swipe of the bullet gives full opacity. It stays put for long hours and maintains the moisture throughout the time. It comes in 12 versatile shades.
Peach Rose and Red Smoke are eye-catching shades.
Pros

Matte finish with a hint of shimmer without being overbearing
Rich hue
Good range of shades

Cons
Its time to embrace the 3D fad in your makeup style. So paint your lips with this one of a kind Lakme lip colour range and get ramp ready lips.
8. Lakme Enrich Lip Crayon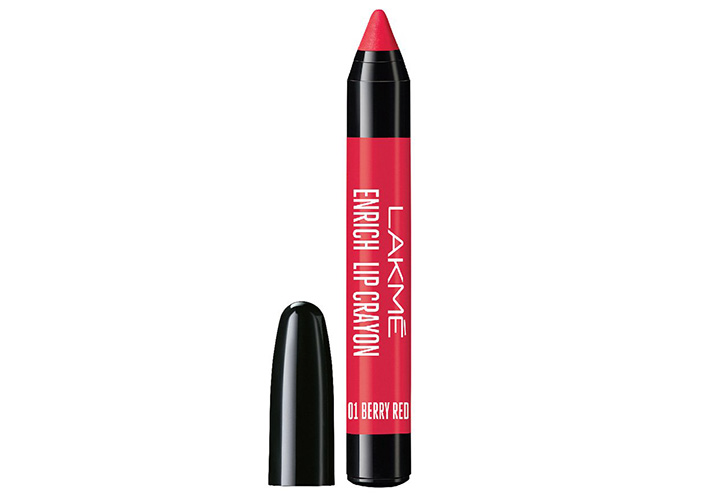 Courtesy of Brand
Shop Now!
Paint the cute canvas of your lips with these fancy lip colours. Available in 10 dramatic shades, this range is truly a delight for all beauty fanatics.
Its soft texture contains mineral powders that deliver a smooth matt finish. A rich concoction of Olive oil and Jojoba oil conditions your lips. Natural shea and cocoa butter extracts further soften your lips.
Berry Red and Mauve Magic are one of the most beautiful shades in this line.
Pros

Loaded with olive oil, jojoba oil, shea butter, and cocoa butter
Does not tug on the lips and neither does it flake out
Highly pigmented
Even matte finish

Cons

Short stay
Needs to sharpen from time to time which leads to product wastage
This affordable lip colour gives a super matte finish. Be it pouting for a selfie or spending long hours at a wedding, this crayon gives you picture-perfect lips.
Roll on this adorable crayon to get a nice flush of colour. The list of best Lakme lipsticks can not be completed without including this range.
9. Lakme 9 to 5 Weightless Mousse Lip and Cheek Colour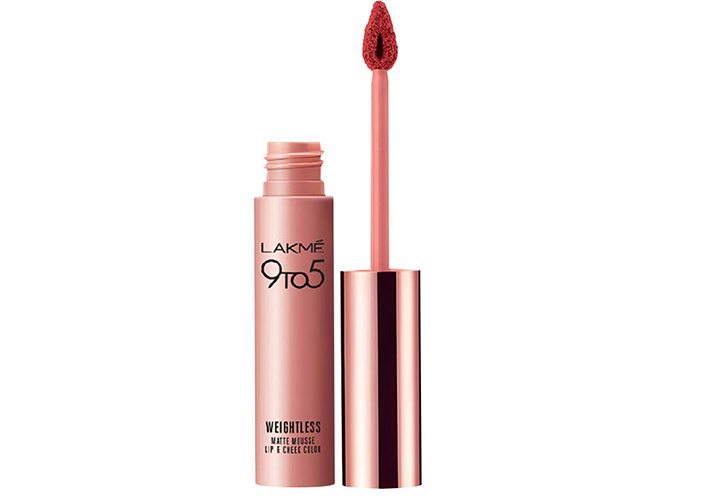 Courtesy of Brand
Shop Now!
Nail that go-to professional look with this weightless mousse liquid lip colour. Its marvellous budge-free format comes with a teardrop wand that is suitable for a neat & precise application.
It has an extremely comfortable light mousse texture that stays on and on. Its highly pigmented formula gives a powdery matte finish. This Lakme lipstick is available in 20 drool-worthy shades.
Coffee lite, Plum Feather are the most popular amongst them.
Pros

Superb pigmentation
Stays for long
Comfortable for daily wear
Can be used as a blush also
No feathering

Cons

The texture is a bit tacky
It can survive light meals but transfers away on heavy meals
This comfy lip colour is a must-have option for all the busy bees out there. Swipe the wand on your lips and diffuse it well to your cheekbones to get a soft flush on your cheeks.
Pair it up with subtle eye makeup to give a whole new approach to your routine office look and no one would dare to look away from you.
10. Lakme Absolute Lip Pout Matte Lip Color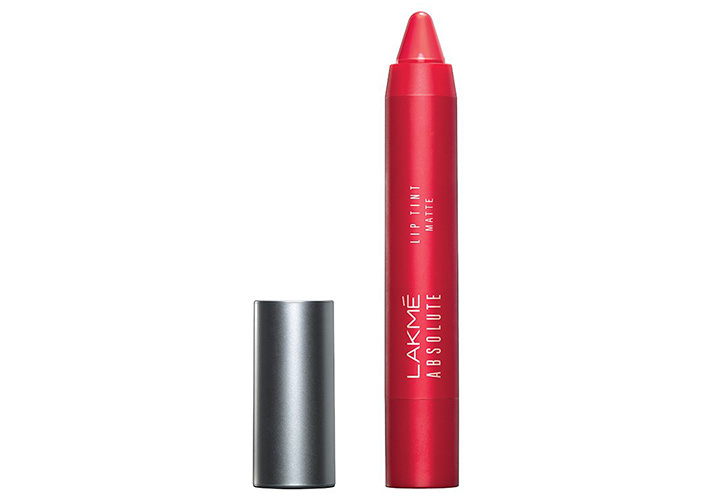 Courtesy of Brand
Shop Now!
Say hello to the all-new chubby lip crayon having properties of both matte and creme. It comes in a retractable slim pencil that helps you to get rid of the hassle of sharpening.
It comes in 6 charming colours that can instantly turn you up from dull to fab. Its luscious creme tint is a joy ride for all beauty lovers. A glide of this roll-on gives you that desirable chiselled pout.
Raving Red is the shade you might want to doll up with.
Pros

Scintillating creamy matte finish
The colour payoff is exceptionally well
Striking retractable design
Doesn't settle into fine lines and creases

Cons

Limited shade range
Short staying power
Bit dry texture
Redefine pout with this simply superb Lakme lipstick. The shade range flatters most of the skin tones.
Having slightly dry texture, you can work it out using a lip balm underneath. All in all, this is a great product having a creamy matte finish and a decent stay.
Final Thoughts
So, these are the best Lakme lipsticks ever. The nicest thing about Lakme is that it is easily reachable. Whether you want to purchase online or offline, you don't need to struggle much to grab your favourite lippie.
I tried to cover all kinds of Lakme lipsticks available under the sun; from the bullet to the liquid tube, from glossy to matte, from moderate to lavish. So put on your favourite Lakme lipstick; go confidently and steal the show with your spellbound looks.
And, that's all! If you find this information interesting, please subscribe to Cosmetics Arena to keep yourself updated with more beauty trends and ace the art of makeup.