Best Toners in India that are Affordable, Harsh Chemical Free and Alcohol Free
There was a time when I was completely unaware of the importance of Cleansing-Toning-Moisturizing routine. For me, the steps were cleansing first and moisturizing at last. I never understood the importance of toning until I hit my puberty.
It was the time when my hormones became active all of a sudden and gradually, my skin texture started changing. One of my friends suggested me to use toner. Well! I must say since then, CTM routine became my life. I have used a number of toners to date.
Today, I would talk about the best toners in India that are affordable, harsh chemical free, and alcohol free. In between the discussion, I would also talk about some prime facts about toning. So, let's begin our journey.
Table of Contents
What is Toning?
In simple language, toning meaning to even out the skin tone. Skin toning is one of the best ways to remove dead cells. Once the dead skin cells are removed, the skin itself becomes clearer and brighter. No matter, how many times you wash your face or how effective your face wash is, toning is a must.
A toner not only balances the pH level of the skin cells but also helps the moisturizer to get absorbed within the layers of the skin more precisely. Especially, if you have sensitive and problematic skin, then a toner would definitely help to pacify your skin.
Apart from the so-called toners and rose water, there is another thing that can also be used as an excellent toner. Yes! We are talking about hydrosols. Just like rose water, there are other beneficial hydrosols too like aloe vera water, lavender water, geranium water, etc. Trust me! All of these hydrosols are excellent skin toners.
5 Reasons Why Toning is Important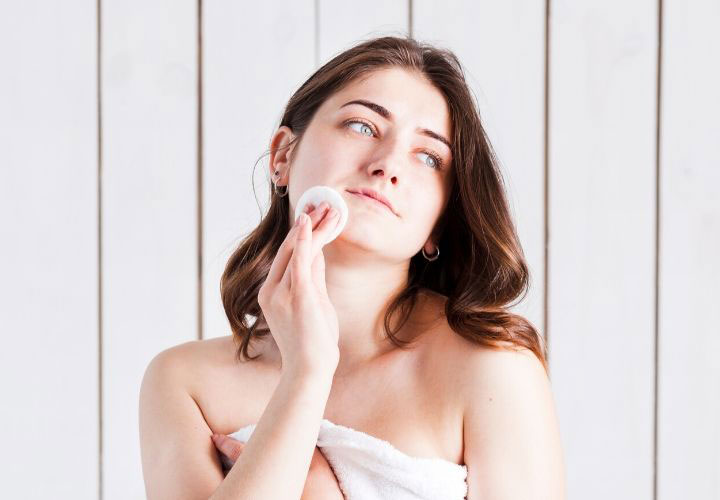 As of now, you might have understood that toner is one of the most important parts of a perfect skincare regime. To give you a clear outline about toners, here I have enlisted 5 reasons to explain what else a toner offers to your skin. Have a look!
1. Toners Help to Shrink Pores
When you rub a cotton pad soaked with an alcohol-free toner, it helps to make the appearance of the pores a bit smaller. Basically, toners help in removing the excess oil from the pores and thus, the pores appear smaller.
2. Toners Help to Restore the pH Balance
When you wash off your face with a face wash, the pH value of the skin becomes high. Well! Our skin is naturally acidic. So, with time, the skin restores the pH for sure. But with the application of a toner, the pH balance can be achieved pretty quickly.
3. Toners Provide Protection to the Skin
Toners help to tighten the pores and thus, the environmental impurities do not penetrate the layers of the skin easily. All you need is a good formula and your skin is totally safe.
4. Toner Cleanses Too
Well! An effective toner is a great cleanser too. By cleansing the excess oil and impurities, it helps to refreshen up the ski. And thus, it helps to improve skin texture.
5. Toners Also Prevent the Growth of Ingrown Hairs
Many toners contain Glycolic Acid or AHAs. Both of these ingredients help to prevent the growth of unnecessary ingrown hairs.
And, all of these reasons are enough to compel you to buy toner.
List of the Top 9 Best Toners in India that are Affordable, Harsh Chemical Free, and Alcohol Free
So, now when you know the importance of a toner, it is time to choose the best toner for the betterment of your skin. Many toners contain alcohol. Alcohol is extremely bad for any skin type especially for the ones with sensitive skin.
Toners also contain a number of harmful chemicals. So, it important to choose such a toner which is free from alcohol and harmful chemicals. In the following section, I have compiled a list of the 9 best toners in India that are affordable, harsh chemical free, and alcohol free. Have a look!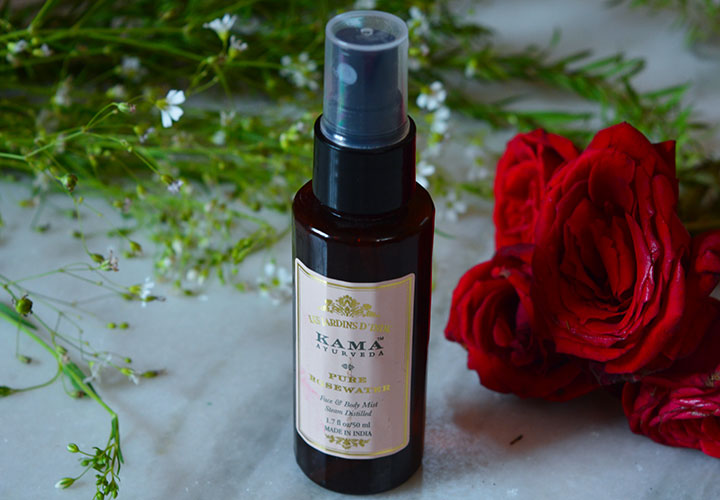 Shop Now!
At this point in time, Kama Ayurveda is one of the best luxury Ayurveda brands in India. This rose water was launched in the year of 2013. And, since the last 7 years, this toner has become a holy grail toner for many.
It is basically a hydrosol which is steam distilled rose water. Pure Kannuj roses have been used to prepare this rose water. I have been using this toner for the last 2 years.
Here are a few key features that make this toner one of the best toners in India that are affordable, harsh chemical free, and alcohol free.
Pros

Free from additives like preservative and colour
Free from artificial fragrance
Pure rose water has been bottled
Suitable for all skin type including the sensitive ones
Can be used in any season
Just a few spritzes are enough to cover entire face and neck. And thus, the tiny 50ml bottle goes long.

Cons

Overall, it is one of the purest toners available right now in India.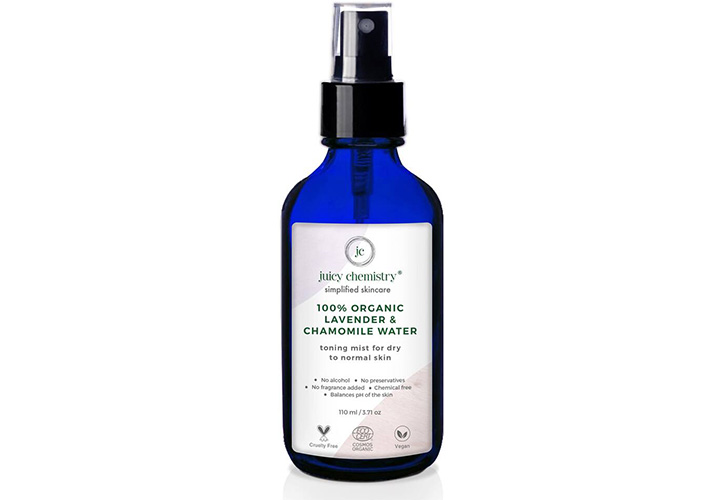 Courtesy of Brand
Shop Now!
So, my bonding with Juicy Chemistry is quite old. The brand holds a basket of amazing products. Most importantly, the ingredients they put inside are amazing.
The brand knows what it is doing. This Lavender Toning Mist is one of my favourite products from their house. It is basically a blend of Lavender and Chamomile water.
Lavender is a boon for sensitive skin and Chamomile calms down the irritated skin. Let's have a look what makes this toning mist one of the best chemical free toners in India.
Pros

Best for dry and sensitive skin
Tightens the pores
Makes skin even toned and brighter
Helps to restore pH balance of the skin
It also helps to heal acne

Cons

I love how affordable yet effective it is. It is one such toner that everyone must try out.
3. Plum E-Luminence Nourishing Toning Water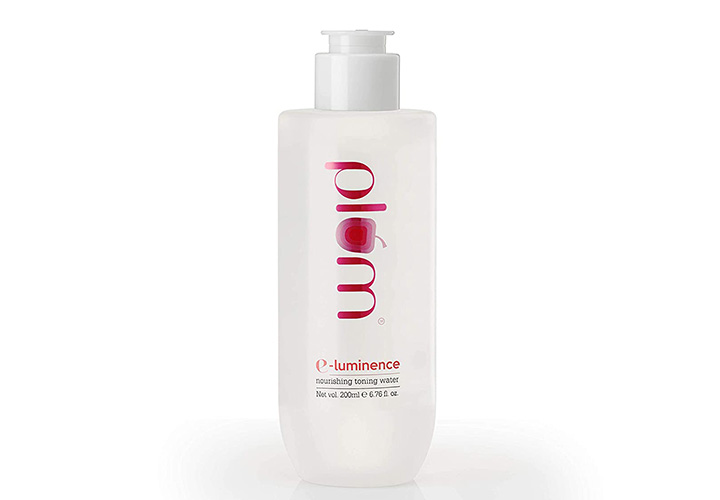 Courtesy of Brand
Shop Now!
Plum Goodness is one such brand that is trusted by many. Before launching any product, the brand does a significant amount of research work.
The ingredients in most of the cases are harmless. This toning water is enriched with Red Clove extract, Witch Hazel extract, Chamomile extract, Rose flower extract, etc.
All of these ingredients are extremely beneficial. Well! Let's check out what else this toning water offers.
Pros

Perfect for normal, dry and very dry skin
Makes skin smooth and makes it relaxed
Gentle formula
Lovely aroma
Makes skin glowing and hydrated

Cons

I would not recommend this toning water to people with Rosacea.
The added fragrance is not much recommended for sensitive skin

Overall, I must say that this is one of the best toners in India that are affordable, harsh chemical free, and alcohol free.
4. Blend It Raw Apothecary Organic Turmeric Hydrosol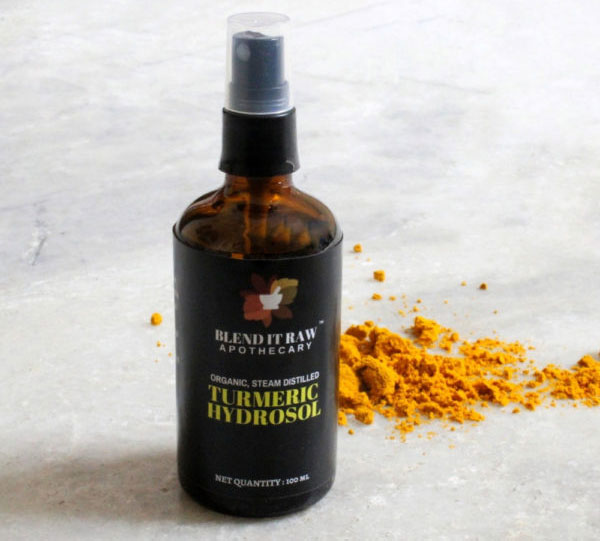 Courtesy of Brand
Shop Now!
Blend It Raw Apothecary is a brand worth mentioning. The brand deals in Herbs, Powder cleansers, Carrier Oils, Essentials Oils, etc. All of these are sourced from their origins and are kept absolutely fresh & unadulterated.
This hydrosol a potent toner for people with oily and combination skin. Let us check out what makes this colourless liquid one of the best toners in India that are affordable, harsh chemical free, and alcohol free.
Pros

Organic turmeric roots have been used to extract the steam distilled colourless water
Soothing earthy aroma
Provides bright complexion
Helps to reduce acne and acne scars
Enriched with antioxidants

Cons

The quantity is low in comparison to the price tag

Well! The availability of this hydrosol might be an issue as the owner does not bottle it up in a large scale. Large scale manufacturing might cause contamination.

So, I would suggest if you are wondering about buying it, then try to stock up at least two bottles. Use one bottle and store the other one intact in refrigerator.

Apart from this particular hydrosol, there are other hydrosols too that you would like to buy.
5. WOW Skin Science Lavender & Rose Skin Mist Toner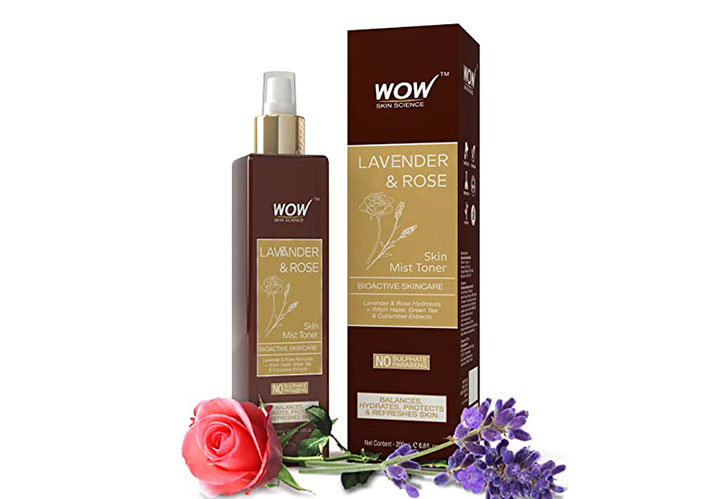 Courtesy of Brand
Shop Now!
There is no doubt that Wow Skin Science is one of the best sulphate and paraben-free brands. This brand is particular about the ingredients they use to formulate their products. Be it shampoo or a face wash, the brand is equally careful about the formulation.
This toner is enriched with the hydrosols of Rose and Lavender, it also has Witch Hazel extract, Green Tea extract, and Cucumber Extract. Honestly, during summer, I love anything made with Green Tea, Cucumber, and Lavender.
Check out the features that make this one of the best toners for Indian summer.
Pros

Best for oily and combination skin
Makes skin rejuvenated
Hydrates skin well and imparts a nice glow
Ideal to be used at both day and night
Makes skin soft and tightens the pores

Cons

Only key ingredients are mentioned on the label.
Might not be suitable for acne prone skin

Overall, if you are an oily or combination skin person and you are looking for an affordable decent toner for your skin, then this toner can be a good choice.
6. Bon Organics Face Toner – Rosewater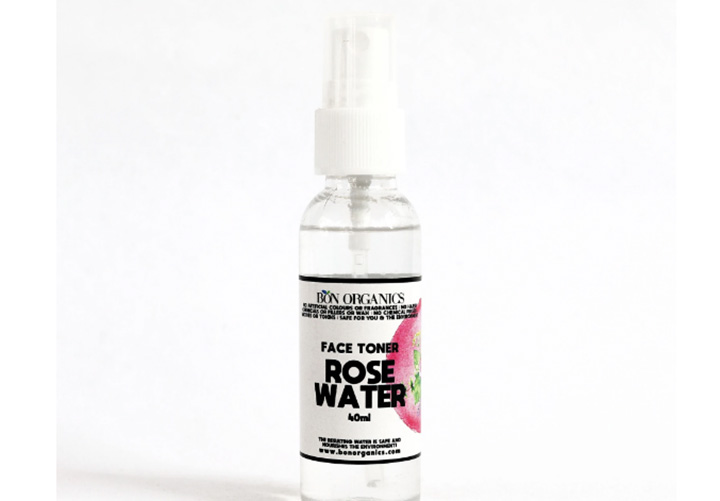 Courtesy of Brand
Shop Now!
There was a time when I used to be an avid user of Bon Organics products. The aloe vera gel from this brand was my absolute favourite.
With time, I have replaced those products for sure but my trust for this brand has only increased. This face toner is one of its best sellers.
It is enriched with distilled rose water made with real petals, essential oils of Wild Rose, Vanilla EO, Aloe Vera Gel, Vitamin E, and natural preservative salinatural TCLS.
It is actually a blend of turmeric oil, clove bud oil, lemongrass oil and sesame oil. This is a broad spectrum preservative that protects a cosmetic from bacteria and mould formation. Isn't it incredible? Let us take a look at the other salient features of this toner.
Pros

Best for oily, sensitive, and combination skin
People with Acne prone skin can use it too
Detoxifying and refreshing formula
Beautiful aroma
Imparts a nice glow
Evens out complexion

Cons

Overall, this is indeed one of the best chemical free and affordable toners in India.
7. Mamaearth Vitamine C Face Toner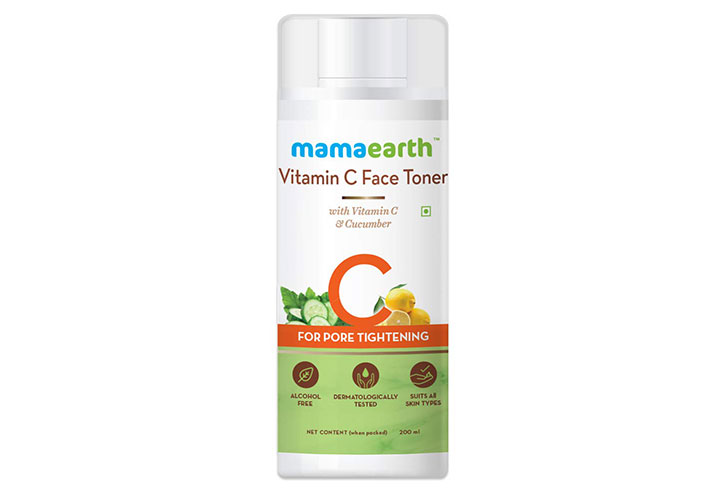 Courtesy of Brand
Shop Now!
There are a number of brands that everyone trusts and Mamaearth is indeed one of those. The unique harsh chemical-free formulation is the salient feature of Mamaearth products.
This facial toner is one of their best sellers. It is enriched with Aloe Vera Gel, Cucumber, Vitamin C, Lactic Acid, Witch Hazel, etc. I was surprised to find Glycolic Acid in the list.
It has been extracted from Sugar Cane and is one of the best exfoliating agents. Check out what else makes this toner one of the best toners in India that are affordable, harsh chemical free, and alcohol free.
Pros

Best for all skin types. In fact, people with acne prone and sensitive skin can use it too
Mostly naturally derived ingredients are used here. In fact, the brand has also discussed the source of individual ingredients and their functionalities
Paraben free formula that has been dermatologically tested
It can restore pH balance
Imparts a nice glow

Cons

As a whole, this face toner is one of a kind and is one of the best in terms of formulation. Just give it a try; I am sure you won't regret.
8. Tvakh Fruit Enzyme Alcohol Free Toner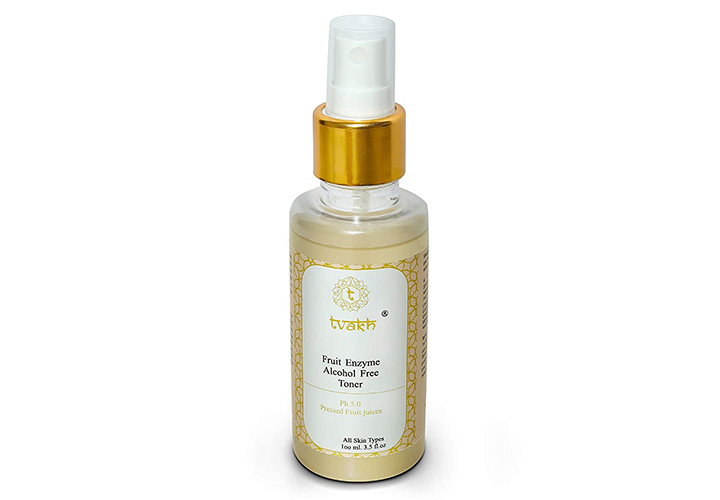 Courtesy of Brand
Shop Now!
Not many people are aware of this brand. It is one such brand that bottles up harsh chemical free products. This alcohol free toner is enriched with Rose Hydrosol, Aloe Vera Juice, Orange Peel Extract, Pomegranate Extract, Blackberry Extract, Lavender Flower Water, etc.
It is basically enriched with naturally derived AHA and BHA. Check out apart from affordability, what else makes this toner one of the best toners in India.
Pros

Enriched with the goodness of fruits and flowers
Deep cleanses skin and makes it soft-smooth
Skin looks radiant
Helps to fade acne scars and also controls the acne breakouts
Provides mild exfoliation

Cons

A strong fruity fragrance has been added. And thus, I would not recommend this product to people with sensitive skin

As a whole, it is one of the safest toners in India that is also free from harsh chemicals.
9. Indulgeo Essentials Rose Geranium Witch Hazel Mist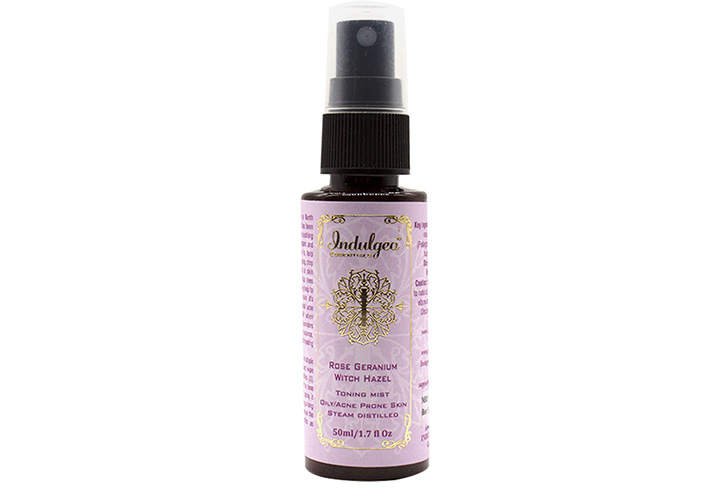 Courtesy of Brand
Shop Now!
Indulgeo Essentials is a pretty popular brand. Especially, the Rose Gold Oil stirred social media a lot. The brand boasts upon its ingredients and formulation. Each and every product has been formulated with utmost care. And this facial mist is not an exception too.
It is enriched with the steam distilled Rose Geranium Flower Water and extracts of Witch Hazel. Basically, it is a hydrosol that works perfectly as a toner too. Here goes a list of salient features that would compel you to buy this product.
Pros

Best for oily, combination, acne prone, and sensitive skin
Soothes out irritated skin
Imparts a natural glow to the skin
Full of antioxidants that accelerate healing
Helps to control the excessive oil secretion
Quite a good formulation for summer

Cons

On the label, it has been mentioned "key ingredients". I would have liked it more if the brand had disclosed the full ingredient list.

From every aspect, this facial toning mist/toner is quite a striking deal.
Recent Update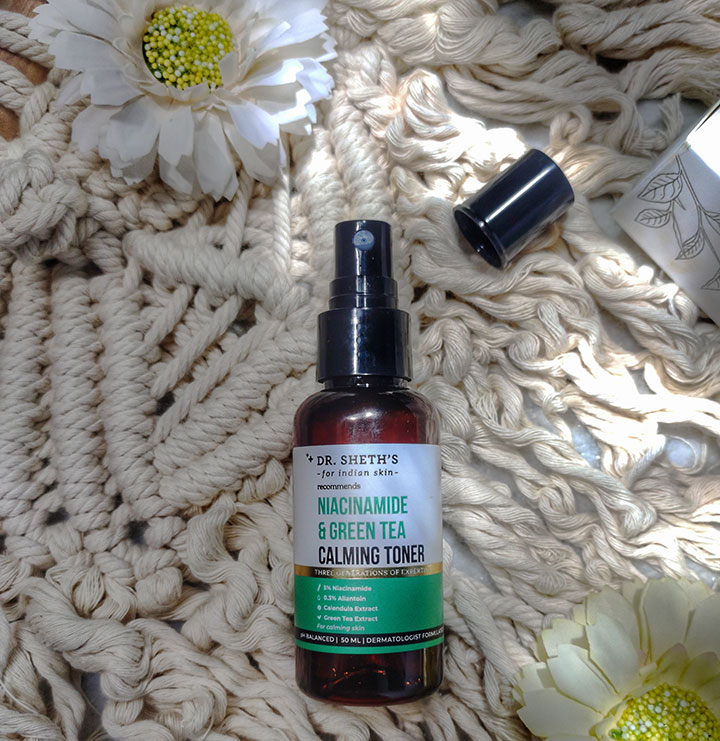 Recently, I came across Dr. Sheth's Niacinamide and Green Tea Calming Toner which is another alcohol free toner that is affordable too.
The lightweight toner comes with an excellent formulation that is free from harsh chemicals and additives like fragrance and colours. Check out my detailed review on this toner.
Final Thoughts
At the time of this write-up, all of these toners are amazing. But, this is definitely not the ultimate one. There are other toners too like Vilvah Rose Water, Bio Bloom Skin Toner, etc. which are also harsh chemical free and alcohol free.
I would always suggest that before you pin down a particular product, make sure you know your skin type. Also, check the ingredients used in the formulation.
So, have you found out the one you were looking for?  Let us know in the comment section below.