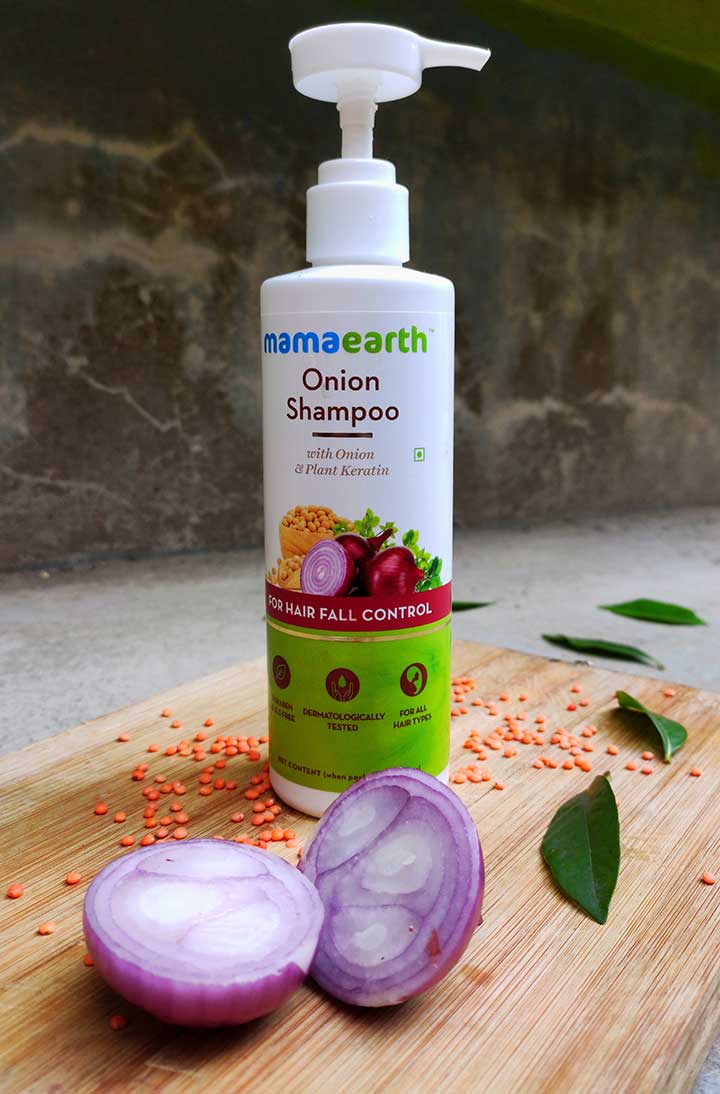 Mamaearth Onion Hair Fall Control Shampoo Review
In recent times, the popularity of Mamaearth has increased significantly. The brand is all about safe ingredients that work for real.
Naturally, every Mamaearth product comes with loads of expectations. This shampoo, since its launch, created a lot of hype among the netizens.
Especially, it is popular for its hair fall control tag line. As a blogger, I am always eager to try new products.
So recently, when my shampoo bottle went empty, my curious mind said that I should go for it. And, after trying it out for a couple of weeks, here I present my review on Mamaearth Onion Hair Fall Control Shampoo.
Table of Contents
Basic Details about Mamaearth Onion Hair Fall Control Shampoo
Price: INR 349 for 250ml
Shelf Life: 2 years
Buy From: Amazon
What Does the Brand Claim about Mamaearth Onion Shampoo?
Pollution and unhealthy lifestyle cause a lot of troubles. Along with other problems, hair fall increases too. The formula of Mamaearth Onion Hair Shampoo aims to protect your tresses from all these. This shampoo is enriched with onion oil, vitamin E, Keratin, etc.
All these ingredients help to keep hair healthy and nourished. Onion Oil is loaded with Sulphur and many other antioxidants that help to promote hair growth. The formula keeps hair frizz-free and silky. In fact,  people with chemically treated hair would find this shampoo suitable too.
Ingredient Analysis of Mamaearth Onion Hair Fall Control Shampoo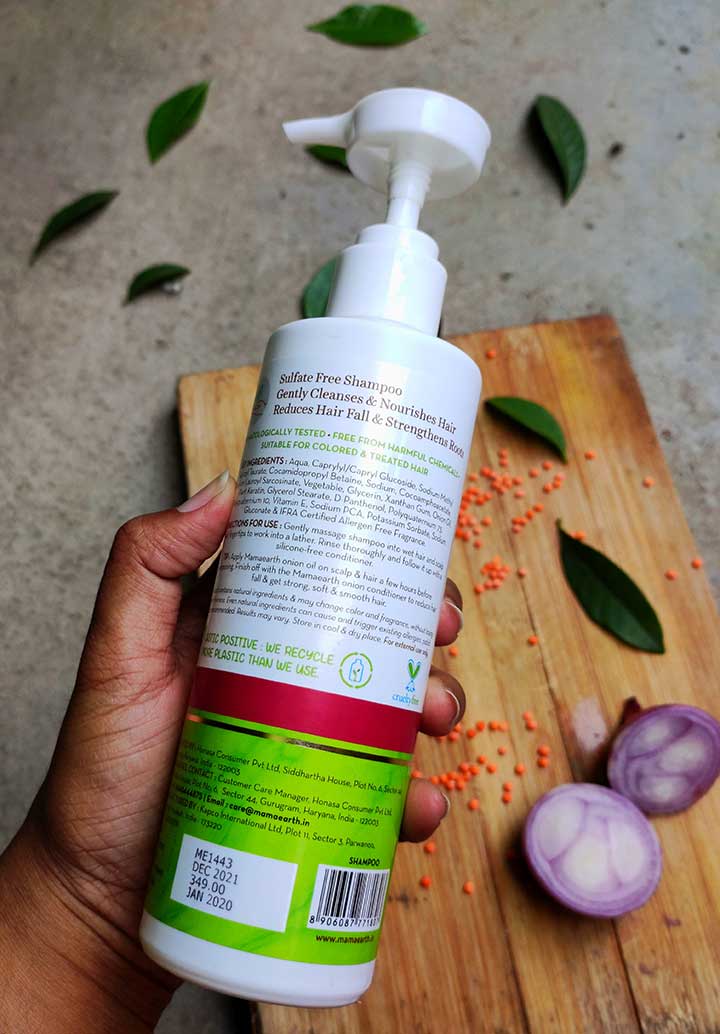 So far, you might have understood one thing that the ingredients of this shampoo play a major role. The company boasts upon its Sulphate-free formula. It is basically the formulation that has caused a lot of hype surrounding this shampoo.
Well! Honestly, I did not find the ingredients much mind-boggling. There was nothing surprising. The ingredients are all heard-of. Without wasting any more time, let's analyze the ingredients of Mamaearth Onion Hair Fall Control Shampoo in depth. There are at least 20 types of ingredients; so, stay tight.
Aqua
The base of any liquid-based product
Caprylyl/Capryl Glucoside
According to EWG, it is a safe cleansing agent.
Sodium Methyl Cocoyl Taurate
It is another plant-derived surfactant that is absolutely safe both for the scalp and the environment.
Cocamidopropyl Betaine
The basic function of this moderately safe component is to act as a surfactant. The other functionalities are hair conditioning and increasing viscosity.
Sodium Cocoamphoacetate
This is a safe surfactant which is derived from Coconut Oil. It creates a slippery effect. And thus, cosmetics with this component generally glide easily on the skin.
Sodium Lauroyl Sarcosinate
It is a synthetic and safe hair conditioning agent. This ingredient also works as a surfactant.
Vegetable Glycerin
Glycerin is indeed one of the best humectants that retain moisture.
Xanthan Gum
Generally used as a safe thickener in cosmetics.
Onion Oil
Onion oil is quite a potent ingredient for our tresses. It helps to nourish our hair follicles. An abundant amount of Sulphur is found in this oil that protects hair from thinning.
Apart from these, it also protects against dandruff and makes hair voluminous. The concentration of onion oil is quite medium here. And, I feel this is where many other Sulphate free shampoo might win.
Plant Keratin
The secret behind a lustre filled hair is this ingredient. It makes hair strands strong from inside and makes smooth from outside.
Glyceryl Stearate
It basically works as a lubricant. So, skin or scalp feels soft and smooth. Glyceryl Stearate also acts as a natural barrier on the skin to help other emulsifiers.
D-Panthenol
At room temperature, D-Panthenol looks like transparent oil. It is actually derived from Vitamin B5. In cosmetics, this component is used to improve the texture, strength, and softness of hair.
Polyquaternium 73
Generally used in hair care products to thicken the formula. It is moderately safe.
Polyquaternium 10
It is a safe synthetic polymer. This element mainly works as a film former in cosmetics.
Vitamin E
An excellent naturally found anti-oxidant
Sodium PCA
Generally, PCA is used widely in hair care products. The Sodium salt of PCA is used in formulae to increase the water content on the topmost layers of the skin.
Potassium Sorbate
Widely used as a safe preservative in skincare and haircare products. It is often found in food items.
Sodium Gluconate
A chelating agent is a must in cosmetics. And, Sodium Gluconate is a safe alternative to EDTA.
Phenoxyethanol
Another moderately safe preservative in cosmetics.
IFRA Certified Allergen Free Fragrance
Well! I wish the brand could have revealed the fragrance name too. Just labelling it as certified by the International Fragrance Association does not mean it is safe.
And, here ends the result! Honestly, I expected a better job by the brand. They could have used a few essential oils. OR, at least they could have used more concentration of Plant Keratin, Vitamin E, and Onion Oil.
The ingredients are indeed safe; especially, the choice of surfactants in place of SLS is commendable to the core for sure. But, at this price tag, I had expected a bit more. So, I would rate these ingredients 4.5 out of 5.
Packaging, Texture, and Aroma of Mamaearth Onion Shampoo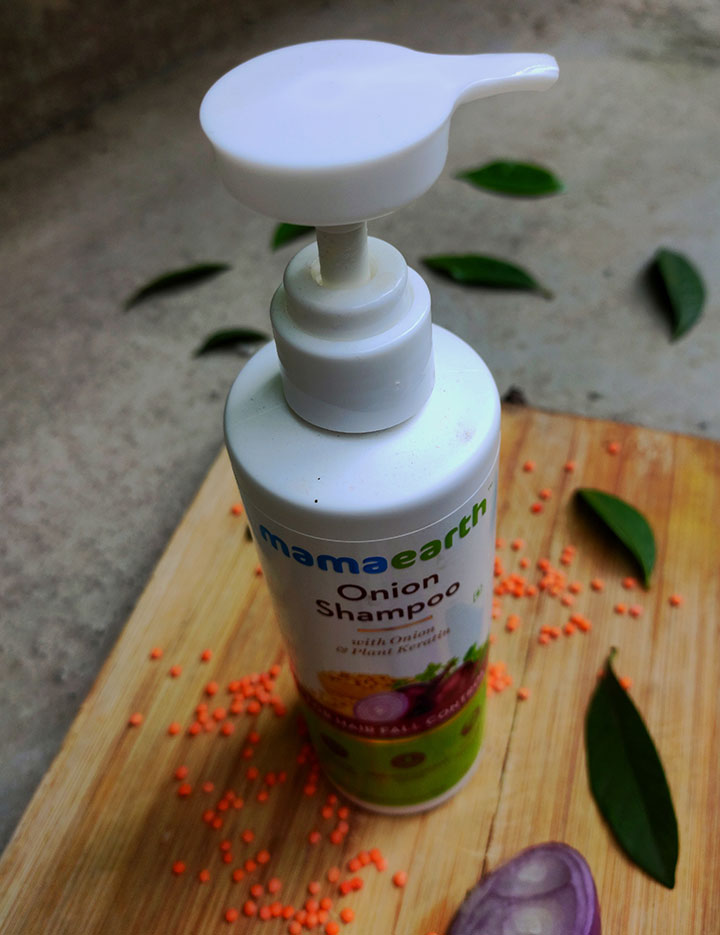 It comes in a recyclable plastic bottle. The nozzle is long and easy to pump up the shampoo. There is nothing extraordinary about the packaging. And, as it does not come in travel-size, so this bulky packaging cannot be termed as travel-friendly.
Its texture is like a white thick gel that is not easy to spread. So usually, I mix it with sufficient amount of water. Once lather forms, I apply on my scalp.
The aroma is mystic and pretty unique. Although according to my mom in law, its aroma is similar to onion :P. Well! One thing is for sure that the aroma is quite different from the rest.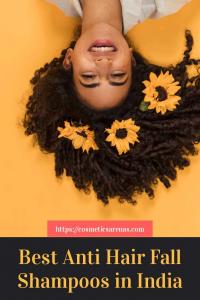 Check out the curation of the best anti hair fall shampoos in India. All of these are effective and works like magic against hair fall.
Read More
My Experience with Mamaearth Onion Hair Fall Control Shampoo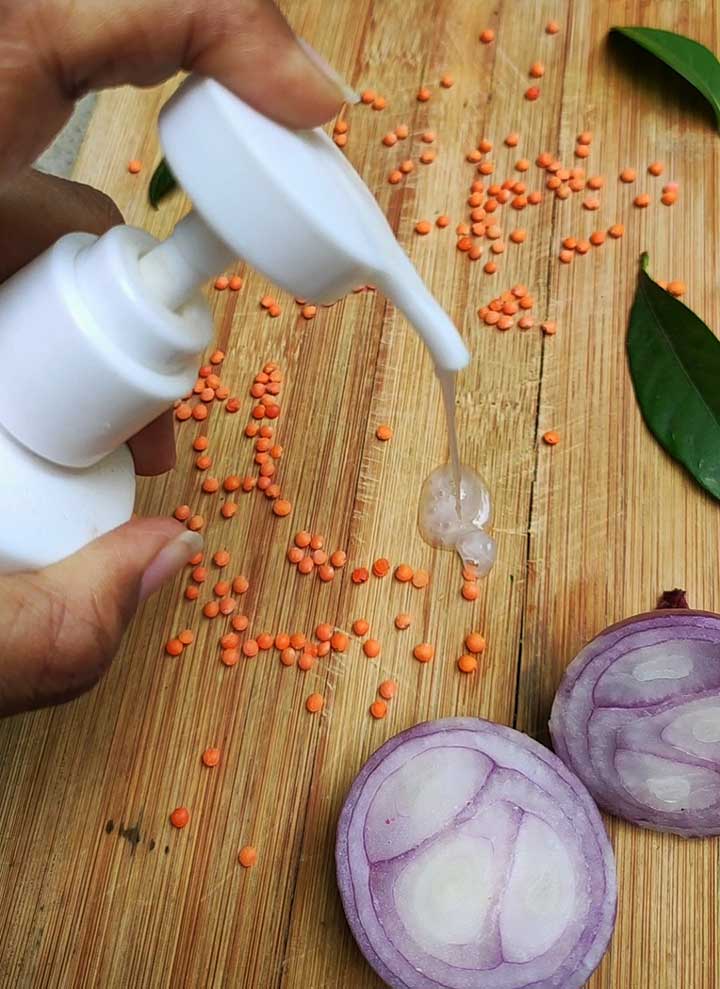 Usually, I shampoo my hair twice a week. And twice a month, I oil my hair. So, I would share my experience for both cases. As I said, this shampoo is not easy to spread.
For sufficient lather, it is better to mix it with water. All you need is 3 pea-size amount of shampoo when you have not oiled your hair. Massage the blend of shampoo and water on your scalp. And, wash off with cold water.
As the shampoo is quite on the dry side, it would be better if you do not rub this on your hair strands.
How This Shampoo Works on Oiled Hair?
Many people love to apply oil at least once a week. Well! This shampoo definitely works well for the oily scalp too. But in that case, you would end up using more product to remove all the oil.
Does Mamaearth Onion Hair Fall Control Shampoo Cause More/Less Hair Fall?
The answer would be none. This shampoo neither controls hair fall nor increases the loss. In short, it has no effect on hair fall. So, tagging this shampoo with a hair fall solution would be entirely wrong.
Does Mamaearth Onion Shampoo Cause Dandruff?
Well! I know that the question seems quite irrelevant as the brand never claimed it to be an anti-dandruff solution. But, I would like to be very honest with you regarding this.
My scalp is oily round the year and the ends are dry. So, dandruff is my all-time pal. After using this shampoo, I noticed that my dandruff has come back!!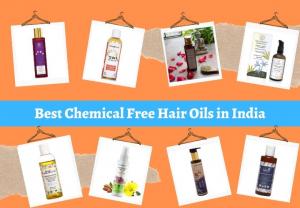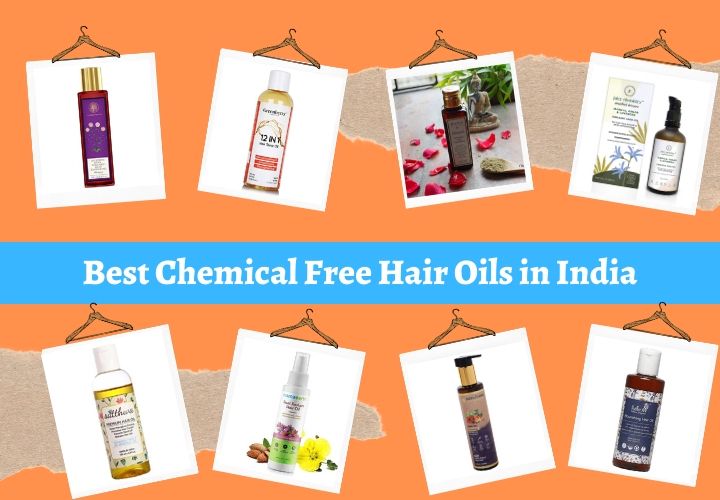 Are you looking for organic and chemical free hair oils for hair growth? Find out a compilation of the best chemical free hair oils in India.
Read More
Pros of Mamaearth Onion Hair Fall Control Shampoo 
Sulphate and Paraben free formula
Enriched with Onion Oil, Vitamin E, and Plant Keratin
Cleanses well
Mystic aroma
Does not trigger hair fall
Cons of Mamaearth Onion Hair Fall Control Shampoo 
Might trigger dandruff
Not suitable for people with oily scalp and dry ends
Does not contain hair-softening ingredients; thus, conditioner is a must
The concentration of active ingredients is medium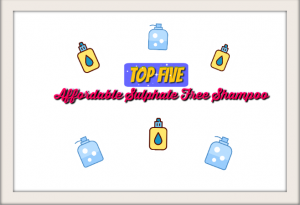 Check out the list of best affordable sulfate (sulphate) free shampoos in India. The list is updated. You must try these shampoos in 2020.
Read More