Best Face Wash for Dry Skin in India
As a dry skin person, I have always faced difficulties in finding the best face wash for my skin type. In the time when we have such a huge amount of choices or options, it becomes really hard to count upon one. The best face wash is not the one that is inexpensive, it is not also the one which is branded, but something that must work for the particular skin type.
Dry skin has its own saga to tell and only a dry skin person can understand the pain. Our skin does not retain sufficient moisture and thus, we experience scaling, itching, and many more skin problems. Naturally, we need such a kind face wash that is not only enriched with helpful ingredients but also retains moisture or at least makes our skin hydrated.
9 Best Face Wash for Dry Skin in India that Your Skin is Going to Love for Sure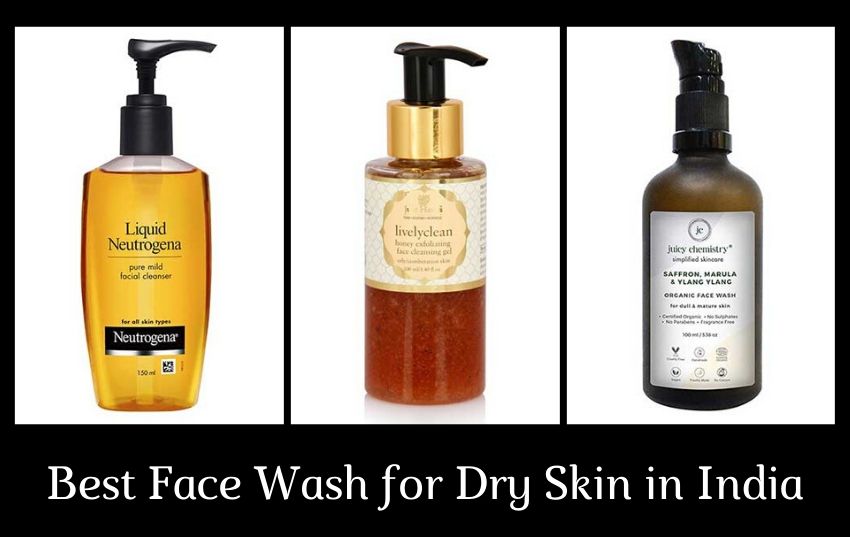 In the following section, I am going to curate the 9 best face wash for dry skin in India. Some of these face washes are perfect for sensitive skin as well. Moreover, a few face wash are absooutely chemical free, SLS free, and paraben free.
Here, I have not taken the price of a particular as a parameter here. The efficacy of the product says it all. Anything that is effective and does what the brand claims have been included in the list. So, without blabbering much, let's talk about the bests.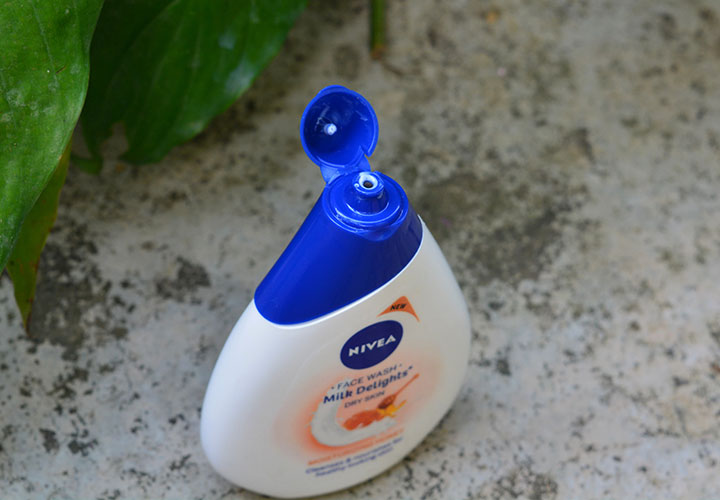 Shop Now!
This is one such face wash that I can count upon anytime. Although I had always been an ardent fan of Nivea, yet I never thought that I would love their face wash as well. So, Nivea came up with a few more variants along with this. But, this one caught my attention immediately for two reasons. Firstly, I love anything with honey and second of all, it was promoted for dry skin people only. I grabbed it and just from the first wash itself, I fell for this. This is indeed one of the best affordable face wash for dry skin in India. And, here goes the reasons behind my love for this face wash.
Pros

Sodium Myreth Sulfate which is used as the main surfactant is pretty safe
Real honey extract is used that makes skin hydrated even after wash off
Makes skin soft
People with sensitive skin can use it too

Cons

Presence of BHT, paraben, and perfume in the formulation might not be liked by all

Overall, it is one of my favorite and one of the best face wash for dry skin in India.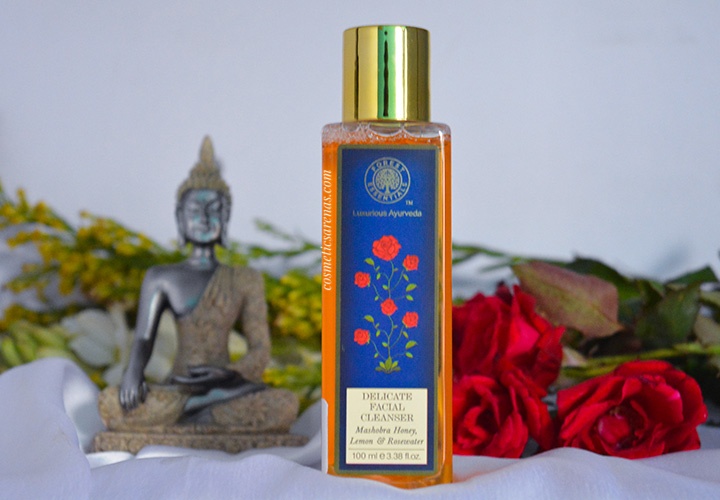 Shop Now!
Well! This was my first ever purchase from the brand Forest Essentials. Before that, I used to be pretty sceptical because of the hefty price tag. Honestly, even when I bought this product, it was a 'just like that' moment and I was not sure whether it would be effective or not. But, as the product is included among the list of the bests, it is obvious that something interesting happened. So, let me tell you in the following section that what compelled me to include this among the best face wash for dry skin in India.
Pros

Enriched with Rose Flower extract, Nagkesar Extract, Kumud Flower Extract, etc.
Pretty mild texture that is perfect for daily usage
Foams well

Cons

Complete ingredient list is not provided

Overall, if the high price tag does not bother you, then this is a face wash worth giving a try. I would always vouch for this product.
3. Just Herbs Lively Clean Honey Exfoliating Face Cleansing Gel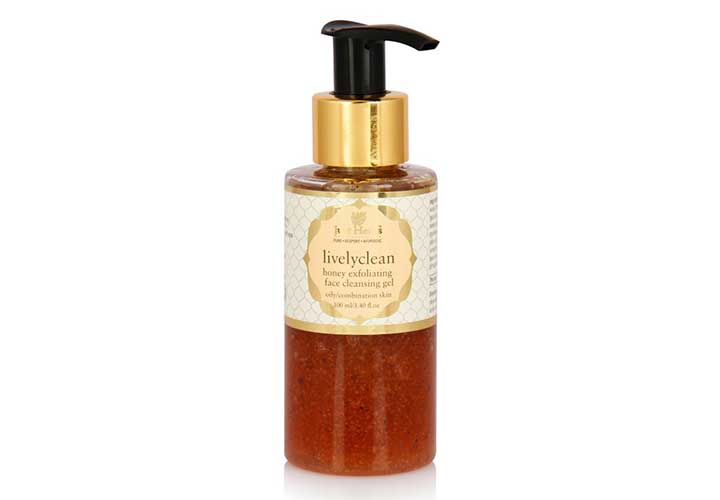 Courtesy of Brand
Shop Now!
Just Herbs is one such brand that is better known for the interesting active ingredients it bottles up. The brand uses a number of active ingredients which is definitely great. Well! If you are looking for something that covers up the skin exfoliation part as well, then this is definitely what you need in your life. If ingredients used in cosmetics are your concern, then this can be your call. Check out why you need this face wash in your life.
Pros

Enriched with Jojoba seed oil, extracts of honey, Tulsi, Arjuna, orange peel, aloe vera, and other components
Mild surfactants like Decyl Glucoside and Cocoglucoside have been used in the fomulation
Natural preservatives are used
Suitable for Dry skin and All skin types
Does not dry out skin
Mild exfolliating in texture

Cons

Quite pricey in comparison to the quantity
Not suitable for severe dry skin

Overall, this face wash is worth giving a try especially because of the choice of surfactants and also because of the ingredients.
Also Read: 10 Best Organic Face Wash in India
4. Aroma Magic Lavender Face Wash For Dry Skin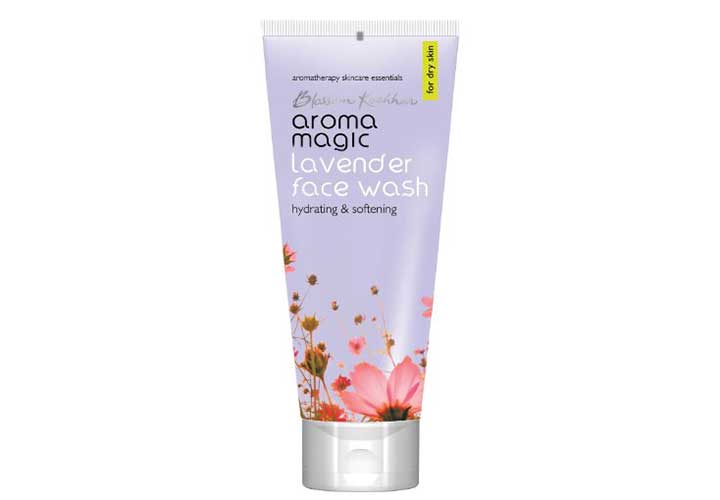 Courtesy of Brand
Shop Now!
Well! Both the face wash mentioned above definitely have amazing formulation and active ingredients, but those are pretty pricey for sure. And often, we do not want to purchase pricey cosmetics. So, for a change, here is one face wash from the brand Aroma Magic that is not only inexpensive compared to others but also is effective. Let's highlight the prime features that make this face wash one of the best affordable face wash for dry skin out there.
Pros

Soothing aroma of lavender
Makes skin hydrated and imparts a subtle glow to the skin
Sensitive skin people can use it too
Paraben free formulation
Also enriched with orange extract that has excellent antioxidant properties

Cons

Complete ingredient list is missing

Overall, if you are looking for a budget friendly face wash to control your severe dry skin and also if ingredients of cosmetics do not bother you much, then just give this one a try. I am sure, you are going to like it.
5. Juicy Chemistry Saffron, Marula & Ylang Ylang Organic Face Wash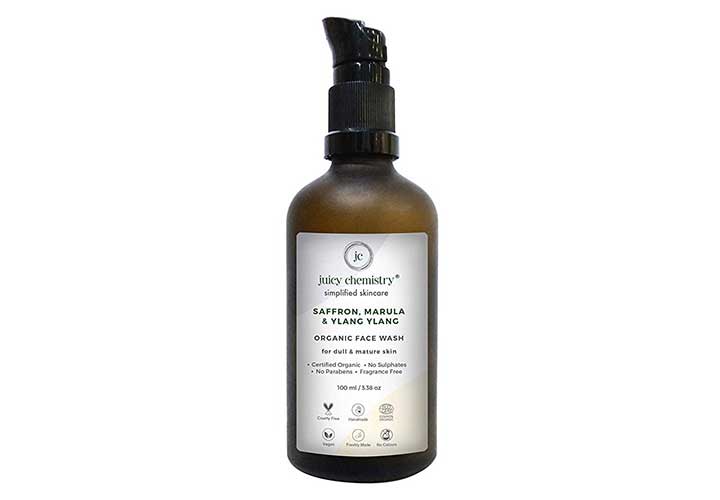 Courtesy of Brand
Shop Now!
Juicy Chemistry had always been my Holy Grail brand. I love how simple yet authentic ingredients are. The brand hoards a number of amazing products like face wash, shampoo, soaps, lip balms, etc. All the ingredients are sourced from right from the origin; which is indeed amazing. Well! I must agree that Juicy Chemistry products are mostly quite pricey. But here is the reason behind that. The ingredients are all priceless and the formulations are effective for sure, this explains the price tag for sure. And thus, I do not mind to purchase my monthly dosage of Rosehip oil from the house of Juicy Chemistry. Now, let's talk about this face wash that makes this one of the best face wash for dry skin.
Pros

Filled with the goodness of Lavender Oil, Saffron, and Ylang Ylang Oil
The surfactants used here are safe and mild at the same time
It does not dry out skin
Skin feels hydrated and also no break outs occur

Cons

Glass bottle is not much safe for travel purpose

Overall, if price is not a factor for you and if you are confortable with glass container, then this face wash is worth giving a try. This is indeed one of the best chemical free face wash for dry, dull, and matured skin.
6. Greenberry Organics Honey and Turmeric Oil Face Wash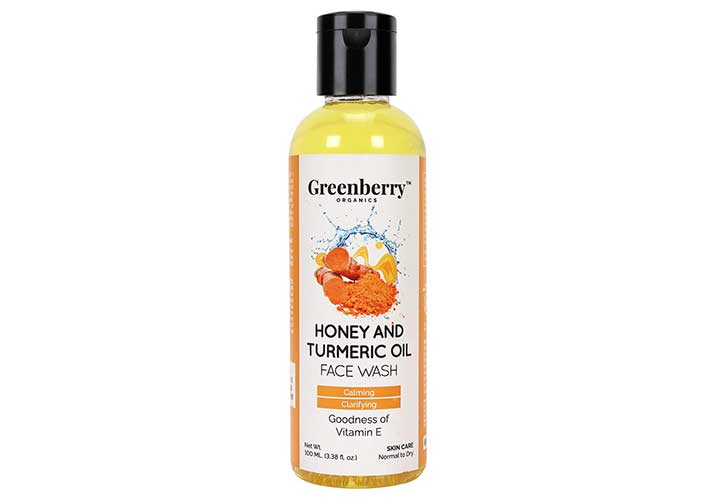 Courtesy of Brand
Shop Now!
Greenberry organics has won my trust always. The brand carefully picks up the ingredients and formulate products. They use Nipagaurd SCE which is a broad-spectrum antimicrobial agent and this is definitely different than the rest of the companies out there. This face wash from the brand is definitely not a nee launch but the formulation and the efficacy are reasons to give it a try. Let's take a look at the salient features of this one.
Pros

Goodness of Honey, Turmeric Oil, Vitamin E
The surfactants are pretty mild and effective cleansers
Natural fragrance have been used and that makes it suitable for even the sensitive skin types
Does not make skin dry; in fact, skin feels hydrated
Perfect for tired and dull looking skin; provides an instant freshness

Cons

Overall, this face wash is worth giving a try. The formulation and effiicacy are enough to include this product among the bests.
7. Neutrogena Liquid Facial Pure Mild Cleanser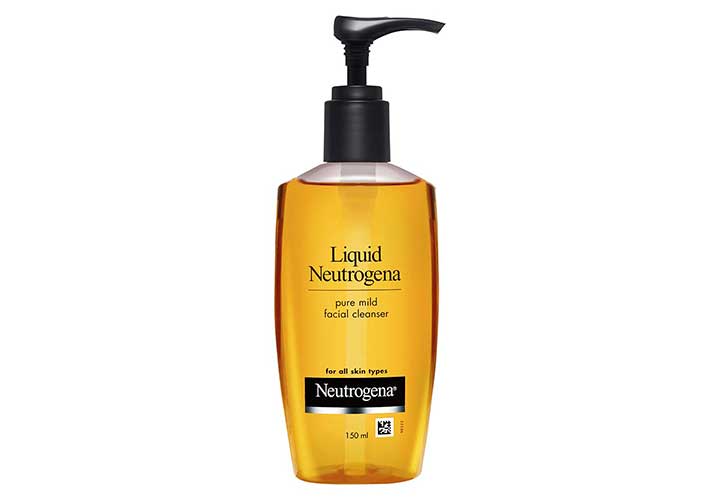 Courtesy of Brand
Shop Now!
Neutrogena is surely one of the most trusted drugstore brands. The products that are bottled up by the brand are pretty effective. Most importantly, the brand is generally pretty particular about the ingredients they put inside and also the products can live up to the claims. at the time writing, this is one of the best drugstore mild face wash. Let me compile the salient features that make this product the best in the line.
Pros

Sodium Trideceth Sulfate is used as surfactant; it is pretty mild in nature and thus can be used as a daily cleanser
Coconut Acid is another safe cleanser here
Perfect for normal to dry skin
Does not make skin dry after wash off
Imparts a glow after several wash

Cons

The aroma is not much good
BHT is there in the formula

Overall, this mild face wash is one of the best face wash for dry skin in India.
8. Dove Beauty Moisture Conditioning Facial Cleanser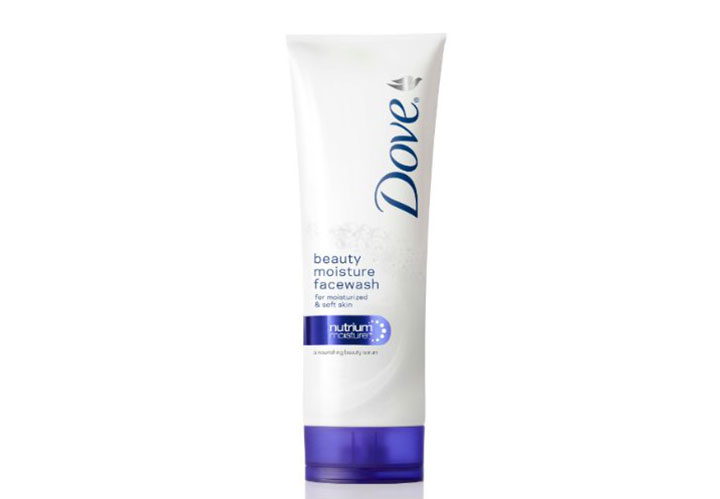 Courtesy of Brand
Shop Now!
Like Nivea, Dove is another brand that is attached to millions of people. My mom introduced me to the Dove soap and till date, it is the best drugstore moisturizing soap in my life. My winters are incomplete without Dove soap.
Around two to three years back, this face wash was launched. Since then, it has been adored by many. Let's check out what made this cleanser one of the best affordable face wash for dry skin in India.
Pros

It has the goodness of Nutrium Moisture which is the patent ingredient of Dove.
SLS and paraben free formula
Pretty creamy in texture and
Skin does not feel stretchy or dry after wash of
Skin feels soft and smooth

Cons

Contains BHT and Linalool

Overall, if you are looking for a drugstore face wash that is free from SLS and paraben, then you must go for it if you haven't already.
9. Lakme Blush & Glow Strawberry Creme Face Wash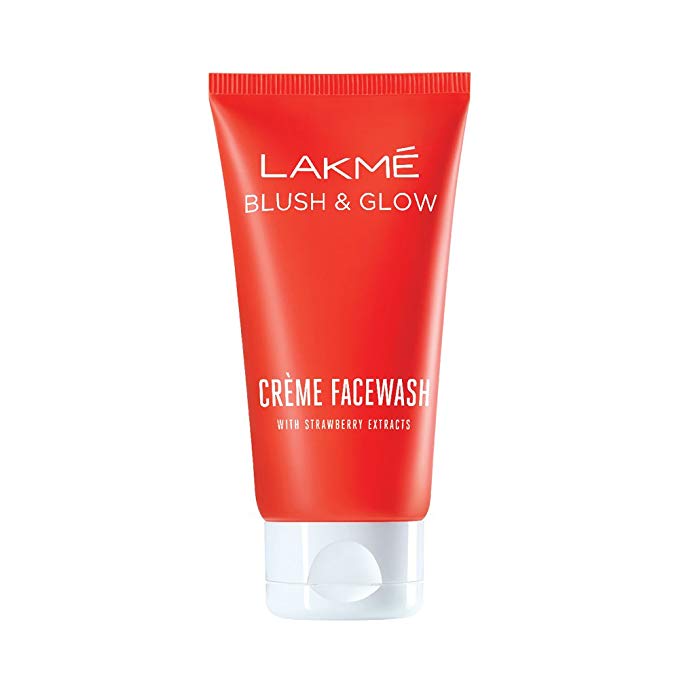 Courtesy of Brand
Shop Now!
The Blush and Glow range from Lakme is one of a kind. The range contains a number of varieties namely Avocado, Kiwi, Peach, Lemon, Strawberry etc. In fact, recently Lakme launched Blush and Glow Sheet Masks. This particular variant has a creamy texture. It is targeted for dry and dull skin. But what makes this face wash one of the best face wash for dry skin in India. Well! Let us check out.
Pros

Creamy gel like texture
Goodness of strawberry and other fruit extracts
Cleanses all dirt and oil
Does not dry out skin
Soothing aroma

Cons

DMDM Hydantoin and SLS are present

Overall, this is a pretty affordable face wash that is available everywhere and works for real.
Well! Apart from these 9 best face wash for dry skin in India, there are other face wash too like Biotique Honey Face Wash, Cetaphil Gentle Cleanser. Although I never recommend Biotique. But, if you love Biotique products, then you can go for their honey face wash.
Often, people with dry skin ask me a number of questions. Most of the times, the questions are similar. So, in the following section, I have tried to jot down three of those queries.
1. I have Dry skin; Can I use Foaming Face Wash?
Myristic Acid-based foaming face wash is not a very good option for dry skin people. Those are way too drying. Rather, go for a soap-free gentle formula that can hydrate and moisturise skin at the same time.
2. Should I use Herbal Face Wash on My Skin?
Well! The herbal face wash has no base these days. And honestly, ingredients say it all. A herbal face wash might be SLS free or may not. So, the purity and efficacy depend upon the ingredients not the mere number of active ingredients or the so-called herbal ingredients.
3. What are the Good Ingredients to Choose for Dry Skin?
SLES, Hyaluronic Acid, Decyl Glucoside, Coco-Glucoside, Potassium Cocoate, Sodium Cocoamphoacetate, etc. are ingredients that are safe and effective for dry skin.
Tips to Take Care of Your Dry Skin
Do not scrub your face with harsh cloth or scrub.
Exfoliate twice or thrice a week. But do not overdo that.
Make sure to wash your face with cold water.
It is better to use a soap-free formula and mild cleansers. If you are using soap, make sure it is a moisturising one.
It is better to use fragrance-free formula
No matter how hydrating your face wash is, do not forget to use a moisturiser after you wash off your face.
And, that's all! I hope you have found this post pretty helpful. Subscribe to Cosmetics Arena for more such posts. Keep celebrating life.