||Garnier Serum Mask Hydra Bomb Review||
Hey angel, welcome! So, tissue sheet masks from Garnier are pretty new things. These Serum Masks have been launched recently and I was one of the few people who bought it first. Honestly, I thought that it was a global launch. But, then I realized that as always, we are late. Garnier Sheet Masks had been launched way before. So, I bought two variants from Nykaa; namely Garnier Hydra Bomb and Garnier Sakura White Sheet Mask. Today I would be talking about Garnier Serum Mask Hydra Bomb. So, let's talk about that without further ado.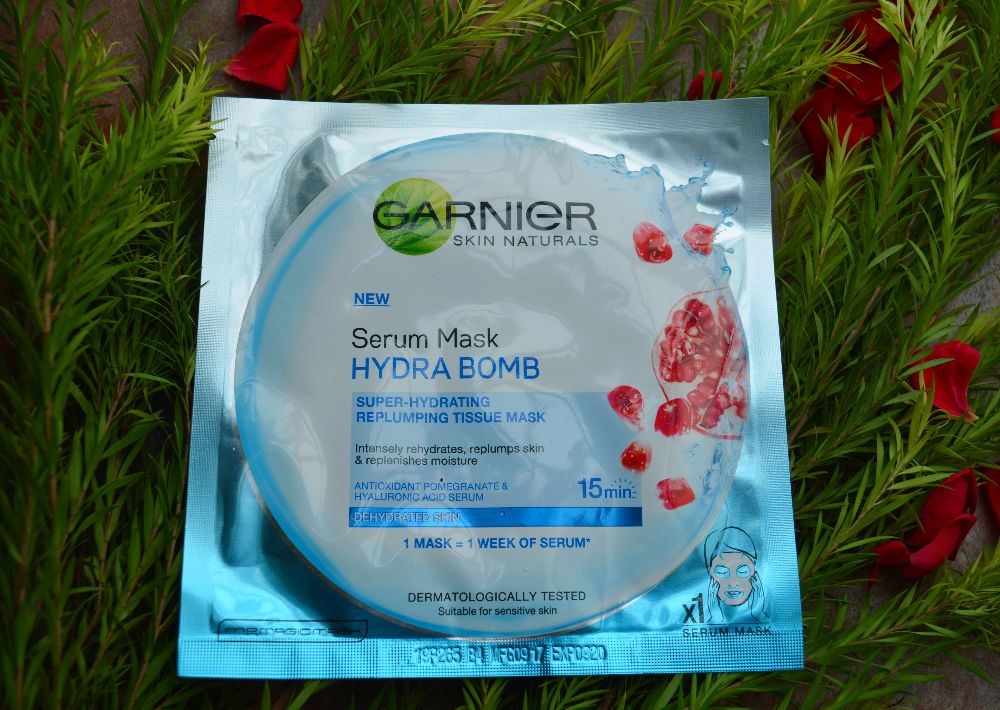 Basic Information about Garnier Serum Mask Hydra Bomb:
Price: INR 99 for a single sheet mask
Shelf Life: 3 years from the date of manufacturing.
Ingredients of Garnier Serum Mask Hydra Bomb:

Honestly, I did not have a lot of expectations from Garnier Sheet Masks regarding ingredients. We all know that Garnier is a drugstore brand, so it is utter foolishness to expect some extraordinary ingredients in the formulation. So, I was not a bit surprised when I saw the ingredients. Let's decipher every component of Garnier Serum Mask Hydra Bomb individually.
Aqua or water – the basement for any liquid based product.
Propylene Glycol: It is a hazardous fragrance ingredient. I honestly did not like its presence here.
Glycerin: A great humectant.
Alcohol: It is working as an astringent here. Undoubtedly, this component is quite drying in nature.
P-Anisic Acid: It is a masking or fragrance ingredient. It is indeed a safe component.
Dipotassium Glycyrrhizate: It is a safe botanical ingredient that is a great skin-conditioning agent.
Acrylic Acid Copolymer: It is a salt of a polymer consisting of Acrylic Acid; it is used as a binding agent in cosmetics.
[cosmetic_ad]
Witch Hazel Leaf Water: Witch Hazel water is a great natural skin-conditioning agent that can improve the appearance of dry and damaged skin.
Hydrogenated Starch Hydrolysate: It is an end product of the controlled hydrogenation of corn syrup. It is a great skin-conditioning agent and a humectant.
Hydroxyacetophenone: Very limited data available, so I am not sure about the functionality of this ingredient.
Hydroxyethylcellulose: It is a cellulose polymer; generally used as a gelling and thickening agent.
Limonene: It is a great masking ingredient, but quite hazardous.
Mannose: It is a type of sugar; it is a great skin conditioning and humectant agent.
PEG 40 Hydrogenated Castor Oil: It is great as a surfactant and emulsifier.
Phenoxyethanol: It is a moderately hazardous preservative.
Potassium Hydroxide: It is a great pH adjuster. It is a moderately hazardous ingredient.
Potassium Sorbate: Just like Phenoxyethanol, it is a fragrance ingredient and also a preservative.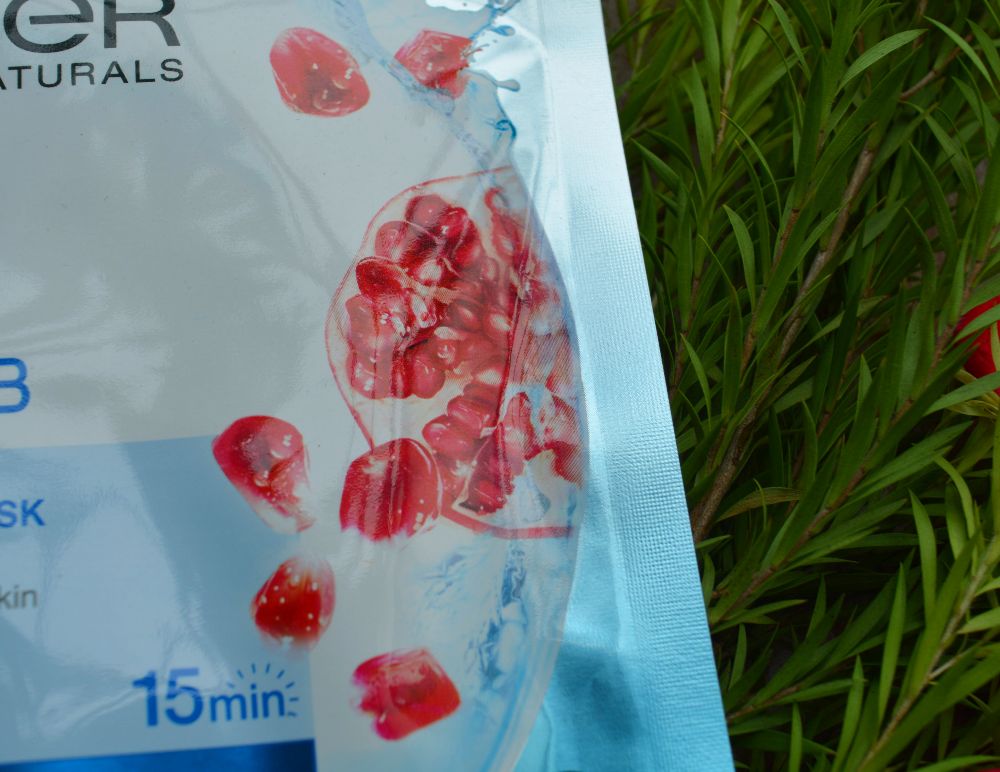 Punica Granatum Fruit Extract or Pomegranate: It is a great addition in the formula. It is a fruit that is full of Vitamin C and anti-oxidants.
PVM/MA Copolymer: It is a Binder and Emulsion Stabilizer in a formulation.
Sodium Benzoate: It is a moderately hazardous preservative and fragrance ingredient.
Sodium Hyaluronate: It is a sodium compound of Hyaluronic acid. Hyaluronic Acid is a great component for both oily and dry skin.
Sorbic Acid: It is another preservative.
Xanthan Gum: It is a binding agent.
Fragrance or Parfum.
That is all about the ingredients. Overall, the ingredients are not much impressive. It could have been much better if they had included few more exclusive herbs just like The Face Shop or Innisfree. I would go for a 3.5/5 rating solely for the ingredients.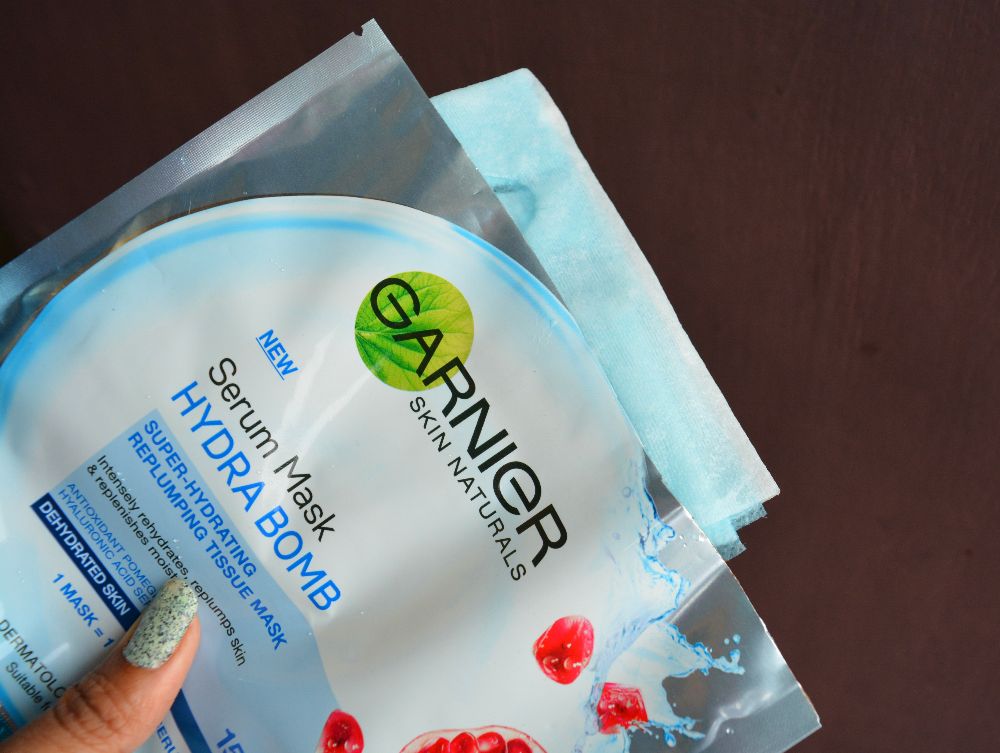 Packaging:
It comes in a glossy plastic packaging. I truly loved the color combination. It is a very shiny and girly packaging, which every girl would adore.
Texture:
The sheet masks are soaked in serum. I must say that they have pored sufficient amount of serum in these masks which is great.
Aroma:
The aroma is very refreshing and soothing. Though, there was nothing extraordinary in the aroma. I just felt good during application, and that's all!
My Experience with Garnier Serum Mask Hydra Bomb
So, when I found these sheet masks on Nykaa, I was pretty excited. This was a new launch here in India, and I bought it on the day it was launched. Yesterday, after returning home, I felt very exhausted, so I decided to apply one sheet mask to make my skin feel relaxed.
The Garnier Serum Mask Hydra Bomb Sheet Mask was wrapped using a blue thin layer of plastic just as in the picture. So, one needs to remove the layer and place it on the face. I have a big face, yet I did not face any trouble to place it, so I guess that none should find 'the size' any problem.
I kept the mask on for about 15 minutes according to the direction. My skin really felt calm and composed. The aroma and the cooling sensation combinedly gave me an amazing 15 minutes that I thoroughly enjoyed. After the timer was off, I put off the mask and went on to apply the left-over mask all over my face.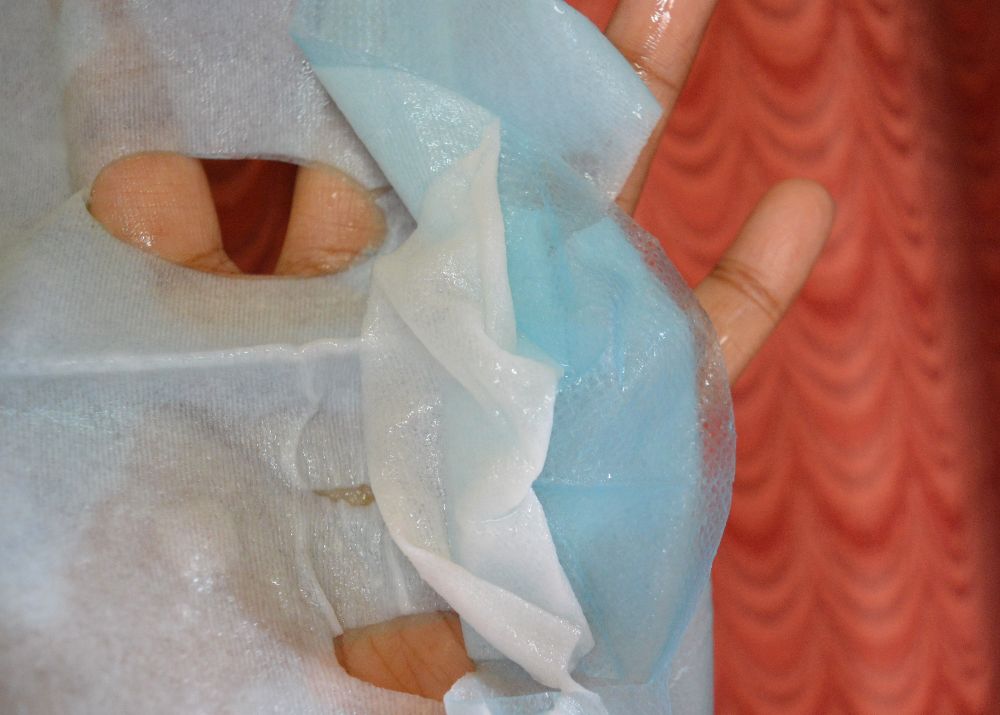 Alas! The packet did not have a drop of serum left inside; this was definitely shocking for me. Till date, I have used a number of sheet masks; especially the K-Beauty sheet masks. I never faced this issue. It disappointed me a bit. So, I just massaged my whole face and neck using the serum that was already there on my face.
What was the After-Effect of Using Garnier Serum Mask Hydra Bomb?
Well! I was relieved to find that this sheet mask did not give me any itching or rashes. It definitely made me happy. My skin is super-sensitive, so I believe that it would cause any trouble for anyone because it suited me very well.
Was it Itching While Using Garnier Serum Mask Hydra Bomb?
No! Not at all. In fact, I thoroughly enjoyed the session.

Pros of Garnier Serum Mask Hydra Bomb:
Affordable.
Attractive and cute packaging.
All the components are mentioned in the proper way.
Easy to carry.
The mask fits properly on the face.
All the sheet masks are soaked in an abundant amount of serum.
Aroma is lovely.
Skin does not itch. Even people with the most sensitive skin can use it too.
Cons of Garnier Serum Mask Hydra Bomb:
No extra serum was there inside the pouch to apply at last.
Sodium Hyaluronate is present but the quantity is very low, as it is mentioned approximately at the end of the ingredient list.
Would I Repurchase Garnier Serum Mask Hydra Bomb?
I am not a big fan of sheet masks. So, I might not repurchase these.
Would I Recommend Garnier Serum Mask Hydra Bomb?
Of course, I would! These Hydrating Sheet Masks are quite effective. You would love these.

So, that's all for today. It is a wrap-up time. I hope you find this review helpful. If you like this post, then don't forget to SUBSCRIBE to Cosmetics Arena. Thank you for reading. Take care; much love.