**This step is often called the Night Cream. Well! It goes without saying that if you are about to follow these steps at night, then you must seal your skin with a good night-cream for the ultimate nourishment.
THANK YOU FARMER Project Light Sun Essence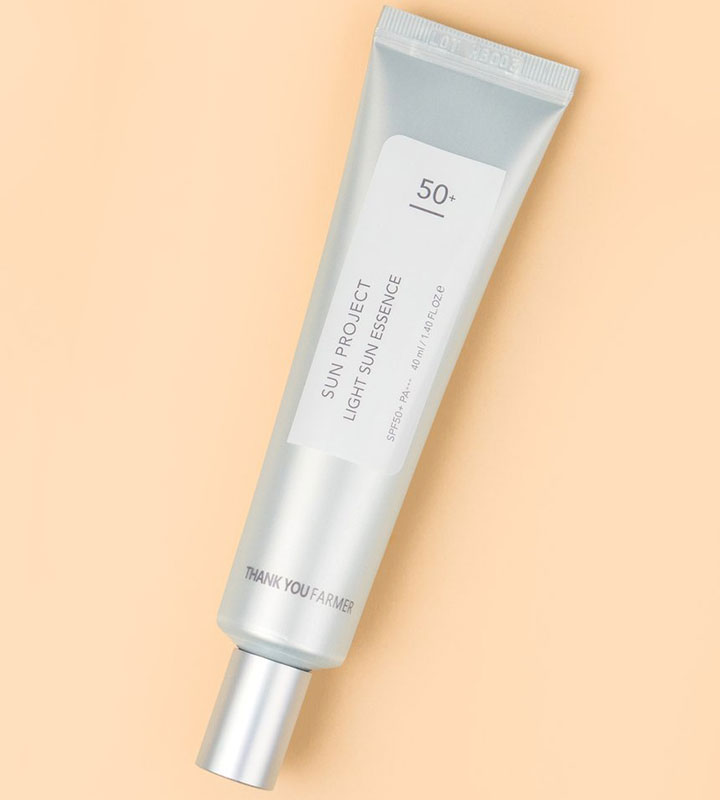 Brand Courtesy
Shop Now!
Reasons to go for it – Suitable for Oily, Combination, and Acne-Prone Skin Types
If you are looking for a lightweight sunscreen that would not leave any white cast, then this is the sunscreen you need.
It is hydrating and gets absorbed faster than you can think. This is a sunscreen that is broad-spectrum and does not irritate the skin at all.
Get ready for a dewy matte finish enriched with the goodness of Nelumbo Nucifera Flower Water, Aloe Barbadensis Leaf Extract, and Althaea Rosea Flower Extract.
Let your skin enjoy the heat with a formulation that is free from Mineral Oil, Benzophenone, artificial colour, and Chlorphenesin.
Well! All the products listed here are definitely the most popular ones and also come up with top-notch formulations, But, I always say that choose the one that you feel would suit your skin type. And thus, a patch test is always recommended.
And, that's all for today. If you find this article helpful, make sure to share it with your friends and family. Also, follow our Insta storied on our official Instagram handle for more fun. Take care; celebrate life.