Mamaearth Coco Face Scrub Review with Ingredient Analysis
If you have been following my articles for some time now, then you might know that to date I have used two Mamaearth products only. One is Mamaearth Onion Shampoo and the other one is Mamaearth Sunscreen.
Honestly, I am not a big fan of their products. So far, I have purchased the products just because I wanted to try out something new. But undoubtedly, Mamaearth has quite a fan base. Many people adore their products.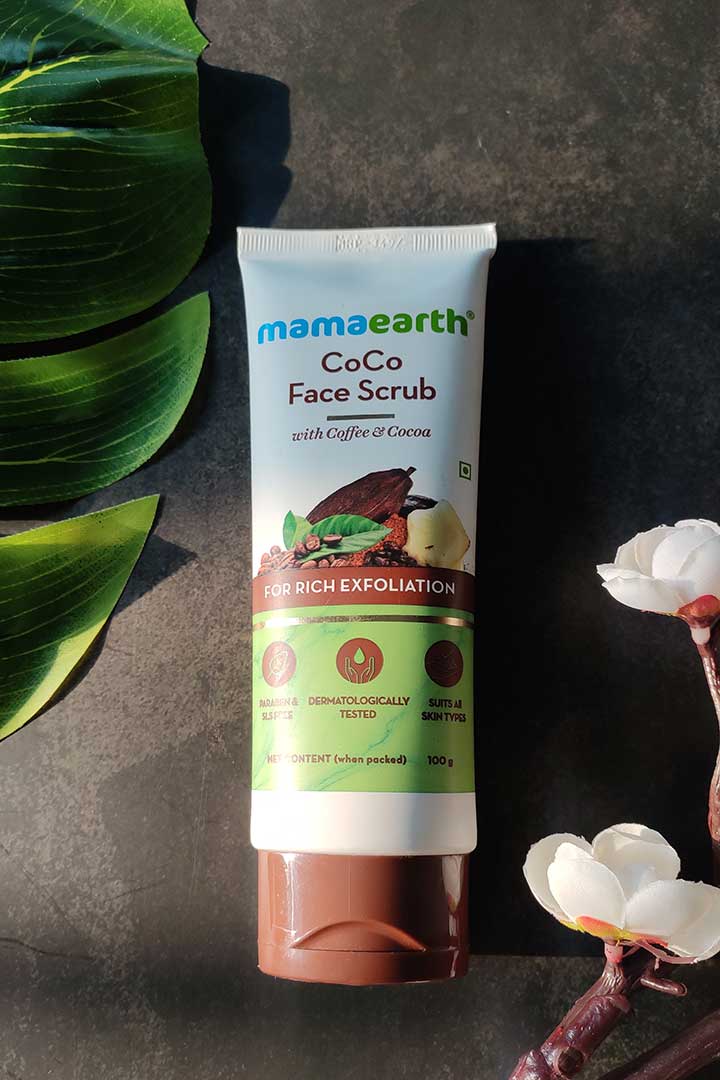 One of the popular products is Mamaearth Coco Face Scrub. Thus, I decided to give it a try. It's been more than a month that I am using this scrub. Is it worth every rupee? Are the ingredients safe-rated? Is it really suitable for All skin types? Let's find out all the answers.
Basic Details about Mamaearth Coco Face Scrub
Price: INR 349 for 100g
Shelf Life: 24 months
Buy: Amazon
What does the Brand Claim about Mamaearth Coco Face Scrub?
Pollution, dirt, and harmful UV rays take a toll on our skin and make it look dull. Stress makes it worse. To let your skin revive from that, Mamaearth Coco Face Scrub has been formulated.
It takes away all the dirt, exfoliates the clogged pore, and removes dead skin cells. The coffee and cocoa extracts leave your skin healthy and fresh. Your skin feels rejuvenated. The scrub is dermatologically tested and fit for all skin types. So, are you ready to add it to your skincare regime?
Ingredient Analysis of Mamaearth Coco Face Scrub
Ingredient says everything about a product. If the ingredients are good and clean, the potency of the product increases too. This face scrub is made of 32 ingredients. Indeed, the list is quite long!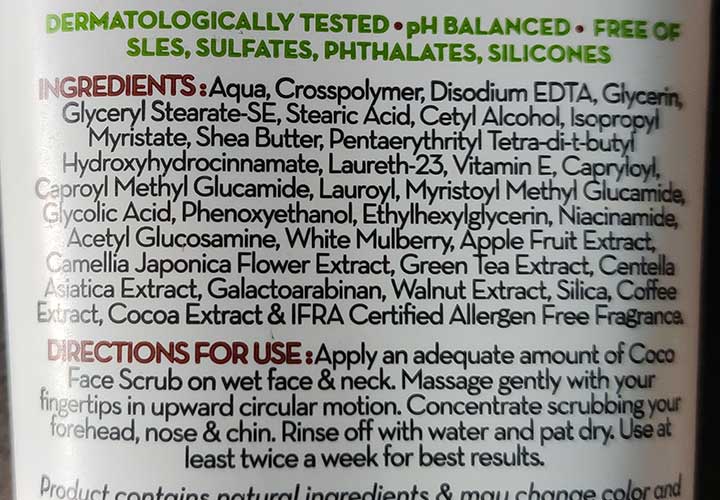 So, it would take a while to check out everything. Stay tight, grab a cup of coffee. Let's try to know whether the brand has made a good formula or not.
1. Aqua
Water which is the base product for any liquid product e.g. face wash, shampoo, conditioner, etc.
2. Crosspolymer
I believe this is the crosspolymer of Silicone. It helps to increase the viscosity of a product.
3. Disodium EDTA
A moderately safe chelating agent that helps to deactivate the heavy metals present in a formulation.
4. Glycerin
One of the best naturally found humectant that retains moisture.
5. Glyceryl Stearate-SE
A safe lubricant that is used in cosmetics to make the skin appear soft and smooth.
6. Stearic Acid
It is a safe fatty acid that works both as a surfactant and also as an emulsifier.
7. Cetyl Alcohol
Safe fatty alcohol that helps to keep the oil and liquid components stay separated in the formula.
8. Isopropyl Myristate
Another safe component that works as a binder and also as a skin conditioning agent.
9. Shea Butter
One of the best naturally extracted butters that help to keep the skin smooth, soft, and nourished. It is rich in antioxidants.
10. Pentaerythrityl Tetra-di-t-butyl Hydroxyhydrocinnamate
Quite a big name, right? Well! It functions as a safe antioxidant.
11. Laureth-23
A moderately safe cleansing agent.
12. Vitamin E
One of the most effective natural antioxidants of all time.
13. Capryloyl
This component functions as a safe skin and hair conditioning agent.
14. Caproyl Methyl Glucamide
It works as a surfactant that produces a light foam and makes skin squeaky clean.
15. Lauroyl
This component works as another skin and hair conditioning agent.
16. Myristoyl Methyl Glucamide
Just like the previous component, it also functions as a skin and hair conditioning agent.
17. Glycolic Acid
Derived from Sugar Cane, it is one of the AHAs that helps to exfoliate the skin chemically. Glycolic Acid makes skin smooth, soft, and bright.
18. Phenoxyethanol
One of the most widely used preservatives, this component is moderately safe.
19. Ethylhexylglycerin
It has antimicrobial properties and along with that it also functions as a skin conditioning agent.
20. Niacinamide
This water-soluble vitamin helps to tighten skin pores, evens out skin tone, and diminishes fine lines.
21. Acetyl Glucosamine
A safe skin conditioning agent.
22. White Mulberry
White mulberry is amazing against pigmented skin tones. To know more benefits of Mulberry, check this out.
23. Apple Fruit Extract
The extract works as an anti-ageing and skin conditioning component.
24. Camellia Japonica Flower Extract
It works as an excellent emollient and also helps to reduce fine lines.
25. Green Tea Extract
If you want to keep your skin younger looking for a long time, then hardly anything can beat green tea extract.
26. Centella Asiatica Extract
For healing and treating dry skin conditions, this extract is the best out there.
27. Galactoarabinan
This component helps to reduce the signs of ageing e.g. fine lines, wrinkles, etc.
28. Walnut Extract
Walnut shell powder is one of the most ancient scrubs. But often, people complain that walnut particles are harsh upon the skin.
29. Silica
Silica not only improves overall skin texture but also boosts collagen production. Thus keeping the skin smooth and soft.
30. Coffee Extract
Coffee is a versatile ingredient. It helps with a suntan, dark spots, pigmentations, puppy eyes, cellulite reduction, etc.
31. Cocoa Extract
The raw cocoa extract helps to improve skin complexion and also helps with premature ageing.
32. IFRA Certified Allergen Free Fragrance 
Although the brand has not disclosed the name of the fragrance, yet the good part is that the fragrance is certified by The International Fragrance Association.
And, that's all! What I liked that most of the ingredients are safe here. But unfortunately, the concentration of Coffee and Cocoa is significantly low. As if both of these ingredients work as mere featured components here.
Moreover, the brand has used a number of synthetic skin conditioning agents here. I believe Mamaearth could have done a much better job. Keeping everything in the picture, I cannot give the ingredients a rating of not more than 3.8 out of 5.
Packaging, Texture, and Aroma
The product comes in the usual packaging. The tube is entirely made of plastic. The brown-coloured cap is a flip-flop one which fulfils the purpose very well. Overall, the packaging looks neat and clean.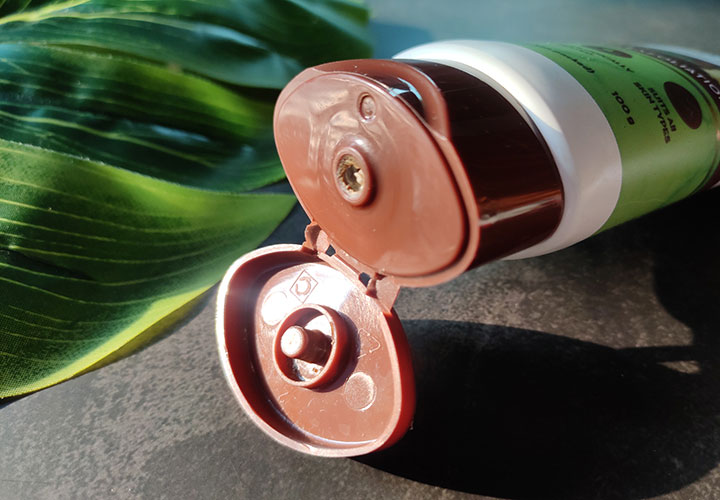 The texture of the scrub is honestly pretty weird. It looks just like a foaming cleanser with walnut beads in it. I was definitely not expecting something like this.
Finally, the aroma has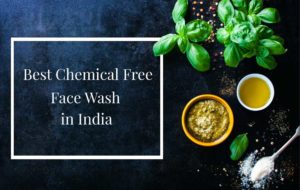 Check out the list of top 11 sulfate free, chemical free, artificial fragrance free, and Paraben free face wash in India.
Read More
My Experience with Mamaearth Coco Face Scrub
Since the arrival of AHA based chemical exfoliant, I have limited the application of physical exfoliant up to once a week. It would be safe to say that I have used this coffee scrub 10 times altogether. And, here are the things I have experienced with each application.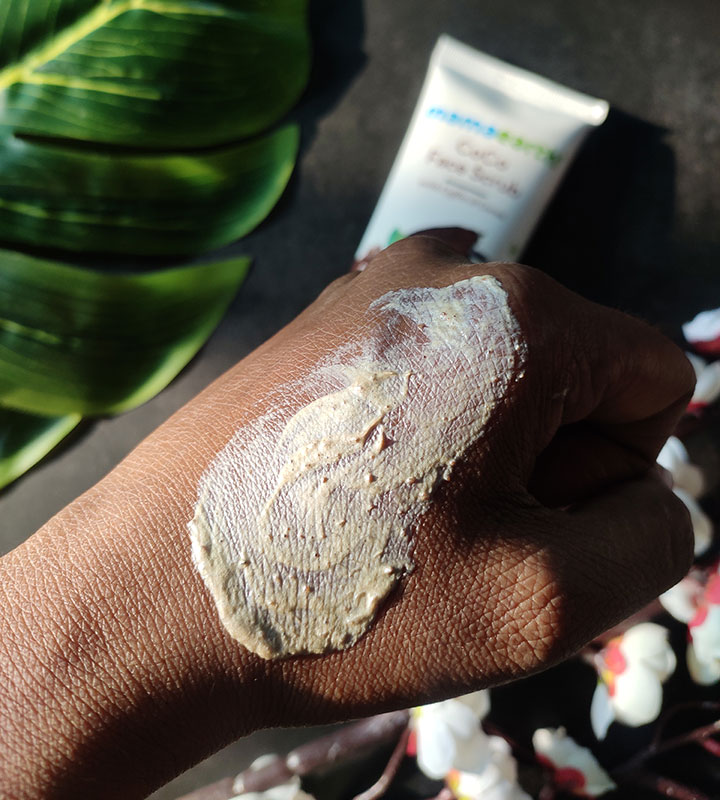 The scrub has a weird creamy shiny texture. The scrub particles are pretty low as well.
So, the scrubbing is not satisfactory at all.
Every time, it feels as if I am applying something slimy on my face & neck.
Moreover, it is quite difficult to wash off the scrub completely. I literally have to rub my face to wash off every bit of the srub.
Although it does not irritate my dry skin, yet I believe the texture is not suitable for people with oily and combination skin.
The fragrance has a hint of coffee for sure. But, the synthetic aroma can never give you the charm of a pure coffee and cocoa scrub.
Pros of Mamaearth Coco Face Scrub
Affordable
Enriched with the extracts of coffee, cocoa, white mulberry, apple, green tea, and many other beneficial herbs
Rich in exfoliating walnut shells
Suitable for dry and normal skin people
Does not irritate the skin
Cleans well
Makes skin hydrated and smooth
Cons of Mamaearth Coco Face Scrub
The concentration of cocoa, coffee, and other herbs is pretty low
It has a weird synthetic fragrance of coffee
Not suitable for people with oily and combination
Weak exfoliation
And, that's all for today! Share with friends and family if you like reading this article. Check out our official Instagram page. Take care; let us celebrate life.