Hello, my pretty angels. So, today I would talk about Aroma Essentials Vitamin C Night Serum. Whenever I talk about Aroma Essentials, I feel thrilled. Because till date this brand has invented literally a lot of stunning products. The owner Madhurima Ramakrishna is very sincere and most importantly, she has a detailed insight about her inventions.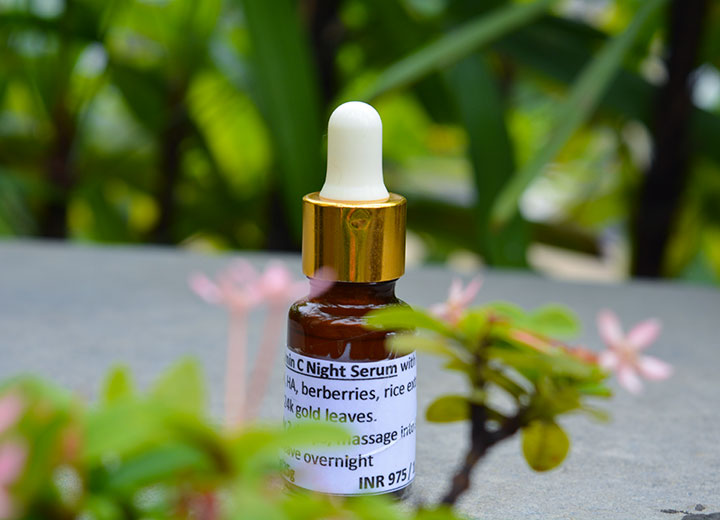 All her formulations are full of natural ingredients, rarely she uses any chemical. Yes! I know that I have already created a lot of hype about this brand. But, I promise that I would not be biased while reviewing this product. So, without further ado, let's talk about Aroma Essentials Vitamin C Night Serum.
Basic Information about Aroma Essentials Vitamin C Night Serum:
Price: INR 975/1450 for 12g/25g.
Shelf Life: 6 months
Few lines about the brand 'Aroma Essentials':
So, Aroma Essentials was founded in the year 2000 and it is the brainchild of Madhurima Ramakrishna. In the inception period, she used to make simple products using ingredients from the kitchen and special Ayurvedic herbs. At this point in time, this brand has flourished in every aspect. Now, Aroma Essentials produces a numerous number of products such as face washes, sunscreen, masks, scrubs, oils, soaps, serums, shampoos, moisturizers, many more things. Their products can be classified into 4 categories namely Skin Care, Hair Care, Baby Care, and Pet Care. Madhurima never misses asking the skin type of her customers. The brand believes in customer satisfaction and one-to-one conversation which is not possible on online shopping portals, that's why this brand is not available online. Overall, Aroma Essentials is another name of quality, trust, and purity.
Ingredients of Aroma Essentials Vitamin C Night Serum: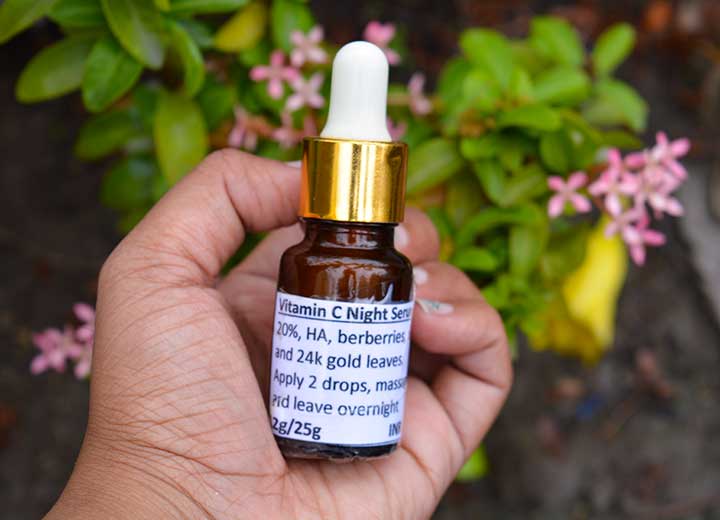 Aroma Essentials has taken special care while choosing the ingredients. As I have already mentioned that this brand believes in purity and ancient Ayurveda, so rarely you would find out any chemical (safe). This product was no exception as well. It has the following ingredients.
Vitamin C: It is the best anti-oxidant ever. Vitamin C or Ascorbic Acid plays a vital role in synthesizing Collagen which firms our skin. This ingredient brightens skin and is an excellent anti-aging component. This is the star ingredient of this product.
Hyaluronic Acid (HA): Another stunning ingredient that helps in boosting collagen and thus, firms the skin. Hyaluronic Acid also protects skin from UVB rays.
Berberry: This is a traditional medicine which is famous for its anti-inflammatory and anti-microbial properties. **Honestly, I have never used any product that has Berberries in it. So, I was pretty excited to try it out.**
Rice Extract: Many people believe that Koreans have made this ancient ingredient famous. Korean women wash their face every day with this magical potion and that is the secret of their bright skin. Rice extract has Oryzanol which helps in skin pigmentation. It also has Vitamin E which nourishes skin. Rice water is also anti-oxidant.
24K Gold Leaves: Well! I believe this ingredient makes this product really interesting. Gold has literally innumerous benefits. It can reduce fine lines, wrinkles, helps in stimulating skin cells, it can lighten skin complexion, slows down the depletion of Collagen, and there are many more benefits.
Overall, Aroma Essentials Vitamin C Night Serum is full of those ingredients which boost up the production of Collagen and which are mostly anti-oxidant. I am in love with these stunning ingredients. A separate 5/5 rating for this beautiful formulation.
---
Know the secret of bright and clear skin:
---
Texture:  This serum is extremely light-weight in texture, in fact, it has 99% similarity with water. There is an innumerous number of tiny gold particles in the serum. It feels luxurious to apply it. The texture is so light that oily skin people would love it to the core.
Packaging:  The brand has maintained a cult favorite packaging for this serum. The golden cap and dark bottle complete this packaging. This basic packaging is perfect to protect this product from sunlight and pollutions.
Aroma:  Unfortunately, I could not find anything similar to compare its fragrance. The aroma is very sweet yet dramatic. You would feel tempted each time to apply it. It is unique and heavenly.
My Experience with Aroma Essentials Vitamin C Night Serum
So, I have been using this product for the past one and half weeks. And, I have been applying this every night religiously. I love to apply this serum along with my Rosehip Oil.
This serum is perfect for All Skin Type, though I think it would suit more to oily skin people. The formulation is absolutely perfect for the humid summer nights. It gets absorbed within the skin in seconds, which makes this product a compulsive buy. After absorption, you would not feel any stretchiness or itchiness, skin feels smooth, soft, and supple after a while.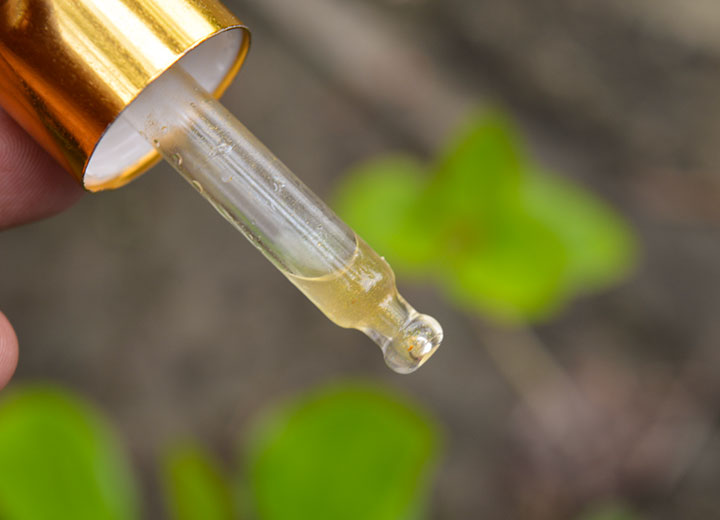 I apply this product every night before bed, in the morning I feel refreshing. My skin feels gorgeous. The best part is that because of its absorption power, no fear of staining pillows and all. So, apply it and you can go to sleep within seconds.
In my one and half weeks of experience, I have noticed that my skin has become brighter. Honestly, I am not kidding at all. As a beauty blogger, my duty is to promote honest reviews. So, I have honestly observed it. My skin looks a lot more smooth and clear now. All the rashes are gone. And, all credit goes to this product.
Pros of Aroma Essentials Vitamin C Night Serum:
Stunning ingredients.
100% natural.
The light-weight formula feels almost like water.
Skin feels bright.
Improves complexion to some extent (no, definitely not promoting fairness here)
No rashes or pimples. In fact, not any type of skin irritation.
Absorption rate is high, so no fear of staining pillows.
An abundant quantity of gold particles.
Cons of Aroma Essentials Vitamin C Night Serum:
Some people might say, that glass bottle is not travel-friendly. Well! This is actually the best way to preserve a natural product like a serum. So, I at least do not consider it as a con.
Some may call it expensive as well. It all depends on the perspective and lifestyle. So, it would not be right to judge a product on the basis of that.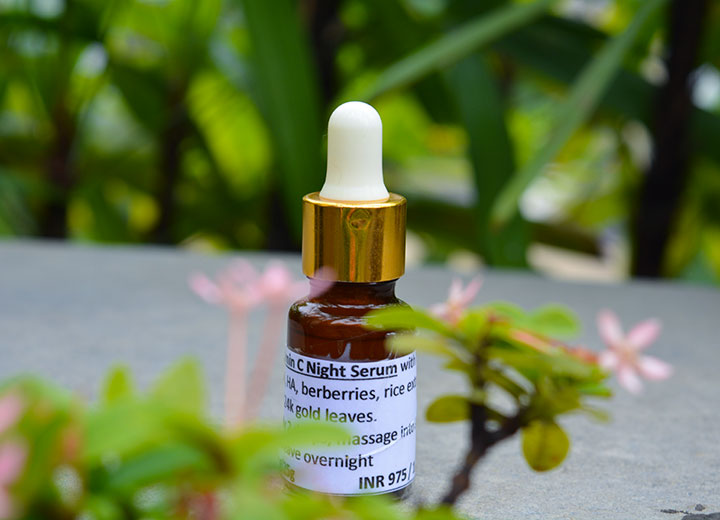 Final Words:
Aroma Essentials Vitamin C Night Serum is one of the best Gold Serums in the Indian market. The ingredients are hand-picked and assorted. This serum does everything that it claims. I am extremely happy with this product.
Would I recommend Aroma Essentials Vitamin C Night Serum?
YES! OF COURSE. In fact, I believe that not only oily skin people, everyone must try this product. This unisex serum is 100% effective.
So, that was all my dear angels. I hope you like this review. If you really like it, then do not forget to share it on social media. And, also SUBSCRIBE to COSMETICS ARENA for such in-depth articles. Thank you for reading. Take care; I would meet you soon with something new.
Let us be friends forever on social media too.  

**PR sample sent by the brand. But all my opinions are 100 percent honest and unbiased.