Veet Ready to Use Full Body Waxing Kit for Dry Skin: Review with Ingredient Analysis
It's been long now that hot wax has become my best friend forever. My skin is quite comfortable with hot wax. In a word, I am extremely satisfied with the traditional waxing procedure.
But, there is no such comfort zone in a blogger's life. My skin has to go through a lot of experimentations so that I can present genuine review on various products. And thus, I went for cold wax technique.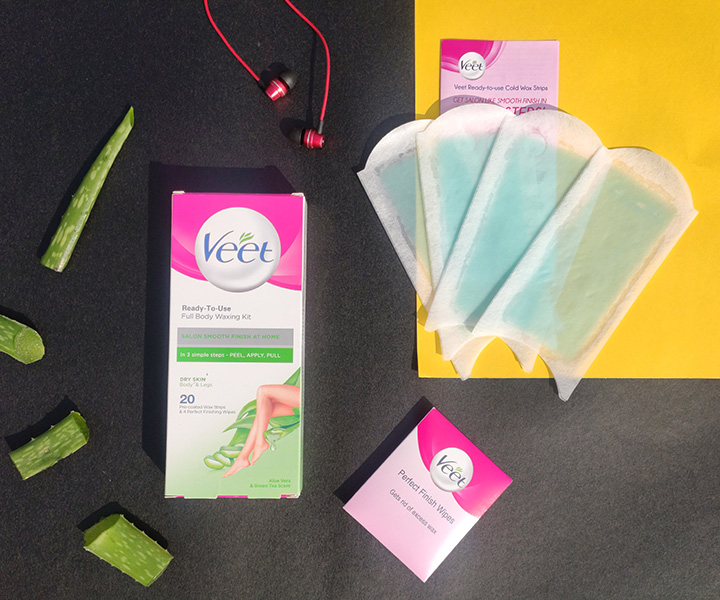 You might have seen that the market is flooded with waxing kits. But, not everything is best.
I have heard a lot about these cold wax strips. So, I could not hold back my interest anymore.
And finally, around 3-4 weeks back, I bought two packs of Veet Wax Strips. Well! Am I satisfied with the strips? Should I recommend these ready to use wax kits? Let's dig up the answers.
Basic Details about Veet Ready to Use Full Body Waxing Kit
Price: INR 199 for 20 strips
Shelf Life: 4 years!
Buy From: Amazon
What Does the Brand Claim about Veet Ready to Use Full Body Waxing Kit for Dry Skin?
Are you afraid of hot wax? Does it feel painful to you? Then, we present you Veet ready-to-use wax strips. Where every strip comes with the right amount of wax so that you stay hair-free for 4 weeks.
Get ready to get rid of those pesky hairs with these ready to use wax strips. Hair removal is not only easy now but also has become nourishing.
With a formulation that is enriched with Aloe Vera, this wax kit is absolutely perfect for the dry skin people. Your salon-ready smooth skin is waiting for you!
What Do You Get in Veet Ready to Use Full Body Waxing Kit?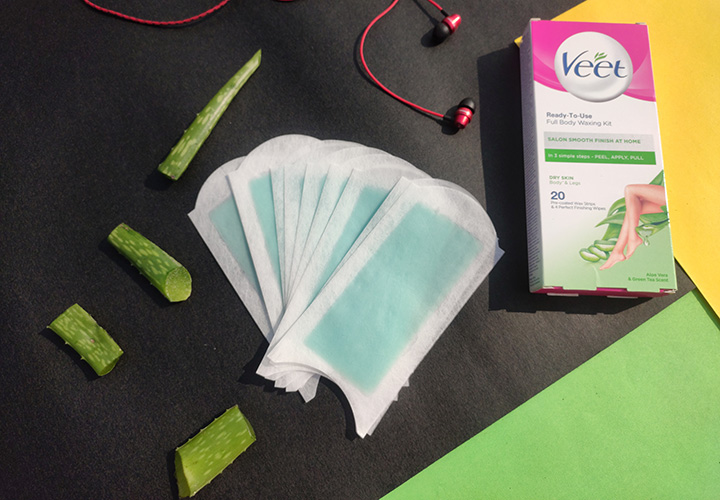 Veet gives you everything you need for a complete at-home wax application. Here are the things you get with every kit.
20 (10*2) Re-usable Wax Strips
5 Perfect Finish Wipes to get rid of excess wax
1 Leaflet with instructions written in 3 different languages
Ingredient Analysis of Veet Ready to Use Full Body Waxing Kit for Dry Skin
Well! You might be thinking whether it's necessary or not to analyze the ingredients of a wax kit. My answer is, absolutely!
Product reviews are never complete with the complete analysis of the ingredients. Ana thus, I have not missed the same here as well.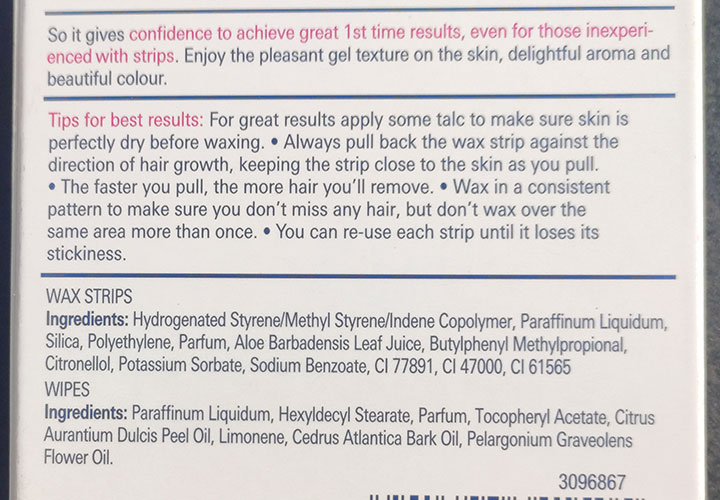 The ingredients that I found on the label are pretty different from those which are mentioned on the website. But, I have tried to stick to the one mentioned on the label.
So, are you ready to know what goes inside of this wax kit? Let's take a look.
1. Hydrogenated Styrene/Methyl Styrene/Indene Copolymer
It is a safe component that does dual jobs. Apart from working as a viscosity controlling agent, it also works as a film former.
2. Paraffinum Liquidum
In other words, this is nothing but mineral oil. This is basically an excellent emollient or skin conditioning agent that is derived from Petrolatum.
3. Silica
In cosmetic formulations, Silica works as an abrasive element that gives the formula a coarse texture. This is included here so that the hairs can be pulled off easily.
4. Polyethylene
Just like Silica, Polyethylene works as an abrasive as well. It also works as a binder and a viscosity increasing agent.
5. Aloe Barbadensis Leaf Juice
I guess we all know how hydrating and nourishing aloe vera juice is. All those enzymes and vitamins make this component more apt for dry and sensitive skin.
6. Butylphenyl Mrthylpropional
It is a synthetic fragrance that has a strong floral aroma. In products like shampoo or conditioner, where the products are supposed to be washed off from the top of the skin, this component must be listed if the concentration is more than 0.01%.
The reason is, Butylphenyl Mrthylpropional is often associated with skin allergies or other dermal problems.
7. Citronellol
A naturally occurring masking or fragrance agent
8. Potassium Sorbate and Sodium Benzoate
Both of these ingredients are used as fragrance agents and also as preservatives
10. CI 77891, CI 61565, CI 47000
All of these ingredients are cosmetic colourants. CI 47000 is Quinoline Yellow, CI 61565 is Quinizarine Green, and CI 77891 is Titanium White.
Overall, I think Veet has done a great job by formulating this safe formulation. The ingredients are pretty safe for both human systems and the environment. I would love to give the ingredients 4.8 out of 5.
Texture and Aroma
Every strip comes with sufficient amount of wax. So, it is capable enough to pull out hairs with the tiniest length like 1.5mm.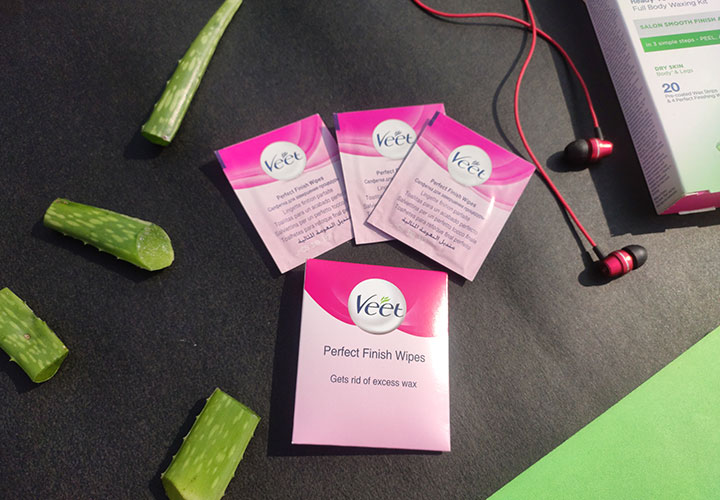 The wax is quite powerful. As a whole, the texture of the strips is perfect.
Talking about the aroma, it resembles the pleasant aroma of synthetic lotus and aloe vera.
I must say that if people like me (who has a pretty sensitive nose) can love the aroma, then anyone would adore it.
How to Apply Veet Ready to Use Full Body Waxing Kit for Dry Skin?
All the instructions are given properly on the leaflet. Here are the steps I followed.
At first, it is important to check whether the application area is dry or not. If not, then make sure to clean the area first.
After that, apply any talcum powder to absorb the excess moisture.
Peel apart the strips
Place one strip onto your skin and rub gently so that the wax gets latched to the hair properly
Now, pull the strip back against the growth of your hair
The faster the process is, the less painful and cleaner the procedure would be.
Keep using the same strip until it loses all the stickiness
Make sure you do not apply to the same area repeatedly; otherwise, rashes might occur
At least, wipe off the excess wax with the Finish Wipes
During summer, make sure you apply ice cube at the end of the procedure
Voila! Get ready to embrace your new skin
My Experience with Veet Ready to Use Full Body Waxing Kit for Dry Skin
So, I have applied the strips both on my hands and my legs. In fact, I have also applied the strips on my underarms as well.
Legs are the parts where I applied the strips in the first go.
I was so afraid during this application that I almost closed my eyes. But voila! I could barely feel any pain.
Moreover, every hair was pulled off with the utmost precision.
In fact, as the brand claims, the strips pulled off even the tiniest hairs.
After waxing my legs, I waited for almost 2 weeks before going for another round of application on my hands.
I noticed that the results were just the same as hot wax. Barely, I could notice any traceable length of hair on my legs even after the 2 weeks.
It goes without saying that I am pretty satisfied with the performance of these strips.
I had similar experience while applying these on my hands and underarms.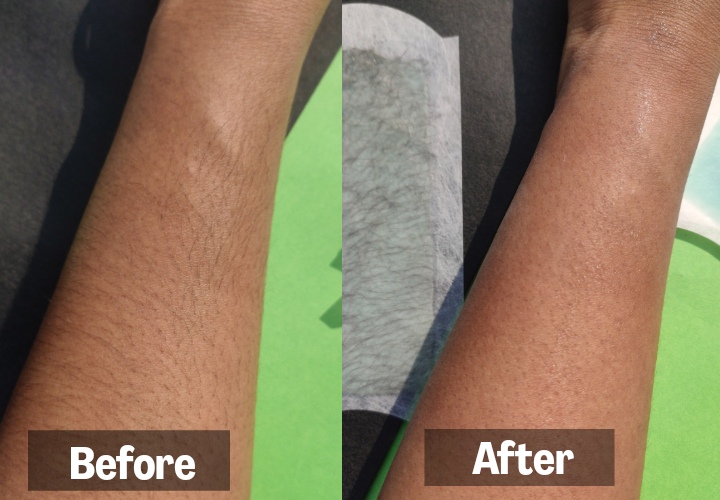 Not only the wax strips perform well, but also the wipes do the same. One can easily wipe off excess wax with these finish wipes.
Did Any Rash occur Post Application?
Guess what! I did not notice any types of rashes or irritations at all post-application.
So, the claim made by the brand matches perfectly with experience. It is indeed an amazing product for people with sensitive skin.
Pros of Veet Ready to Use Waxing Kit
Pretty affordable
The ingredients are safe and placed quite scientifically in the formulation
Equipped with all the necessary kits one needs during the waxing
Perfect for dry and sensitive skin types
Skin feels smooth and soft afterwards
The strips can pull off even the tiniest length of hair
Skin stays smooth for more than 3 weeks
Removes tan to some extent as wax strips pull off the topmost layers of our skin system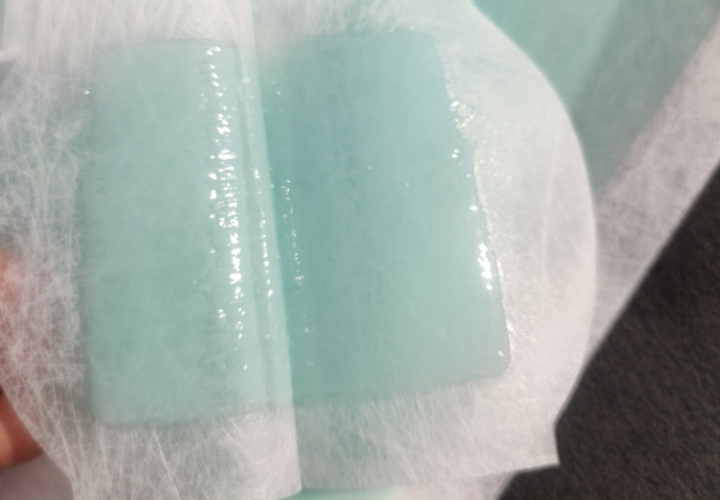 Cons of Veet Ready to Use Waxing Kit
And, that's all for today! If you find this article helpful, do not forget to share it with your friends and family.
Also, follow us on Instagram for interesting stuff. Take care; celebrate life.