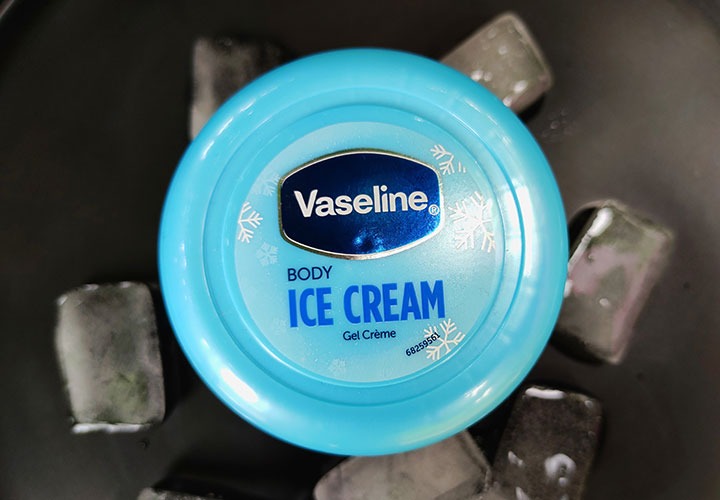 Vaseline Body Ice Cream Review
When it comes to commercially available quality skincare products, Vaseline is one of the most acclaimed brands. Vaseline Body Ice Cream is one of the newest additions to the family. Very recently, Vaseline has launched this product.
And, I think it was just the right time to make this product hit the market!
In this scorching heat, if we are looking for something, then it would surely be an instant cooling solution. Gone are the days when menthol talc powder was the only solution. With growing demand, more and more brands are coming up with new instant cooling body lotions, creams/moisturizers, shampoo, etc.
Question is, how unique Vaseline Body Ice Cream is. How cool my experience was. Well! Let's take a look.
Basic Information about Vaseline Body Ice Cream
Price: INR 225 for 165gm
Shelf Life: 2 years
Buy From: Amazon
What Does the Brand Claim about Vaseline Body Ice Cream?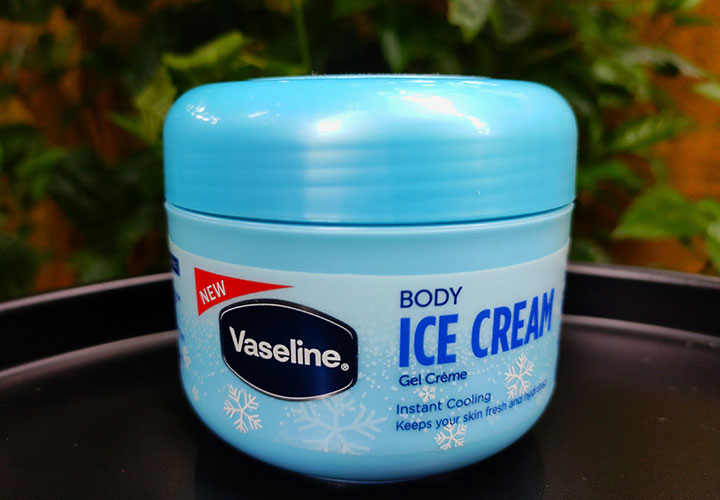 Introducing this gel-cream that instantly cools down the temperature by 3°C. The lightweight texture is absolutely perfect for the summer. Give your skin a break from the scorching heat of summer and constant dryness.
Vaseline Body Ice Cream is enriched with Hyaluronic Acid and Vitamin E which not only hydrate skin but also provide nourishment. This gel is a part of the Vaseline cooling range where Vaseline Ice Cool Hydrating Lotion lies too.
Ingredient Analysis of Vaseline Body Ice Cream
Ingredient analysis makes a review complete. At least, this is what we believe in Cosmetics Arena. Before we proceed to the analysis, one thing is pretty important to consider. Vaseline is a commercial brand. And thus, we would find out such ingredients that are added to the formula because those are cost-effective. As you can see, Paraben is one such addition here!
Not only Paraben, but we would also find a few other ingredients here that are moderately hazardous to the environment. Yet have been used because of the cost-effectiveness. So now, when you know the backdrop, it's time to jump to the analysis.
1. Water
It is the base of this gel cream.
2. Glycerine
One of the best humectants ever that retains moisture
3. Niacinamide
This is one of the most amazing skincare ingredients ever. It is a water-soluble vitamin that improves skin tone. Niacinamide makes skin smooth and helps to diminish fine lines. Skin looks plump and radiant.
Honestly! I did not expect this ingredient in the 3rd position of the list. Especially, considering the brand is a commercial one. The inclusion of Glycerine and Niacinamide makes this one pretty potent as a summer moisturizer.
4. Triethanolamine
This is a moderately safe ingredient as per EWG. It works as a pH adjuster and also as a surfactant in skincare products.
5. Phenoxyethanol
One of the most widely used preservatives that also works as a fragrance ingredient. Just like the previous ingredient, it is moderately hazardous too.
6. Styrene/Acrylates Copolymer (and) Coco–Glucoside
I must say that this combo is pretty new to me. This combination is a known Opacifier. Basically, the polymer is dispersed in the surfactant i.e. Coco-Glucoside here.
This pacifier is widely used in the formulations of shower gel, liquid wash, face wash, shampoos, and also in case of moisturizers some times.
7. Poloxamer 407
Primarily works as a safe surfactant-emulsifying agent. Basically, it helps to stabilize formulations.
8. Acrylates/C10-30 Alkyl Acrylate CrossPolymer
Most widely used Cross Polymer that is safe for both human organs and also for the environment. It works as an emulsion stabilizer.
9. Dimethicone
A moderately safe polymer of Silicone. It is used in mainly formulating skin care and hair care products. Dimethicone helps to condition skin and hair.
10. Cyclopentasiloxane 
It is a moderately safe ingredient that helps to condition skin and hair.
11. Methyl Paraben
As we all know that it is widely used as a preservative. Whether Parabens are safe or not, that is yet under investigation. As there is no such substantiate proof. But, it is better to avoid this ingredient until then.
12. Menthol
It is actually the secret behind the sensational insta-cool feeling. Menthol is a popular fragrance and denaturant ingredient. Naturally, it can be extracted from Peppermint Oil. But these days, to cope with the growing demand, it is being produced synthetically.
13. Disodium EDTA
One such chelating agent that is safe to use. The functionality includes decreasing the reactivity of the metals if any present in a formula.
14. Petrolatum
Hopefully, it is properly refined. There is no doubt that Petrolatum became popular with the help of Vaseline. Vaseline Petroleum Jelly is like a bundle of Joy!
This particular ingredient is mainly like an ointment with a semisolid texture.
15. Allantoin
It is a safe skin conditioning agent that occurs naturally
16. Sodium Ascorbyl Phosphate
This works as an excellent anti-oxidant. It helps to brighten skin tone.
17. Tocopheryl Acetate
Another name of Vitamin E which is one of the best naturally found anti-oxidants.
18. Sodium Hyaluronate
This is the component of Hyaluronic Acid. It makes skin smooth, soft, and helps to diminish the fine ageing lines.
19. Perfume
Umm! Indeed a fragrance ingredient that has loads of application in commercial cosmetics. I just wish that it is not Phthalates.
20. Benzyl Alcohol
A moderately safe preservative that also works as a fragrance ingredient.
21. Citronellol
A moderately safe fragrance ingredient that is usually derived from Rose, Geranium, etc.
22. Geraniol
Well! This component is found in Rose Oil or Citronella Oil. It occurs naturally and is widely used as an aromatic substance in cosmetics.
23. Hexyl Cinnamal
Another moderately safe scent ingredient used in skincare and haircare products.
24. Limonene
This fragrance agent is moderately hazardous. Generally, it is found in citrus fruits.
25. Linalool
Linalool is actually a moderately safe terpene that is primarily used as fragrance ingredient.
26. CI 42090
Brilliant Blue, a safe cosmetic colourant.
And, that's all! There is no doubt that Vaseline Body Ice Cream is a blend of safe and not-so-safe ingredients. Every fragrance has its own dedicated function. But, some ingredients like Paraben, Phenoxyethanol, Fragrance, etc. do not fit in the formula.
Moreover, a number of scent ingredients have been used in the formula which is not only unnecessary but also over the top. So, I would rate the ingredients of this body gel-cream 3.5 out of 5.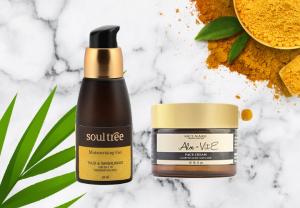 Find out the best formulations in the market that are free from Dimethicone, Paraben, Alcohol, Butyl Alcohol, etc. Let's dive in.
Read More
Packaging, Texture, Aroma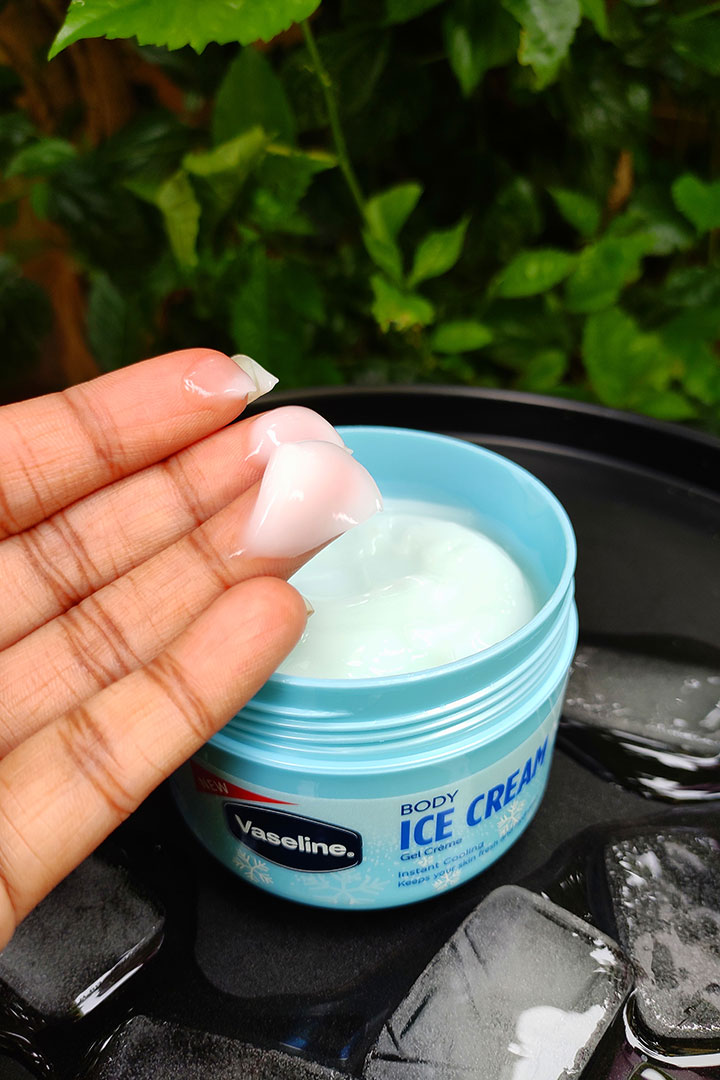 I must say, the packaging is pretty cute. The tiny tub screams like a cute tub of ice cream that I am gonna scoop and start eating.
This body cream has a buttery smooth gel-like texture. It is easy to apply and spread.
Minty aroma it is! More specifically, it reminds me of aqua fragrance. I am not much impressed with the aroma. But, those who love minty refreshing fragrance, they are going to love it.
The fragrance does not last long. Within half an hour of application, it just goes away.
My Experience with Vaseline Body Ice Cream
Well! These days, I hardly use anything commercial. So, I would not say that I bought it impulsively. Basically, I wanted to try out the insta-cooling range from the house of Vaseline. As it was a recent launch, I went for it.
It's has been two weeks since I am using this gel. And, here are the things I have observed.
The gel gets absorbed into the skin pretty quickly
You just need twice a pea-size quantity to cover your both hands
It does not leave any white cast or greasy residue
The fragrance is not long-lasting; not even over-powering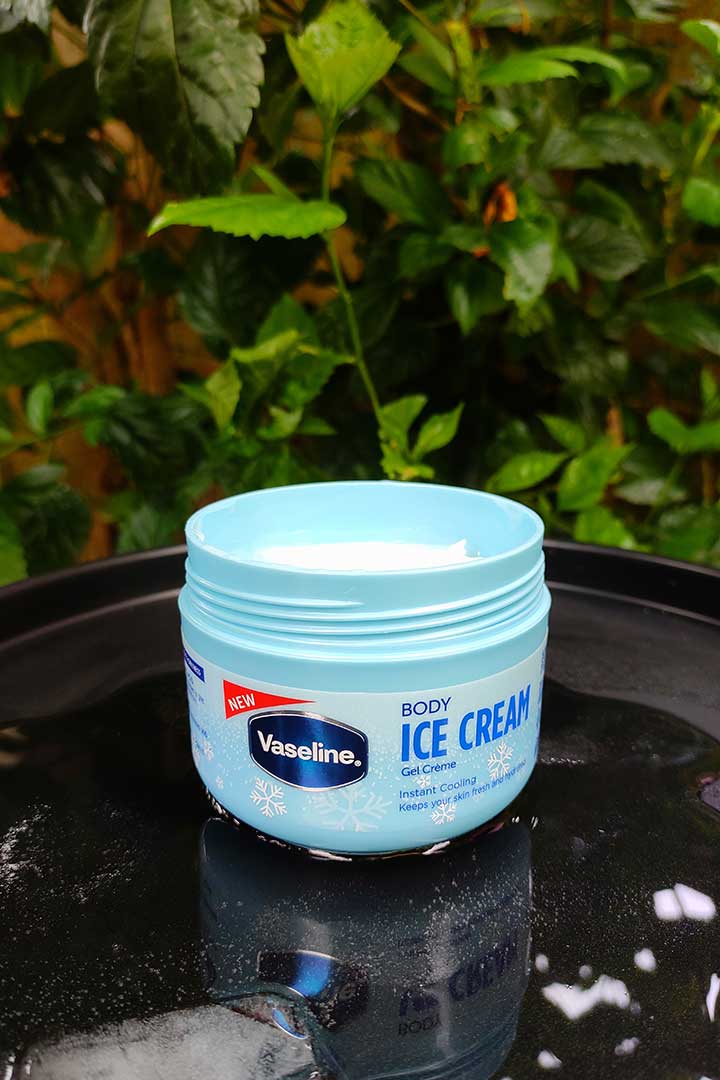 Did Vaseline Body Ice Cream Irritate My Skin?
I have pretty dry and sensitive skin. Yet, I did not experience any kind of irritation after applying this gel. So, I believe it is safe for any types of skin.
But, keeping in mind, a large number of fragrance agents have been used in the formula, you must skip it if you have any specific skin disorder.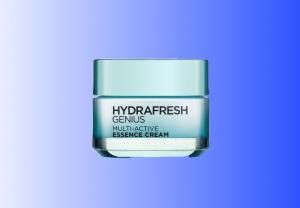 Are you tired finding the right moisturizer for your dry skin? Check this out. You can trust this compilation!
Read More
Pros of Vaseline Body Ice Cream
Enriched with Niacinamide in a huge quantity
Quick absorbing formula
Butter soft gel texture
Does not make skin dry or greasy; maintains a good balance
Hydrates skin properly; lasts for at least 4-5 hours
Waterproof formula
Just a small quantity is required
Safe for All skin types
Cons of Vaseline Body Ice Cream
The cute tub packaging is indeed a promotional gimmick; and, to some extent, it is going to work too in the favour of the brand. But none can deny that it is unhygienic too.
In spite of using way too many scent ingredients, the fragrance is not long-lasting.