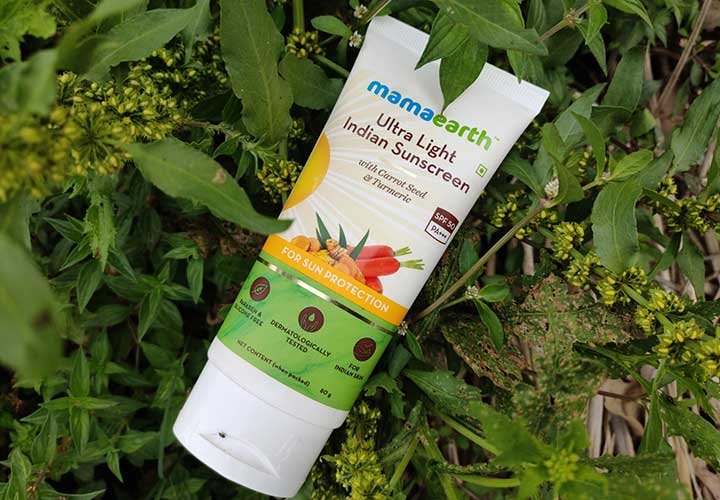 Mamaearth Ultra Light Indian Sunscreen SPF 50 PA+++
It's been long since I had been using Neutrogena Ultra Sheer Sunblock SPF 50+. Honestly, it is indeed one of the best sunscreens in India. A product might be amazing.
But as a blogger, it is hard to stick to one single product. And, the same thing happened to me as well. I was eagerly looking for a different sunscreen.
So, just a few weeks back, I bought Mamaearth Ultra Light Indian Sunscreen SPF 50 PA+++.
After using it for almost a week, I am ready to give my honest opinion. Let's talk about Mama Earth Sunscreen in detail.
Table of Contents
Basic Information about Mamaearth Ultra Light Indian Sunscreen SPF 50 PA+++
Price: INR 499 for 80g
Shelf Life: 2 years
Buy From: Amazon
What Does the Brand Claim about Mamaearth Ultra Light Indian Sunscreen SPF 50 PA+++?
Mama Earth Ultra Light Sunscreen with SPF 50 has been specially designed for Indian skin tones. It has the ability to provide sun protection for up to 6 hours. This sunscreen does not dry out the skin. In fact, it keeps the skin moisturized for long hours and does not make it patchy. Turmeric extract helps to remove tan and orange oil makes the skin glowing. The formula is non-oily and is free from harmful toxins like Paraben, Mineral Oil, Silicone, etc.
Ingredient Analysis of Mamaearth Ultra Light Indian Sunscreen SPF 50 PA+++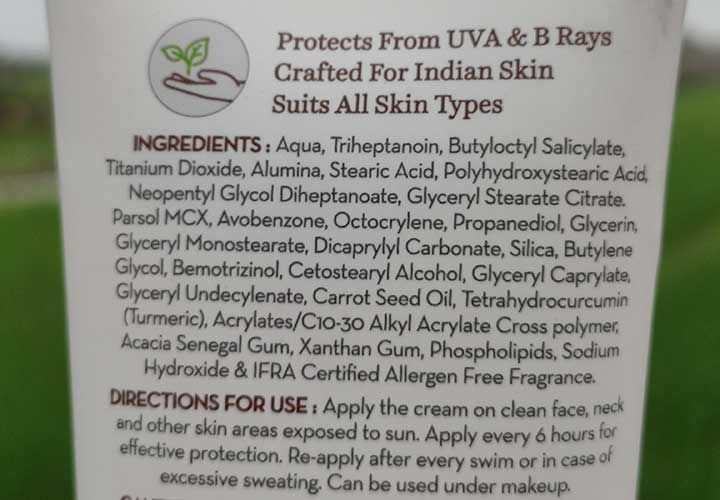 Well! I have usually seen people check out the price tag before anything else. The situation is definitely not the same for me. More than the price tag, it is the ingredient list that matters to me the most.
Before purchasing any cosmetic, I make sure that all the components are mentioned upon the label properly. Or, at least, I know the components pretty well. In the following section, all the ingredients listed here have been discussed. The list given here is quite long; so, stay tight.
1. Aqua
It is basically purified water that forms the base of this sunscreen.
2. Triheptanoin
It is a triester of Glycerine and Hebtanoic Acid. Triheptanoin is a pretty safe skin conditioning and viscosity increasing agent.
3. Butyloctyl Salicylate
This is a safe skin and hair conditioning agent.
4. Titanium Dioxide
This bright white coloured powder is an excellent sunscreen agent that also works as a colourant. Any cosmetic that uses this component is quite luxurious.
5. Alumina
Alumina has a number of functions in cosmetics. In some formula, it is used as viscosity controller whereas in some it is used as a bulking agent.
6. Stearic Acid
This naturally occurring fatty acid is excellent as a surfactant or cleansing agent. Well! It is totally safe.
7. Polyhydroxystearic Acid
It was quite a new name for me. Further, inspection revealed that it is a suspending and emulsifying agent. It helps the formula to stabilize.
8. Neopentyl Glycol Diheptanoate
Whoa! It is indeed quite a big and new name to me. This component works as a safe non-aqueous skin-softening agent and thickener.
9. Glyceryl Stearate Citrate
This natural fatty acid is a skin softener. It helps to keep the skin smooth.
10. Parsol MCX
Wow! I must tell that Mama Earth sunscreen is loaded with interesting ingredients. A slight inspection revealed that it is a safe UVB absorber which is generally used in water-resistant sunscreen formulas.
11. Avobenzone
It is one of the most common sunscreen agents. Avobenzone is an effective UV absorber and UV filter. Sunlight might break the ingredient. Thus, it is important to stabilize the formula using stabilizers.
12. Octocrylene
Another commonly used sunscreen agent which is moderately safe. The functionality of this component is just the same as Avobenzone.
13. Propanediol
A safe viscosity controller
14. Glycerine
Quite a popular humectant that retains moisture.
15. Glyceryl Monostearate
A safe fragrance ingredient that also works as a skin conditioning agent.
16. Dicaprylyl Carbonate
It is a safe emollient that works as an amazing skin conditioning agent.
17. Silica
Synthetically produced Silica is used in cosmetics as a thickening and absorbent agent.
18. Butylene Glycol
A safe solvent that is also used as a skin conditioning agent.
19. Bemotrizinol
It is the synonym of Tinosorb S. The component is a safe UV filter also works as a skin conditioning agent.
20. Cetostearyl Alcohol
Hopefully, it is originated from a plant, not from an animal. It is usually used as a fragrance ingredient and emulsion stabilizer.
21. Glyceryl Caprylate
A safe skin conditioning agent that acts as an excellent emollient too.
22. Glyceryl Undecylenate
It is a safe skin conditioning agent.
23. Carrot Seed Oil
It is said that Carrot Seed Oil has a sun screening property. But apart from that, this oil also helps to improve the overall health profile of the skin.
24. Tetrahydrocurcumin (Turmeric)
One of the best natural ingredients to protect skin against sun damage and also inflammation caused due to acne.
25. Acrylates/C10-30 Alkyl Acrylate Cross polymer
It is basically a polymer of several other monomers. The basic function is to work as a thickener.
26. Acacia Senegal Gum
Used widely in organic cosmetics as a thickener and also as film former.
27. Xanthan Gum
The basic function is to work as emulsion stabilizer and binder.
28. Phospholipids
This ingredient helps other ingredients present in a formula to get absorbed into the skin quickly.
29. Sodium Hydroxide
Apart from working as a surfactant, this ingredient also functions as a pH balancer.
30. Cananga Oil
Its beautiful woodsy aroma helps to rejuvenate skin. Trust me! It has the ability to make you calm and stress-free.
31. Orange Oil
Basically it helps skin to absorb Vitamin C and also helps in collagen production.
And, that's all! All of these components are safe and properly researched. It shows how even sunscreen can be formulated without using harmful ingredients. Honestly, I would like to give it 5/5 rating for the excellent formulation that is safe for both the human bodies and also for the ecosystem.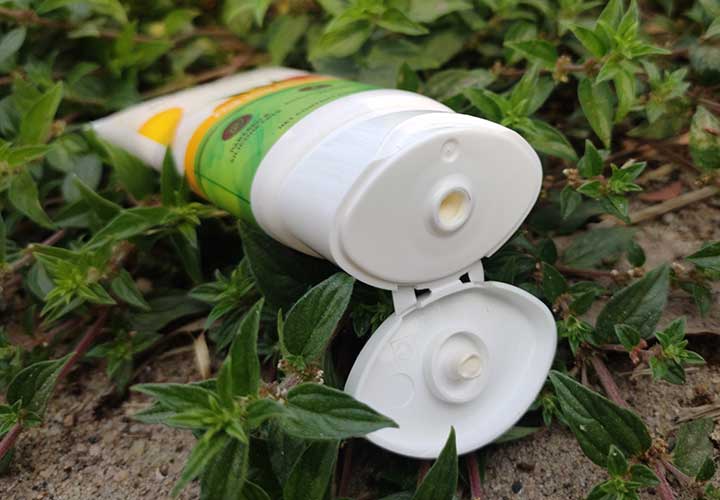 Packaging
Quite a simple one I must say. The entire body is made of good quality plastic. At the time of writing, it is only available in 80g tube. Hopefully, they come up with a travel-friendly tube soon.
Texture and Aroma
It is quite thick and creamy in texture.
The beautiful citrusy aroma is enough to make your day.
My Experience with Mamaearth Ultra Light Indian Sunscreen SPF 50 PA+++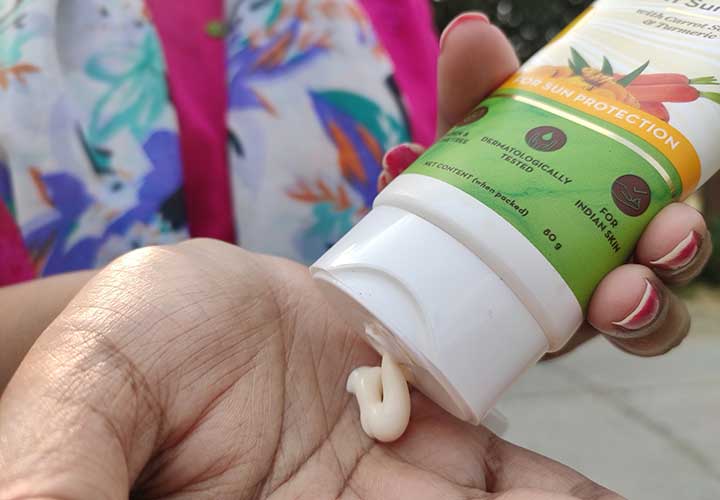 During the last week, I have been using this sunscreen. I just take pea size amount of the cream and that is all I need. Because of the thick texture, the cream takes some time to blend into the skin. But once it is settled, it gives protection for up to 5 hours. After that, reapplication is needed.
The formula is gentle enough to be applied daily. Usually, I apply Mama Earth Sunscreen at least 20 minutes prior to leaving my house.
I had always been a dry and sensitive skin person. And, I make sure that my skin never feels deprived of the moisture it needs. This sunscreen is creamy and moisturizing enough to both protect and moisturize my skin at the same type. I do not moisturize my skin while applying this sunscreen.
I believe this sunscreen formula is perfect for Normal, Dry, and Combination skin type. During summertime, people with all of these skin types can apply this sunscreen without any moisturizer.
Whereas during wintertime, I would suggest these skin types of people to use this sunscreen along with a good moisturizer. Oily skin people can definitely give it a try during wintertime.
As a sensitive skin person, I am always sceptical about trying new cosmetics. But, as a blogger, I am not supposed to whine over this thing. Honestly, the moment I read the ingredients, I knew that this is going to work for all the sensitive people out there.
It did not cause me any acne or pimples. In fact, I did not feel any skin irritation as well during this one week. So, I must suggest that you should give it a try without any fear.
Pros of Mama Earth Sunscreen with SPF 50 PA+++
Excellent choice of ingredients
Thick and creamy texture
Sturdy packaging
Perfect for normal, dry, and combination skin types
Apt for sensitive skin types
Excellent base for makeup
Gives protection of up to 5 hours
Cons of Mama Earth Sunscreen with SPF 50 PA+++
Takes some time to blend with the skin
Travel size pack is unavailable at the moment
Would I Repurchase Mamaearth Ultra Light Indian Sunscreen SPF 50 PA+++?
Oh, yes! I am definitely going to repurchase Mama Earth Sunscreen for some time now. Until I found something more exciting or at least I get bored with this sunscreen, I am definitely going to purchase it again.