Juicy Chemistry Cold Pressed Rosehip Oil
For a long time, I have been looking for the perfect facial oil. My dry and sensitive skin is extremely picky. I have heard and read a lot about Rosehip Oil but unfortunately, it was not widely available in India until Juicy Chemistry appeared. The brand bottles up Cold Pressed Rosehip Oil. So, without any hesitation, I just went for it. And, after using for a couple of weeks, today I feel happy to share my review on Juicy Chemistry Cold Pressed Rosehip Oil. So, without wasting any more time, let's jump upon the review.
Basic Details about Juicy Chemistry Rosehip Oil
Price: INR 650 for 30ml
Shelf Life: 6 months
Origin Country: India
Availability: It can be easily bought from Nykaa, Juicy Chemistry, and also from Amazon. 
Benefits of Rosehip Oil
Rosehip oil is extracted from the seeds of the Rose Bush.
This oil is full of antioxidants, Vitamin A, Vitamin C, Omega 3, 6, 9 fatty acids and also Vitamin E.
All the antioxidants help to reduce wrinkles by eliminating free radicals.
Vitamin C increases collagen production of the skin.
It reduces acne and pimple problems.
Rosehip oil is used worldwide to reduce scars. It can fade away the deepest and oldest scars.
In a sentence, "It is a holy grail oil irrespective of any skin type."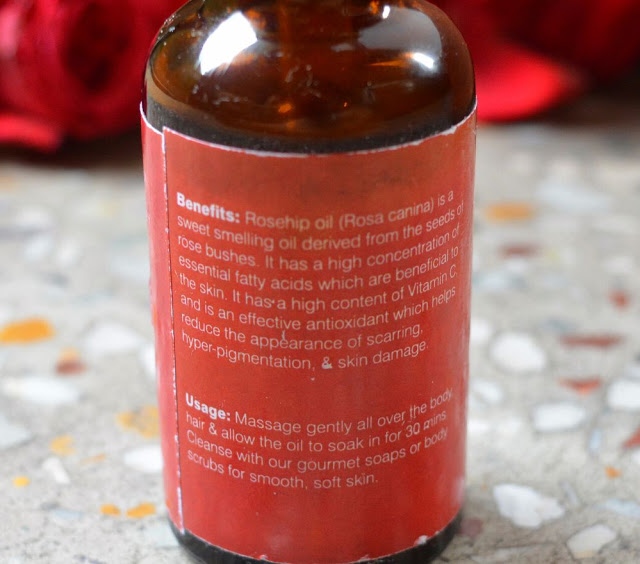 I was so happy to see that the oil is 100% pure and cold-pressed. No such additive or colour has been added in making this oil. The burnt orange or reddish-orange colour says it all. The consistency of the oil is just perfect. The aroma is not similar to anything. It was unusual but not bad for sure. Honestly, the texture, colour, and aroma, all are perfect in this oil.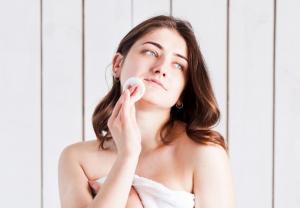 A proper CTM routine is enough to improve the skin. Check out a compilation of the best toner for face, oily skin, dry skin, acne prone, and sensitive skin in India for the ultimate glowing skin.
Read More
My Experience with Juicy Chemistry Cold Pressed Rosehip Oil
It's been more than three weeks already since I am using this oil. And, here are the things that I have observed so far.
Packaging:
The oil comes in a dark amber colour bottle to protect the product from sunrays and chemical reaction. The bottle is made of glass and comes along with a dropper. The dropper section is also made of glass. Well! It is definitely not travel-friendly, but I would complain as well about it. Because all essential oils and carrier oils come in a similar fashion.
Texture and Color:
As I said, this oil is burnt-orange in colour. Actually the pure Rosehip oil must be of this colour. If it is colourless, then something is fishy!! It is quite lightweight. My skin absorbs it within 5 seconds. Isn't it awesome?
Aroma:
Now comes another important part. The aroma is not something floral or close to that of roses. Obviously it should not be as well. The oil is extracted from the seeds, not from the flowers. I found the aroma quite amusing. Honestly, I could not find anything similar. It is very unique.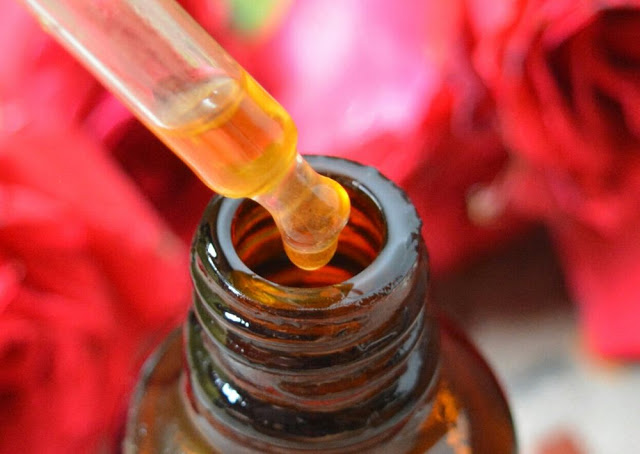 I just take 4 drops to cover my entire face and neck. I have pretty sensitive skin. But as of now, this oil has not broken out me. In fact, I have replaced my Mango Butter Moisturiser with it.
It does moisturise my skin extremely well. No greasy feeling at all. My skin feels hydrated, soft and supple all the time. This oil is suitable for oily skin as well. This is not an oil, it is an elixir for our skin. Now, over the course of time, I have noticed a few things.
First week: 
My skin was no more gasping for moisture. It started looking fresh. I noticed that dryness of my skin reduced to a noticeable level.
Second week:
In the second week, I noticed my skin had become soft,  supple and even. It reduced my pigmentation to a great extent.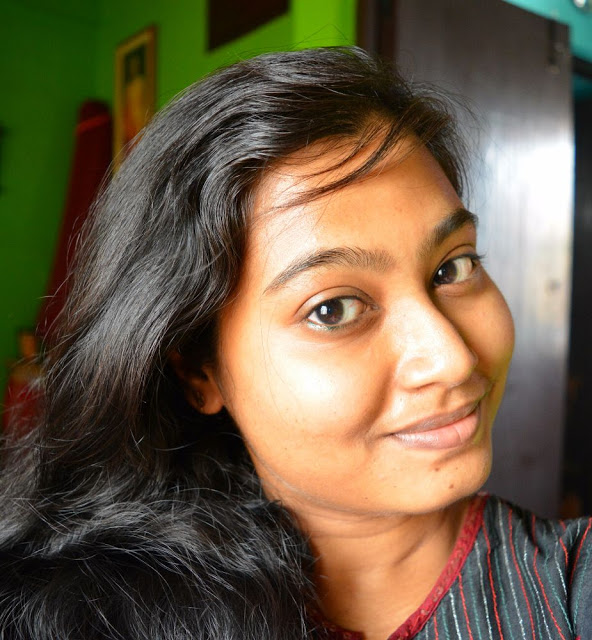 Third week:
This picture is taken at the end of the third week. I have completely fallen in love with my skin now. It looks even-toned and soft more than ever. My pigmentation is gone completely. In fact, I had 2 to 3 acne scars, which are also fading away.
JUST a FEW TIPS:
Before buying rosehip oil, make sure the colour is burnt-orange. or deeper tone of orange. It is better to avoid colourless oils.
Always try to keep the oil in the refrigerator. Otherwise, it may become rancid and contaminated.
Buy oils which are only sold in a dark colour bottle.
Do not go for oils which has rosy fragrance because that is not possible.
That is all for today. I hope this review helps you. Celebrate womanhood with courage. Have you used Rosehip Oil? Please share your experiences here. Love you all.