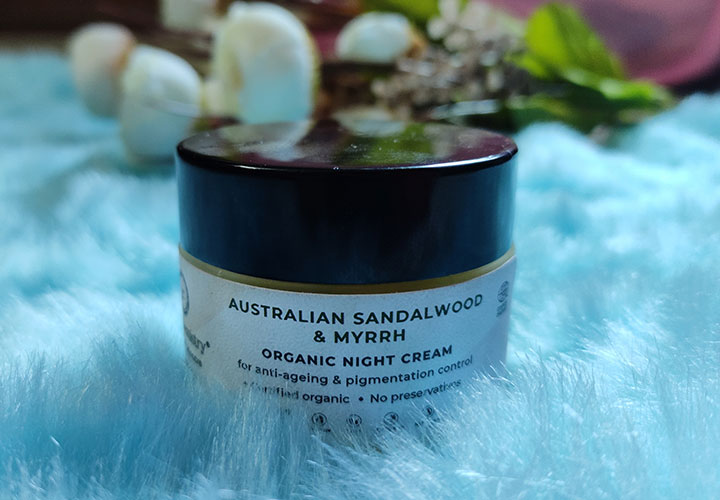 Juicy Chemistry Australian Sandalwood and Myrrh Organic Night Cream Review
Well! Honestly, I was pretty happy with Rosehip Oil until the arrival of winter. As a dry skin person, a facial oil at night is simply not enough. And, this year, the temperature has broken all the records on the downside. So, I felt that a night cream would quench my thirst for moisture. Juicy Chemistry has recently launched a night cream and I wanted to give it a try for a long time. After giving it a try for a few weeks, I am ready to give you an honest review. So, let's talk about Juicy Chemistry Australian Sandalwood and Myrrh Organic Night Cream in depth.
Basic Details about Juicy Chemistry Australian Sandalwood and Myrrh Organic Night Cream
Price: INR 600 for 25g
Buy From: Juicy Chemistry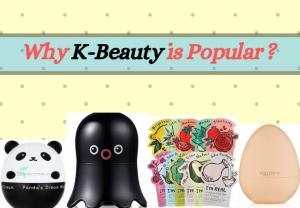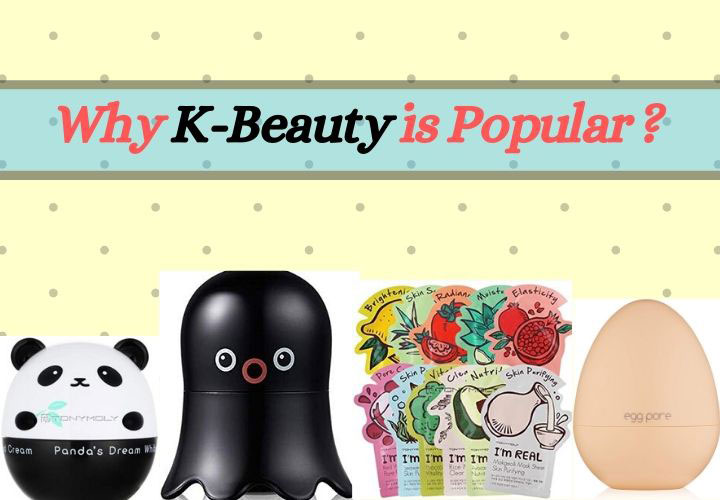 It's been long since K-Beauty has become popular. Do you want to find out the reasons why K-Beauty is popular worldwide? Well! Dive in,
Read More
What Does the Brand Claim about Juicy Chemistry Australian Sandalwood and Myrrh Organic Night Cream?
This amazing cream is a unique blend of oils and butters. The nutrient-enriched Pomegranate Oil, Rosehip Seed Oil, Apricot, Shea butter, etc. would not only nourish the skin but would also help in erasing the fine-lines & wrinkles. The essential oils like Lavender and Australian Sandalwood Oil are amazing too in cell regenerating. Overall, this night cream is capable enough to hydrate and rejuvenate your skin while you sleep in peace at night.
Ingredients of Juicy Chemistry Australian Sandalwood and Myrrh Organic Night Cream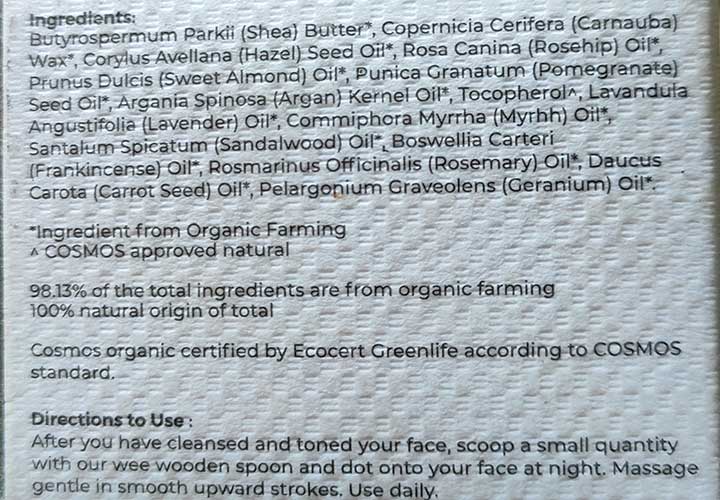 Shea Butter

The first ingredient has to be a butter as it forms an amazing base to the cream. Shea butter is full of Oleic Acid that is actually a saturated fatty acid. This is more like sebum. Shea butter is absorbed into the skin pretty quickly. In one word, it is the saviour for dry and ageing skin.

Carnuba Wax

Honestly, it was a pretty new name to me. After a lookout, I came to know how powerful it is. This wax helps in healing bruises and also inflammation. Carnuba wax forms a waterproof barrier on the skin and retains the moisture.

Hazel Seed Oil

Also known as hazelnut oil is a carrier oil which is pretty nourishing for dry skin. The high Oleic Acid content is quite beneficial.

Rosehip Seed Oil

Rose bushes are the source of this precious oil. The high concentration of fatty acid in Rosehip oil is pretty beneficial for any type of skin. Well! I have been using this oil for the last 2 years. The high concentration of Vitamin C makes this oil pretty potent in fighting against hyperpigmentation.

Sweet Almond Oil

We all are acquainted with the benefits of Almond Oil. This lightweight oil gets easily absorbed into the skin. A number of Vitamins like A, B1, B6, B2, and E are found in this oil. Sweet Almond Oil is nourishing and beneficial for both the skin & the hair.

Pomegranate Seed Oil

This Oil has a huge amount of anti-oxidants. As we know, anti-oxidants help to fight free radicals and help in healing & moisturizing. It is a potion for dry and damaged skin.

Argan Oil

Just like Rosehip Oil, this oil is amazing too. Argan oil which is also known as liquid gold is originated from Morocco. Phenols, Vitamin E, Carotenes, etc. are found in this oil. It heals, repairs, moisturizes and soothes.

Natural Vitamin E:

Well! It is an antioxidant that is pretty powerful. It quickly gets absorbed into the skin and is essential for cell protection.

Lavender Essential Oil

The anti-inflammatory and antiseptic properties make this a potent essential oil. It soothes the mind and body, helps to prevent skin rashes. Lavender oil is known for its woody fragrance as it can heal the mind and the body. It is such essential oil that can be applied to the skin directly.

Myrrh Essential Oil

Myrrh is sourced from Middle-East. It has an ancient connection.  This EO is quite helpful in soothing and healing skin. It is pretty popular for its woody fragrance.

Australian Sandalwood Essential Oil

Since ancient times, this oil had been used in numerous beauty treatments. The fragrance of this oil is not the only reason behind its popularity. It is highly valuable for the power it possesses. It is antiseptic, anti-ageing, and makes skin smooth.

Frankincense Essential Oil

The sap of the Boswellia tree in the Middle East is the source of this oil. It helps in a regenerating cell and makes skin healthy.

Rosemary Essential Oil

Just like Lavender EO, Rosemary Oil is full of therapeutic values. This oil is an excellent preservative too. It is a pure natural potion.

Carrot Seed Essential Oil 

Wild carrots are the source for this EO. It is pale yellowish in colour and full of Vitamin A. Thus, Carro Seed Oil is an excellent booster for dry skin people. It is a great hair conditioner too.

Geranium Oil

In eliminating dead cells, skin tightening, and cell regeneration, Geranium Oil is absolutely unmatchable.

As a whole, Juicy Chemistry Night Cream has a power-packed formulation. It is a great concoction of oils and butter. I simply loved the formulation. Well! Now, the question is whether it is as effective as it seems or not.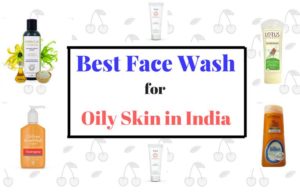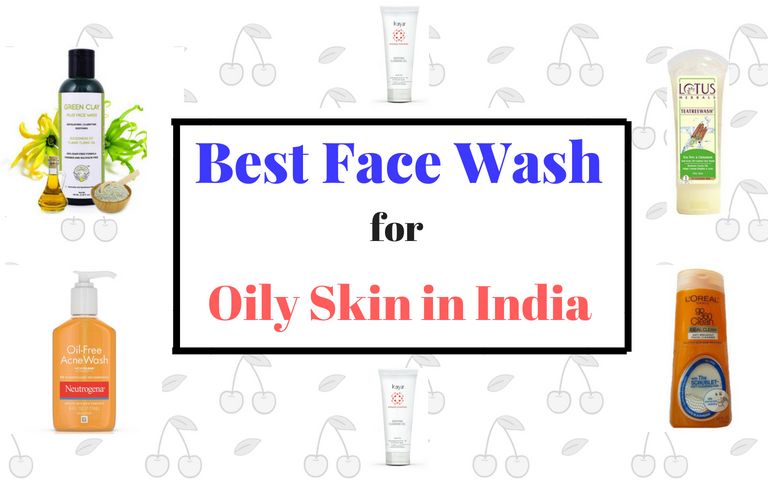 This post is all about the top 8 best face wash for oily skin in India. These face washes are also amazing for acne prone and sensitive skin.
Read More
Packaging
Honestly! There is nothing new or extraordinary in the packaging. It comes in a hardy glass container with a black plastic lid. It is a tiny tub that is quite portable & lightweight. Just make sure, you don't drop it.
Texture & Aroma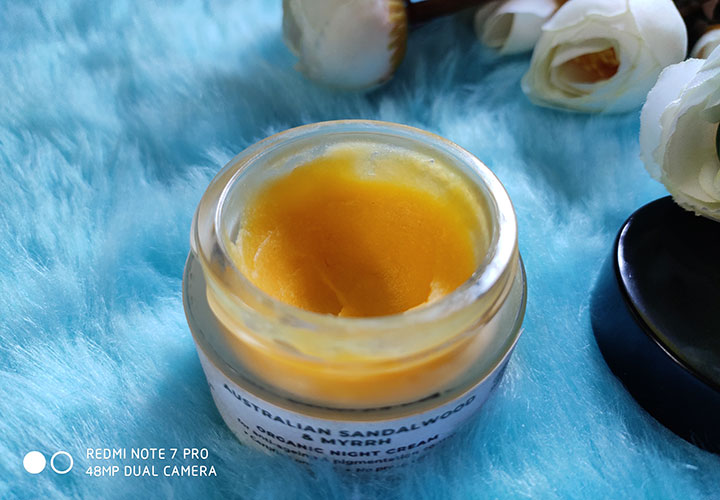 Well! If you have thought that the cream would smell like Sandalwood, then you would be very wrong. The concoction smells like herb but nothing extraordinary or charming. I did not like the aroma much.
The texture is just like shea butter or Cocoa butter. But, here is the glitch. Every time, I put it on my face, I can see, fragments of Carnuba wax particles. Because of the cold weather, the wax particles could not dissolve into the formulation. This was a bit of turn off for me as I don't want tiny white solid particles on my face after I apply a night cream.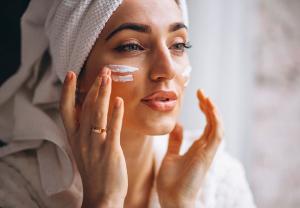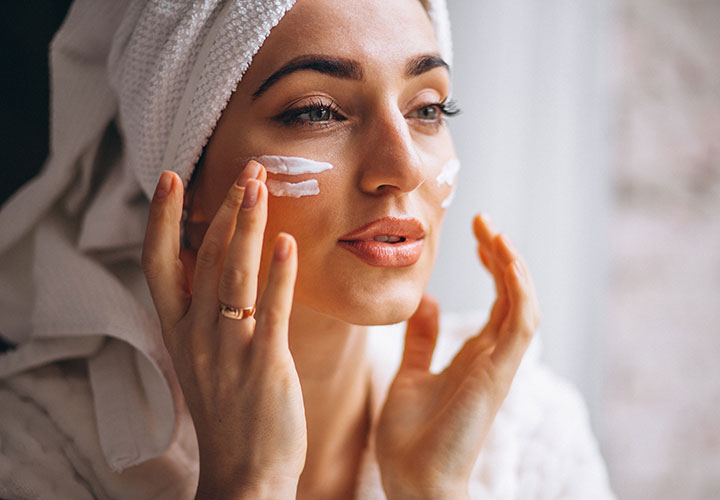 Know how to choose the best face wash as per your skin type, This is an ultimate beauty 101 that is going to blow your mind.
Read More
My Experience with Juicy Chemistry Australian Sandalwood and Myrrh Organic Night Cream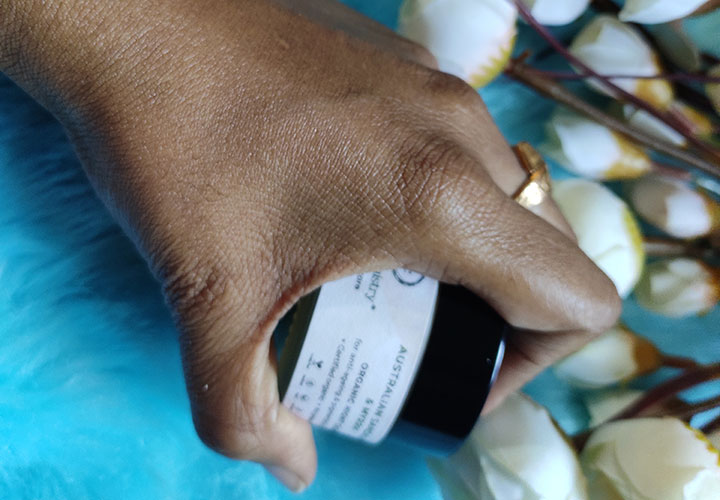 Well! It's been more than two weeks now that I have been using Juicy Chemistry night cream. I wash my face with a face wash. And, apply this along with the Juicy Chemistry Rosehip Oil as I believe it makes my nighttime skincare regime more powerful than ever. So  far, the experience has been amazing. My skin feels supple, soft, and smooth in the morning just the way the brand promised.
Q. I Have Sensitive/Acne Prone Skin. Can I apply this night Cream?
Well! People with any skin type can use this cream. Shea butter is non-comedogenic, so it does not clog pores or interfere with acnes. You can safely use it.
Q. Does This Night Cream Cause any Irritation to the Skin?
No, it doesn't. My skin is pretty sensitive to almost anything. The formula suited me pretty well.
Pros of Juicy Chemistry Australian Sandalwood and Myrrh Organic Night Cream
A brilliant bunch of ingredients
Organic and pure
Not tested on animals
The price is absolutely justifiable as a very small amount is required for every application
Does not cause any irritation to the skin
Tiny and portable tub
Suitable for ALL skin types
Cons of Juicy Chemistry Australian Sandalwood and Myrrh Organic Night Cream
As of now, it is only available on the official website of Juicy Chemistry.
The wax particles do not get melted in cold weather. So, you literally need to brush those off.