5 Beneficial Oils that I Always Trust
If you have been following my posts on Cosmetics Arena for a time now, then you might know that I love using natural oils. Ask me round the year, I always believe in the immense power of cold-pressed carrier oils and steam distilled essential oils.
In fact, I am such a big fangirl of all these natural oils that I always keep a few oils in stock. Lately, I am using 5 such oils. So, without further ado, let's talk about all those beneficial oils, how to use those, and what the results are.
1. Rosehip Oil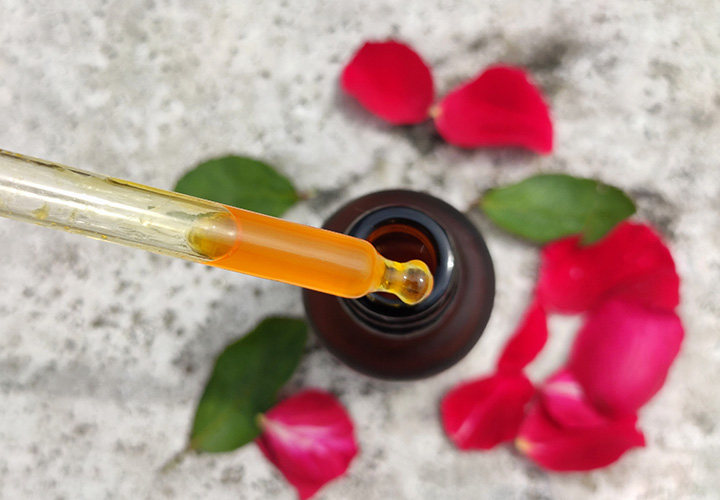 Shop Now!
Well! It's been more than 4 years now that I am using Rosehip Oil. Argan Oil is known as Liquid Gold. But, I call Rosehip Oil my Liquid Gold. This multi-purpose oil is not only an excellent emollient but also an amazing oil for hair.
I use it around the year. Earlier, I was a big admirer of Juicy Chemistry Rosehip Oil. But, things changed very recently when I started using Vilvah Rosehip Oil. This oil is just amazing. Check out my review to know more about the brand.
Here is how I use this oil.
Usually, I spritz steam distilled pure rose water on my semi-wet clean face
And then, I take drops of Rosehip Oil and apply on my entire face & neck
Generally, I include the oil to my nighttime skincare regime as it helps me a lot to rejuvenate the skin profile.
Apart from incorporating the oil into my skincare regime, I also combine the oil with my regular hair oil.
In fact, during wintertime when my skin feels more dry & sensitive, I combine Rosehip Oil with Squalane Oil. This combo helps my skin to stay hydrated for long hours.
The Vitamin A & E content of the oil is just marvellous. And thus, Rosehip Oil never loses its fanbase.
I believe that nothing can beat Rosehip Oil. If you want to know more about it, you need to read my story where I have shared about the time when I wanted to change my complexion in reality and ended up using Topical Steroid. Trust me! This oil saved my skin.
2. Pure Squalane Oil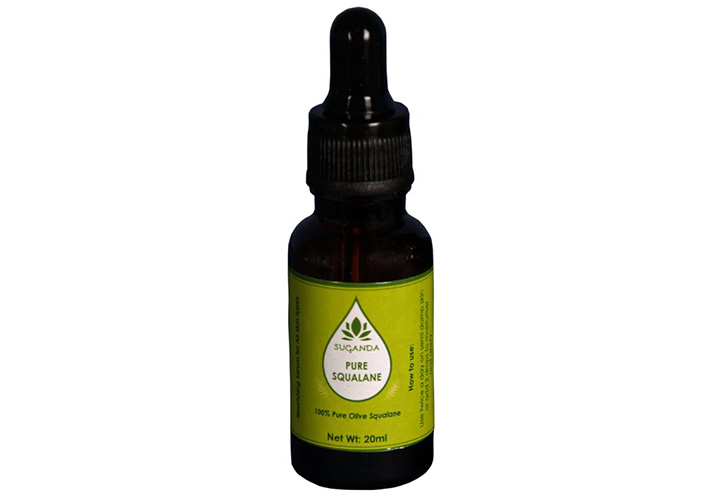 Shop Now!
Sometimes I wonder whether I would ever be able to explore all the wonders from the lap of mother nature. There is no doubt that Squalane Oil is one of the wonders that not many are aware of.
This oil is full of interesting facts. It is said to be naturally found within the layers of our skin. The intense hydration it provides is indeed amazing.
In fact, the non-comedogenic property of the oil makes it one of the top-notch naturally extracted oils that are suitable for all skin types.
The most interesting fact is that most of the oils are not suitable to use during day time. But, oxidation due to high heat is not a concern with this one. And thus, this oil can be used by anyone in any climate.
Here is how I use this skin-imitating oil.
These days, I am using a Lactic Acid-based Toner from the house of Dot & Key. So, before applying the Squalane Oil, I make sure to spritz a Toner to enhance the soaking ability.
After toner, I use Squalane Oil to seal the hydration.
Sometimes, I use this oil with my hair care products to save the messy hair waves.
Overall, it is a den of hydration and moisturizer.
If you are keen to save your skin from the horror of dehydration and pigmentation, you need Squalane Oil naturally extracted from Sugar Cane or Olive.
Apart from the Suganda one, I have also used Indulgeo Essentials Squalane Oil. Both the oils are excellent. Just make sure the oil is naturally extracted.
3. Cedarwood Essential Oil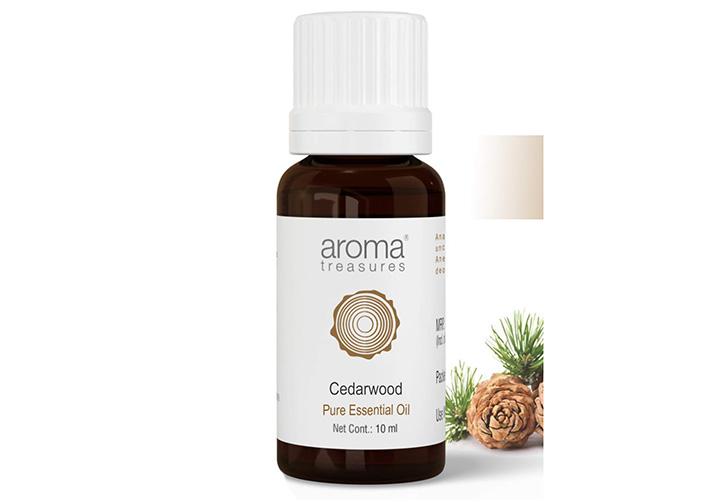 Shop Now!
When it comes to hair care routine, I become pretty conscious about the products I opt-in. Chemical-free hair oil is definitely what I prefer round the year. But, these days, I am using Extra Virgin Coconut Oil a lot.
For my mid-waist length of hair, I take 3 tablespoons of coconut oil. And, then I mix 5-8 drops of Cedarwood Essential Oil. A light-handed massage and follow up with a mild shampoo, is enough to make my hair healthy & shine.
Here are the results I have noticed so far since I started using this EO.
Hair feels smooth and soft
My dandruff issue is resolved now
Hair shedding has reduced
If I talk about the overall health of my mane, it is for sure that this Essential Oil has helped me a lot.
4. Lavender Essential Oil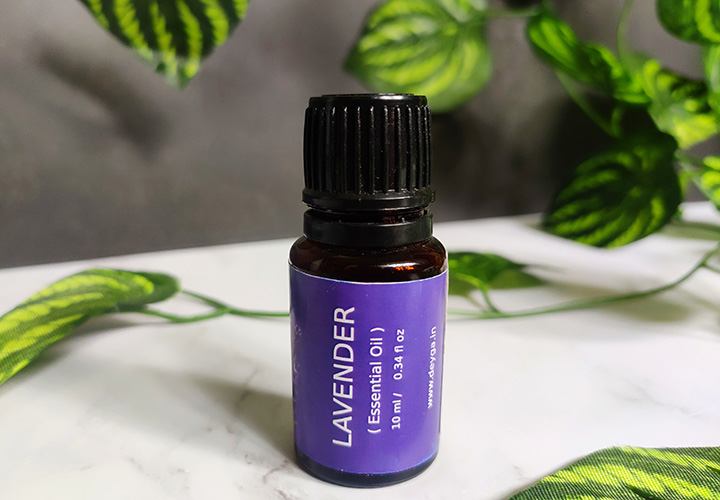 Shop Now!
Whether it is skincare, haircare, or simple home remedies, few oils never lose their importance. And, Lavender EO is definitely one of such oils.
Not only the aroma is divine, this oil is power-packed with amazing benefits. I always make sure that I always stock up this oil.
Here is how I use Lavender essential oil.
 Usually, I prepare face or hair packs with this EO. If you want to prepare a face pack, all you need is a tablespoon Kaolin or Bentonite clay, a few drops of honey, and 5 drops of Lavender EO. Mix up all these ingredients and apply. What would the result? Well! You need to tell us that in the comment section below.
You can also prepare exclusive hair packs with this EO. Combine 2 tablespoons Yogurt, 1 banana, 1 tablespoon honey, and 5 drops Lavender EO. Trust me! This hair pack would transform your hair strands like dream.
Lavender EO has helped me a lot to reduce dandruff and itchiness. It definitely redefines the overall structure of the hair. For any skin type, this oil is a boon. So, people with any skin and hair types can use Lavender EO.
Guess what! Lavender oil is an excellent anti-bacterial oil too. Thus, I always suggest that no matter what your concern is, you must keep at least one bottle of Lavender EO at your home.
5. Tea Tree Essential Oil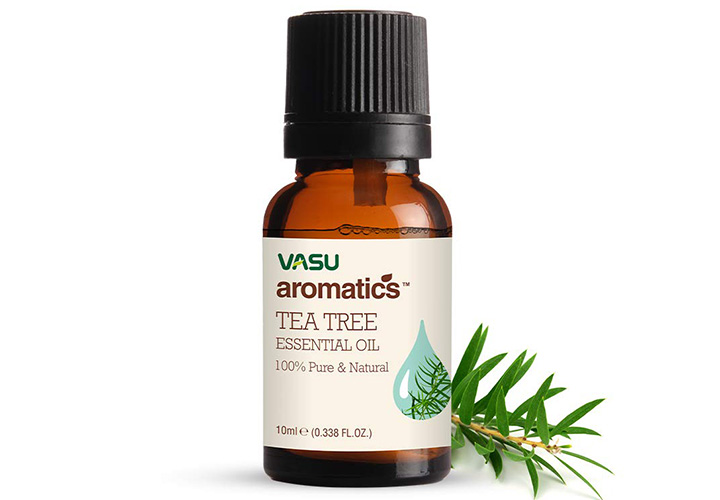 Shop Now!
Tea Tree EO is another EO that I try to stock up all round the year. For simple home remedies, this oil is just one of the best.
On days when your muscle feels tired and fatigued, using Tea Tree EO helps a lot. Just add 5-10 drops of this EO in a bucket filled with lukewarm water and soak your legs. Trust me! It takes away all the fatigues.
Apart from using it in home remedies, I also use this essential oil in hair packs along with the other two EOs.
Just like the Cedarwood one, Tea Tree EO is also pretty helpful to reduce dandruff, itchiness, dryness, and other skin & scalp irritations.
All these reasons always compel me to stock up Tea Tree EO at home irrespective of brand whatsoever.
Tips to Buy the Best Beneficial Oils
Before checking out the brand, always make sure to check the source of extraction. The quality of EOs is top-notch when it is extracted by using steam distillation. On the other hand, carrier oils must be extracted by using the cold-press method. These methods ensure the top-grade quality of the oils.
There should be no additive in the oils. The purest oil always comes solo.
EOs and carrier oils usually come with a shelf life of 6 months or longer. This indicates that preservatives are needed to store these oils. And thus, no colour or preservative must be there in the formulation.
EOS and carrier oils always come in dark colour bottles (either amber or deep blue) so that the oils do not get oxidized by the sunrays. So, make sure the brand has packed the oil pretty well.
There should not be any kind of artificial aroma in the top-notch beneficial oils. If you sense anything fishy, do not purchase that oil.
And, that's all for today. I hope you find this article helpful. Make sure to share this article with your friends and family. Also, follow us on Instagram for more such interesting stuff. Take care; keep celebrating life.