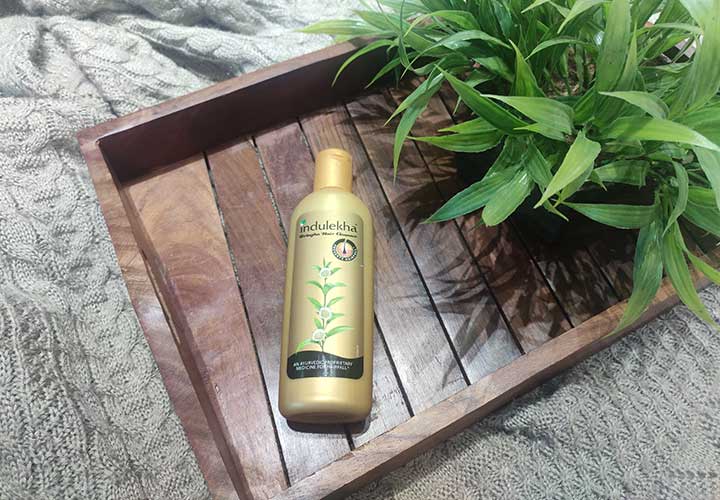 Indulekha Bringha Shampoo Review
Well! I am a girl who loves Ayurvedic herbs to the core. Whenever, I see herbs like Bringhraj or Bhringraj or Bringha, Shikakai, Henna on the labels, I feel this uncontrollable urge to purchase that. Naturally, this shampoo was an impulsive purchase too. The brand 'Indulekha' started its venture with hair oil. With time, the hair oil became pretty popular. Recently, Indulekha expanded its haircare line by introducing this shampoo to the market. Surprisingly, just like the hair oil, the shampoo created a buzz too among the crowd. The question is how amazing this shampoo is. Does it stop hair fall? Let's find out the answers of all.
Basic Details of Indulekha Shampoo
Price: INR 135/234/405 for 100/200/340ml
Buy From: Amazon
What Does the Brand Claim about Indulekha Bringha Hair Cleanser?
Bringhraj is the King of Hair. It is one of the best Ayurvedic herbs for regenerating hair strands. Every bottle of Indulkeha shampoo comes with extracts from 9 full Bringha plant. It is not just another hair cleanser but an ayurvedic proprietary medicine. It is free of colour and fragrance. Overall, Indulekha Bringha Shampoo is one of the best shampoos to prevent hair fall.
Ingredient Analysis of Indulekha Bringha Shampoo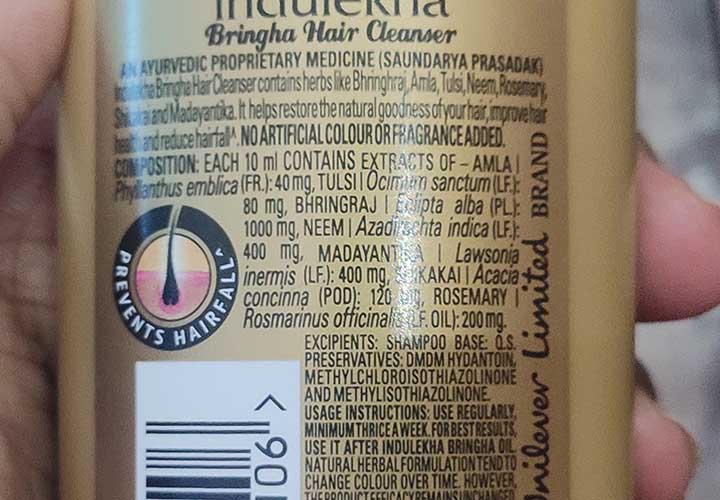 Honestly, I was expecting an ingredient list written as per the concentration of the ingredients. But what I found was pretty disturbing. The ingredients are not only written in a weird manner but also it felt as if the brand is trying to hide loads of information. Let me disclose them all in-depth.
Active Ingredients
As you can see, it is written that the shampoo has 6 other herbs including Bhringraj namely Amla, Tulsi, Neem, Madhyantika, Shikakai, and Rosemary. The names are enough to make crazy anyone who wants to use Ayurvedic concoctions just like me. Let us take a look at the benefits of these herbs.
1. Bhringraj
Bhringraj or Bringha is one of the oldest remedies to treat hair problems. Since ancient times, this herb had been used to treat premature greying, hair fall problems, dandruff problems, and other hair related problems. Fir hair regrowth, it is one of the most trusted ingredients.
2. Amla
As many of you know that Amla is full of Vitamin C. It helps to treat hair loss problems. Amla also addresses hair fall problems, finds solutions for premature greying, dandruff problems, etc. To maintain the lustre of hair amla is pretty popular too.
3. Tulsi
This herb is also called Indian Basil. There is hardly anything that can treat itchy scalp like Tulsi does. If you regularly apply Tulsi paste to your scalp, dandruff problems and scalp itching would go away forever.
4. Madhyantika
Well! It is actually Henna. This herb is magical. Many people use it to colour their hair. But it can be used for other purposes too. Henna helps to maintain pH balance to the scalp. It also promotes hair growth and conditions hair.
5. Neem
Neem helps to condition dry hair. It also treats head lice, scalp inflammation, infections, scalp itching, etc. If you regularly apply Neem juice, it would moisturise your hair like never before.
6. Shikakai
Just like Bhringraj, Shikakai is popular too to promote hair regrowth. It also treats the hair fall problem. In fact, frequent application of Shikakai can add a beautiful shine to your hair.
7. Rosemary
Rosemary promotes better blood circulation. And thus, it helps to grow new hair.
There is no doubt that all of these ingredients are beneficial for hair. But, here comes the twisted part. The label also shows that each 10ml of the shampoo contains 2240mg of extracts of all the herbs. The question is what percentage of the shampoo contains the active ingredients i.e. the herbs.
Surfactant
Next, the brand has listed the inactive components that contain surfactants, preservatives, emulsifiers, hair conditioners, etc. As per the label, a shampoo base has been used. The question is which shampoo base is used here. It can be Sodium Laureth Sulphate or any other harmful surfactant too. It was definitely disappointing.
Preservatives
In the last part of the ingredient list, the brand has listed 3 widely used preservatives. These are DMDM Hydantoin, Methylisothiazolinone, and Methylchloroisothiazolinone. None of these ingredients is safe. These are not only harmful to the human body but also for the ecosystem. DMDM Hydantoin is a Formaldehyde releaser. Formaldehyde is Carcinogenic or Cancerous. The other two preservatives are responsible for neurotoxicity.
Honestly, when a brand does not want to disclose the basic facts like ingredients, it feels suspicious. Such an act gives me a negative vibe about both the brand and the product. And, these are the same reasons why I do not recommend or use Biotique or Patanjali products anymore. According to me, even if a brand uses ingredients like Sulphates or Parabens, it must disclose that. Overall, I am not happy with the ingredients of Indulekha Shampoo. And thus, I would not rate these ingredients more than 2 out of 5.
Packaging
Indulekha shampoo comes in a simple hardy plastic bottle. The plastic is entirely golden in colour which definitely makes it attractive. The 100ml bottle is quite travel-friendly.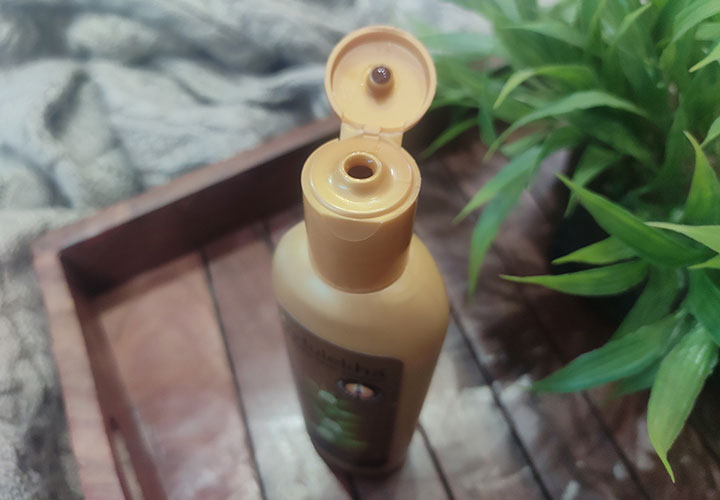 Colour, Texture, and Aroma
The texture of Indulekha Bringha Shampoo is indeed quite thick. Although it is thick yet it is easy to spread. Still, for better results, I would suggest mixing the shampoo with water. It would help the product to spread properly.
The colour is chocolate brown in colour and has an uncanny similarity with Chawanprash. No colourant has been used here which is definitely a good thing.
Trust me, the aroma of the shampoo reminds me of Dabur Red Toothpaste! And, I have no complaints regarding that as I loved that aroma too. Those who love the ayurvedic aroma, they would find this scent quite amazing. The only glitch is that the aroma is not long-lasting. Once you wash off the hair, there is hardly any aroma left behind.
My Experience with Indulekha Bringha Shampoo
So, for the last two weeks, I have been using this Indulekha shampoo. As I said the shampoo is thick in texture. Thus, I dilute it with sufficient water. It becomes easy to apply then. If the ingredient list is followed properly, then there is no hair conditioner in the formula. As a result, it is quite important to use a conditioner afterwards.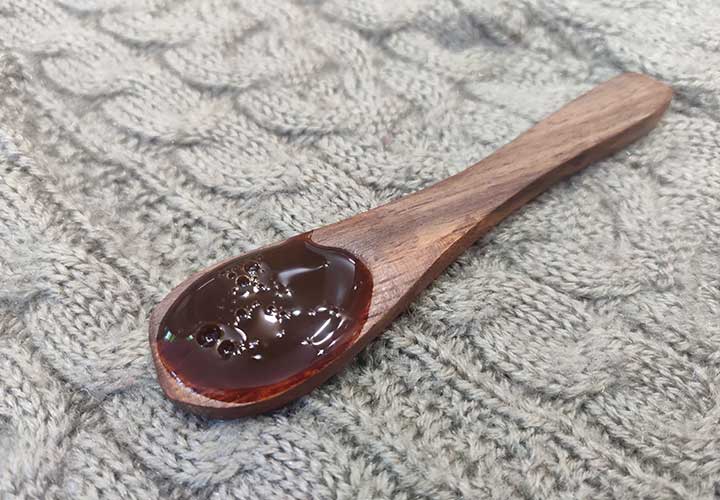 Another thing worth mentioning here is that not much quantity is required for every wash. Just a pea and a quarter-size amount are enough to wash hair. But in case you oil your hair or apply a hair mask, you need more of this shampoo.
So, after using this shampoo several times, here are a few things that I have observed.
If you have oily scalp and dry hair strands (like mine), you must use a hair conditioner separately.
In case you have silky hair strands, then you can skip conditioner.
In case of dry scalp, you have to use hair conditioner.
Does this Shampoo Stop Hair Fall?
No! As no hair conditioner is there, there is a high chance that hair would be tangled. And tangled hair is always a trouble. Thus, if you do not use the conditioner separately, then hair fall might increase because of all the knots and tangles.
Pros of Indulekha Bringha Hair Cleanser
Benefits of Bhringraj and 6 other amazing herbs
No colour is added
No fragrance is added; natural ayurvedic aroma
Affordable
Travel-friendly packaging
Cons of Indulekha Bringha Hair Cleanser
Does not stop or control hair fall much.
Hair feels dry without hair conditioner
Questionable ingredient list. Moreover, harmful preservatives are used
Although the brand claims it as ayurvedic medicine yet this shampoo does not deliver any such results. Hair regrowth is simply not possible with this shampoo.