Disclaimer: Nope! This article is not sponsored by any brand. In fact, all the products have been bought by me. 
If I am not wrong, then certainly it's been more than 6 years now that I am analyzing chemical components of cosmetic products. This habit has not only saved me from purchasing wrong products but has also helped me to shape my skincare & haircare regime. Now, I can easily differentiate between good and average brands.
After Juicy Chemistry, I was looking for a chemical free brand where the products effectively have 6 months of shelf life. But, as I always say that every day, new brands are emerging in the Indian cosmetics market. Choosing the right one can be pretty challenging. Especially, if the marketing and promotion gimmicks trick us.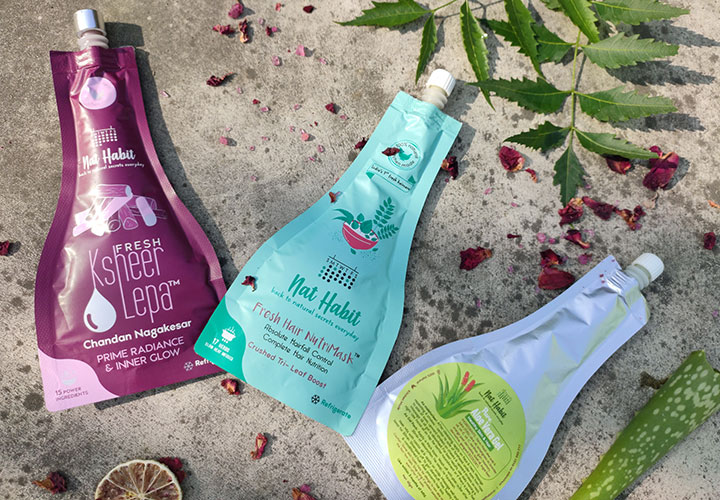 But, my old habit saved me here. After a long time, I have finally found Nat Habit. A brand that is completely free from harmful chemicals, preservatives, and also cruelty free. So far, I have bought 3 products combining skincare and haircare. Let's check out why these prodcuts are worth creating a hype.
What is Special about

Nat Habit

Products?
The products are not made in bulk or in batch. The brand formulates each product only when they receive orders. Thus, you will never find batch numbers on the labels.
They use fresh raw ingredients. From skincare to haircare, all the products come in thick paste format. (except the facial moisturizers and the makeup removers). Usually raw milk and oils have been used to create the moist pastes.
You will never find huge bottles of these. The products come in pouches (except the facial moisturizers and the makeup removers) of weighing about 40gm. In fact, the facial moisturizers and the makeup removers weight about 30gm-40gm.
All the products come with labels bearing clear instructions. Different products have different shelf lives. Some products are advised to refrigerate whereas some can be kept outside.
Now when the special features are known, it's time to talk about the ingredients of the 3 products in brief.
1. Nat Habit Pure Aloe Vera Gel
Honestly, it is pretty tough to formulate a pure aloe vera gel. In fact, I was in a dilemma too. But, the ingredients and the texture made me believe that the gel is indeed pure and chemical free.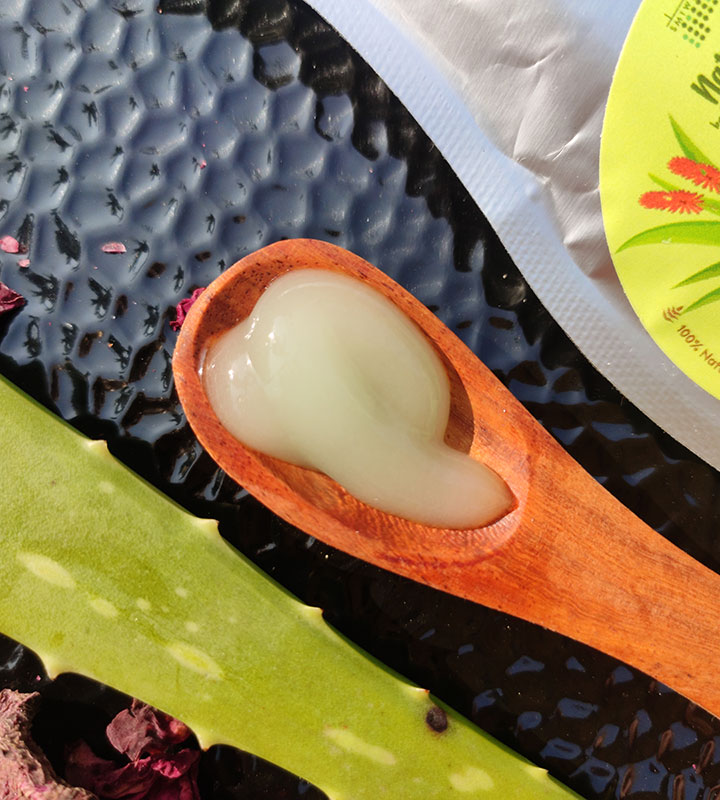 Ingredients:
Farm-fresh aloe pulp & juice (93%), olive oil, lemongrass oil, lavender oil, vit-E, vit-C, xanthan gum, rosemary, orange peel derivative, basil oil, sugar beet derivative, geogard (ECOCERT).
Shelf Life:
3 months from mfg. date
How to Use This Aloe Vera Gel
It can be used both in a hair pack or as a facial moisturizer.
As you can see, apart from aloe vera gel, several oils have been used here. Without preservative, it is pretty hard to preserve aloe vera gel. Hence, a mild ECOCERT certified bio-preservative aka Geogard has been used here.
The gel has an aroma of basil and orange. The gel-like consistency helps to spread the product quite easily. As a whole, this aloe vera gel is one of the best aloe vera gels in India.
2. Nat Habit Fresh Hair Nutri Mask
This creamy hair mask has been formulated to control hair fall. The ingredients are nourishing enough to improve blood circulation on the scalp.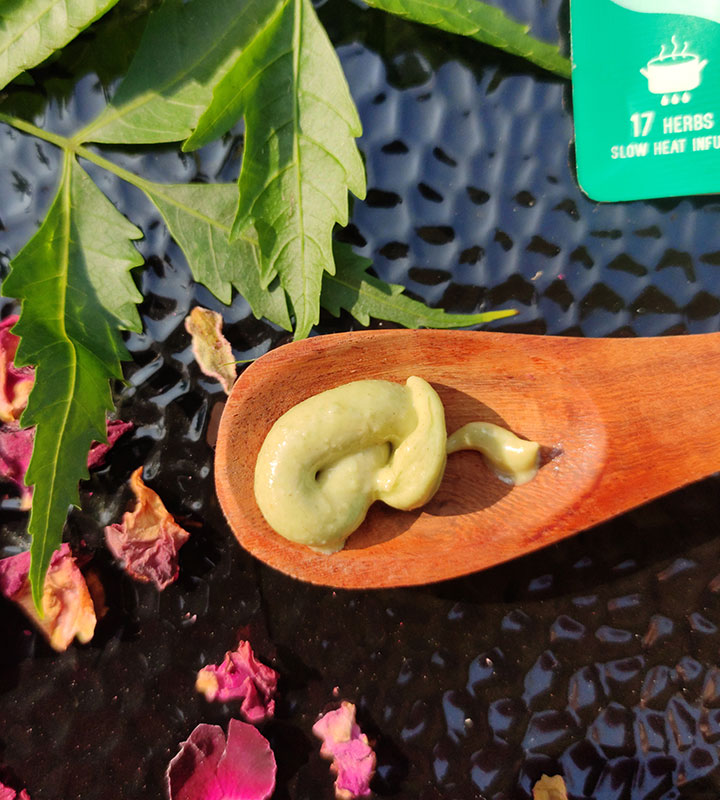 Ingredients:
Neem, sweetneem, hibiscus, tulsi, amla, bhringraj, shikakai, fenugreek, coconut oil, mustard oil, black sesame oil, shea butter, other essential herbs and oils. 
I could have felt more happier if the brand had disclosed the names of the essential herbs and oils as well. Apart from this, rest of the ingredients are definitely hair-loving.
Shelf Life:
3 months from mfg. date
How to Use These Hair Masks
Apply 1/3 – 1/2 pack of the nutrimask on hair
Massage on scalp well. A little more for very long hair.
Keep for 30min – 1hr for optimum benefits
Shampoo hair twice. No conditioner needed.
For better results, use every time before shampooing. 
So far, I have used the mask thrice. At the time of application, I was not facing hair fall. Hence, I cannot comment upon that. But, the mask has definitely improved my hair texture.
3. Nat Habit Fresh Ksheer Lepa
'Ksheer' means milk & 'Lepa' means face pack. This lep is made from raw milk and fresh yogurt. There are 15 skin-loving ingredients in this face mask. Check these out.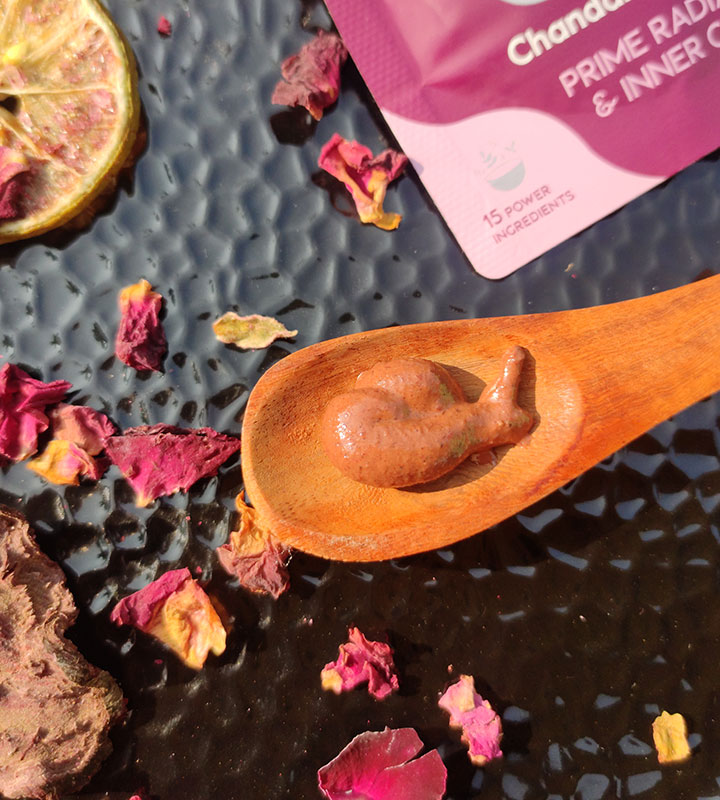 Ingredients:
Sandalwood, nagkesar, saffron, raw milk, yogurt, almond, manjistha, daruharidra, beetroot, tuberose, raw honey, sugar, salt, bentonite, besan, and sasame oil
Shelf Life:
30 days from mfg. date
How to Use These Lepas
Use twice a week
Apply a thick paste on the face & also on the neck
Let the lep dry from 10-15 minutes
Wash off with water to get a fresh & glowing skin
What's the Difference between Ubtan and Lepa?

Ubtans are basically cleansing packs. These can be used daily as a face wash or as a facial scrub or a mild face pacl as well.

Whereas the lepa is totally face packs. Leps should be used as per skin conditions. It is recommended to not use it more than twice a week.

And last but not the least, ubtan and lepa can never be used at the same time.
I am in love with this lepa. The formulation is perfect for all skin types. I love the radiance and the glowing skin post wah-off. The subtle fragrance of sandalwood remains even after wash-off. Just loving it!
Final Words
Whoa! The products are all quite effective. I love it when a brand delivers just what it says. The ingredients are nourishing and are free from chemicals. Mild preservative is used whenever it is necessary only.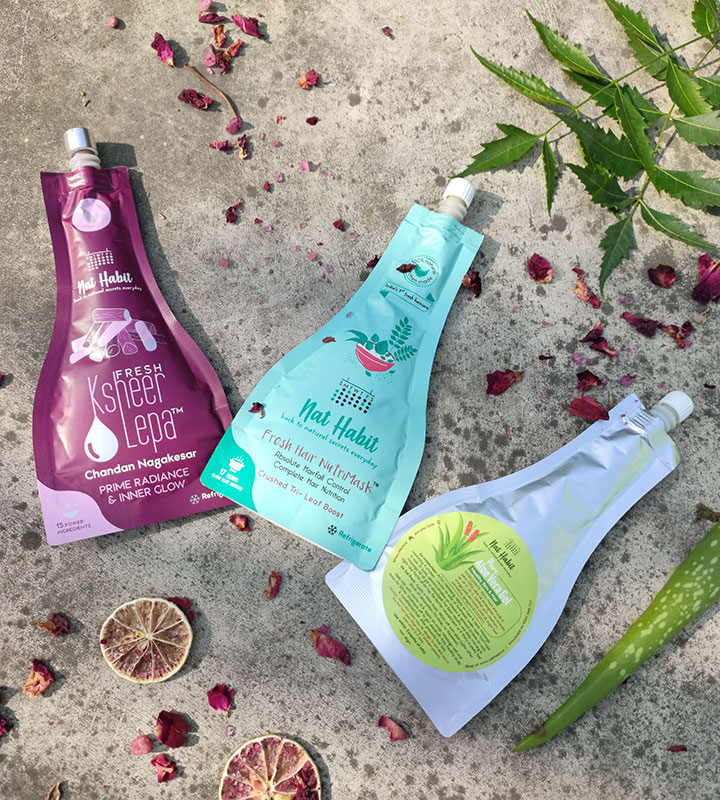 So, if you are bored with Juicy Chemistry or other so-called all-natural products, try Nat Habit products for once. I am sure you are going to love them .
That's all for today! Make sure to share this article with your friends and family if you find it helpful. Take care; celebrate life.