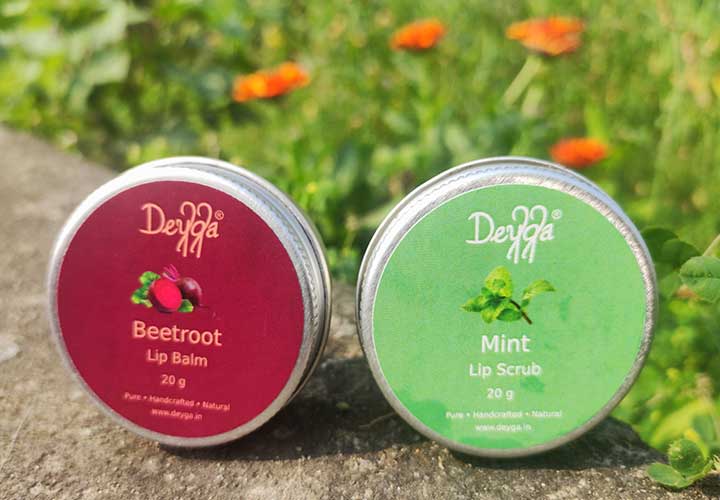 Deyga Products Review
I have an immense love for organic brands and their products. Since the time I had started reading the ingredients of cosmetics, I have kinda fallen in love with harsh chemical-free and all-natural brands. In fact, my skin loves these brands the products. At the end of the day, I know that my skin is in safe hands and that gives me a lot of satisfaction. People often tell me that you have these moles on your face or your skin looks dark. Well! I am always prepared for such things. I use organic products not to change my complexion, but rather to improve my overall skin profile.
Recently, I came across one such brand and the name is Deyga. This all-natural brand bottles up organic products only, Their range of products include skincare, haircare, lip care, products. From, handcare to footcare, they have everything in their bag. Among all, today, I am going to review two of the Deya lip care products namely Beetroot Lip Balm and Mint Lip Scrub. So, let's dog in.
Deyga Mint Lip Scrub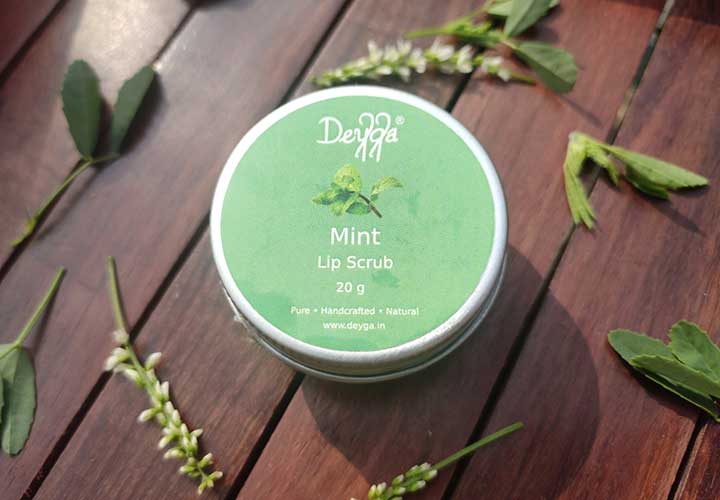 Basic Information about Deyga Mint Lip Scrub
Price: INR 290
Shelf Life: 6 months
Buy From: Deyga
What Does the Brand Claim about Deyga Mint Lip Scrub?
It is time to bid adieu to your chapped lips. Deyga Mint Lip Scrub has been formulated specially to nourish your lips like never before. Its unique formulation, the blends of butter and essential oil help to soothe your dry lips. And, locks the moisture inside. It does the dual task of both exfoliation and nourishment of the lips.
Ingredient Analysis of Deyga Mint Lip scrub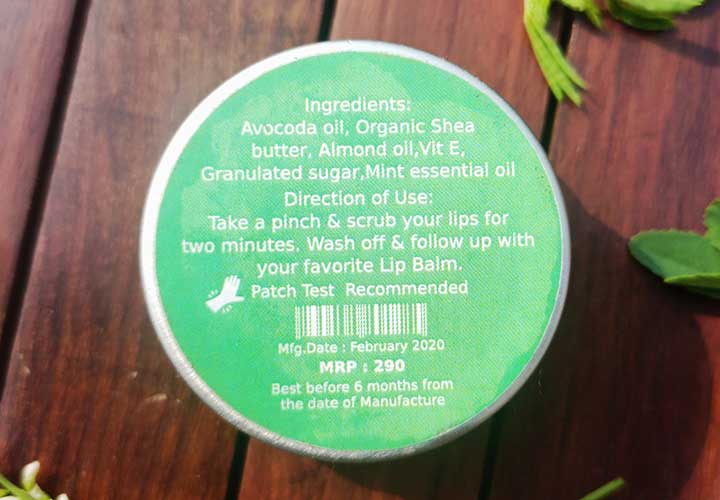 Well! I must tell you that the ingredients here are the simplest ones. They have made it minimal yet effective. The formulation looks neat and the functionality seems pretty clear at a first glance itself. All the ingredients used here are natural and extracted from organic sources. Here goes a brief analysis of the components.
1. Avocado Oil
It is one of the best ingredients for chapped lips. It is full of Vitamins like A, D, and E. Along with moisturizing lips, it also helps to protect it from the damaging UV rays.
It is loaded with a number of vitamins and fatty acids. And thus, it is known as the ultimate aid to nourish chapped lips.
3. Almond Oil
This amazing oil is loaded with Vitamin E. And thus, it repairs irritated and chapped skin. It also helps to make the skin look soft and smooth. Honestly, I love anything close to Almond.
4. Vitamin E
Vitamin E is indeed one of the best antioxidants ever. It takes care of the health of the skin. Vitamin E helps to retain moisture.
5. Granulated Sugar
Talking about a natural exfoliator, there is hardly anything that can beat granulated sugar. Sugar is often used as an exfoliator. And, I am glad that they have chosen this component over apricot beads or anything else.
6. Mint Essential Oil
This oil is popular for its cooling effect. Mint EO not only adds an aroma to the formula but also soothe out the lips.
Overall, the ingredients of this lip scrub deserve 5 out 5 for this simplicity.
Packaging
The tub packaging definitely looks durable and attractive. It is tiny and portable. To avoid contamination, try to use a spoon to scoop out the necessary amount.
My Experience with Deyga Mint Lip Scrub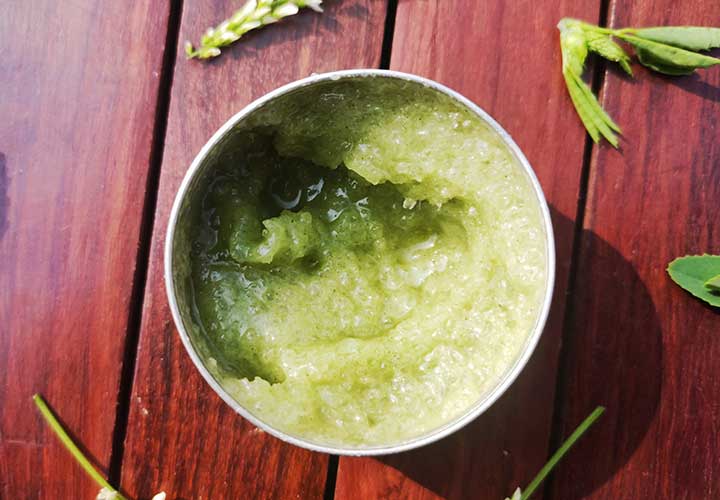 So, it's been more than two weeks now that I have using this lip scrub. As a DIY lover, I had always used a homemade lip scrub. But my DIY formula never gave me the nourishing effect. It was just all-oily stuff on my lips.
I love how this scrub feels on my lips. The sugar beads are not harsh at all. The scrub exfoliates quite well. Most importantly, it does not dry off my lips. In fact, I did not feel the necessity of applying any lip balm after wash-off. The avocado and almond oil are sufficient to give long-lasting hydration to my lips. But, this does not mean that one should skip lip balm.
Now talking about the aroma of this scrub, there is a faint hint of mint. But, that is not enough. Both Almond and Avocado Oil has a weird nutty smell that is not liked by many. And in order to overcome this, a strong aroma was needed. The aroma could have become more appealing if they had used Lavender EO or Orange EO along with the Mint EO.
Do I Recommend Deyga Mint Lip Scrub?
Well! I must say that this lip scrub is one of the best organic and natural lip scrubs at this point in time. It does what it is supposed to do and thus, I would definitely recommend it to everyone.
Deyga Beetroot Lip Balm
Basic Information about Deyga Beetroot Lip Balm
Price: INR 290
Shelf Life: 6 months
Buy From: Deyga
What Does the Brand Claim about Deyga Beetroot Lip Balm?
Getting a pair of smooth lips is not a myth anymore. Get ready to embrace a beautiful formulation that has the goodness of Beetroot extract, butter, and essential oils. Let your lips heal, ger nourishment, and feel soft and smooth forever.
Ingredient Analysis of Deyga Beetroot Lip Balm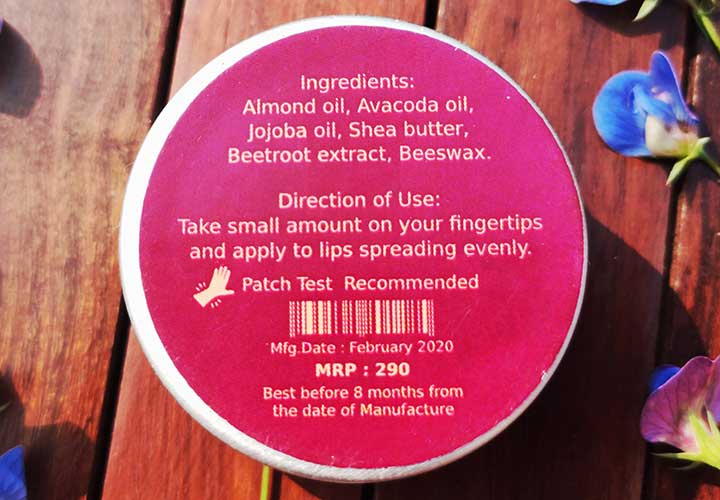 As I have already told you that Deyga believes in simplicity and this lip balm is of no exception too. It is made of the simplest ingredients ever. The approach is minimalistic and pretty awesome. Just like the Lip scrub, this lip balm also has Avocado Oil, Almond Oil, and Shea Butter. So, I am going to talk about the rest of the components. Now, without much ado, let's begin with the ingredient analysis of Deyga Beetroot Lip Balm.
Jojoba Oil
It keeps the skin calm. Vitamin E and B-Complex vitamins in Jojoba Oil are quite helpful to repair skin.
Beetroot Extract
This extract is pretty beneficial to make skin glowing and smooth. It is full of Vitamin C and provides skin with beautiful skin.
Beeswax
This is one of the best natural skin barriers that does not clog pores yet protects the skin from the environment. Beeswax is high in Vitamin A that helps in skin reconstruction.
Overall, I loved this simple ingredient list and 5 out of 5 again for this.
My Experience with Deyga Beetroot Lip Balm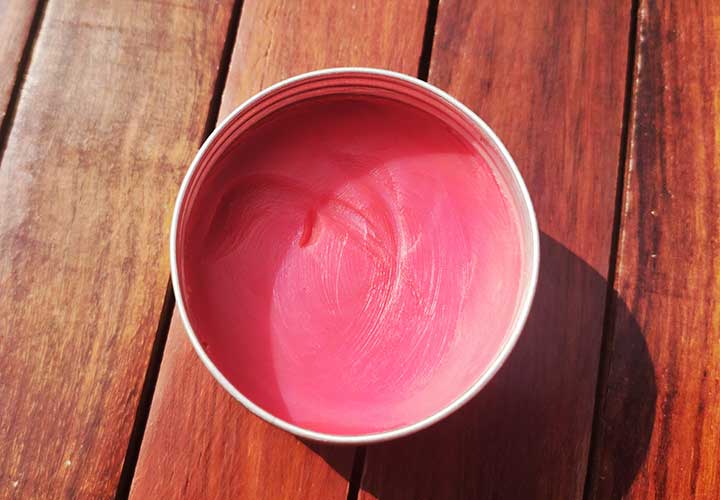 Since the arrival of this lip care duo, I have become pretty particular about the overall health of my lips. I make sure to exfoliate my lips thrice a day and nourish my lips all the time with this lip balm. This Beetroot Lip Balm is pretty nourishing and moisturizing.
Well! I would not say that it provides all-night nourishment. A re-application is necessary after every 3 hours which is not ideal for over-night rejuvenation.
Somehow, I have felt that the lip balm is on the drying side. It gets washed off or dries out pretty quickly and thus, it failed to provide long-lasting moisturization.
Lastly, I felt that just like the lip scrub, the aroma of this lip balm could have been made a bit different. The weird smell of beeswax is a total turn-off for me. A few drops of Orange EO or Lemon EO could have made this much more appealing. I hope, for the future batches of products, the brand changes the formula a bit.
Do I Recommend Deyga Beetroot Lip Balm?
Umm, not much! At this price tag, there are other better organic lip balms.
So, that's all for today! Hope you find this article helpful. Subscribe to Cosmetics Arena for more such articles. Take care; keep celebrating life.