4 Essential Deyga Products You Need for Your Home Round the Year
The more I take a dig into the ingredients of cosmetics, the more I fall in love with handcrafted organic products. These days I am all into harsh chemical-free and organic brands. And, I am glad that I have made the choice.
If you have been following my blog for some time now, then you must have noticed that around a few months back, I had reviewed Deyga skincare and haircare products. Well! All the products were striking and effective.
So, this time when I needed to go for a few essential products for my household, all the positive experience compelled me to choose Deyga products.
And, I instantly ordered Deyga Aloe Vera Gel, Charcoal Tooth Whitening Powder, Lavender Essential Oil, and Sanitizer. After giving these products a few trials, I am ready to opine my review.
So, let's talk about how effective Deyga home essential products are.
Deyga Aloe Vera Gel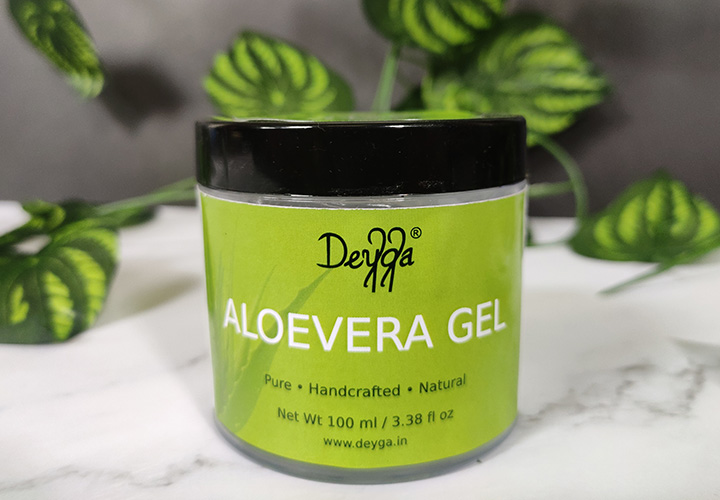 Shop Now!
Price: INR 350 for 100ml
Shelf Life: 6 months
Ingredients: Cold Pressed Aloe Vera Gel, Aloe Vera Extract, and Aloe Hydrosol
There is absolutely no doubt that aloe vera gel is one of the most essential products for a household. Be it a small cut, first-degree burn, pimple, rashes, acne, sunburn, suntan, or anything else, nothing can replace this multipurpose gel.
Its instant cooling power makes it one of the best home remedies that always comes in handy. This aloe vera gel from the house of Deyga is not an exception too.
The texture is of this gel is smooth and a bit thick. It is colourless and odourless which further certify the purity of the product.
I have applied the gel on a small cut and on a blister. I must say that it works pretty fast and effectively. You would surely feel instant relief. The smooth texture is easy to spread and
So, all these things are enough to tell you why you need this aloe vera at your home.
Deyga Charcoal Tooth Whitening Powder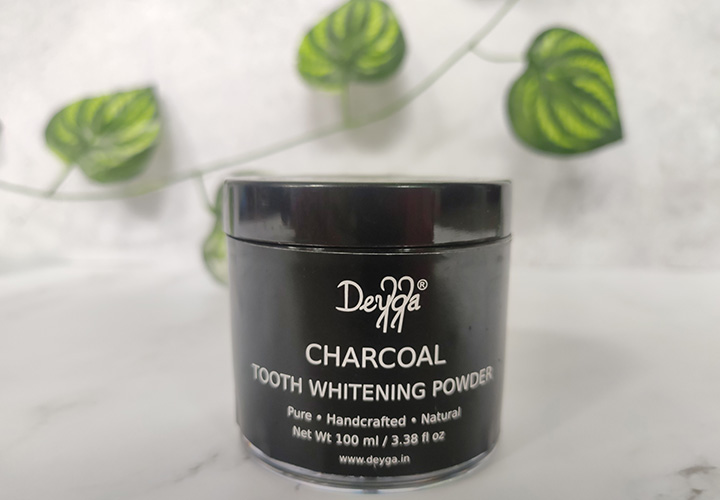 Shop Now!
Price: INR 250 for 100ml
Shelf Life: 6 months
Ingredients: High-Grade Activated Charcoal Powder, Baking Soda, and Himalayan Pink Salt
So, the best part about switching to all organic lifestyle is you start questioning the ingredients of all the existing products in your life.
In general, there is no such problem with our toothpaste. But, if you check closely, then you will find that SLS has always been a part of our toothpaste. In fact, other additives like colourants or preservatives like Paraben are all pretty harmful.
Thus, it is important that we bring about a change in our lifestyle. Before you bring on a change in your skincare and haircare products, make sure to start with some basic products.
And undoubtedly, toothpaste is one of the most basic household product. So, I wanted to replace my regular toothpaste with this herbal charcoal powder.
The whitening power of charcoal is unbelievable and this toothpaste is no different too. What you need is a few pinches of this powder on your brush. After brushing for 3-4 minutes straight with this powder, you would notice two things.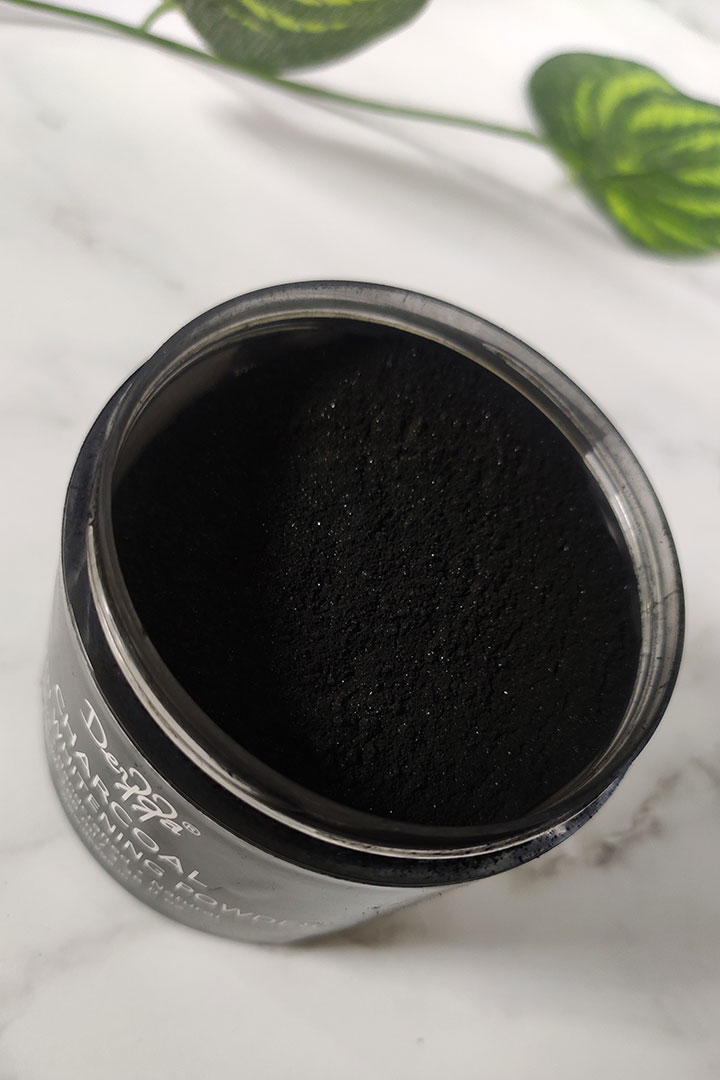 Not only your teeth would look clean but also a bit white. Because of the ultra detox effect of charcoal powder and the ultra cleaning power of the baking soda, your teeth would become appear whiter in no time.
So, are you ready to bring on a change in your lifestyle with this Deyga product?
Deyga has another version of tooth and gum powder which is enriched with clove, Haritaki, Camphor, Salt, Sage, and two other things. The camphor variant is all you need in gloomy morning.
Deyga Lavender Essential Oil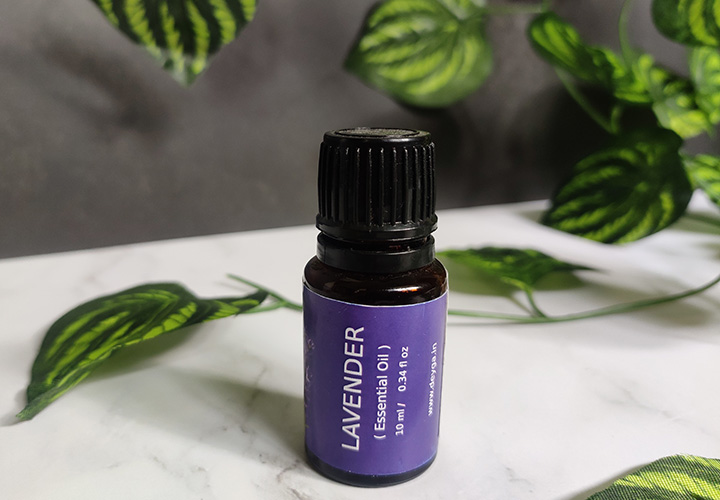 Shop Now!
Price: INR 330 for 10ml
Shelf Life: 8 months
Ingredients: Steam distilled from the buds of lavender
For the past 3 years, I had always tried to keep at least one essential oil at my home. Whether it is Lavender EO or Tea Tree EO. I must say that both of these essential oils are pretty effective and are helpful.
From skincare to haircare, from pimples to rashes, from suntan to body aching, from head massage to foot massage, lavender essential oil always comes in handy. Pretty recently, I have tried Bulgarian Lavender EO and this EO is no different from that.
In fact, it is quite inexpensive and par excellent in terms of quality & quantity. The aroma is enough to charm all your fatigues. It feels really good every time I sniff it or add a few drops in my bathing water.
Altogether, I must say that if you have not tried out this EO yet, then just go for it. It is really a quality product.
Deyga Sanitizer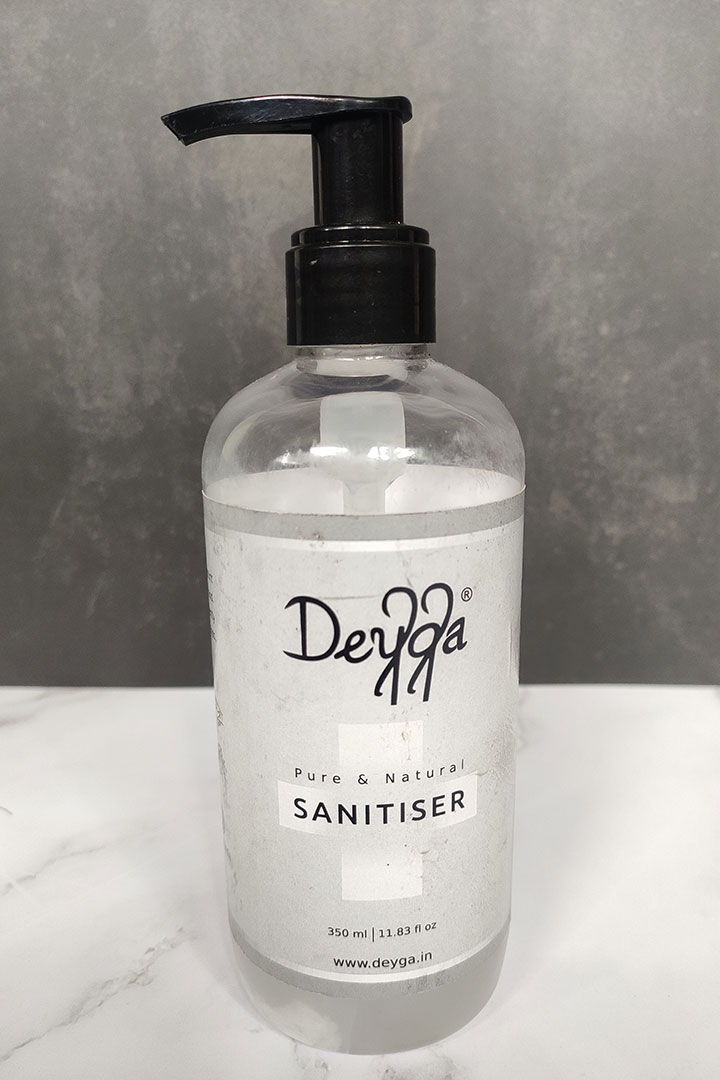 Shop Now!
Price: INR 550 for 350ml
Shelf Life: 6 months
Ingredients: Aloe Vera, Ethanol, Isopropyl Alcohol, Vitamin E Oil, Turmeric Root Oil, Xanthan Gum, Tea Tree & Lavender Essential Oil
I think, at this juncture when the pandemic has already hit us hard, it is pretty important to keep a hand sanitizer even in the coming years. Literally, in all these months, I have tried a number of sanitizers from different brands.
Most of the sanitizers contain Aloe Vera Gel, Alcohol, and Vitamin E. In some cases, the brands add fragrance and Xanthan Gum. I am glad that Deyga has further added ingredients like Turmeric root oil or EO.
All these ingredients combined make this sanitizer more potent. This sanitizer smells quite fresh and nice. The texture is absolutely watery and does not irritate my sensitive skin.
Honestly, it reminds me of water. You would not feel anything like sticky or irritating.
The only con I felt about the product is the per ml cost which is significantly high. Especially, during the time when people need sanitizer more and more. Otherwise, Deyga Sanitizer comes with just the right formula that you need for your home.
So, that's all for today! Which product you are going to try pretty soon? Let us know in the comment section below. Also, make sure you follow us on Instagram for more such juicy contents. Take care; celebrate life.