Hola my beautiful ladies, welcome to CA. Today I feel very happy to review Fuschia Ageless Serum enriched with Rose Water and Dead Sea Minerals.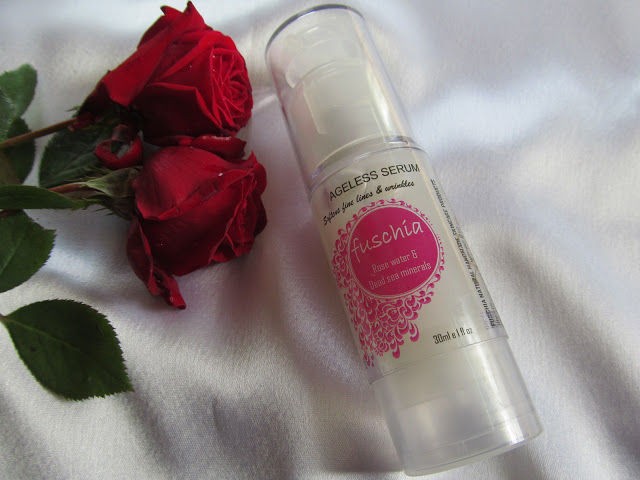 Fuschia is actually a range of skin care products launched by the Vkare Biosciences. Vkare is a reknowned brand and has already garnered a lot of resect and appreciation. So, let us dig deeper to reveal this product.
Price: INR 1250 for 30ml. Available at INR 850 on its website.
Shell Life: 24 months
Availabality: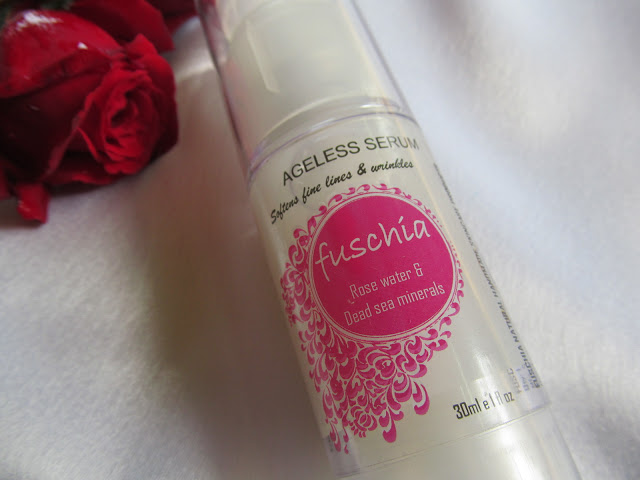 Product Description and Ingredients: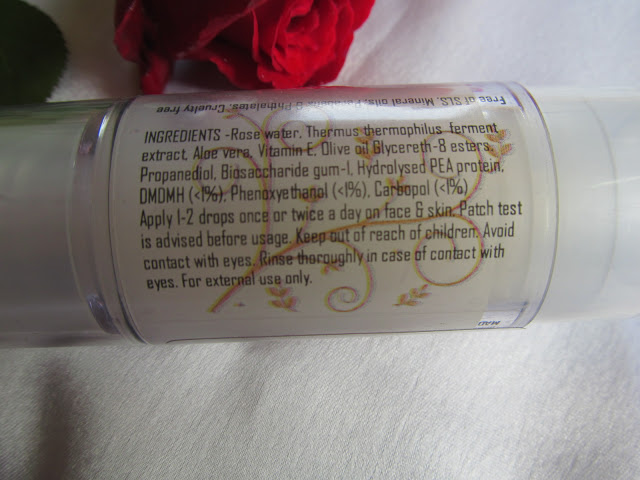 I believe that ingredients play a very important role towards the effectiveness of any product. As soon as I got this product, I saw the ingredient list. 
Honestly, the components are really interesting. I have checked each components individually and divided them into two categories.
Active Ingredients ( Found on its official website):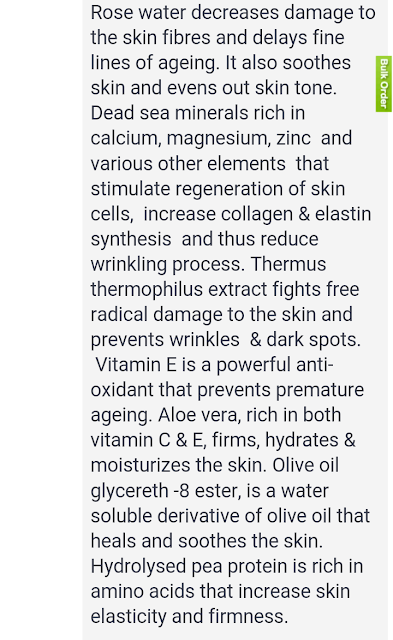 Inactive Ingredients:
Propanediol: According to Paulas Choice website, it is a 

glycol that functions as a solvent. Propanediol enhances the absorption of ingredients into the skin. It also has hydrating properties and it can leave a smooth, moist finish on skin.

Biasaccharide Gum-1: It is a moisturizing and skin soothing ingredient. It works by binding water to the epidermis of skin and creating a moisture-binding film on the skin that gives the skin a soft, smooth feeling. 
DMDMH: DMDM hydantoin is an antimicrobial agent and preservative. It increases the shelf-life of cosmetics by "releasing" formaldehyde and thus killing bacteria. I know Formaldehydes are evil. But here it is used in a very nominal amount ( less than 1 percent), so it is safe.
Phenoxyethanol: 

preservative
Carbopol: A stabilizing, suspending, thickening and gelling agents used in many industries.
It is evident that I am quite impressed with the ingredients. As soon as I looked at it, I felt for it :)).
My IMPRESSION about Fuschia Ageless Serum
Packaging: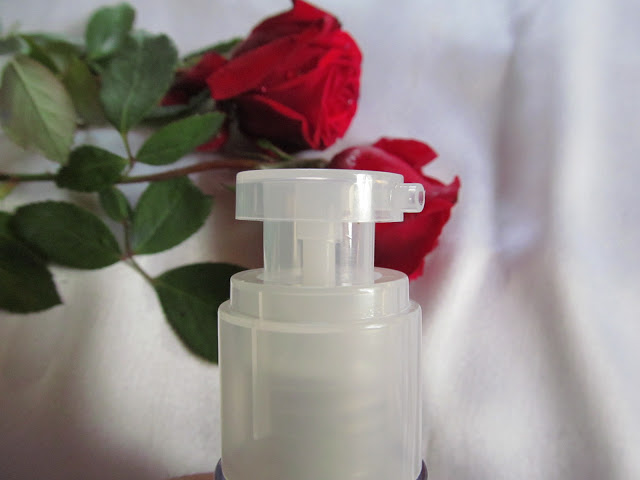 The packaging is very intriguing and scientific too. The body is made of plastic which makes it very very travel friendly. Vkare has given this one a very chic look that is modern too. There is a nozzle at the mouth of the container and it works on the principle of pump up.
On each pressing, sufficient amount of product comes out. One just needs to push hard. This is also spillage proof.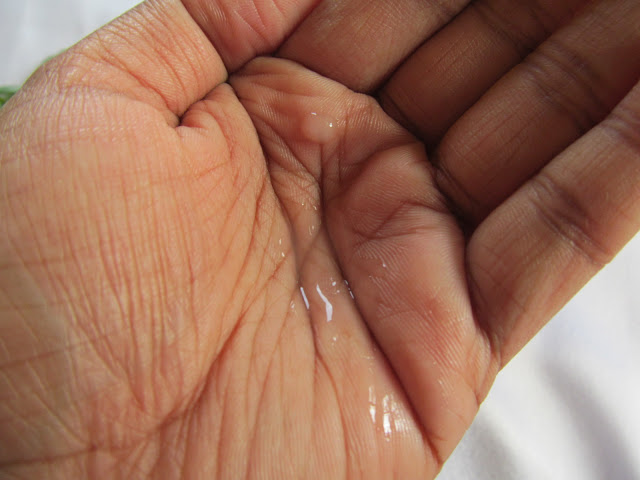 It is a very light weight serum which feels very very luxurious on the skin. The color is mild white which is thick in texture. It is not sticky at all.  The serum absorbs pretty quickly and one can not feel its presence after 2 minutes.
Fragrance: It has a fragrance of fresh roses which is not chemical at all.
It has become an essential part of my skin care routine. I am currently applying this one at night. I take 1 to 2 droplets of serum and massage it on my skin. 
Seriously dearies, my skin has started making differences. It is glowing and looks moisturized. My skin feels soft, smooth and nourished. No more dry patches and skin looks tighter. I do not have wrinkles and fine lines. So, I can not comment upon that.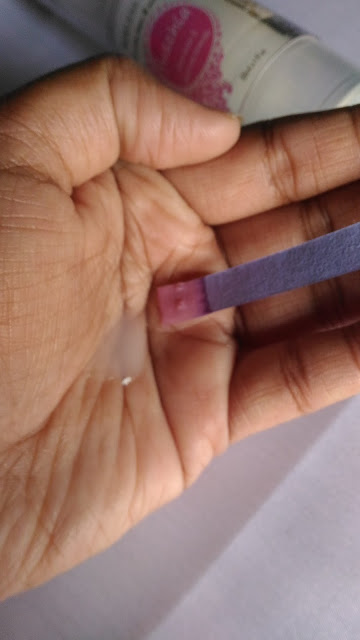 Generally I test my products a lot. Not only I check the ingredients but also I check the pH value. And I am glad to announce that Fuschia Ageless Serum has actually passed beyond my expectation.
The blue Litmus paper shows a mild violate color that proves that the solution lies in the acidic zone. Our skin is acidic with a typical pH value of 5.5. For further reference, you can refer this.
So, let us wrap up the whole thing.
Light weight serum.

Absorbs quickly.

Travel friendly.

Sweet and short ingredients list along with various important components.

Ingredients are safe.

Free from Parabens, SLS, Mineral oil, Pthalates or perfumary substance.

Cruelty free..yeppiee :)).

Ideal night time serum.

A perfectly pH balanced formula.

Suitable for all skin types.
Nozzle is hard

Available online only.
Overall, it is a marvellous serum available in the market at a great price. It does what it claims. I highly recommend this amazing anti aging serum. I must say that Vkare Biosciences has developed an amazing formula.
That is all for today. I hope you like this detailed review. Love you my sweethearts. Take care and celebrate womanhood.
Thank you for reading. Have you used this product? Please share your experiences here. 
***P.R SAMPLE sent by Vkare team for review. But all opinions are my own and honest too :)).