Cleansing products stocked up on the shelves in a drugstore is not a rare sight, but finding the set of products from them that can give you the skin of your dreams can be a real task.
The skin is a barrier between the outside world and the body's systems. Because skincare is a form of self-care, how we treat our skin reflects how we care for ourselves.
Skin care is essential not only for one's appearance but also for one's overall health. A good skincare routine can make a huge difference in how your skin feels and you think about yourself.
Now you might ask, how do I take care of the skin? What's the best thing for my skin? Read on to learn about it.
A skincare journey starts with respecting the skin's needs, and as it is said, 'The most important step of all is the first step'. In the skincare world, it all starts with cleansing!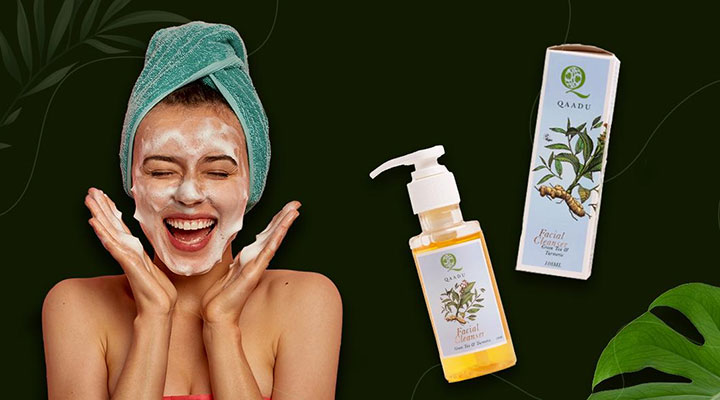 Every day, from going outdoors to work and play to reading a book from the comfort of your home, the skin is exposed to truckloads of dirt and impurities.
It is important to be conscious and develop the habit of cleansing your face to slough away the dirt, dissolve the makeup and get a squeaky clean feel.
Face Wash vs Face Cleanser
Before we get into what to look for in a face cleanser, there is a difference between a face wash and a face cleanser you should be aware of.
A face cleanser removes the grime (makeup/oil) on the face, while a face wash deep cleanses skin pores, removes dead skin cells and is generally more lathery. Face cleansers are products that rid the skin of sweat, sebum (oil produced in skin pores) and makeup.
Choosing the Right Cleanser
When it comes to choosing a cleanser, often the one with pretty packaging or the one in trend tends to get all the attention.
Especially with the marketing gimmicks resorted to, consumers are induced to try/experiment with products while they lose sight of the important considerations required to make the right choice. But, that's not the way to approach it.
Choosing the right facial cleanser is about understanding your skin type and matching what is required with the facial cleanser's ingredients.
Different face cleansers are suited for different skin types – dry, oily, a combination of both or sensitive. So, the important takeaway is there is no 'one size fits all product.
Before choosing a face cleanser for every skin type, let us look at important considerations.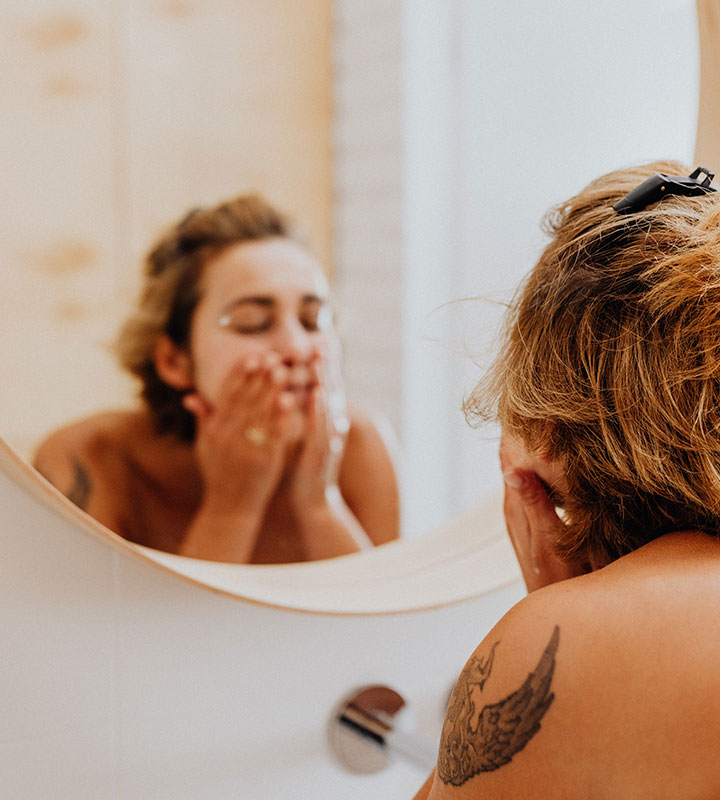 For Dry Skin
When your skin produces less sebum than it needs, feels tight and dry, and has patches and flakes, you need a cleanser that doesn't overly dry the skin and irritates it.
Moisturizing ingredients like glycerin, squalene & shea butter are commonly used. These ingredients help replenish skin moisture.
Ingredients like petrolatum, lanolin and mineral oil also leave a thin film of moisture on the skin, hence suitable for dry skin.
Anti-bacterial soaps and cleansers with exfoliators should be avoided as they dry out the skin.
For oily skin
A good cleanser for oily skin regulates oil secretion and leaves your skin looking glowy and not greasy.
Recommended products are one with ingredients like tea tree oil and aloe vera, which balances oil production and promotes clear skin.
Cleansers containing oil/alcohol should be avoided.
For combination / sensitive skin…
A combination/sensitive skin needs a cleanser that can do the job of two at one time. It can hydrate and smooth the dry area while regulating the oil production in the greasy parts.
Face cleansers, which are soap-free, fragrance-free, and paraben free, are recommended as these are gentle on the skin.
Face cleansers with soothing ingredients like aloe vera, willow bark and witch hazel
From considering hyaluronic acid as the skincare industry's favourite ingredient to following the farm-to-face trend, we are entirely in it.
Face cleansers with natural ingredients are often suited to the skin over the long term, while chemical-based face cleansers produce fast results but rob the skin of essential oils and texture in the long run.
Using natural face cleansers is also an excellent way to take a break from all the chemicals and use simpler formulas to cleanse your face.
Brands like Qaadu are creating beauty essentials that give you the best results naturally and organically.
While we stress natural ingredients in face cleansers, there are caveats to consider before decision making. Many products mention "natural" on the label, but they sometimes manage to sneak through the 'definitions' laid down by the law but might not be natural in the true sense.
So, blindly following the labels might not ensure a truly natural product. Another caveat is you also need to pay attention to how a chemical formulation affects your skin.
Two different brands with the same ingredients might have different chemical formulations and can have different effects on your skin.
Thus, while you consciously choose a natural product, much of it also requires you to experiment. But the points mentioned above on skin types and recommended ingredients for the skin type might be a good starting point.
Summary
Skincare is self-care. Any skincare routine starts with the step of cleansing. Often ignored after a late night party or a tiring day, neglecting this can lead to clogged pores, rough skin texture and not-so-clean skin. With different skin types comes the need to use different ingredients.
While oily skin needs a cleanser that controls oil production, dry skin will require something that hydrates and nourishes the skin. You have to look for soap-free, fragrance-free, paraben-free tags in a product when you have combination skin.
So, the next time you pick a cleanser, choose a product considering your skin type instead of picking anything that looks pretty on the shelf or smells good.
Read our blog on Face Wash or cleanser- what does your skin really appreciate? to know more about your skin's needs.