Pure Bubbles Face Cream with Retinol: Review with Ingredient Analysis
Every now and then, I get emails from emerging brands talking about their new launches. Well! Rarely I do get this feeling like I should try a certain product. The last time it happened was when Aditi, the founder of The Minimalist brand approached me.
It's been more than a year now since then. I felt the same way when Bhavana, the founder of Pure Bubbles Skincare approached me to try their newly launched Retinol Based Face Cream.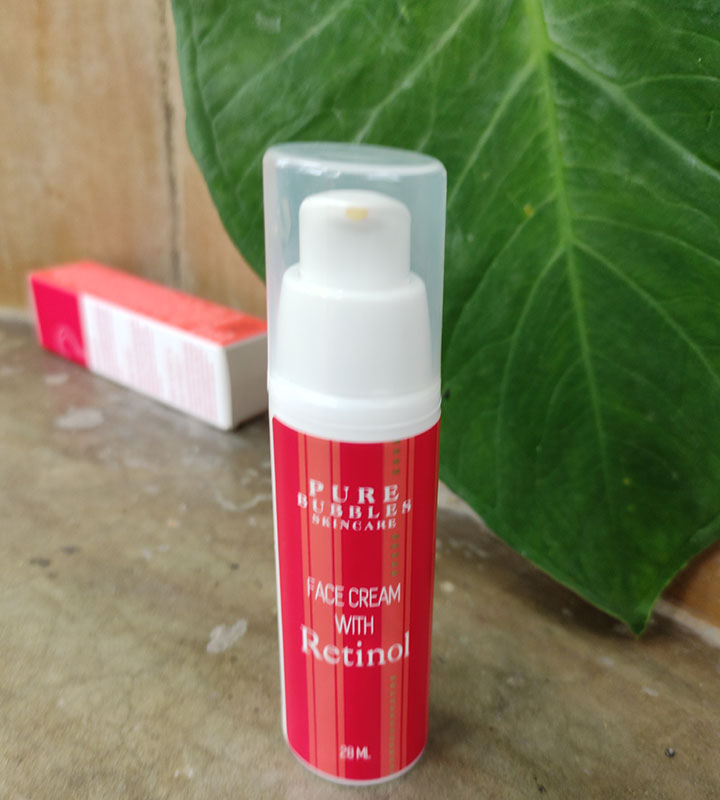 I was familiar with Bhavana and her formulations when I used to be pretty active on Instagram (Why I am not active anymore on that platform, I would tell you that on some other day). Although we used to follow each other yet we never had a serious talk then.
It's been a week now that I am using this Face Cream for Women. How promising & safe are the ingredients? Is it effective? Definitely, a week is not enough to talk about the efficacy of a Retinol-based product. But, I have already outlined the pros and cons. Let's talk about whether it can be one of the best retinol-based face creams in India or not.
Table of Contents
The Inspiration and the Background Story of Pure Bubbles Retinol Face Cream
Bhavana Doshi is the founder & owner of Pure Bubbles Skincare. She started working with a professional formulator in 2020 for a Retinol face cream for the Indian market. Having used a lot of retinol-based products, she felt a lack of proper amalgamation of ingredients being used in the Indian market.
The main criterion was to have a concentration of 0.3% (the final concentration achieved after deducing the premixed emollients to stabilize retinol. This high % of Retinol concentration can cause skin dryness). But, Bhavana did not want want to deal with her labels claiming this thing.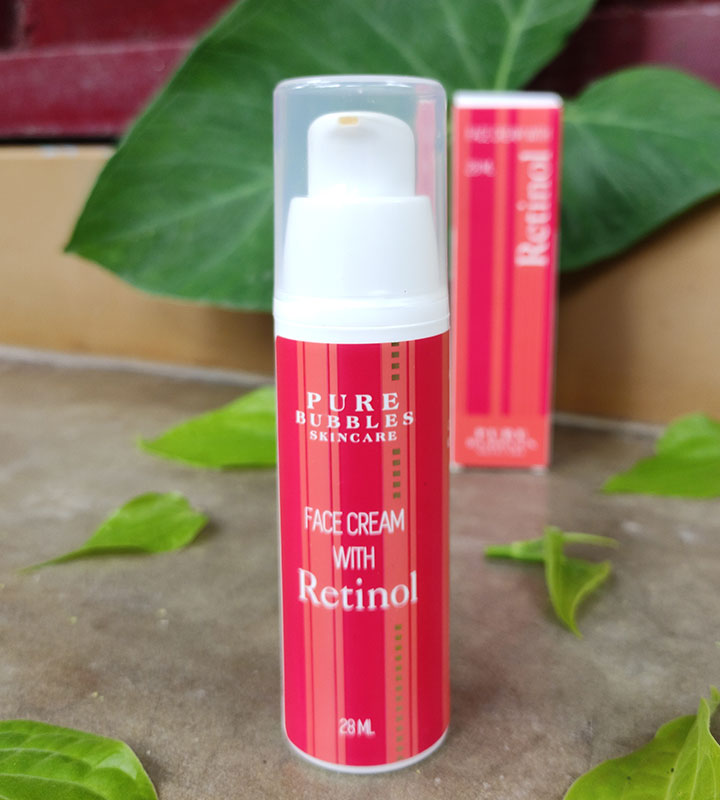 So, instead of a serum, she wanted to venture into a cream-based formula, where the emollients would help to deal with the skin dryness. She achieved this by using a combination of antioxidants and barrier-protecting molecules, and by choosing an emulsifier which is great for sensitive skin and helps stabilize Retinol.
And last but not least, she made this formula effective by adding a proper delivery system (glycols) and her prime ingredient
Ethylhexyl Methoxycrylene. In
order to help Retinol become photostabilized as it is a volatile molecule by itself.
Basic Information about Pure Bubbles Face Cream with Retinol
Price: INR 999 for 28 ml 
**Guess what! There is an offer ongoing on their official site. ADD A SERUM TO YOUR CART AND AVAIL THIS CREAM FOR FREE AT CHECKOUT! **
Shelf Life: 2.5 years
Buy From: Pure Bubbles Official Website
What does the Brand Claim about Pure Bubbles Face Cream with 0.3% Retinol?
This Retinol face cream (0.3%) has been created for beginners and advanced users of retinol. The formula is suitable for All Skin Types. It has a blend of nutrient-rich emollients, botanical actives, peptides, Vitamin B3, and Lab derived actives making this retinol a work of art.
It comes in a form of cream and helps with the following concerns:
Minimizes acne/ blemishes through faster cellular turnover. It may initially lead to peeling of the skin which is nothing but the shedding of old skin cells.
Reduces the appearance of pores.
Minimize hyperpigmentation & sun damage.
Long-term use reduces and prevents premature ageing and reduces fine lines and wrinkles.
Ingredients that work in sync to deliver all the above concerns:
To deal with wrinkles:

Palmitoyl Tripeptide-1 and Palmitoyl Tetrapeptide-7

To deal with Acne/blemishes & Hyperpigmentation:

  Potassium Azeloyl Diglycinate, Niacinamide, Phycosaccharide ACP, Phragmites Karka Extract, and Poria Cocos Extract
Ingredient Analysis of Pure Bubbles Retinol Face Cream
The Retinol-based facial cream is made of more than 30 ingredients. I feel extremely proud when I find that an Indian cosmetic brand has disclosed all the ingredients of their products. It is sheer happiness.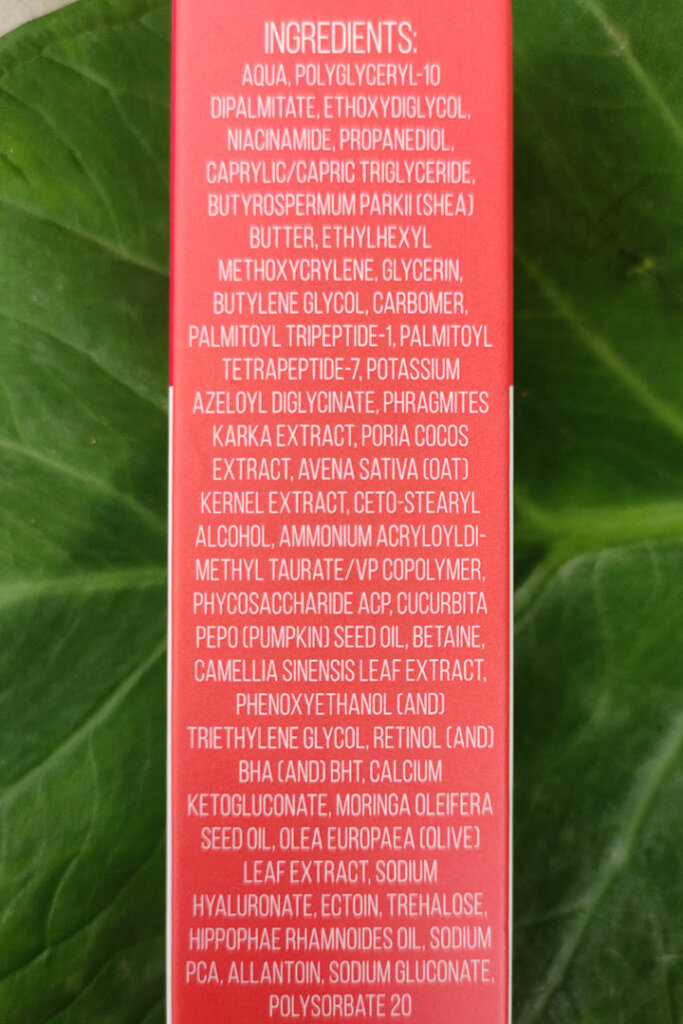 At a glance at the ingredients, you can already see that this cream is free from artificial colourants, dyes, and fragrances. Amazing for sure. But, what about the other ingredients? Are the rest of the ingredients as safe as the brand claims? Let's find out.
1. Aqua
Water is used as the base of the cream.
2. Polyglyceryl-10 Dipalmitate
This skin conditioning component is pretty new to me. So far, have never seen this in any product.
It is a safe emollient that helps to nourish dry skin.
3. Ethoxydiglycol
This cosmetic-grade solvent also works as a humectant ( a component that helps to retain moisture e.g. honey, glycerin, etc.). And, it is totally safe.
4. Niacinamide
A brilliant skin and hair conditioning agent that is perfect for all skin types.
5. Propanediol
It is a multifunctional component that works as a humectant, solvent, and also as emollient. As per EWG, it is safe too.
6. Caprylic/Capric Triglyceride
This safe component is often called fractionated coconut oil. It is widely used in personal care products as an excellent skin smoothening antioxidant.
7. Butyrospermum Parkii (Shea) Butter
A beautiful and pretty effective natural butter that is a saviour to dry and mature skin people.
8. Ethylhexyl Methoxycrylene
I am amazed that how brilliantly the formulation of the product has been done. Ethylhexyl Methoxycrylene helps to protect a formula if there is any photo-unstable component present.
9. Glycerin
A natural and safe humectant that retains moisture onto the layers of the skin.
10. Butylene Glycol
This safe chemical component is a water-soluble and colourless solvent that is usually used in both rinse-off & leave-on products.
11. Carbomer
It works as a thickening agent in cosmetics. Thus, it helps to control the viscosity.
12. Palmitoyl Tripeptide-1
As per Paula's Choice, this component helps to repair visibly damaged skin and also strengthens the skin cells. Here you find this product: https://biotechpeptides.com/product/pal-ghk-palmitoyl-tripeptide-1-topical-200mg/
13. Palmitoyl Tetrapeptide-7
This amazing component helps to prevent uneven skin tone and wrinkles by suppressing the excessive production of interleukins.
14. Potassium Azeloyl Diglycinate
This water-soluble safe component helps to hydrate and moisturize the skin. And thus, it improves the overall condition of the skin.
15. Phragmites Karka Extract and Poria Cocos Extract
This blend is an excellent active ingredient that helps to soothe irritated and damaged skin.
16. Avena Sativa (Oat) Kernel Extract
The antioxidant-rich extract is an excellent skin conditioning agent that helps to soothe the skin.
17. Ceto-Stearyl Alcohol
Another skin softener that also helps to thicken a liquid-based product.
18. Ammonium Acryloyldimethyltaurate/VP Copolymer
As difficult & long as the name is, the simplest is its function. This component works as a thickener that helps to improve the overall texture of the product.
19. Phycosaccharide ACP
This trademark chemical component is an anti-acne and sebum controlling agent. It also helps to heal irritated skin.
20. Cucurbita Pepo (Pumpkin) Seed Oil
Rich in Linoleic & Linolenic Acid, Vitamin C, and Vitamin E, this seed oil is a natural skin rejuvenator for mature and ageing skin.
21. Betaine
A safe and natural skin conditioner and humectant.
22. Camellia Sinensis Leaf Extract
Tea leaf extract is rich in antioxidants that can soothe damaged skin.
23. Phenoxyethanol (and) Triethylene glycol
This blend is quite widely used in the personal care industry in order to preserve the efficacy of products.
24. Retinol (and) BHA (and) BHT
I can already see the frowning line on your forehead looking at the name BHT. Butylated Hydroxytoluene aka BHT is often considered a Carcinogen as it is a Formaldehyde release. In fact, I was in a dilemma too. So, I contacted Bhavana.
As per her explanation and also my research, the presence of BHT (the concentration is hardly 0.01% in this formula) makes sure that the Retinol stays encapsulated or stabilized. This is one of the best ways to maintain the efficacy of Retinol and BHA in this cream.
25. Calcium Ketogluconate
This is a natural molecule that comes in powder form. It helps in to tighten and brighten the skin from the inside & outside.
26. Moringa Oleifera Seed Oil
With high numbers of antioxidants, this oil helps to maintain skin hydration.
27. Olea Europaea (Olive) Leaf Extract
This extract is amazing for repairing irritated skin and healing sun-damaged skin.
28. Sodium Hyaluronate
It is a form of Hyaluronic Acid and is one of the best natural ways to fight off wrinkles and fine lines of ageing.
29. Ectoin
A brilliant and safe emollient that also provides an anti-pollution effect to the formulation.
30. Trehalose
Trelaholse is a natural moisturizer and skin protectant.
31. Hippophae Rhamnoides Oil
Another amazing skin nourishing agent that works beautifully as an emollient.
32. Sodium PCA
Primarily, it is used as a safe moisturizing element in cosmetics.
33. Allantoin
It is basically an anti-irritant to the skin. Thus, it can hydrate and soothe the skin at the same time.
34. Sodium Gluconate
It functions as a natural alternative to synthetic chelating agents like Disodium EDTA. It helps to protect this cream from discolouration and rancidity.
35. Polysorbate 20
This component helps to improve the overall feel and texture of a product. It is widely found in the cosmetic industry.
Phew! And, that's all. I am simply stunned by the fact that all the ingredients are not only safe but some of the components are also pretty unique. I keep analyzing cosmetic ingredients yet I found a few new names.
None of the ingredients is redundant. All the ingredients had purposes and that is brilliant for sure. Overall, the formulation is well-researched. And, I would happily give the ingredients of Pure Bubbles Retinol Face Cream a rating of 5 out of 5.
Packaging, Texture, Colour, and Aroma
It comes in a simple plastic-made bottle. Where the nozzle is pump-based. With every press, the nozzle does a great job of squeezing out a very little amount of the cream. This definitely stops wastage.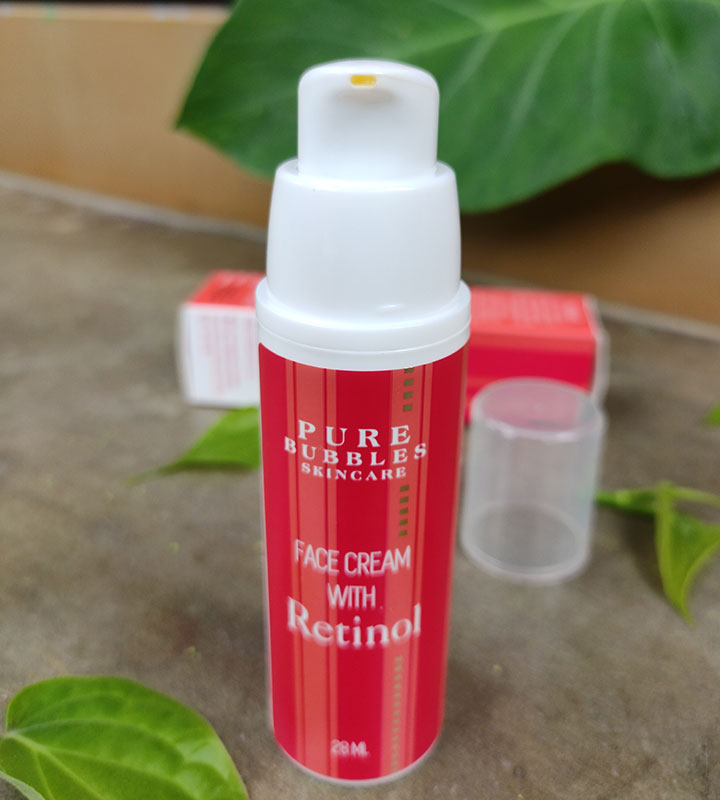 The texture is just like a lightweight cream. It does not feel heavy at all.
The cream is off-white in colour. It has a yellowish effect.
No fragrant agent is used here, thus there is no such distinct aroma. I felt that the aroma has a hint of olive and Moringa oil, but I might be wrong.
My Experience with Pure Bubbles Face Cream with Retinol
Skin Concern: A slight suntan
Skin Type: Dry and Super Sensitive Skin
Age: 33+
In this past week, I have used this cream four times. I am neither a beginner nor a pro when it comes to Retinol based skincare regime.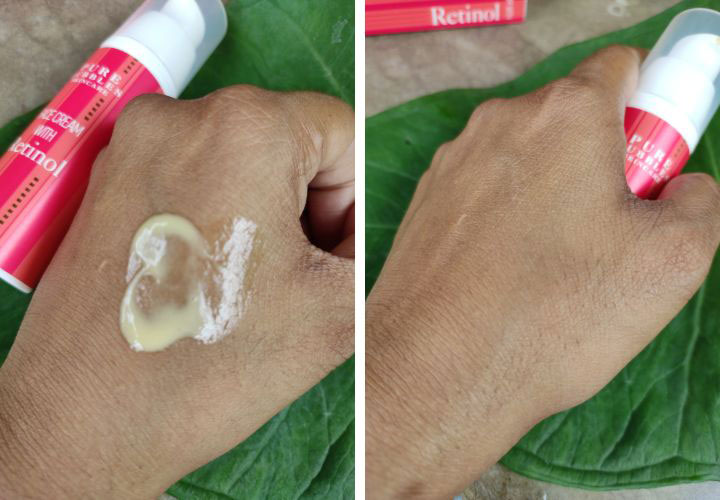 Right after cleaning and toning my skin, as per the instruction, I apply the cream. Just a pea-size amount is enough to cover my whole face (I have a big face though :P) and neck.
I have noticed a few things post-application.
It is quite easy to apply and the cream gets absorbed within a few seconds only.
It keeps my dry skin quite moisturized overnight.
Skin looks visibly bright, smooth, and feels soft. And, I am not exaggerating even a bit.
My skin looks more even tone now.
The suntan is not something that would be gone easily. But, I am sure that with regular application, it would disappear gradually.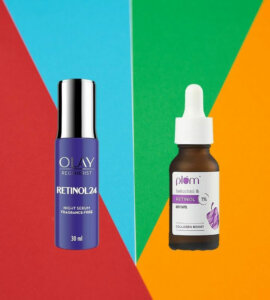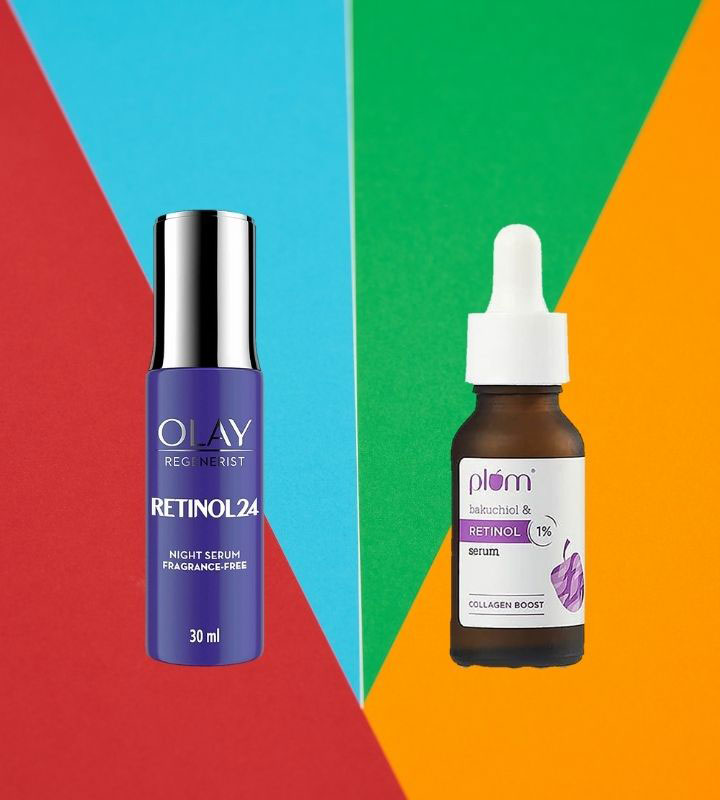 No matter what your skin type is, you can always try a Retinol based serum. But, how to pick up the best? Well! Check out this compilation of the best Retinol Serums that are not only affordable & beginner-friendly but also safe.
Read More
Is It Suitable for All Skin Types?
Yes, the formula is absolutely non-comedogenic. And hence, it would not clog pores. So, people with all types of skin i.e. Oily, Dry, Normal, and Acne-Prone can definitely use it.
Does This Retinol-Based Face Cream Cause Me Any Irritation/Rash/Acne?
As I said, I have super sensitive skin that cannot bear even the touch of any bad formulation; forget about keeping it overnight. Looking at the formulation, I was semi-sure that the product would suit my skin type. And, as I thought, the cream did not cause me any rash or irritation or acne at all!
Is There Anything Else to Note?
I usually switch on AC at night as I live on the top floor. Where the ceiling is hot around the year. Thus, I did not feel sweaty after application.
Actually, there are a number of emollients present in the formula. And, this might make you a bit sweaty if the ambient temperature is high. But, don't worry! It happens with all moisturizers/facial oils. The sweat would not give you any acne or pimple.