Multani Mitti: The Secret of Ayurveda
Skincare is a rapidly emerging sector in the Indian beauty market. Almost every week, new formulations are launched in the market promising to transform your skin better than ever before.
Not just international brands, Indian brands have also given in to the skincare mania and even makeup brands have started to come out with skincare lines.
Just a few years back, masking was the biggest hype. From glitter masks to sheet masks to peel-off masks, every brand you could think of had a range of face masks under its umbrella.
Then came the era of double cleansing and there was a rapid increase in the availability of makeup removers and cleansing balms.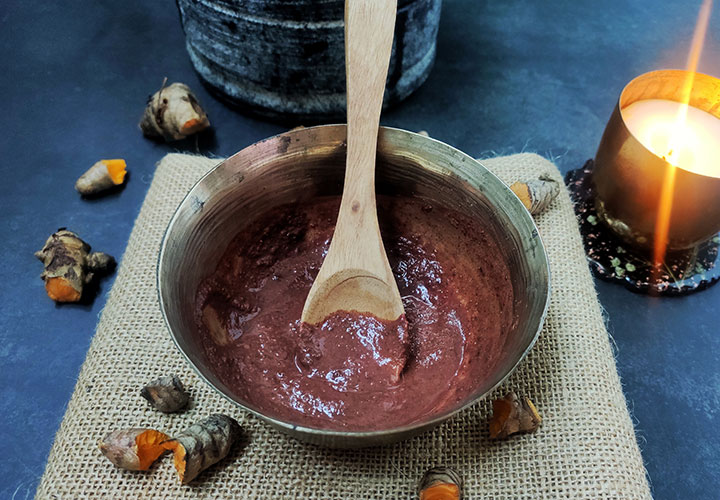 Currently, it's all about actives and you can easily see brands releasing active based skincare in the form of serums, moisturisers and eye creams.
Well! The point I'm trying to make is that trends come and go. But one thing that has stuck with Indian women all these years is multani mitti. It is to the skincare world what red lipstick is to the makeup world; it never goes out of style.
Most of us have it at home and despite your stash of expensive skincare, I'm sure that you are tempted to use a multani mitti face pack once in a while. And, if you are someone who doesn't use multani mitti, I'm sure that your mother or grandmother often suggest you to.
Today, I am going to make you a convert by telling you some amazing things about multani mitti. But even if you've never heard of multani mitti, fret not, because you've come to the right place.
In this article, I will answer all your questions about multani mitti. What are its properties? What are multani mitti benefits? How to use multani mitti? Let's dig up the answers.
What is Multani Mitti?
The English name for Multani mitti is Fuller's earth. Multani mitti literally translates to "clay of Multan".
The name originated from the city of Multan in Pakistan, which is well known for its clay, rich with minerals.
It is believed that this clay was used even in the earliest civilisations such as Mesopotamia, and there are plenty of pieces of evidence that suggest the popularity of multani mitti in the medieval period.
So, one thing is clear: multani mitti has been known to mankind for a long time, and people have used it for centuries.
A Few Chemical Properties of The Clay
It is loaded with magnesium chloride.
This component helps in reducing the appearance of pores, drawing out excess oil from the skin, and making the skin feel softer.
Multani mitti is also porous, which means that it allows water to pass through it. This makes multani mitti an ideal choice for face masks.
There are several masks that you can make with multani mitti, I'll discuss them in this post.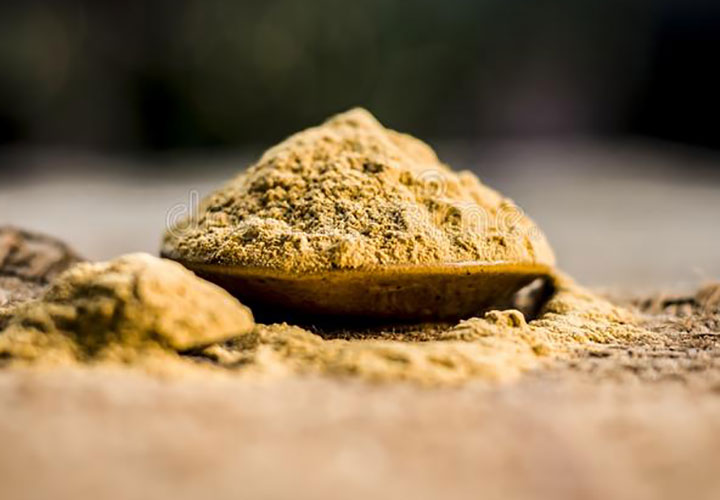 Multani mitti is easily available, no matter where you are located. You can buy it from your local provision store, or you can order it online.
It is available for very cheap if you buy an off-brand that sells loose multani mitti. But, the same thing can be a bit more expensive if you want it to be in a container with a brand name.
So irrespective of your budget and preference, multani mitti can be easily accessed by everyone.
Multani mitti uses include face packs, hair packs, and body scrubs. Now, let's talk about how you can use multani mitti for face.
Various Benefits of Multani Mitti 
Let's begin by learning about the several ways multani mitti for face can benefit different types of skin and how it can help combat various skin issues.
Dry Skin
If you have dry, flaky skin, using multani mitti for the face can help you achieve a smoother, more radiant complexion with less texture by polishing away dead skin cells.
As you might already know, multani mitti dries up after a few minutes when you apply it to your face.
When you wash it with water, the dried clay acts as a buffing agent and takes away with itself any dead skin cells. Thus, you are left with glowy and soft skin after using multani mitti for face.
Oily Skin
Some of the most prominent concerns that people with oily skin face are clogged pores, whiteheads and blackheads.
Oily skin tends to produce excess sebum which gets collected in the pores, which can also lead to pimples.
Multani mitti for face can give you all the respite you need from these concerns. It is well known for its oil-absorbing properties and will leave your skin feeling less greasy.
Moreover, the exfoliating effect means fewer blackheads and whiteheads and smoother skin.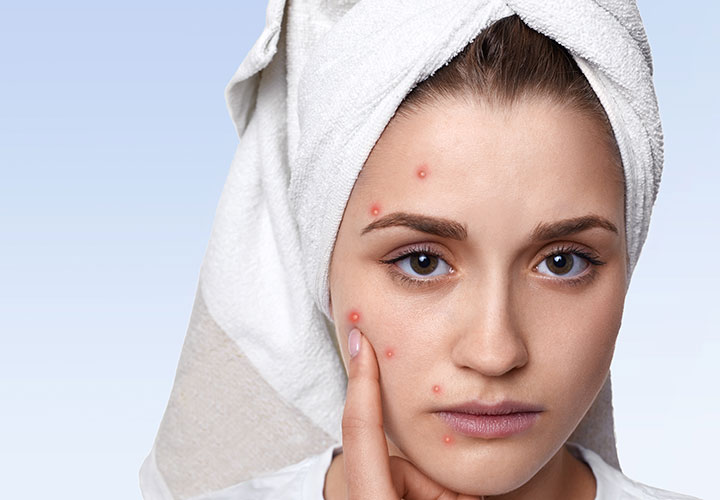 Acne-Prone Skin
Now, it is true that not all acne-prone skin is oily. But if you are someone who has oily skin that is acne-prone, then the oil-absorbing and astringent properties of Multani mitti can help reduce sebum and also minimise the appearance of pores.
One of the multani mitti benefits is its cooling effect, which can help calm down irritated skin.
However, make sure that you do a patch test before applying it to your face and avoid using it on top of active acne.
Now that all the multani mitti benefits are known to you, it's time to learn how to actually go about applying it to your skin.
How to Use Multani Mitti for Face
Multani mitti benefits include exfoliation, reduced oiliness, and skin-soothing amongst others. But when mixed with some other skin-loving ingredients, multani mitti benefits can be enhanced even more and customised to suit your skin needs.
Here are some easy and effective multani mitti face pack recipes that you can easily make at home:
Nourishing Multani Mitti Face Pack for Dry Skin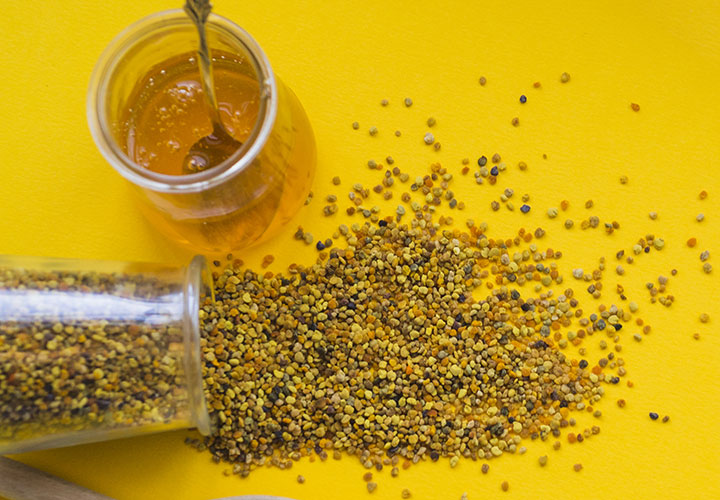 Cut open a Vitamin E capsule (easily available at any medical store for very cheap),
Take about two tablespoons of honey, and one tablespoon multani mitti
Mix well and adjust the consistency as per your liking
Then, apply the pack to your face for about 15 minutes and wash off once it dries. Hello, soft skin!
Honey is very well known to have some excellent nourishing properties. It moisturises the skin and helps to make it softer.
Vitamin E, on the other hand, is another conditioning agent that is often found even in inexpensive skincare.
While multani mitti buffs away all the dead skin from your face, honey and Vitamin E can add some moisture to your skin and leave it feeling smooth and baby soft.
Hydrating Multani Mitti Face Pack for Oily Skin
Take one tablespoon of multani mitti, 2-3 drops of tea tree oil, and three teaspoons of rose water.
Combine and add more rosewater if needed
Apply the face pack and leave it on for 10 minutes
When you rinse it off, your skin will feel smoother and softer.
Tea tree oil is a great ingredient for oily skin. It helps regulate sebum production and has antibacterial properties, which means that it can keep pimples in check.
On the other hand, rose water has astringent properties and helps cool down the skin.
When combined with multani mitti, these ingredients will help minimise the greasiness in your skin and provide you relief from the heavy feeling of oiliness.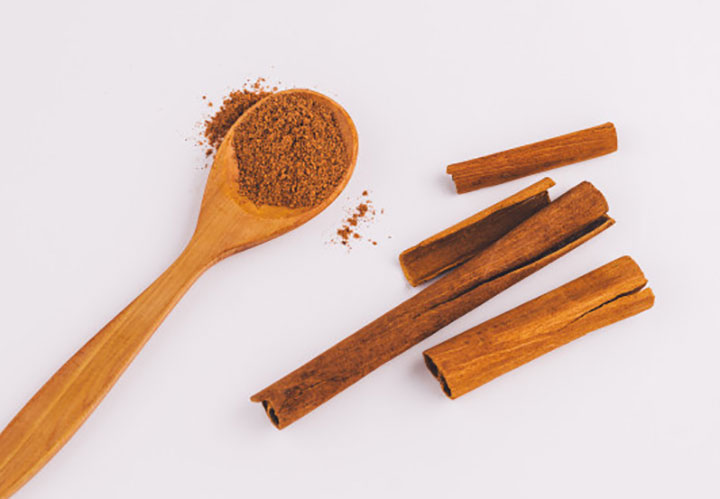 Sandalwood-Enriched Multani Mitti Face Pack for Acne-Prone Skin
Take about half a teaspoon of sandalwood powder, half a teaspoon of neem powder, and one tablespoon of multani mitti
Mix with water and add more water slowly until you get the desired consistency
Apply to your face and leave for 10-15 minutes
Post wash, your skin will feel smoother and less greasy.
Sandalwood has been used to combat acne for ages. It has some drying properties, which accelerates the process of drying pimples and causes them to reduce faster.
Neem, on the other hand, is a well known antibacterial agent which helps kill any acne-causing bacteria in the skin.
When mixed with multani mitti, this face pack will act as a powerhouse for your skin.
Multani Mitti Face Pack for Sunburnt Skin
Mix in one tablespoon of aloe vera gel (either fresh or store-bought), two tablespoons of honey and one tablespoon of multani mitti
Apply the face pack and let it sit on your skin for at least 10 minutes
Once you rinse your skin, it will feel healthier and less irritated.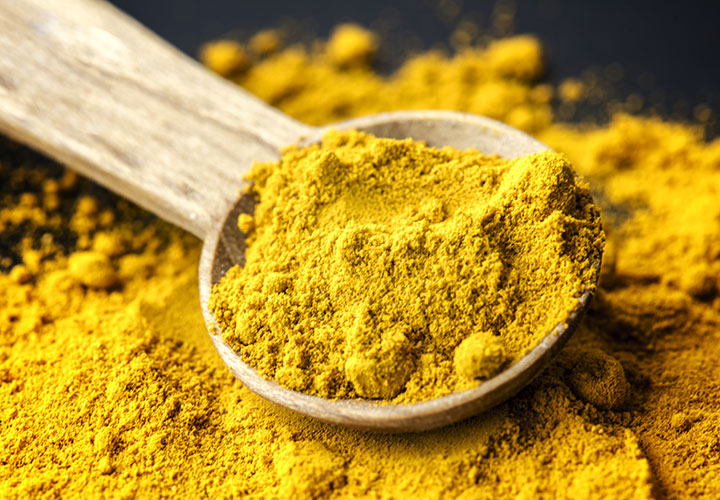 Turmeric-Rich Multani Mitti Face Pack for Dull Skin
Take a pinch of turmeric, two tablespoons of curd and one tablespoon of multani mitti and combine well
Remember to adjust the quantities as per your liking but don't add too much turmeric because it can leave a visible yellow stain on your face
Apply this face pack and leave it on for 10 to 15 minutes. Then, wash it off to reveal glowy, radiant skin!
Turmeric has been used in Indian cosmetics for ages. Its yellow tint has a brightening effect and it is also loaded with antibacterial properties which help to eliminate any problem-causing bacteria.
Curd has anti-inflammatory properties and contains antioxidants.
This face pack is a boon for a dull complexion and will leave your skin looking healthier.
Multani Mitti Face Pack for Congested Skin
Using just a pinch of baking soda, one tablespoon of multani mitti, and some water, you can create this face pack
Mix all the ingredients and don't add too much baking soda
After applying this face pack, leave it on for no longer than 10 minutes
Your skin will feel like it can breathe, once you rinse your face.
Baking soda has drying properties, which dries out the impurities stuck inside your pores while the multani mitti polishes away these dried impurities.
However, it is important to be cautious while using this pack.
Because of its drying effect, baking soda can dry out the rest of your face too. So don't leave it on for too long!
Coffee-Enriched Multani Mitti Face Pack for Tired Skin
Take a tablespoon of multani mitti and a teaspoon of ground coffee beans
Make sure that the coffee granules aren't too large because these can cause micro-tears or even get into your eyes
Mix with water or rose water
Apply to your face and rinse after 10-15 minutes
Your face will feel awake and energised.
We all know that coffee is loaded with caffeine, which gives a boost of energy to the body. So, why not use it for your face as well?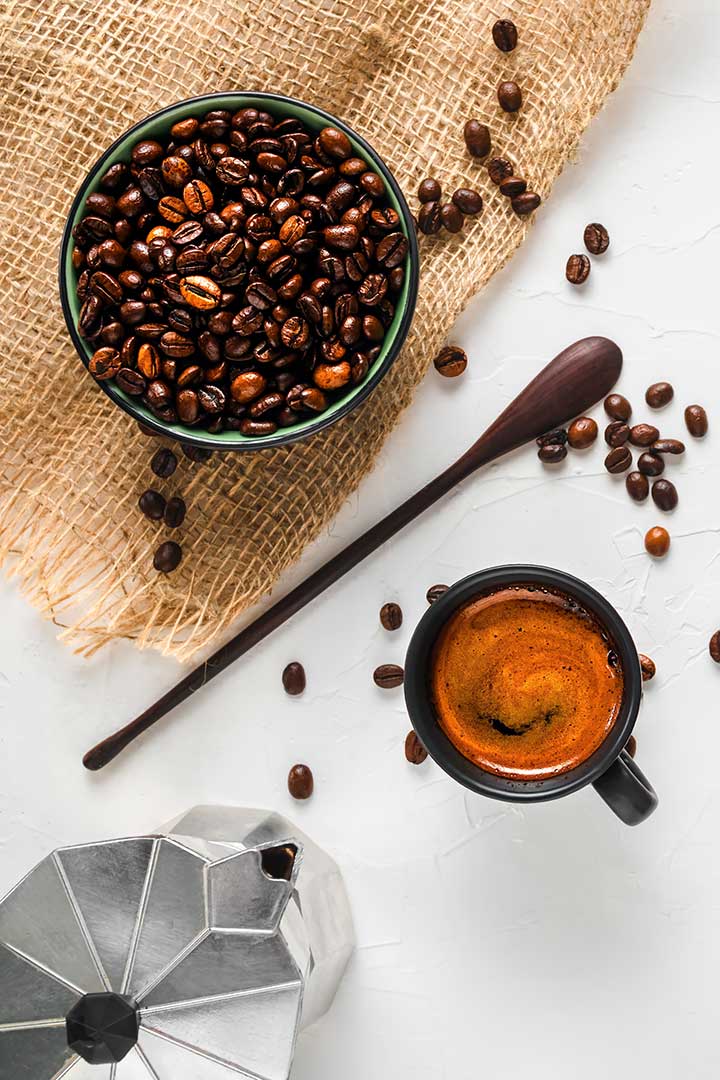 Moreover, coffee also contains tons of antioxidants and helps in protecting the skin against sun damage.
This face pack will get your skin ready for the day and will come in a pinch for days when you have big events but haven't slept well.
Making these face packs at home can be a fun way to spend your weekend and take care of your skin without spending loads of money on skincare. Now, let's talk about some more multani mitti uses.
Multani Mitti for Hair
Summer is on its way and we all know what that means. Sweaty scalp, oily roots, and itchiness is something most of us experience.
These impurities tend to clog the scalp and lead to a heavy, uncomfortable feeling. This can lead to an unpleasant smelling scalp and even dandruff.
Did you know that apart from helping you achieve healthier skin, multani mitti also works like a charm for your hair?
As we have already discussed, multani mitti has incredible oil-absorbing properties and acts as an exfoliating agent.
It improves blood circulation and helps cool down the scalp on hot days.
So, why not reap the benefits of multani mitti for hair? Here are some ways you can use multani mitti for hair.
Tea Tree Oil-Infused Multani Mitti Pack for Dandruff-Prone and Itchy Scalp
Grab a bowl and mix four tablespoons of multani mitti, a few drops of tea tree oil, and some curd until it forms a mask-like consistency
Spritz your hair with water (do not wet) and apply the mask from your roots to your ends
Then, cover your hair with a shower cap and wait for half an hour to one hour
Rinse with shampoo and say hello to a squeaky clean scalp!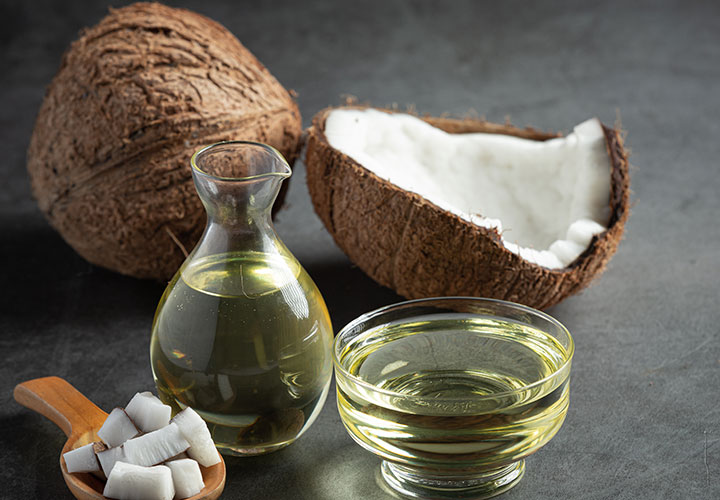 Coconut Oil-Infused Multani Mitti Pack for Hair Conditioning
Take four tablespoons of multani mitti, two tablespoons of coconut oil, Vitamin E, aloe vera gel, and some water
Combine until you get the desired consistency and apply it to your hair, focusing on the length of the hair
Let your hair absorb the goodness of these ingredients for 60 minutes
Then rinse with mild shampoo and apply conditioner. Your hair will feel soft and nourished.
Aloe Vera and Argan Oil Infused Multani Mitti Pack for Damaged Scalp
All you need to do to make this hair pack is mix four tablespoons of multani mitti, two to three tablespoons of aloe vera gel, and 5-6 drops of argan oil with a little bit of water
Then, apply this mask to your hair and scalp and let the ingredients work their magic for an hour
Wash off with a shampoo, follow up with a conditioner, and get ready to be surprised by a scalp that feels healthier than before.
Rose Water and Multani Mitti Infused Hair Pack
Scalp scrubs are all the rage right now, and you can make one for yourself right in your kitchen. This one is the easiest.
Take four tablespoons of multani mitti, and mix it with rose water until you get a thick paste
Apply the paste to your scalp and leave for 20 minutes
Rinse with shampoo. Your scalp will feel lighter and healthier.
Well! Those are some uses of multani mitti. Using multani mitti for hair and skin is your best bet for self-care on a budget.
It can be combined with various ingredients to modify its benefits according to your concerns.
So, now you are all set with your multani mitti face pack or hair pack.
Bonus: Multani Mitti for Body
You read that right! Multani mitti can be used on your body as well and makes for an excellent body scrub.
Can a product get more versatile than this? Here are two simple body scrub recipes that you can make using multani mitti:
1. Coffee and Multani Mitti Body Scrub for Sweaty Skin
Mix 7-8 tablespoons of multani mitti with a few tablespoons of ground coffee and add a little bit of water. You want the consistency to be a bit gritty
Rub this mixture over damp skin and rinse with water
Follow up with a body lotion or oil. Your skin will feel rejuvenated and clean.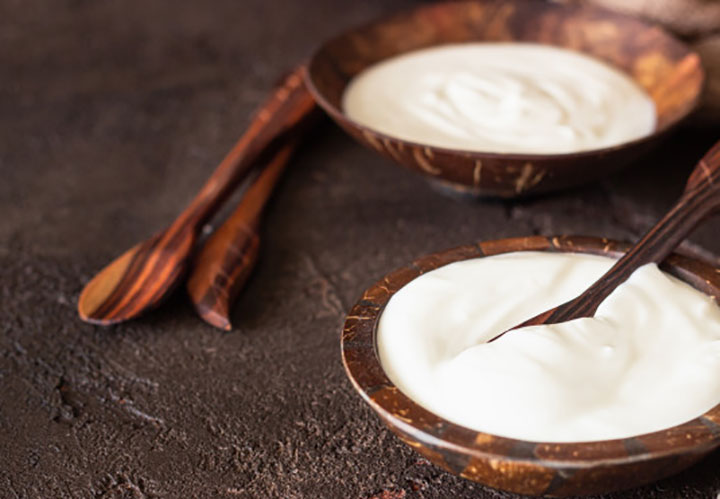 2. Curd and Multani Mitti Body Scrub for Dry Skin
Add 7-8 tablespoons of multani mitti, 3-4 tablespoons of curd, and 2 tablespoons of coconut oil to a bowl and mix with water to form a thick paste
Apply to your body and massage well to remove the dead skin cells
Rinse and apply body lotion or oil
Your skin will instantly feel smoother, softer and more radiant.
Can Multani Mitti be Harmful?
So far, there is no scientific proof regarding any adverse effects of multani mitti. However, this doesn't mean that multani mitti cannot harm your skin at all.
If used incorrectly, multani mitti might do more harm than good. As we all know, prevention is better than cure.
There's nothing elaborate that you need to do. But taking just a few simple steps can help multani mitti deliver the optimum benefits to your skin and hair without any damage.
1. Always Do a Patch Test
While multani mitti in itself is not an irritant, it is important to note that we all have different types of skin and even some of the gentlest ingredients can irritate someone's skin, while others' skin might not react even to some very harsh ingredients.
So, if you are using multani mitti for the first time, it is crucial to do a patch test before you proceed to apply it to your face or scalp.
Doing a patch test is really simple. Just take two pinches of multani mitti and mix in with a couple of drops of water to form a past.
Apply it to your inner arm, near the fold of your elbow.
Once it dries, wash it off and wait for 24 to 48 hours. If you feel no irritating sensation, you are good to go!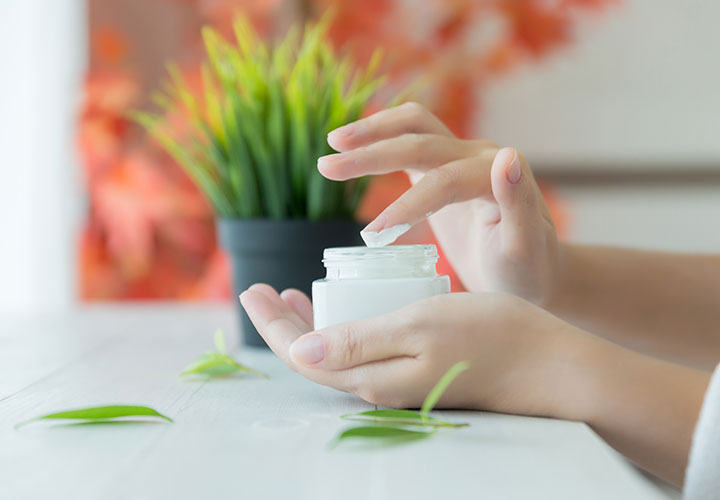 2. Moisturiser is the Key
Multani mitti works as an absorbent by drying out the oil and impurities, which in turn also has a drying effect on your skin.
It is really important to follow up your multani mitti face pack with a moisturiser so that your skin can be replenished again.
In fact, not applying moisturiser can actually make your skin produce even more oil. Sebaceous glands are triggered to produce more sebum when your skin is dry.
This will ultimately nullify the effects of the face mask and leave you with oilier skin. So, make sure that you use a moisturiser according to your skin type.
3. Don't Forget to Use SPF
In the process of buffing away dead skin cells, multani mitti basically acts as an exfoliator. Whenever you exfoliate your skin, the newly revealed skin cells are more sensitive and hence more prone to sun damage.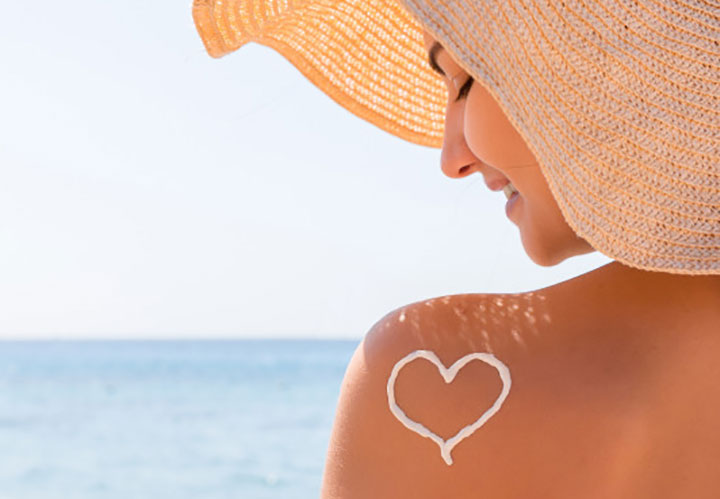 Exposure to sun rays can cause a plethora of skin problems like hyperpigmentation, sunburns, or even skin cancer.
And when your skin is sensitive, the chances of such problems become higher.
So, never skip SPF!
Once you have applied your moisturiser, go in with a generous amount of your favourite sunscreen.
And, make sure to cover your entire face, including the neck.
4. Don't Shave or Use Harsh Actives
Like I just explained, multani mitti acts as an exfoliating agent and removes skin cells to reveal fresh skin, and this makes the skin more sensitive.
To avoid any kind of irritation, it is best to let your skin breathe for at least 48 hours. If you're someone who likes to shave your face, it is best to wait for a couple of days before shaving.
I would recommend that you stay away from bleaching. Also avoid using harsher actives like AHAs, BHAs, Vitamin C, Retinol, etc.
However, soothing actives like Hyaluronic acid or Niacinamide can give a soothing effect and are safe to be used.
5. Don't Use Multani Mitti Too Often
Although multani mitti has a plethora of benefits, too much of it can be harmful, just like with everything else.
Because of its drying and exfoliating properties, using multani mitti too often can damage your skin barrier and leave your skin extremely sensitive or damaged.
If you have dry skin, frequent use of multani mitti can make your skin even drier.
Similarly, for the hair, using multani mitti very often can damage the scalp and make it flaky.
For dry skin, multani mitti should be used no more than once a week. For those with oily skin, it can be used twice a week.
Best Multani Mitti Powder Brands
One of the best things about this clay is that it is extremely affordable. One pack of multani mitti will last you for a long time because you don't need to use a large quantity of it.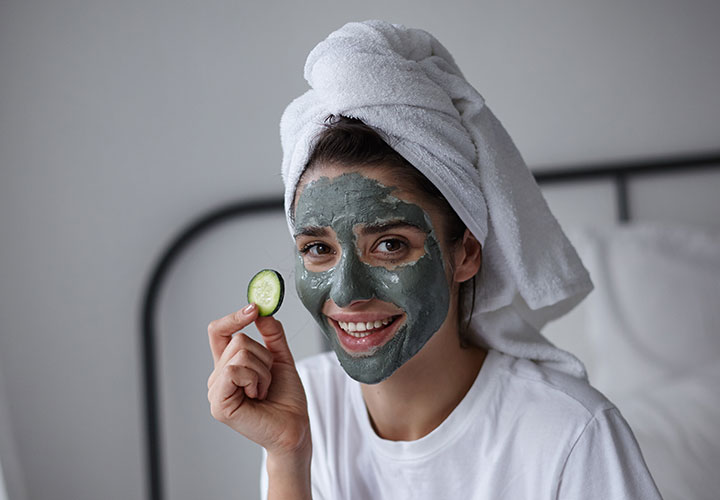 Moreover, multani mitti takes years to go bad. This is not the case with pre-formulated face and hair masks, which have to be used up within a few months before they expire.
So, multani mitti is extremely cost-effective. These are some multani mitti powder brands I would recommend:
Nature's Tattva Pure Multani Mitti Fine Powder
All these brands are highly rated, affordable, and loved by customers.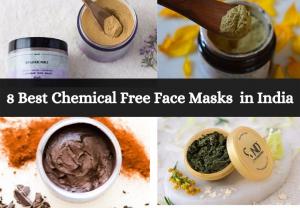 Do harsh chemicals give your skin nightmares? Check out the list of the best chemical free face masks in India that your skin is going to love.
Read More
Final Thoughts
So, now you are well aware of the uses of multani mitti for hair and skin and all the amazing benefits of multani mitti.
It is magic in powder form, and if you use it the correct way as I have expl
ained above, you'll be able to make the most out of it.
The new wave of foreign-inspired skincare has given us lots of innovative products, but that also means increased prices and an increased burden on your pocket.
Ancient skincare remedies have been used by women for centuries and are tried and tested. So, there's no reason for you to not indulge in the same.
Moreover, combining these remedies with new, science-backed skincare in an intelligent manner can actually give you the benefits of both.
So, there's a lot of room for customisation. You can easily incorporate multani mitti into your skin, body or hair care routine.
And, that's all for today! Let us know which face pack and hair pack recipe did you enjoy the most? Did you find this article helpful?
Let us know everything in the comments and don't forget to share this article with your skincare obsessed friends and family! Take care; celebrate life.