Add Some Dramas to Your Eyes with the All the Best Lakme Eyeliner 
Those big kohl-rimmed dark appealing eyes can awestruck anyone to go weak on knees. Truly when we meet someone, we notice their eyes firs. So, why not put our best look forward by putting some makeup on.
Not everyone is blessed with a perfect pair of eyes or it would be right to say that we are never satisfied with the shape of our eyes.
Those having hooded eyes might have a thing for almond eyes or those having protruding eyes may long for upturned eyes. Fortunately, we have eye cosmetics to play with the contours of our eyes.
When it comes to eye cosmetics, how can we forget the significance of an eyeliner? This astounding product possesses the power to transform you into a diva.
Opt for dramatic long wings or just trace the lash line for a classic natural look. Well! The choice is yours. It's all about acing the art of swiping the brush around your eyes.
But to hone the skills of creating an infallible mirror image on both the eyes is such a hard row to hoe.
The beauty of eyeliner lies on how perfectly you apply it so that your eyes look like twin sisters. But this is not completely your fault. Indeed, the brand plays a crucial role here.
Lakme is one of the most esteemed drugstore brand in India that is easily available too. This cosmetic brand knows the love of Indian women for eye makeup. And, it has crafted some awesome products that leave no stone unturned to fulfil your eyeliner needs.
Most importantly, Lakme eyeliner is available in all formats like liquid, pencil, pen, and gel. So, if you have not tried out the eyeliners yet, you are seriously missing out.
So, here we have sorted all the top Lakme eyeliner that are all made to turn on your eye game. Choose the best and give it a shot.
1. Lakme Insta Eye Liner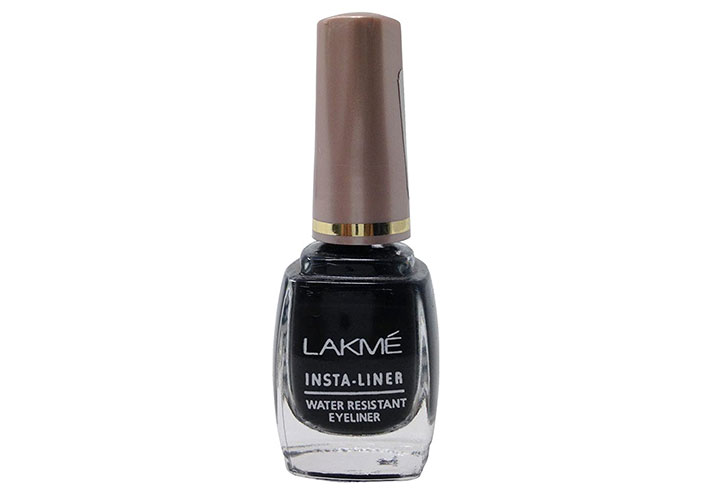 Courtesy of Brand
Shop Now!
Add a dash of glamour with this high definition Lakme eyeliner. Its deeply pigmented lightweight texture sits comfortably like a film on your eyelids and remains fade-proof even on those long night outs.
Lakme started its eye makeup journey from the basic black colour and revised this edition by adding three more colours. The smudge-proof and water-resistant formula make this eyeliner an everyday product.
Applicator
The smooth handy brush is perfect to outline the eyes without any mistake. Bristles are fairly long with the right amount of sturdiness that allows even application.
Shades
It comes in four different everyday shades: Gold, Black, Green, Blue. So you are sure to find a colour that fits your style.
Pros

Super affordable
Endowed with a water resistant formula that ensures no smudging or smearing.
Lightweight and comfortable on the eyes.
Water resistant formula makes it sweat proof.
Super fine tip is extremely accurate to create symmetric wings.
Gives bold and dramatic eyes.
Stands up to all day wear.

Cons

Takes forever to dry out
Not designed for waterline
Short brush handle might be a turn off for first timers
Need to swipe twice to get the desired pigmentation
Well! Do not let the cons win especially for this Lakme eyeliner. It is amazing for all the newbies.
Accenture your eyes dramatically with this eyeliner whenever you decide to go nude on lips. Make this eyeliner your everyday companion to give a chic look to your eyes. Surely, it is one of the best Lakme eyeliners in the market.
2. Lakme Absolute Precision Liquid Liner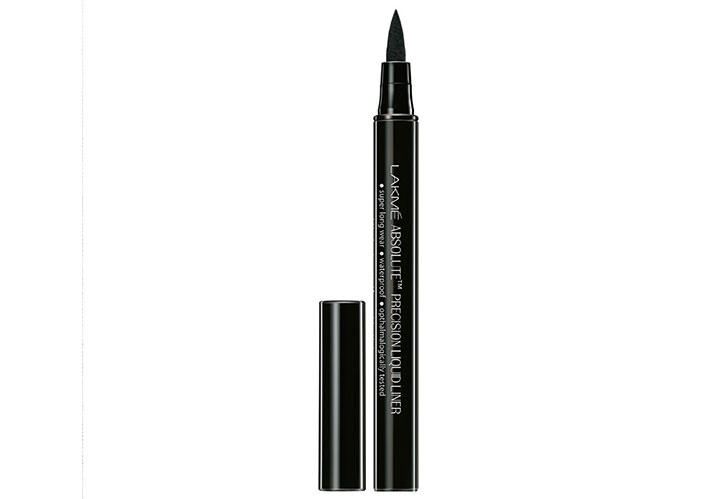 Courtesy of Brand
Shop Now!
Are you novice in the eyeliner field yet urged to pro the eye game? Well! This Lakme eyeliner can fulfil your need for sure.
A sharp yet soft foam tip, a quick-drying texture, intense colour, and long-lasting smear-proof formula; what else do you want in an eyeliner?
This product of Lakme is truly a gem within your budget.  The liner pen doesn't ask you to master the skills of applying eyeliner. It's as simple as drawing with a pencil.
Applicator
A pen-style foam tip applicator makes it super easy to highlight the contours of your eyes.
Shades
As of now, it is available in the shade of Black only.
Pros

Gives a careful control on the application.
Quickly sets on eyelids.
Long lasting
Smudge proof, crack proof and waterproof.
Sketches a crisp, fine and precise outline.
Ultra fine tip glides smoothly with continuous and even flow.
Don't mess up even if you accidentally run your finger over it.
Gives nice kohl rimmed eyes.
Safe to wear on the waterline.
Ophthalmologically tested.

Cons

Less pigmented
Available only in one basic shade
Small quantity get used up really fast
Enhance the natural beauty of eyes with this pen liner. A cherry on the top is its quick-dry formula which makes it completely mistake proof. So shop this top Lakme eyeliner and get your fashion quotient right.
Parameters to Consider Before Buying the Best Eyeliner
In the run to look pretty, we hunt a new eyeliner style and try to translate it on our eyes. It distorts, we rub it off, apply again, and end with sloppy panda eyes in this process.
There are so many factors that play big in the perfection of eyeliner like the applicator that also plays a crucial role in getting the application right.
It highly depends on the applicator how successful your efforts would be. Few more requisites are enlisted below that you need to keep in mind while purchasing an eyeliner.
Texture and consistency should be appropriate
Gentle on your delicate eyes
Rich pigmentation with a variety of colours.
The formula should be long-lasting
Smudge-proof, crack-proof, waterproof
3. Lakme Absolute Forever Silk Eyeliner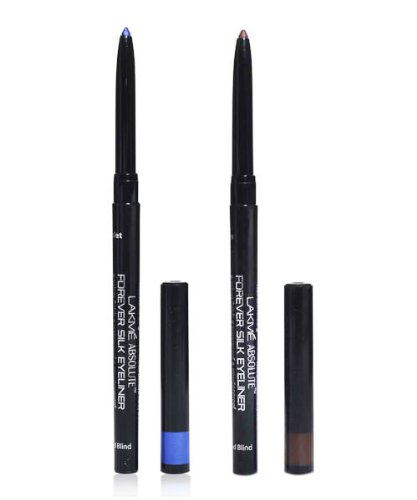 Courtesy of Brand
Shop Now!
Trace your eyes beautiful and graceful with this legendary eyeliner from the house of Lakme absolute. Having a hint of metallic shine, this eyeliner leaves a dark, long-lasting hue.
Just a single swipe and you are sorted for the day. You can sport this waterproof smudge-free liner for up to eight hours.
The rich creamy texture is further enhanced with vitamin E that nourishes your eyes while making them look attractive.
Applicator
A precise applicator that swivels up so the point always stays sharp and intact
Shades
Available in seven metallic colours namely Black Last, Gypsy Green, Blue Cosmic, Electric Violet, Earth Line, Gray Matter and Jaded Mint.
Pros:

Single stroke produces a rich hue.
Vitamin E doesn't leave eyelids dry.
Subtle metallic sheen.
Stays for eight hours without touch up.
Water proof.
Does not smudge half way through the day.
Easy to use applicator glides smoothly over eyelids.
Vast shade range.
Ophthalmologically tested.
Rich pigmented color transfers strongly to the eyes.
Falls great on the waterline.

Cons

Slightly blunt nip not able to create winged liner.
Over dramatic shade range.
One side twist up only.
Define your eyes with this super creamy eyeliner to make a style statement. If you are a fan of quirky makeup colours, then one of the seven colours is a sure fitting for you. This surely deserves top ranking in the list of top Lakme eyeliner.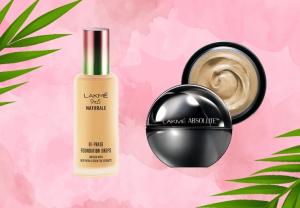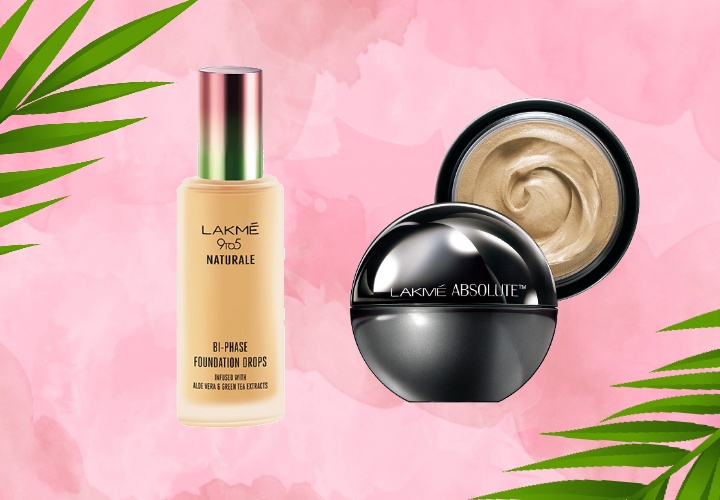 Check out the products that make this brand one of the most reputed Indian cosmetic brands ever.
Read More
4. Lakme Absolute Shine Line Eye Liner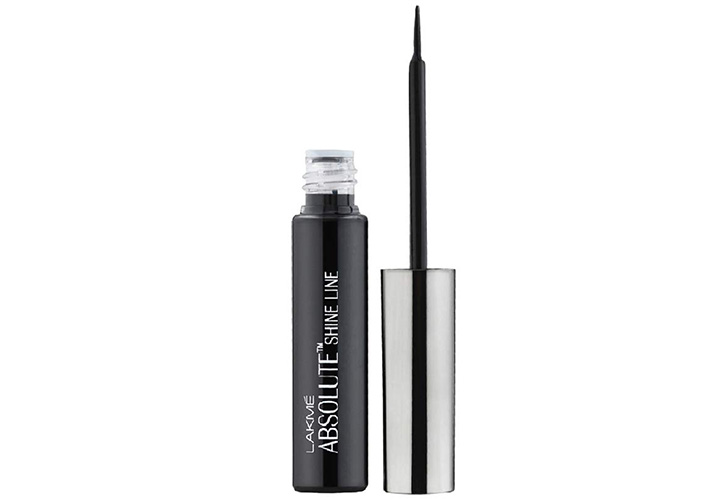 Courtesy of Brand
Shop Now!
Another masterpiece from Lakme. The richly pigmented formula is designed for a bold and glamorous look.
This eyeliner works beautifully when you need to stand out your eyes. Its water-based formula dries out very quickly and absorbs extra oil from your eyelids to stay for long hours without peeling off.
Applicator
Slim long wand with a round cap has a firm grip. Its smart nib allows on-point precision and makes it easy to get close to the lash line even for the first-timers and gives an artistic look to your eyes.
Shades
Black, Shimmery Bronze, Liquid Gold, Steel Grey and Sparkling Olive are some of the stunning shades in this line.
Pros

Imparts an intense matte finish.
Single swipe gives a rich color payoff.
Comes in five exciting shades.
Waterproof formula stays long without smudging.
Easy to apply firm bristles brush.
Dries fast.
Best for those having oily eyelids.

Cons

Watery consistency.
Does not wash off easily when you try to remove it.
Not designed for waterline.
Gets stiff when dry.
Sport classy smouldering eyes with this liquid liner. If you are battling with oily eyelids, this is the best Lakme eyeliner for you.
From sparkling olive to steel grey, they have a colour for every occasion. Wear this liner for eyes that reflect twin moons. Overall this tube is true to its name that is Silk.
There is another eyeliner from the brand and that is Lakme 9 to 5 Black Impact Eyeliner. But, we have not included the range here as it does not meet all the criteria to be among the best. All in all, this is the finest list of Lakme eyeliners from all aspects.
A Few Final Words
Eye makeup is a thing where you cannot be imprudent whatsoever.
The right eyeliner not only makes your eyes pop but also brings versatility to your makeup.
No worries if you have tired eyes after a long day! You can always brighten them up for that dinner treat by applying an eyeliner tactfully.
To assist you to find the best, we have compiled the best by going through specifications, scanning the reviews, and comparing the findings with other products. In fact, we have listed the cons too along with the pros. So that everything stays transparent.
These top Lakme eyeliners have made the eyeliner job really easy. All you need is a little practice to create diverse looks. So do it right with the best eyeliners and let your eyes do the talking.
That's all for today! If you have found the above list worth for your next eyeliner purchase, share this with your friends and family. Also, hit the Subscribe button below to keep up with more such articles.
Follow us on Instagram for more such engaging contents.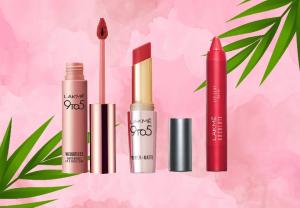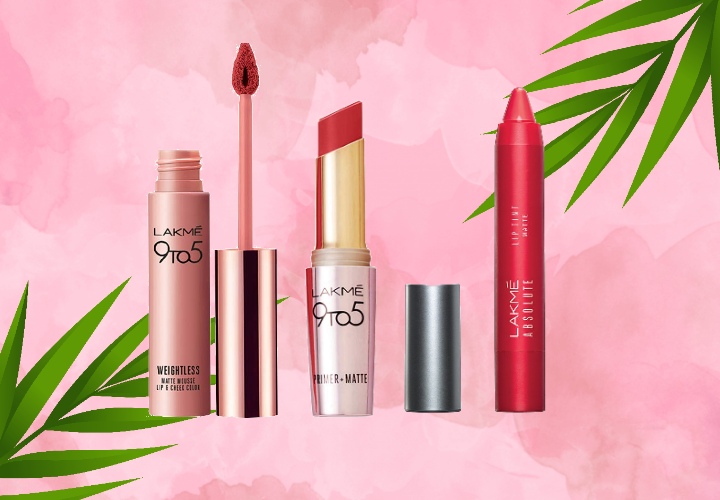 Get ready to rock the smokey hot look with the trendiest lipsticks in the town. Choose your favourite range from this ultimate compilation.
Read More
## All the images here including the feature image belongs to the brand.