|| Pond's Sun Protect Non Oily Sunscreen SPF 30 ||
Hello queens, how's the josh? I know…I know, its summer time, so all the josh is turning into sweat. Hey, what about your summer's best friend? I mean your sunscreen! Your protector! Frankly speaking, every year I change my best friend, I mean my sunscreen.
I like to try different sunscreens during this season and want to declare them as the best-suitable sunscreen for my oily skin.
But alas! Not every product passes my acid test. For this summer, I have bought a newly launched sunscreen from an eminent Commercial brand i.e. Pond's Sun Protect Non Oily Sunscreen SPF 30. Commercial sunscreens often fail to keep promises. Let's see whether this one is effective or not?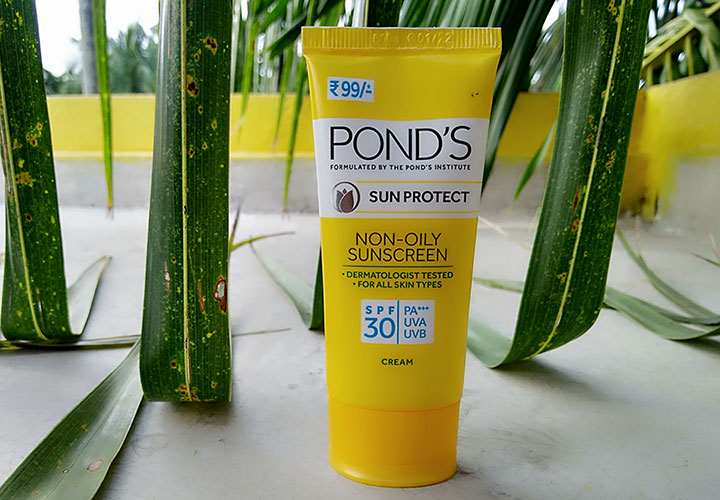 What is SPF?
We all know that how damaging the ultraviolet rays are. Mainly two types of UV rays damage our skin namely UVA and UVB. These rays are enough to make our skin prematurely aged; in fact, these also increase the risk of forming skin cancer.
The cosmetic industry is loaded with sunscreens; different sunscreens come with different SPFs. SPF or Sun Protection Factor is a measure of the ability of the sunscreen to prevent UVB from damaging our skin.
A sunscreen with high SPF is always desirable as it can protect the skin from a wide spectrum of UV rays. SPF 30 is the most popular sunscreen factor. Generally, SPF 30 blocks 97% of UVB rays.
Basic Information about Pond's Sun Protect Non Oily Sunscreen SPF30
Quantity and Price: INR 99/199 for 35 gm/80gm
Shelf Life: 3 years from the date of manufacturing
Buy From: Nykaa, Amazon
What Does the Brand Claim about Pond's Sun Protect Non Oily Sunscreen SPF30?
Dermatologist tested
It is a non-oily formulation
It helps to protect against the 5 skin damage problems caused due to sun exposure like uneven patches, dark circles, fine lines, dark spots, and redness
Suitable for ALL SKIN types; unisex formulation
It is hypoallergenic tested against allergies and non-comedogenic; so it does not block pores.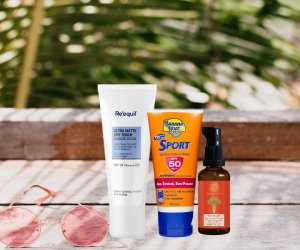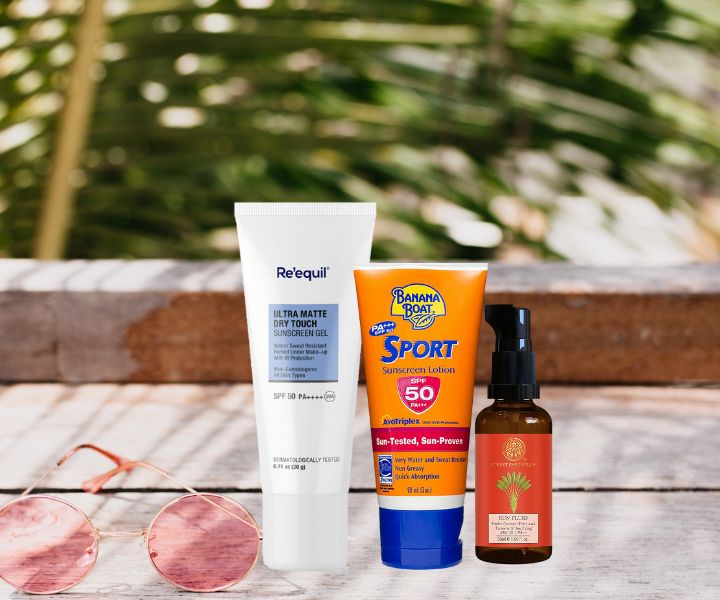 Are you looking for better sun-protection for your skin? Check out these best sunscreens in India and choose what suits the best for you.
Read More
Editor's Note: Ingredient Analysis of Pond's Sun Protect Non Oily Sunscreen SPF30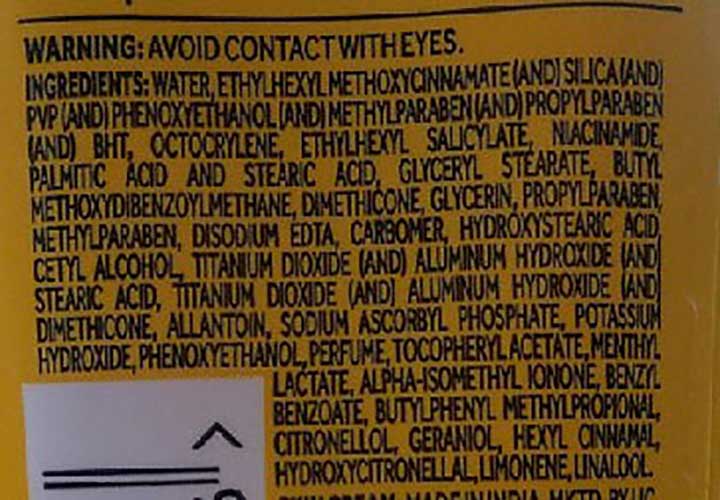 Pond's non oily sunscreen is a combination of numerous chemicals. Whether the components are good or bad; well! Only an analysis can conclude that. So, let's start the analysis.
Water: A base component for any liquid based cosmetic.
Ethylhexyl Methoxycinnamate: Another name of this component is Octinoxate. It is one of the most widely used components in sunscreens. The basic functionality includes UV protection or UV filtration. According to the FDA, the highest permissible limit of using this ingredient within a formulation is up to 7.5%. It is a moderate to highly hazardous component.
Silica: This a compound composed of silica and oxygen; also called Silicon Dioxide. This is used as an absorbing agent in cosmetics.
PVP (Polyvinylpyrrolidone): It is a safe water-soluble polymer that has film-forming properties. It is also used as a binder and as an emulsion stabilizer.
Phenoxyethanol: This is widely popular as a preservative which is hazardous on a moderate level.
Methyl Paraben and Propyl Paraben: Both of these are quite questionable preservatives. I wish Pond's had done a better job by making it a paraben free sunscreen.
BHT (Butylated Hydroxytoluene): It is primarily a preservative which is moderately hazardous. This component is also used as a masking agent and as an anti-oxidant ingredient. BHT is often linked with Cancer; so, it is definitely not a desirable component.
Octocrylene: This is actually a low-moderately hazardous UV ray absorber or sunscreen agent.
Ethylhexyl Salicylate: it is also known as Octyl salicylate or Octisalate. It has the power to absorb UVB rays.
Niacinamide: This is actually a form of vitamin B3 that acts great as a skin conditioning agent and as a hair conditioning agent.
Palmitic Acid and Stearic Acid: These are the fatty acids that help to remove dirt, sweat and excess sebum from the skin.
Glyceryl Stearate: It is a safe surfactant and emulsifying agent.
Hydroxycitronellal: This pale yellow liquid with a sweet floral aroma is pretty hazardous and is often used in sunscreens as a fragrance ingredient.
Linalool: It is a hazardous fragrance ingredient
Hexyl Cinnamal: This cosmetic ingredient is derived from chamomile oil and is used as a masking component.
Geraniol: It is clear to pale-yellow oil with a rose-like aroma. The primary function of this moderately hazardous component is to make the formulation aromatic.
Citronellol: Citronellol or Dihydrogeraniol is a chemical compound in the terpene family, which is used as a fragrance ingredient and is pretty hazardous at the same time.
Butylphenyl Methylpropional: This hazardous component is also known as Lilial and is primarily used as a fragrance or masking agent.
Benzyl Benzoate: It is a moderately hazardous ingredient which is mainly used as a solvent, preservative, and fragrance ingredient.
Alpha-Isomethyl Ionone: This hazardous component is generally a colourless or pale straw-coloured liquid which is used as a fragrance ingredient.
Methyl Lactate: It is an ester of lactic acid & Methyl Alcohol; used in the formulation of moisturizers and skin care as a solvent & masking agent.
Tocopheryl Acetate: Tocopheryl acetate or Vitamin E acetate is a great anti-oxidant that helps to diminish signs of ageing.
Phenoxyethanol: It is used both as a preservative and also as a perfume fixative.
Potassium Hydroxide: This component is generally used as a pH adjuster and also as a buffer.
Sodium Ascorbyl phosphate: it is a safe, stable, water-soluble form of vitamin C that functions as an antioxidant.
Allantoin: Allantoin is a white odourless powder that is great as a skin conditioning agent.
Glycerine: Nothing to say about it, this is a great humectant.
Limonene: It is mainly used as a perfuming agent.
Overall, this sunscreen is composed of a number of fragrance ingredients which I find are quite unnecessary. Honestly, the components are nothing extraordinary. So, I would not give this product more than 3 ratings out of 5.
The Right Way to Use Sunscreen:
Often people apply sunscreen in the wrong way; here are a few tips to increase the efficacy of the sunscreen.
Always Apply the sunscreen over cleansed face and neck; do not neglect your hands and feet too.
Make sure to apply it at least 15 – 20 minutes before the exposure to the sun
Apply on every part of the skin that is directly exposed to the sun
Re-apply after every 3 hours.
In case you experience severe sweating or you are engaged with high-activity work, then make sure to re-apply after 90 minutes
Packaging: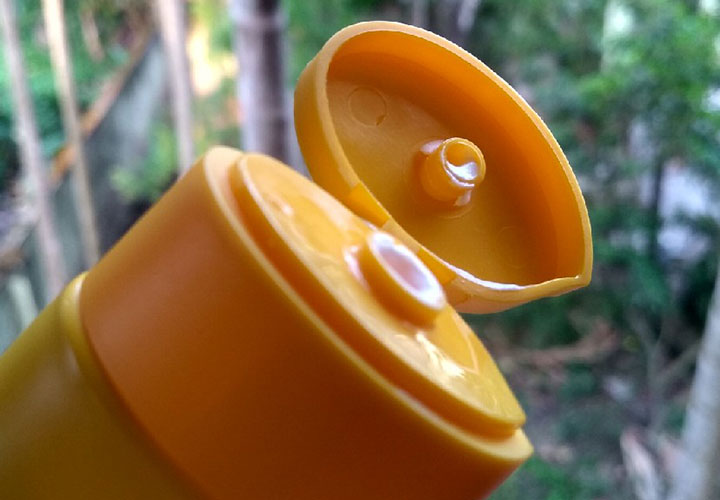 Pond's Sun Protect Non Oily Sunscreen SPF 30 comes in a sunny, bright yellow coloured tube. It has a tight flip open cap and bears all the product details on its back. I chose the 35g small tube for a sample application. I must say that it is a travel-friendly packaging for travellers, college or office goers.
Aroma and Texture:
The sunscreen is white in color and has a mild floral fragrance. The sunscreen vanishes within a few seconds of application. The texture is creamy and thick and has a medium consistency. The cream is easily absorbed into the skin and very light on the skin.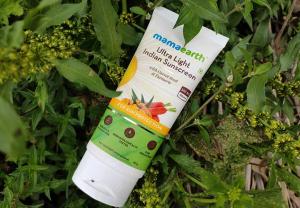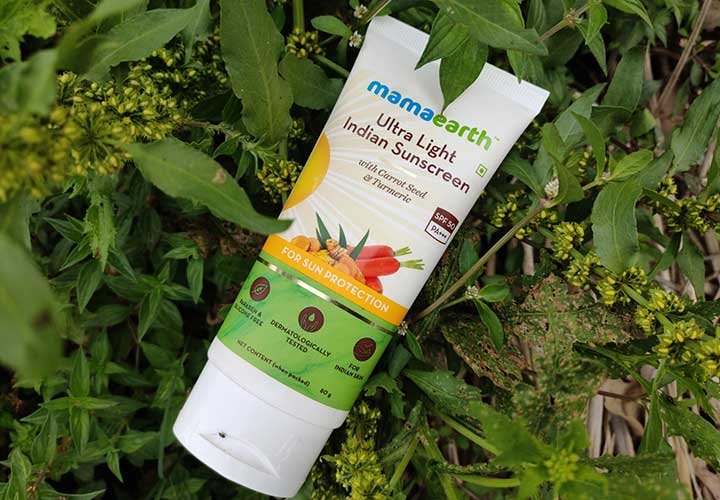 Check out why you need to try out Mamaearth Ultra Light India Sunscreen SPF 50 PA+++. All the ingredients are analyzed in-depth here.
Read More
My Experience with Pond's Sun Protect Non Oily Sunscreen SPF 30
For the last three weeks, I have been using this sunscreen daily. Generally, I use this sunscreen all over my face and neck. At first, it looks shiny; but after a few minutes, it becomes matte. Make sure you take a very little amount, otherwise it might feel little sticky or oily. Usually, I wait for 10 minutes and then I start applying the makeup.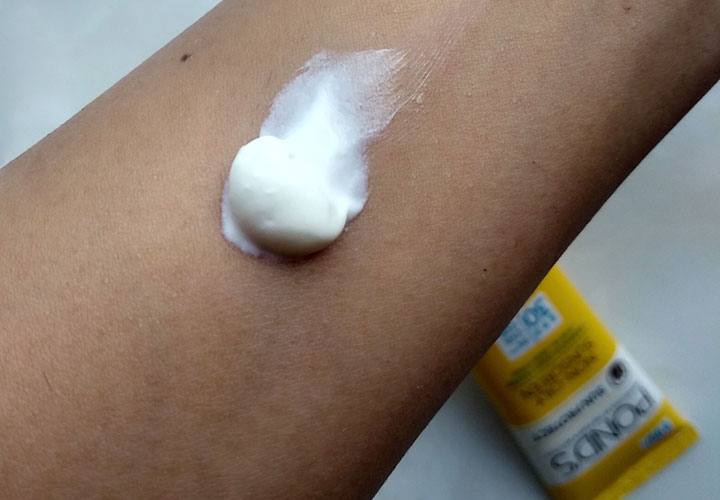 Does it Leave Any White Cast on the Skin?
No! this sunscreen does not leave any white cast on skin.
Pros of Pond's Sun Protect Non Oily Sunscreen SPF 30
Comes in a sunny bright and fun yellow colour cute tube packaging
Affordable
For all skin types
Does not leave any white cast.
Quickly absorbed into the skin
Light-weight texture
Imparts a nice glow on the skin
Does not make skin greasy or extremely oily.
The lid closes perfectly that makes this sunscreen pretty travel-friendly.
Cons of Pond's Sun Protect Non Oily Sunscreen SPF 30
It's a false claim by Pond's that this sunscreen can help in preventing dark spots, fine lines etc.
Because of poor sunscreen elements and other unnecessary components within the formulation, this is nothing but an affordable cream with a sun protection factor. It is not an effective sunscreen.
Would I Recommend Pond's Sun Protect Non Oily Sunscreen SPF 30?
Honestly, I am not quite satisfied with this sunscreen. I had expected more from it. I would never recommend this sunscreen to anyone.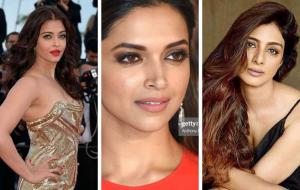 Do you want flawless skin like an Indian beauty? Take a look at the skincare routine of 10 successful and beautiful women in India.
Read More