Jingle based advertisements are always catchy and fun. There was a time in the 80s-90s when brands like Vicco, Amul, Nirma, etc. used to advertise their products in jingle ad formats. And, to be honest, such ads were pretty popular.
One such popular ad was from Vicco. The brand launched a cream at first and made a popular jingle. "Vicco Turmeric Nehi Cosmetic, Vicco Turmeric Ayurvedic Cream". For ages, the brand claimed its products to be ayurvedic.
Well! I am no one to question whether Vicco Skin Cream is ayurvedic or not. But, what I can do is to take a look at the ingredients. There is no denying that it is one of the most affordable skin creams in India at present. And thus, quite a significant numbers of people still use that.
So, how effective the ingredients are? What is the difference between an ayurvedic cream and a cosmetic cream? It's time to take a look at the ingredients of Vicco WSO Skin Cream.
Before we start the analysis, it's important to know that WSO stands for Without Sandalwood Oil. So, Vicco Turmeric WSO is actually another version of Vicco Turmeric. WSO Cream is less greasier than the original one.
What's Inside Vicco Turmeric WSO Skin Cream?
I always wanted to check out the formulation but never had the courage. I am glad that I am doing it right now. Without further ado, let's check out.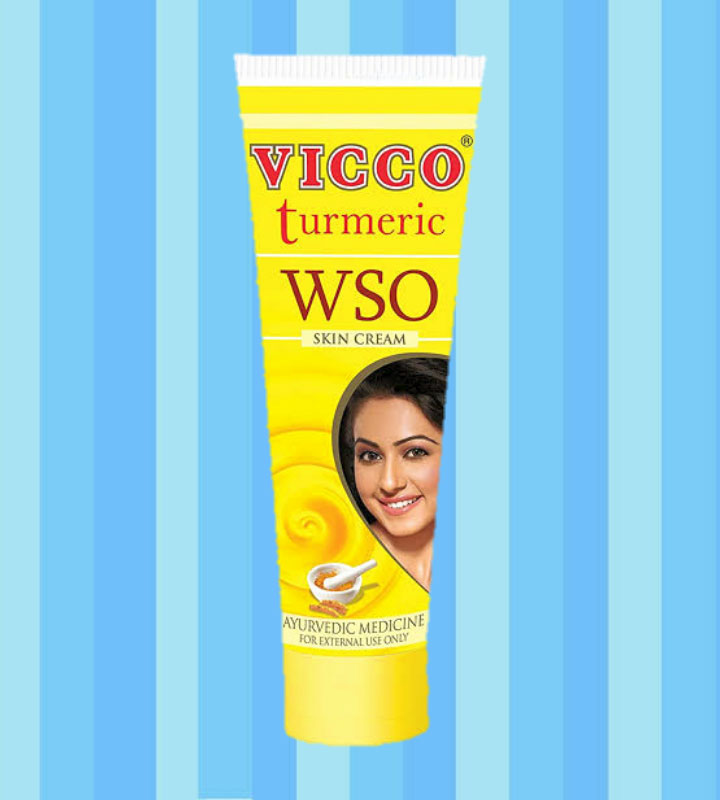 1. Extract of Turmeric (Curcuma Longa Linn. – Rhizome Powder)
This means Rhizome powder that has been extracted from Turmeric (Or Curcuma Longa) is used here. Curcumin which is a brilliant antioxidant present in Turmeric is extracted from the Turmeric Rhizomes. It is an Isolated Polyphenol that is quite beneficial for the skin.
The concentration of the powder is 12% w/w (weight by weight). In simple language, it means that in a solution of 100g, the powder is 12g in weight. As the tube size is 30g, that means 3.6g of Rhizome powder is present here.
2. Excipients q.s. (in a non-greasy base)
Excipients mean the base that forms the main foundation of any formulation. Q.S. Stands for Quantum Satis or as much as it is sufficient. Overall it means that a non-greasy base has been used here as a base in sufficient quantity.
And, that's all! Surprising, isn't it? The entire fun jingle stands on two components only. The brand has not mentioned the name of any of the inactive components and that is quite frustrating.
Even if I believe that in the 90s, people had very little interest in checking out the ingredients. But, it still does not change the fact. The brand could have easily mentioned such details on their recent cartons. But, instead of doing so, it decided to stick to the basic old format.
Moreover, the cream has a strong fragrance which is quite harsh on sensitive nose people. The fragrance is another inactive additive in cosmetics formulations. But, the brand skipped the part just like that.
Vicco reminds me of a number of brands that claim to be preservative-free and do not disclose the whole list of ingredients at all. Very fishy, isn't it?
The outer carton and tube, in both the places, I found only these two ingredients. I even checked out their official website, but the site also only mentions the key ingredient for both the products i.e. With and Without Sandalwood Oil Skin Cream.
Is It True that "Vicco Turmeric Nehi Cosmetic"?
A case was registered against Vicco Laboratories literally by the Commissioner of Central Excise about this popular jingle. I do not want to comment upon the fate of the case as it is not the right platform.
The skin cream contains inactive components the same way other cosmetic companies do. It contains ayurvedic one active ingredient like many others. There is literally no difference at all among all these brands.
Honestly, if we go by the rhyme only, then we would have to call 90% of the cosmetic products ayurvedic. But, that does not make any sense, right?
Moreover, there is no harm in using cosmetic products. As I always say, read the ingredients before you jump to any conclusion regarding a particular brand or product.
Always remember, it is the formulation that makes a product flop or a hit. If the formulation is bad, it is better to not use it no matter how popular celebs promote such product.
That's all for today! If you like reading this article, make sure to share it with your friends and family. Also, tell us in the comment section below. Have you ever used Vicco Turmeric Cream? Take care; celebrate life.