Ingredient Analysis of PIXI Skincare Products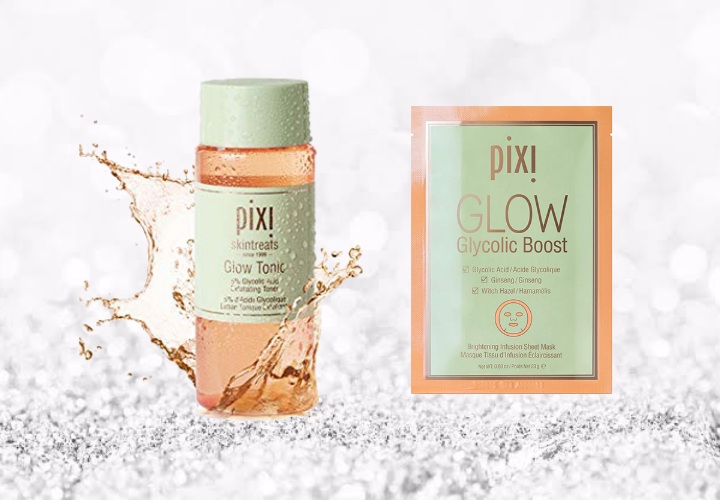 PIXI came into limelight with Petra Strand. Petra formulated this amazing line of skincare and makeup products. Down the lane, she was already an experienced product developer. PIXI is known for all the skin-loving ingredients that they put inside. Buyers across the globe have felt their skin looks radiant and glowing with these products.
Well! The secret lies in the formula. Every product is a beautiful fusion of botanical and harmless chemicals that are also beneficial. Till date, the brand has formulated numerous products. And surprisingly, most of the formulae have worked like magic. Two of the most notable products are Pixi Glow Tonic and Pixi Glow Glycolic Boost Sheet Mask. These two are said to have the most effective formulae ever among all the other Pixi skincare products.
I feel pretty intrigued when a brand comes with brilliant formulas. So, when I saw that PIXI products have been launched in India; I felt this is the right time to go for in-depth ingredient analysis of Pixi skincare products.
In this article, I have analyzed the ingredients of both Pixi Glow Tonic and Pixi Glow Glycolic Boost Sheet Mask. Trust me! Although the analysis is going to be quite lengthy, yet it would be worth reading every second. So, let's hop inside!
Ingredient Analysis of PIXI Glow Tonic Toner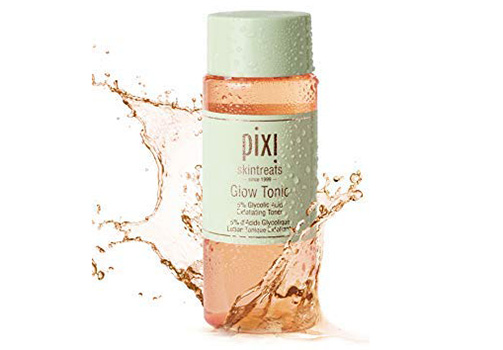 Courtesy of the Brand
Shop Now!
Physical exfoliators can be pretty harmful at times. And thus, we need chemical exfoliators. But, it might be pretty risky if chemical exfoliators are over-used. Or, if you apply a concentration more than the recommendation. Pixi Glow Tonic comes with 5% Glycolic Acid that is just the perfect.
This glow tonic toner is aimed at exfoliating and purifying the skin. It also rejuvenates and hydrates skin. Apart from Glycolic Acid, it has Ginseng and Aloe Vera. But, what else is inside the bottle? Are the ingredients safe? Well! It's time to lift the curtain.
1. Aqua/Water
It is the base for most of the liquid-based light-weight products.
2. Glycolic Acid
Glycolic Acid is one of the best chemical exfoliators ever. It helps to remove the outer layer of dead cells. And, makes skin smooth and bright. In fact, it also helps to combat ageing signs, acne scars, hyperpigmentation, wrinkles, and many other skin problems.
Pixi Glow Tonic has 5% Glycolic Acid which is perfect for all skin, especially for sensitive skin types.
3. Sodium Hydroxide
The common name is Lye. This ingredient is extremely alkaline. Within this formula, this ingredient is used to balance the pH of the product because of the presence of acid. Usually, Sodium Hydroxide is used as a cleansing agent in cosmetics.
4. Butylene Glycol
It is a colourless liquid. In personal care products and in cosmetics, Butylene Glycol is generally used as a viscosity decreasing component and also as a solvent.
5. Glycerin
An excellent natural humectant that retains moisture.
6. Aloe Barbadensis Leaf Juice
There is hardly any plant that is as beneficial as Aloe Vera. Aloe vera juice not only hydrates the skin but also reduces acne. For skin diseases like Psoriasis and Dermatitis, Aloe Vera gel works like wonder. I think Pixi Glow Tonic has done an excellent job by including this brilliant potion to the formula.
7. Hamamelis Virginiana (Witch Hazel) Water
Witch Hazel water is full of antioxidants. It is also a popular natural astringent. Many of us know that oily skin people love Witch Hazel. Because of the drying nature, it is the Holy Grail ingredient for people with oily skin.
According to Paula's Choice, Witch Hazel might be a short term solution to control excessive sebum production but it is harmful to the skin in the long run. Basically, the tannings in Witch Hazel constrict the skin and dry out the oil production. Honestly, it might seem excellent for oily skin but pretty harmful for skin health.
So, is witch hazel good or bad? Well! The answer is pretty simple. If Witch Hazel is used in low or moderate quantity in a formula, it is good. But, if it constitutes 60-80% of the formula, it might not be beneficial any more.
8. Aesculus Hippocastanum (Horse Chestnut) Seed Extract
This extract has excellent anti-inflammatory properties. Generally, it is used in formulations to treat skin ulcers, eczema, etc.
9. Hexylene Glycol
Functions same as Butylene Glycol.
10. Fructose, Glucose, and Sucrose
All these three ingredients have excellent hygroscopic properties. And thus, these retain moisture. These ingredients help to maintain balance among the naturally present oils in the skin. And also, help to control blemishes and scars.
11. Urea
This white colourless powder looks almost like salt. In a formula, it prevents the loss of water from the product. Overall, it is a moderately safe buffering agent.
12. Dextrin
Whoa! I must say that this ingredient sounds new to me. This component works as a viscosity increasing agent. In fact, it can also act as a binder or absorbent agent.
13. Alanine
A widely used ingredient in cosmetics. It functions as a skin conditioning agent and also as a masking agent.
As a whole, it creates a smooth appearance over the skin.
14. Glutamic Acid and Aspartic Acid
Both of these are basically Amino acids. These Alpha Amino Acids function as skin and hair conditioning agents in cosmetic formulations.
15. Hexyl Nicotinate
This is basically organic compound of Vitamin B3 which is commonly called Niacin. But, the penetration power of Hexyl Nicotinate is much better than Niacin. It helps to regenerate dull skin cells and improves the overall skin health of individuals.
16. Panax Ginseng Root Extract
It has been seen that if Ginseng root is applied topically, it can improve the texture of skin. It helps to remove the scars, makes sin even tone, and wrinkles look visibly smoother. Skin looks firmer.
17. Ethylhexylglycerin
A weak preservative that also works as a skin conditioning agent. Surprisingly, it also works as a fragrance component.
18. Disodium EDTA
This is one of the most commonly used chelating agent in cosmetics. It prevents the bonding of trace elements that are present in water with the ingredients present in the formula.
19. Biotin
I was quite taken aback to find it in the formula. Generally, Biotin is used in hair care products like shampoos, conditioners, etc. A bit of research reveals that Biotin is one of the best moisturizers and thus, it is used in skincare products too.
20. Panthenol
Panthenol is often used as a moisturizer in cosmetics. It also acts like a barrier to the skin so that moisture content does not get lost from the surface.
21. PPG-26 Buteth-26
This safe ingredient is used in cosmetic formulas quite widely. It has the ability to make damaged skin appear supple and smooth.
22. PEG-40 Hydrogenated Castor Oil
Another widely used fragrance ingredient that is moderately safe. Apart from that, it is also a great surfactant.
23. Phenoxyethanol
This is a widely used preservative in personal care and cosmetics. It has a mild rosy scent; thus, sometimes it is used in fragrances too.
24. Parfum/Fragrance
Whoa! Honestly, I was not expecting this ingredient in the list. Perfume is one of the most unnecessary elements ever in a cosmetic.
In fact, people who love using Perfumed products must realize the potential threat. I wish PIXI had mentioned the nture of the fragrance.
25. Caramel
I have never seen a brand using Caramel as a colourant. It is a safe cosmetic colourant that is derived from sugar. It gives a beautiful brown colour to the cosmetics.
26. Hexyl Cinnamal
A moderately safe ingredient that is naturally derived from Chamomile Oil. Basically, it works as a masking agent in skincare products and in makeup products.
27. Red 4 (CI 14700)
It is basically a synthetic colourant. In short, it is a bit hazardous dye. I hope brands understand that how unnecessary colours and the fragrances are.
And, that's all. I must say that ingredient analysis of PIXI skincare products is a pretty sweaty task.
Well! There is no doubt at all that most of the ingredients are pretty beneficial for the skin. But, ingredients like Parfum, Cosmetic Colourant, etc. are not desired at all. Question is, would you really invest in this product? Are there equally effective yet affordable products available? Check this out.
Here is the Answer!

If you are a fan of Pixi products or if you want to try out Pixi Glow Tonic for the first time ever, then just go for it. But, if you are looking for effective yet affordable products, then here are the two Glycolic Acid based products you can try out.

1. Dot & Key 5% AHA Toner Skin Clarifying Liquid Exfoliant

It contains both Lactic Acid and Glycolic Acid. The other ingredients are pretty beneficial too.

In fact. this exfoliant toner is pretty affordable too.

Trust me! It has spledid formula. The cleanser contains exfoliants like Glycolic Acid, Salicylic Acid, and Hyaluronic Acid. Guess what! It has no added fragrance or colour.

At the price tag, there is hardly anything as amazing as this one.
Ingredient Analysis of PIXI Glow Glycolic Boost Sheet Mask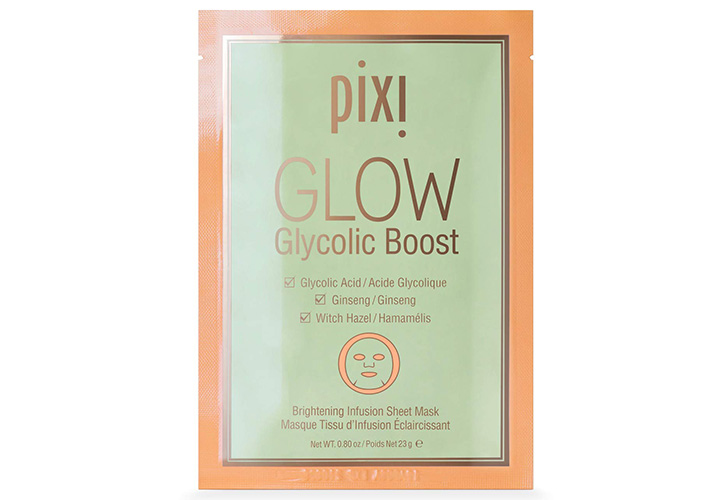 Courtesy of the Brand
In the past few years, the popularity of sheet masks has reached another level. People around the globe are going gaga over these masks. Countless number of brands have come up with their own sheet masks formulas. And, PIXI Glycolic Boost Sheet Mask is one of the best.
This sheet mask is enriched with Glycolic Acid and other herbs like Witch Hazel, Red, and Panax Ginseng. But, what else is inside these sheet masks?
Every microfiber sheet mask is biodegradable. And, the masks contain extracts of Aloe Vera, Red Ginseng, Glycolic Acid, Chest Nut, Witch Hazel, Basil Seed, Cucumber, Morus Alba Bark, Anise Fruit, etc.
Each and every component is full of benefits. The formula is Paraben free and full of skin loving ingredients. Honestly, there is hardly any sheet mask that is full of so many botanical extracts. Overall, there is no doubt that the ingredients of PIXI sheet mask is amazing. But, is this worth buying?
Comparative Analysis: PIXI, The Face Shop, Innisfree, and Tony Moly Sheet Masks
So, it is time to go for a comparative analysis. Most of us love sheet masks. And, we all want Sodium Hyaluronate (i.e. Hyaluronic Acid) which is the anti ageing ingredient, in our sheet masks.
PIXI Glycolic Sheet Mask does not contain Hyaluronic Acid as these sheet masks are all aimed at Glycolic Acid brightening treatment. At the time of writing, 3 such sheet masks are priced at $10 or INR 1000+. So, every sheet mask is priced at approximately $3.33 or INR 333. Phew! The price is quite high.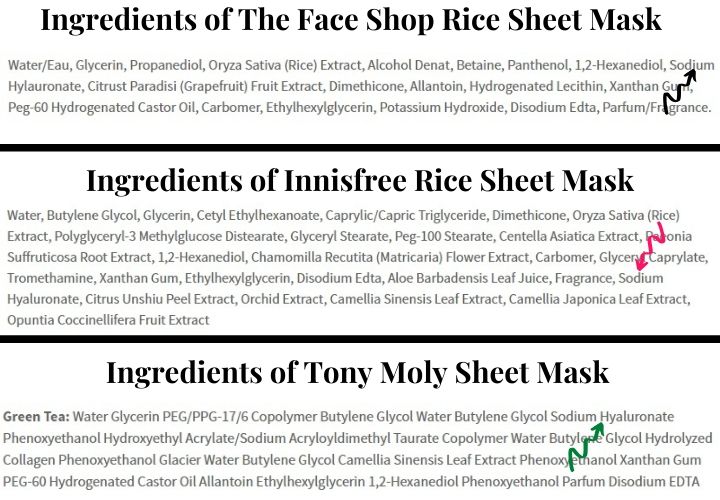 Well! Things are a bit different with the other Korean giant brands. As you can see in the picture, sheet masks from The Face Shop, Innisfree, and Tony Moly all contain Sodium Hyaluronate. Although, the positions of the component vary. In fact, these commercial sheet masks contain unnecessary harmful ingredients too.
All of these masks are priced between $1.00 and $1.80. So, from the aspect of price tag and the ingredients, PIXI sheet masks are indeed expensive but quite beneficial too in terms of ingredients.
Final Thoughts
If you are looking for efficacy and can afford up to a few extra bucks too, then PIXI skincare products are truly amazing. Not only the glow tonic or the sheet mask, there are other effective PIXI products too e.g. Vitamin C Juice Cleanser, Glow Mud Mask, Glow Mud Cleanser, Rose Ceramide Cream, etc.
There is no doubt that PIXI is a luxurious brand and it has its own class of buyers. As a blogger and an avid reader of ingredients, I can rate the ingredients of PIXI skincare products 4.8 out of 5. The products are worth trying for sure.
So, which PIXI product you are aiming at first? Guess what! I am going for the Pixi Mud Mask and the Glow Tonic at first.
I hope you find this article helpful. Subscribe to Cosmetics Arena for more such ingredient and comparative analysis. Take care!