Dot & Key 5% AHA Toner: Review with Ingredient Analysis
Usually, I do not love playing with different genres of products. And, this is the reason why I have never tried chemical exfoliants. I have always felt safer with physical exfoliators i.e. scrubs and exfoliants.
Around three months ago, I noticed dry flakes around my lips and on my forehead. At first, I thought my regular face scrub would remove those. But, the stubborn flakes were coming back every time.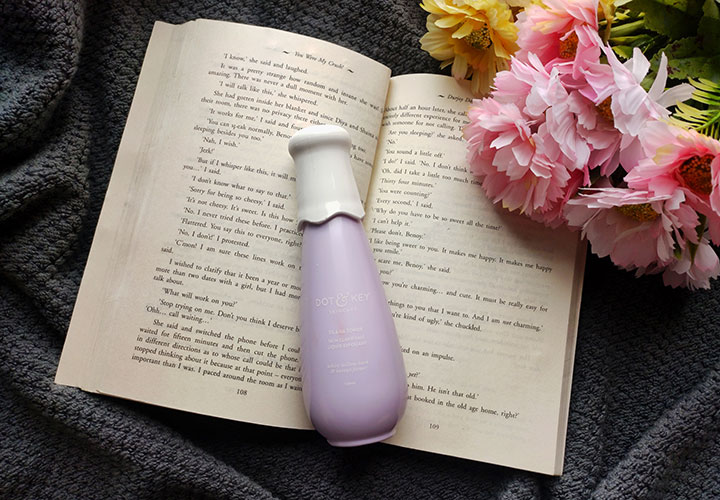 It was the time when I decided to go for a chemical exfoliant. Well! The Indian cosmetics market is filled with numerous amazing exfoliants.
As it was a maiden step for me, so I decided to research a bit before buying anything random. I came to know how Glycolic Acid and Lactic Acid helps with dry and sensitive skin.
The first thing I did after knowing the name of the key ingredients I need was to go for a brief lookout inside the market.
Dot & Key is comparatively a new brand. So, I was a bit sceptical at first. But, the ingredients of Dot & Key 5% AHA Toner were the ones I needed. And, I went for it.
It's been two months now that I am using this toner. Am I impressed? Am I going to pounce upon a second bottle? Well! It's time to talk about this chemical exfoliant in-depth.
Basic Details on Dot & Key 5% AHA Toner
Price: INR 795 for 120ml
Shelf Life: 3 years
Buy From: Amazon
What Does the Brand Claim about Dot & Key 5% AHA Toner?
Get ready to enjoy an alcohol-free toner that is a toner cum a face mist. It is rich in Lactic Acid and Glycolic Acid. Not only it exfoliates your skin but also improves the overall texture of your skin.
Refine your pores and make your skin looking younger than ever. A handful number of ingredients curated to give you the ultimate luxurious & fine experience.
Ingredient Analysis of Dot & Key 5% AHA Exfoliating Toner
It is for sure that Dot & Key is comparatively a new player in the cosmetics market. Usually, new brands do not want to disclose all the ingredients. But, I must say that Dot & Key has maintained transparency. by disclosing the ingredients.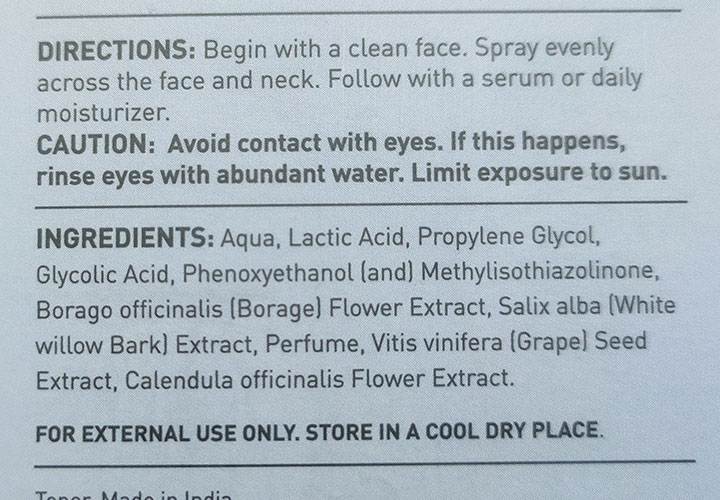 Apart from Lactic Acid and Glycolic Acid, there are other ingredients too. Are all the components equally safe and beneficial? It's time to uncover the reality.
1. Aqua
Water is the base of any liquid-based toner.
2. Lactic Acid
Among all the AHAs (Alpha Hydroxy Acid), Lactic Acid has the mildest texture. It tones dry and dull skin quite well. Lactic Acid also helps with pigmented skin, ageing spots, and other skin concerns. Indeed, the percentage of LA is high here as it is mentioned in the second spot.
3. Propylene Glycol
Well! I am definitely not much impressed with the addition of this ingredient within the top 3 positions. It functions as both a fragrance ingredient and also as a skin conditioning agent. But, Propylene Glycol is often associated with skin irritations.
There are numerous other skin conditioning agents that the brand could have used.
4. Glycolic Acid
Glycolic Acid is quite amazing in breaking the outer skin layer and thus, it removes dead skin cells. Basically, this AHA contributes to dead skin peeling, making the skin softer, brighter, even, and smoother.
5. Phenoxyethanol (and) Methylisothiazolinone
Both Phenoxyethanol and Methylisothiazolinone are commonly used as preservatives.
As per a recent study, Methylisothiazolinone is quite reactive (It might cause skin allergies)  if used solely. But, if used along with other preservatives like Phenoxyethanol, the reactivity decreases. So indeed, the brand has done a great job by using this safer combination of preservatives in the formula.
But again, there is other safer choice of preservatives too and the brand could have easily used that.
6. Borage Flower Extract
This potent flower extract helps to calm down irritated skin and also helps to reduce the dryness.
7. Perfume
Umm, another ingredient that is absolutely unnecessary. I wish the brand had at least, mentioned the name of the perfumery substance used here.
8. Grape Seed Extract
Enriched with antioxidants and flavonoids, this extract helps to reduce fine lines and blemishes.
9. Calendula Flower Extract
Another flower extract that is rich in antioxidants, helps to make the skin supple and more firm.
Definitely, I love how short and sweet the ingredient list is. But, there are some ingredients where alternatives could have been used e.g. Perfume, Propylene Glycol.
The good part is placing Lactic Acid at the second-best position, the addition of flower extracts, and the absence of cosmetic colourants.
Overall, Dot & Key 5% AHA Exfoliating Toner deserves a rating of 4 out of 5.
Why Did I Choose an AHA Based Toner?
You must have heard the names of AHA and BHA. AHA stands for Alpha Hydroxy Acid. And, the name represents a group of natural acids that are beneficial to our skin cells.
As Healthline says, AHAs are all water-soluble acids that are derived from sugar-based fruits.
This group of acids helps to peel away all the dead cells and also the pigmented skin cells making the skin brighter & smoother. AHAs are perfect for people with dry and sensitive skin.
Primarily, AHA based products are used for ageing spots, scars, large pores, uneven skin texture, and for wrinkled skin.
As I was suffering from dead skin issues, I decided to go for an AHA toner. AHA includes Lactic Acid, Glycolic Acid, Citric Acid, Tartaric Acid, Malic Acid, and Mandelic Acid. I chose Glycolic Acid and Lactic Acid among all.
Glycolic Acid is derived from Sugar Cane. And, is believed to be an all-rounder in solving skin woes.
On the other hand, Lactic Acid is derived from Milk. It is an excellent exfoliant and is excellent for its anti-ageing benefits.
If both of these AHAs are combined, the result can be pretty effective. And thus, I decided to go for an AHA based toner.
Packaging, Aroma, and Texture
The toner comes in a Dot & Key signature spray bottle. The light pinkish colour gives a beautiful vibe to the product. I did not face any issue with the spray nozzle.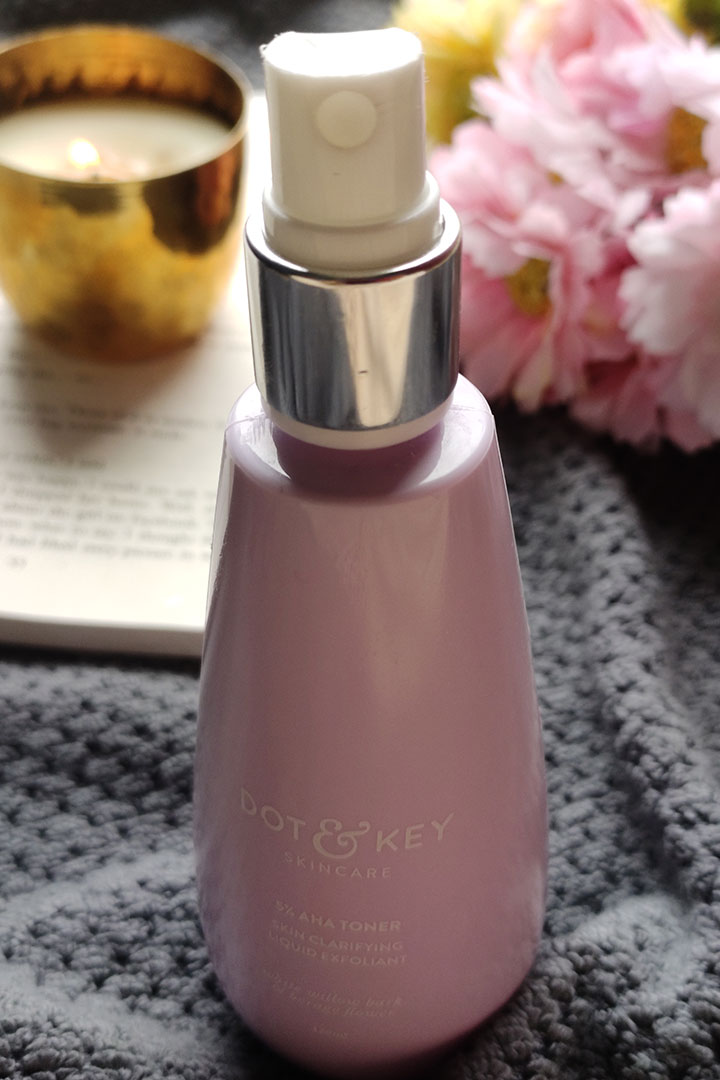 The aroma is floral and soothing. The fragrance feels fresh in the morning and I believe people from a large spectrum are going to love it.
The texture of the toner is quite lightweight. It has no colour at all.
AHA based products make the skin sensitive to sunrays. So, it is a must to use a sunscreen if you are using such product.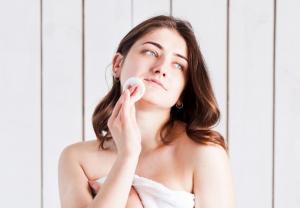 A proper CTM routine is enough to improve the skin. Check out a compilation of the best toner for face, oily skin, dry skin, acne prone, and sensitive skin in India for the ultimate glowing skin.
Read More
My Experience with Dot & Key 5% AHA Toner
I am a strict follower of the CTM routine. I never forget to tone my face even on days when I am short on time. This habit has definitely helped my skin.
Since the last two months, I have sprayed this toner once a day right after cleaning. I always made sure that my morning skincare routine never misses this one. I spray on my forehead, on my T-Zone, on the cheeks, and on my neck area.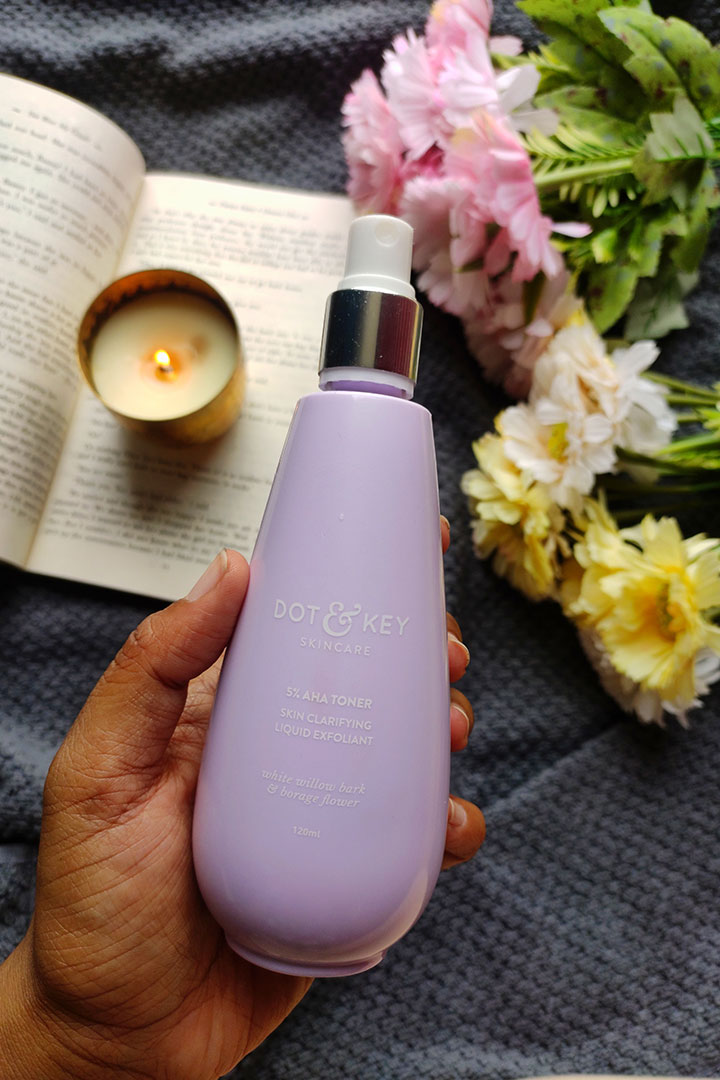 And then, all I do is a simple dab-dab all over my face and neck so that the toner spreads out everywhere properly. Here are the things that I have observed so far regarding this product.
If my skin is irritated anywhere, the toner stings for a while. I do not mind the stinging though as it has not given me any trouble so far.
It calms down my skin cells.
The aroma is soothing and refreshing
Skin starts feeling brighter and smoother within a week. Trust me! The result is pretty vivid and visible.
During these two months, this product has never given me any pimple or break out.
Within two weeks, my dead skin cells got removed totally. And, I could see how the new & re-generated skin cells have taken the place already.
Pros of Dot & Key 5% AHA Toner
Rich in Lactic Acid and Glycolic Acid; there are other beneficial ingredients too
Affordable in terms of quantity and the amount you need every time
Makes skin visibly smoother and brighter
Does not cause pimples or breakouts
Cals down agitated skin cells
The result is visible just within two weeks
Cons of Dot & Key 5% AHA Toner
Often, the stinging felt so strong that I had to dab aloe vera gel. It stings problematic skin more
Due to the addition of Perfume and Propylene Glycol, I would never suggest this product to the people with acne.
And, that's' all for today! If you find it helpful, make sure to share it with your friends and family. Make sure to follow us on our official Instagram handle for interesting stuff. Take care; celebrate life.