8 Best Shampoo in India: It's Time to Glorify Made in India Brands and Products
There was a time when we used to keep Dove and Pantene shampoos on our shelves. But, things have changed over the past few years. More and more Indian brands are taking initiatives to come up with their own hair cleansers, shampoos, and other hair care products.
And, I would be glad to state that such products are apt enough to compete in the global market. The formulations are absolutely stunning. It is no wonder the brands and their products are getting such huge attention.
Honestly, I always wanted to talk about the best shampoos in India that are proudly made in India. It takes a lot of effort to come up with such an article. So, I am glad that finally, we are here.
Let's talk about 8 best shampoo in India that are entirely Indian from inside and outside.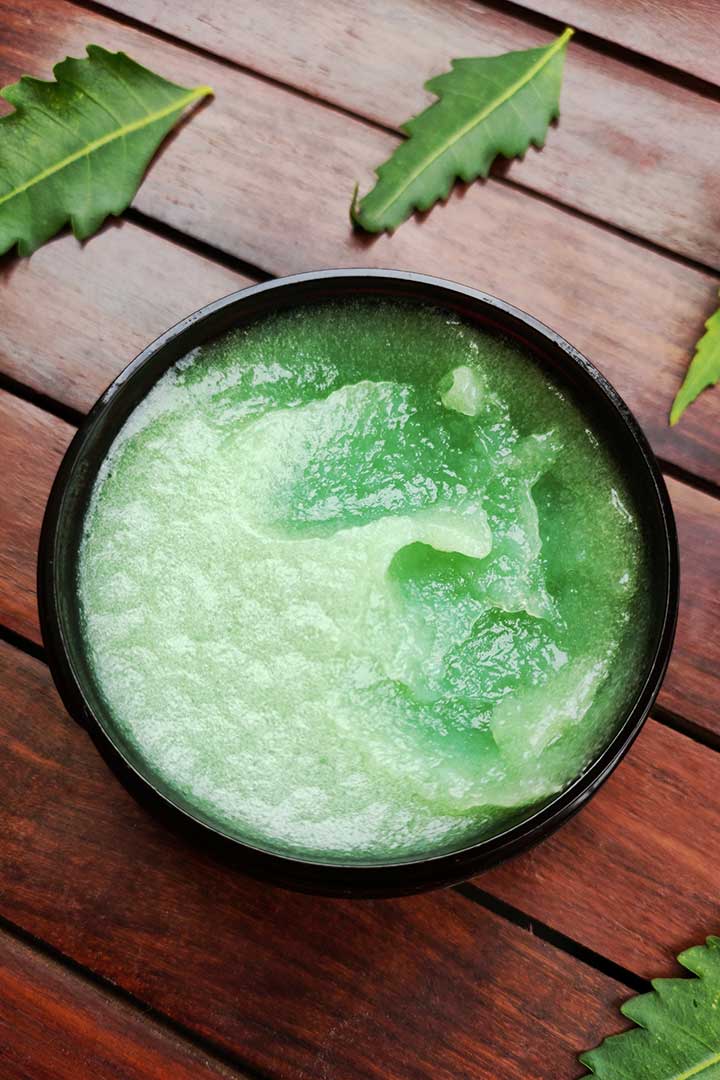 Shop Now!
Rustic Art has garnered a lot of appreciation in recent times. People across the country love the products. The brand was founded by Sunita Jaju and her niece Swati Maheshwari.
Rustic Art formulates not only shampoos but also vegetable cleaning powder, bathing soaps, massage oils, hair oils, face wash, moisturizers, and many other products.
Recently, the brand has formulated Shampoo butter which is indeed a unique concept. Usually, liquid shampoos require strong preservatives to preserve the quality of the shampoo as water serves as the base component.
Shampoo butter has a minimal amount of water added to its formulation and thus, a broad spectrum safe preservative is just enough here. In fact, it also takes less water to wash off the shampoo.
As of now, the brand has launched three variants of Shampoo Butter namely Mint Eucalyptus, Cypress Hemp Oil, and Cinnamon Rosemary. All the formulations are excellent.
Altogether, the concentrated shampoo from the house of Rustic Art is indeed one of the best shampoos in India that is Indian to its core and is worth every penny.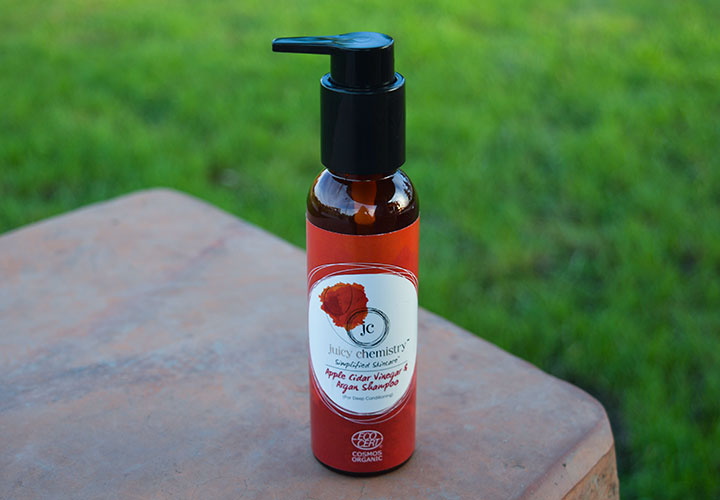 Shop Now!
To be honest, I cannot remember exactly how many products I have used from Juicy Chemistry. It's been more than 5 years now that I am using their products. Yet, I feel the same connection to date.
Juicy Chemistry is the brainchild of Pritesh & Megha Asher. The couple co-founded the brand in 2004. And, since then, they have only grown and expanded. The success of JC is pretty huge. With all those Gourmet bars, shampoo bars, face wash, baby wash, shampoo, pre hair mask, eye serum, lip scrub, lip balm, etc., Juicy Chemistry is doing an amazing job.
Among all the other shampoos from the house of JC, I have found this one the best.
This mild shampoo is enriched with Argan Oil, Sucrose, Peppermint Oil, Ylang Ylang Oil, Vitamin E, Lavender Oil, Clary Sage Oil, and many other beneficial herbs & extracts. All the surfactants used here are safe for both our body and the environment.
The only complain I have about the brand is that JC discontinues their products quite soon. Every now and then, the brand comes up with new formulations which might sound confusing to the customers. 
Overall, Juicy Chemistry is undoubtedly the best shampoo in India that is made and formulated in India.
3. Plum Goodness Shampoo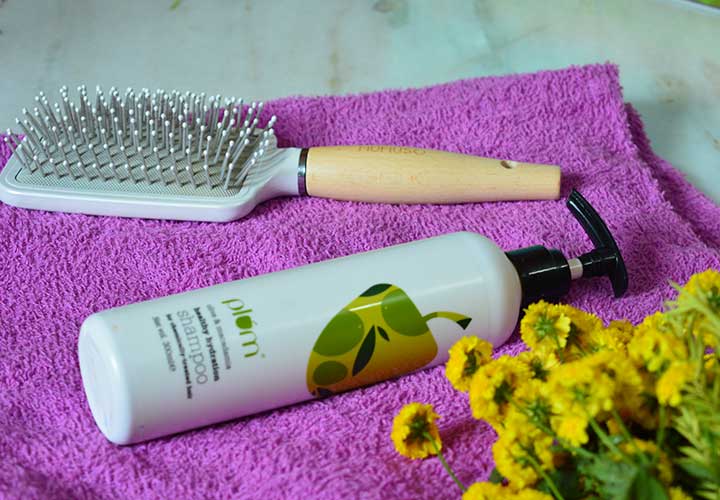 Shop Now!
Well! It's time to meet another Indian brand i.e. Plum Goodness. The brand which claims to be "India's first 100% vegan beauty brand" is founded by Shankar Prasad.
Plum came into the spotlight with its revolutionary Natur Studio Kohl. It is to date one of the best kajals in India and I love it. Since its inception, the brand has only garnered appraisals.
After playing around with kohl, face wash, moisturizer, in 2008, Plum Goodness came up with two brilliant shampoos. I loved both formulations. Although the Olive and Macadamia one did not impress me much in terms of the performance, yet it is pretty popular. In fact, people loved it more than the other one.
The shampoos are rich in natural hair conditioners like Olive Oil, Macadamia, Rosemary, wheat protein, soy protein, etc. The surfactants used in the formulations are totally safe and mild yet strong cleaners.
Overall, if are someone who prefers vegan products, then this is the best shampoo in India that you need to try.
4. Earth Rhythm Murumuru Shampoo Bar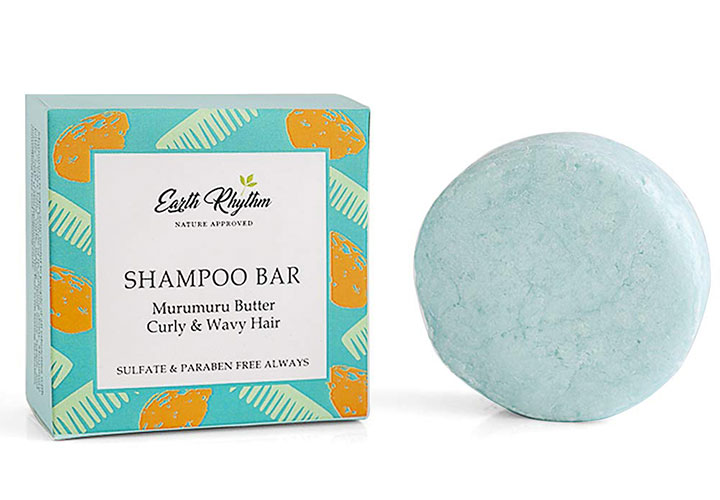 Courtesy of Brand
Shop Now!
When a cosmetic chemist establishes a beauty brand, the product formulation touches a different height altogether. Well! We are talking about none other than Harini Sivakumar, the founder of Earth  Rhythm.
So, Earth Rhythm was actually popular with the name "Soapworks India". And, the brand came into the limelight with its brilliant products and due to the unique way of promoting products. They use unconventional people, not models to promote their eco-friendly products. The idea is indeed amazing.
After hearing a lot about the brand, very recently, I have tried Earth Rhythm Solid Conditioner Bar. And, guess what! The product has made me a complete fangirl.
Not only the conditioner, but their Murumuru Shampoo Bar is also one of the best sellers. If you are someone who is comfortable with bar shampoos, then nothing can beat this one.
Apart from Murumuru Seed Butter, it is also enriched with Soy Protein, Coconut Oil, Vitamin E, and Salicylic Acid. Overall, if you have dry hair ends, then you have got all the reasons to call it the best shampoo in India.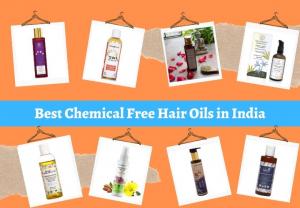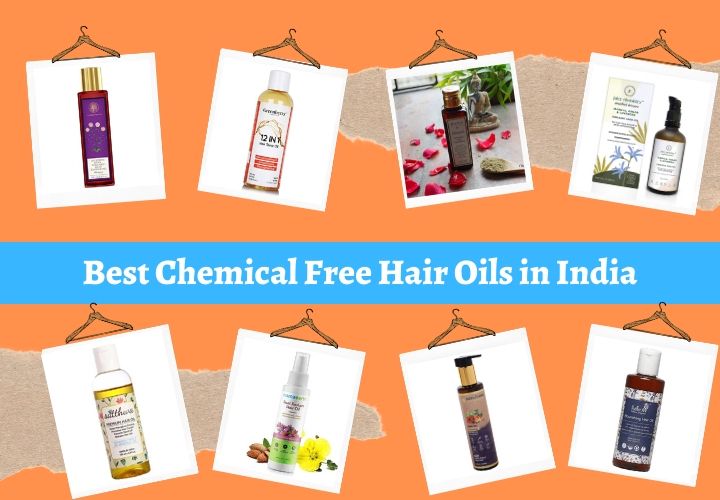 Are you looking for organic and chemical free hair oils for hair growth? Find out a compilation of the best chemical free hair oils in India.
Read More
5. Himalayan Organics Bhringraj Shampoo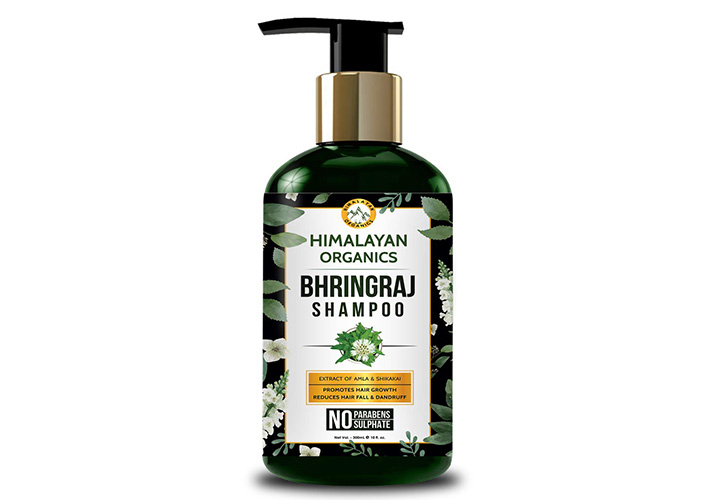 Courtesy of Brand
Shop Now!
Yes! I know it already that this brand is not that popular. But, trust me! The formula speaks itself. Himalayan Organics which is co-founded by Deepak Kumar and Raj Kumar Pathak has some really interesting in-house products.
I personally loved the formulation of their shampoo. It is not only Sulfate and Paraben free but also contains mild surfactants like Decyl Glucoside, Coco-Glucoside, etc.
Apart from containing various beneficial herbs, it is also free from colours. But unfortunately, it contains fragrance which is totally unnecessary.
Otherwise, it would be safe to say that this brand deserves some spotlight. The shampoo is indeed one of the best shampoos in India.
6. Just Herbs 8 in 1 Root Nourishing Amla Neem Shampoo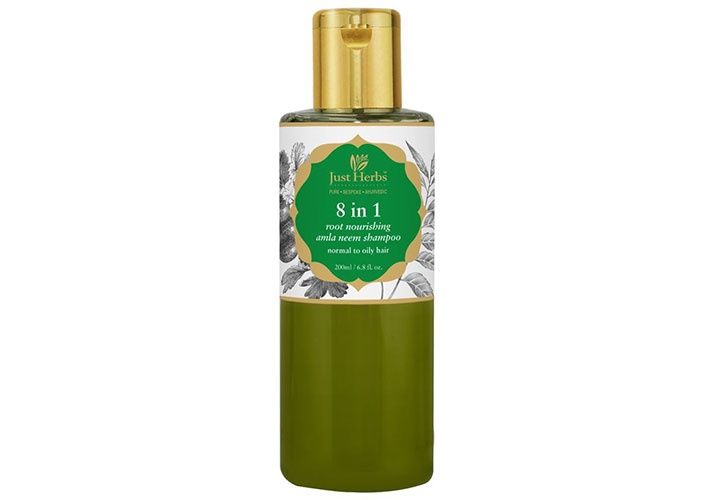 Courtesy of Brand
Shop Now!
Owned by Neena Chopra, Just Herbs is actually a market player for quite some time now. The brand has a number of amazing products in its kitty. And, this made in India shampoo is indeed one among those.
Not only the shampoo contains mild surfactants like decyl glucoside, sodium cocoyl isethionate, and disodium cocoyl glutamate, it also contains Amla, Henna, Soy Lecithin, Hibiscus, Vetiver, etc.
Well! With all the goodness, indeed the shampoo is a bit pricey which could have been lowered for sure. But, I am glad that the formulation is good.
After all, it is the ingredient list that plays a major role in the success of a product. Overall, this shampoo has got all the reasons to be listed among the best shampoo in India that bears 'made in India' tag all over.
7. Satthwa Argan Oil Shampoo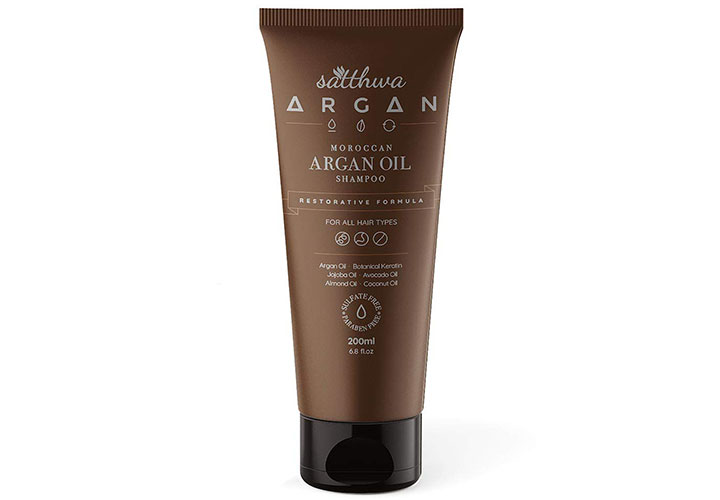 Courtesy of Brand
Shop Now!
The brand Satthwa started its journey in 2006 by holding Prashant Parikh's hands. And, since its inception, their products have been well-acclaimed.
They started the journey with a Premium Hair Oil which is truly an amazing product. Within no time, the brand came up with a brilliant product i.e. Moroccan Argan Oil Shampoo.
As the name suggests, apart from Argan Oil, it also contains botanical extracts like Aloe Vera, Hibiscus, Neem, etc. The brand has also used mild surfactants here. If you are eager to know the ingredient analysis of this shampoo, check out my review here.
So, I can proudly say that Satthwa Argan Oil Shampoo is one of the best shampoo in India that has a straight Indian connection.
8. Arata Zero Chemicals Shampoo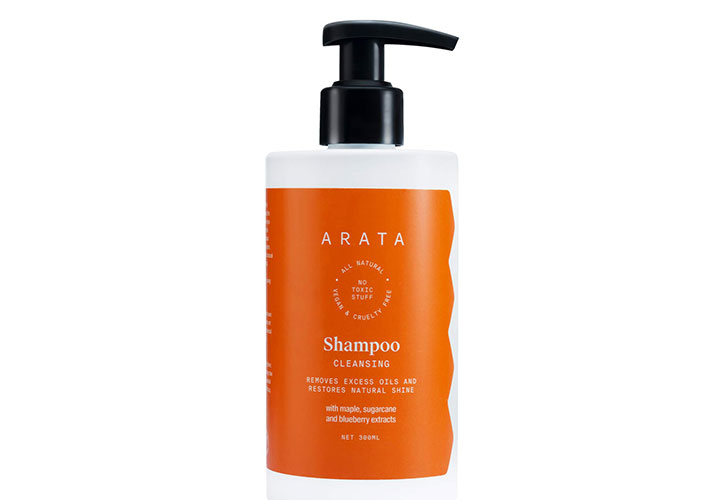 Courtesy of Brand
Shop Now!
Guess what! This is so far the best shampoo that I have used for my dry hair. This brand was c0-founded by Dhruv Madhok and Dhruv Bhasin. The brand stays true to its claim all over.
They put globally sourced ingredients into their products and the products are totally made in India.
I was quite taken aback when I found that Arata shampoo contains a number of interesting ingredients that we usually do not find in regular organic shampoos.
Apart from mild surfactants, it also contains Maple extract, Sugarcane extract, Raspberry, Orange, Lemon, and many other beneficial ingredients.
I call it the best shampoo in India for many other reasons. Are you eager enough to know? Well! Check out my review and experience.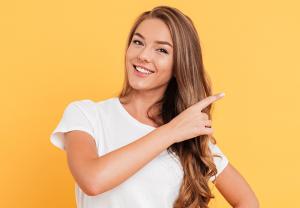 Which ingredients are used in mild shampoo? What are the features? Which brands have been included in the compilation? Well! Time for all the answers.
Read More
Let's Conclude!
Well! It would be wrong to state that the list ends here.
There are many other Indian beauty brands too e.g. Lotus Herbals, Biotique, Khadi Naturals, SoulTree, Vaadi Herbals, Mama Earth, etc. that I did not list here. The primary reason is the ingredient list.
In fact, I did not include Kama Ayurveda Hair Cleanser as well because the ingredients did not seem promising to me. I can say the same thing about Forest Essential Hair Cleanser too.
I have used many made in India shampoos to date. But, only a few products have stood out so far. I believe in formulations first rather than the brand value.
Thus, I can assure you that all the shampoos that are listed here are free from harmful chemicals, colours, surfactants, additives, etc. and come up with excellent formulations.
Let me know which made in India shampoo you love the most. Also, let me know if I have missed any other excellent brand. 
That's all for today! If you like reading this post, make sure to share with your friends and family. Also, follow us on Instagram for more such interesting stuff. Take care; see you soon with another article.